This tasty Vegan Peanut Stew takes just 25 minutes to make! It is packed with vegetables, kidney beans, spices and flavour. The cumin, turmeric and chilli work well with the creamy peanut butter in this nourishing and vibrant dish.
Commissioned recipe.
I love hearty stews that are full of flavour. Adding peanut butter to a vegetable stew may sound crazy, but trust me, it works. This is my take on the popular African dish.
Ready in just 25 minutes, vegetables and kidney beans are cooked in vegetable stock and plum tomatoes with cumin, turmeric and chilli. The spices work beautifully with the creamy peanut butter in this nourishing and vibrant dish. It's my ultimate comfort food. Adjust the spices to your preferred heat level and feel free to substitute any vegetables you have on hand.
I like to finish this dish with some crunchy chopped peanuts and a handful of chopped parsley to lift the creaminess. Serve on it's own or with rice for a more filling meal. If you have any leftovers, it's delicious served on a baked sweet potato.
African Peanut Butter Stew
There are many different versions of this peanut stew from all around West Africa. With different typical spices and ingredients you can find African peanut butter stews in many different guises in different regions. It might often have ginger, chicken or groundnut in it - but this is my non-authentic vegan version!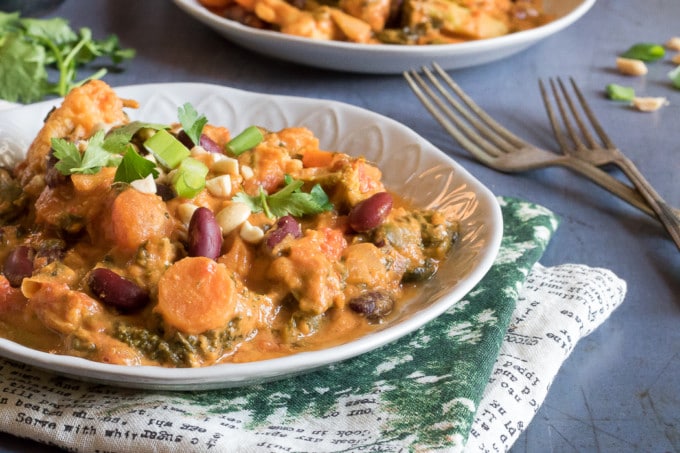 Meal Planning
Even when we work hard to buy just what we need, inevitably there can be some food waste around Christmas. So, I'm combining the January yearning for healthy eating with meal planning in order to help reduce food waste.
Meal planning is just working out a week or month ahead what you'll be eating on each day, then sticking to it! I like to sit down with my cookbooks, food magazines and the internet on a Saturday and plan out a week ahead. Then I just need a list of ingredients and I can shop and spend some time on Sunday cooking anything that can be made in advance. Plus, I also know that on weekdays when I cook I'll have all the ingredients that I need.
I'm going to be planning ahead each week for at least the month of January so I just need to buy the ingredients that will be used up. I like making meals like this peanut stew as part of my meal planning because it freezes so well. I make a double batch, then portion up the leftovers. I like to do this with other dishes, like my Red Lentil Dhal and Spanish Beans, so a few healthy meals in the next meal plan don't even need to be cooked - just heated up.
10 Tips for healthy meal planning
Make large batches and freeze individual portions
Get creative: chilli can be served with rice one day and on jacket potatoes another, so you can cook it once but not feel like meals are repetative.
Plan ahead so you don't overbuy.
Rate recipes in your meal plan so you get a master list that the whole family loves.
Theme nights take the guesswork out of what to cook. Perhaps Taco Tuesday or Waffle Wednesday.
Stock the freezer with staples such as chopped onions, garlic, chopped chilli and frozen veggies.
Check store-cupboard ingredients regularly so you don't overbuy tinned tomatoes, chickpeas and other healthy foods, but still have enough for your meal plan.
Have some 15 minute meals in your rotation so there are easy cooking nights. One pot pasta is great for this.
Use your slow cooker! Bung in the ingredients in the morning and come home to dinner ready.
Overlap ingredients. If you need fresh ginger or pak choi for one recipe that week, be sure to add another recipe using it in your meal plan so it doesn't get wasted.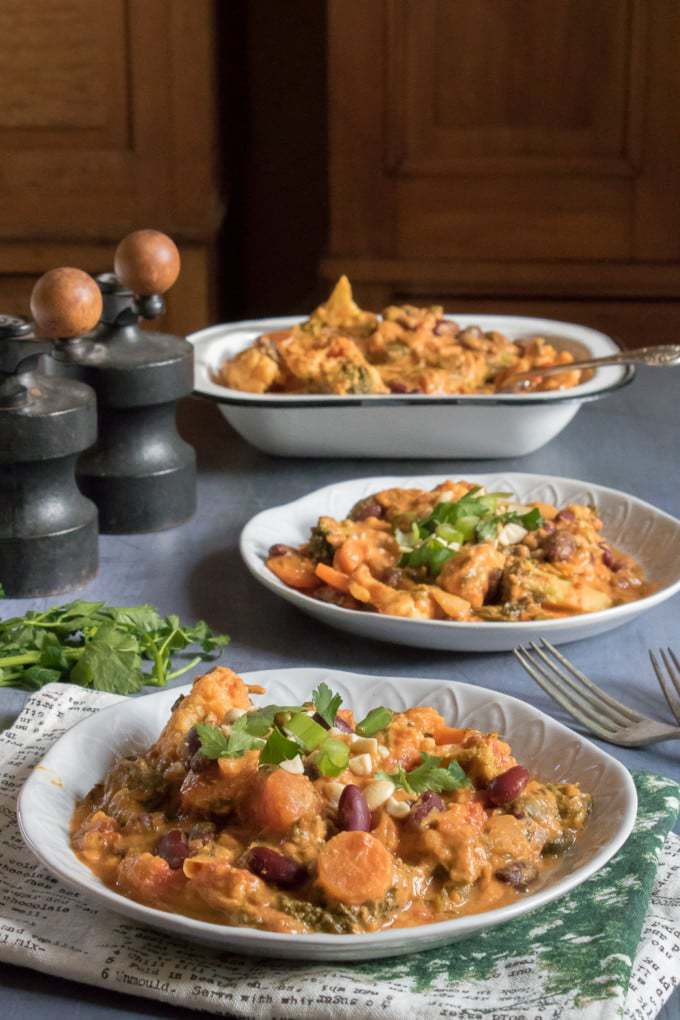 More Ways to Eat Well
Are you back to healthy eating now that it's January? December can often be a bit of a food blow-out, but I always look forward to getting back to my veggies.
I'm definitely more of a fan of vegetables than fruit, though I do often snack on bananas and apples, or add berries to my porridge. I even grate carrot into my morning porridge as well to get some extra veggie goodness.
I always try to get my 5-10 portions of fruit and veg a day and I find that soups and stews, like this peanut stew, are a great way to load up on a variety of veggies. Plus they're a great way to use up veggies and reduce food waste. Keeping frozen veggies on hand is also great so you can always whip something up.
Here are my 5 other top tips for staying motivated to eat well.
1. Surround yourself with your favourite healthy foods. Stock up on the fruits and veggies you like the best.
2. Keep a container of prepared raw veggies in the fridge for when you're feeling peckish. Perhaps some hummus, baba ghanoush or other dips to liven them up - whether home made or store bought.
3. We all know we should drink more water, so make a big bottle or jug with strawberry tops, lemon wedges and cucumber slices to make it more refreshing.
4. Keep healthy food and a reusable bottle full of water with you when you're out so you're not tempted by unhealthy choices.
5. At the weekend, make big batches of healthy curries, stews and soups, then stash portions in the freezer. That way if you're tired after work you have a healthy meal that you can just heat up - it's faster than fast food and far healthier.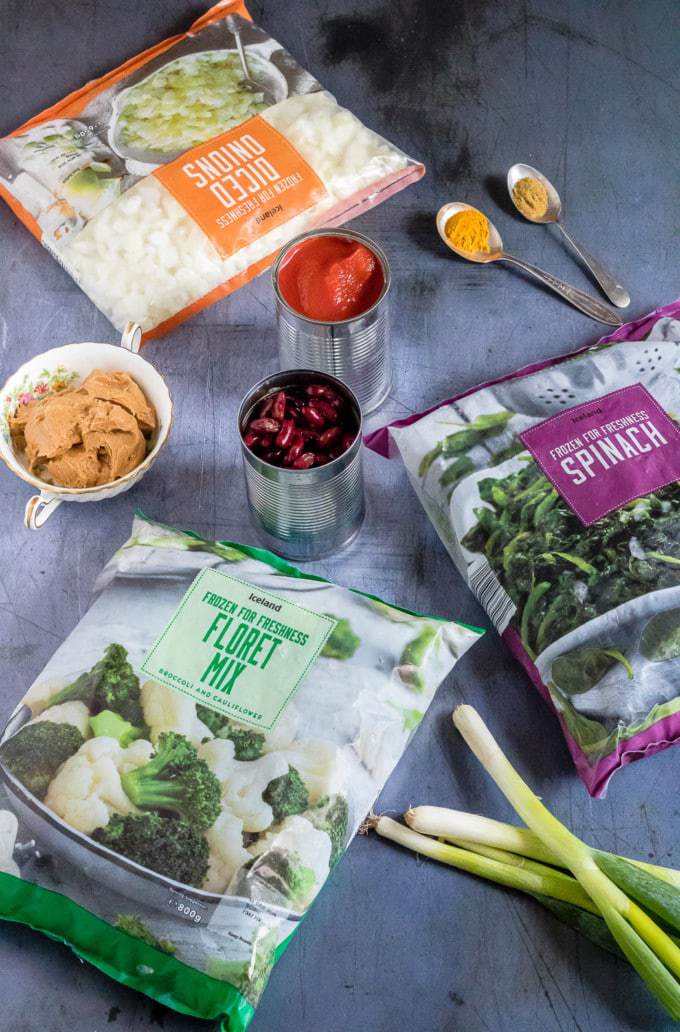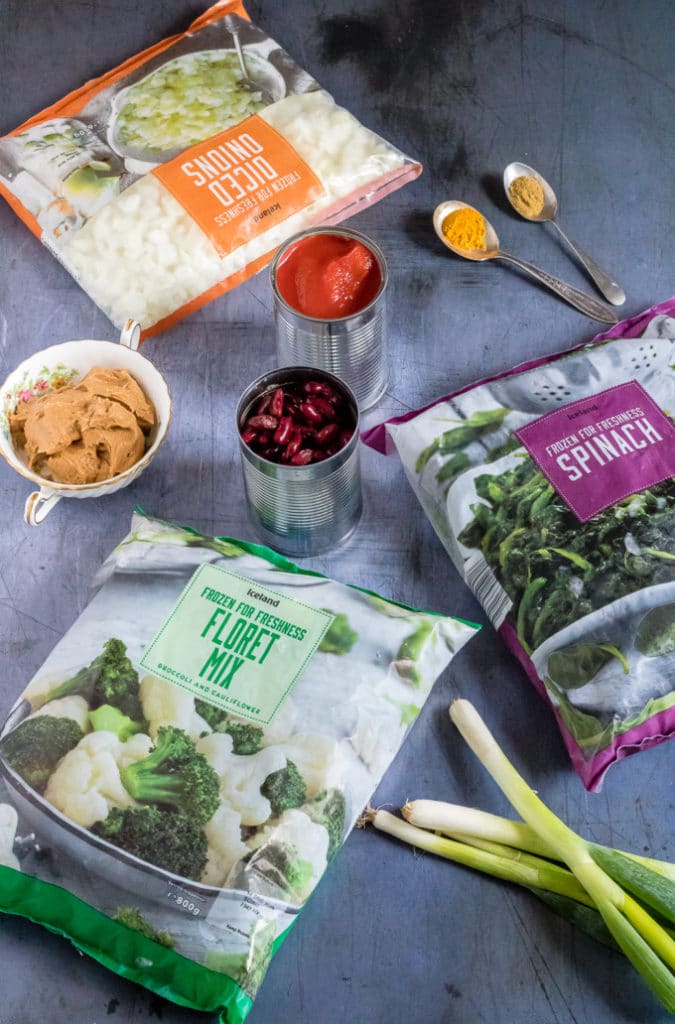 The #PowerofFrozen at Iceland Foods
I've teamed up with Iceland Foods to bring you this peanut stew recipe. Working with them has really opened my eyes to how convenient frozen veggies are. I promise I'm not just saying it, but now that I've started to go to Iceland Foods frequently, I really think it's an amazing place to shop. I had previously presumed it would just be ready meals, but that's not the case at all - they have a great range of frozen food with lots of fruits and veggies. Really quite innovative ones too!
You can find frozen avocado, sweet potato chunks, quinoa and many more health foods. I've also noticed my local shop stocking more and more dairy free and vegan products including nut milks, vegan yogurts and dairy free butters. They also have a really nice range of fresh breads, which I'll admit completely surprised me.
I keep my freezer stocked now with their ranges of veggies, plus rice and quinoa, so I can quickly make soups, stews and stir fries. And, since you just use what you need there's no food waste! They deliver, but my shop is convenient so I just pop in whenever I'm in town.
I used frozen onions (a staple in my house - no more tears from chopping them!), as well as frozen spinach, cauliflower, broccoli and garlic for this stew! I love how they're so convenient for making healthy dishes and is great quality. They lock in freshness by freezing at the point of picking so all the goodness is still there, but I can just use what I need so there's no chance of wasting any.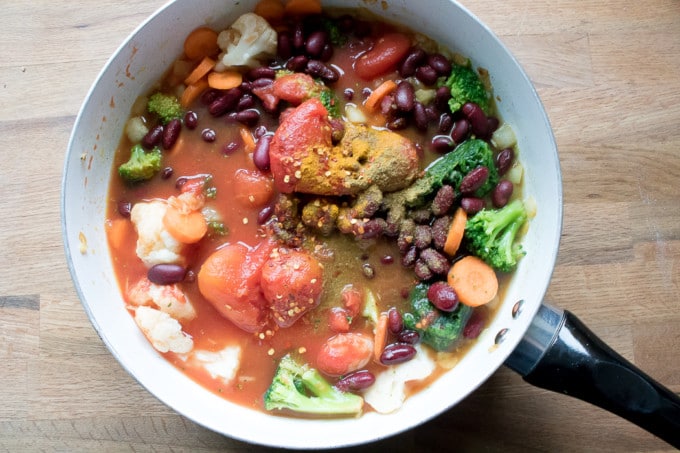 Get the recipe for Easy Vegan Peanut Stew
If you make this vegan peanut stew recipe, please tag it with #veggiedesserts on Instagram, Twitter or Facebook. I LOVE seeing your recreations of my recipes!
Also, pop down to the comment and let me know how you got on with the recipe. It's always great to hear from my readers. Your support allows me be a UK food blogger and bring you vegetable cake recipes as well as vegan desserts, plus savoury vegetarian and vegan recipes and breakfasts and drinks.
📖 Recipe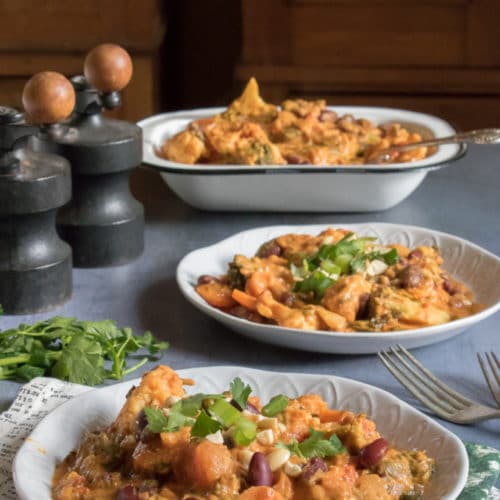 Easy Vegan Peanut Stew Recipe
Make this hearty stew in just 25 minutes! The vegetables, kidney beans and tomatoes are enlivened with cumin, turmeric and chilli, then the peanut butter gives it a lovely creaminess and great flavour.
Save
Saved!
Ingredients
1

tablespoon

olive oil

1

onion

diced

2

garlic cloves

finely chopped

2

handfuls

cauliflower florets

(fresh or frozen) cut into bite-sized pieces

2

handfuls

broccoli florets

(fresh or frozen) cut into bite-sized pieces

2

carrots

diced

1

handful

spinach

(fresh or frozen)

1

can

red kidney beans

drained and rinsed

1

can

plum tomatoes

350

ml

vegetable stock

1

inch

ginger

peeled and minced

1

teaspoon

ground cumin

½

teaspoon

turmeric

½

teaspoon

dried chilli flakes

Freshly ground black pepper

4

tablespoon

peanut butter

smooth or crunchy
To garnish (optional)
2

spring onions

scallions, chopped

handful

parsley

roughly chopped

handful

peanuts

roughly chopped
Instructions
Heat the oil in a large pot over medium heat.

Add the onion and fry until translucent but not browned.

Add the garlic and ginger, and fry for a further minute.

Add the cauliflower, broccoli (if using frozen cauliflower and broccoli, run under warm water for a minute or two to thaw and then cut into bite sized pieces), carrots, spinach, stock, beans, tomatoes (break them up slightly with a spoon) and spices, then stir well to combine. Bring to boil then reduce the heat and and simmer 15 minutes or until the vegetable are cooked, stirring occasionally.

Add the peanut butter and stir well. Season with salt and pepper and cook for a further minute.

Serve garnished with spring onions, peanuts and parsley.
Nutrition
Calories:
164
kcal
Carbohydrates:
11
g
Protein:
5
g
Fat:
11
g
Saturated Fat:
2
g
Sodium:
458
mg
Potassium:
308
mg
Fiber:
2
g
Sugar:
5
g
Vitamin A:
6120
IU
Vitamin C:
8.3
mg
Calcium:
42
mg
Iron:
1.2
mg
The nutritional information provided is approximate and can vary depending on several factors, so is not guaranteed to be accurate. Please see a registered dietician for special diet advice.
Tried this recipe?
Mention @kateveggiedesserts or tag #veggiedesserts! I love seeing your recreations.
Pin for later!

Disclosure: Iceland Foods commissioned this vegetable peanut stew recipe. All opinions are my own. Thanks for supporting the brands that make it possible for me to be a professional UK food blogger, mess up my kitchen and write Veggie Desserts.