Cinnamon French toast hearts are a perfect Valentine's Day breakfast! Or any time of year. The cinnamon makes the fried eggy bread extra special. Delicious with this easy chocolate yogurt sauce.
French toast
Read on and I'll show you how to make the BEST French toast. You know, soft and fluffy inside with a lovely crispy outside. Full of flavor from vanilla and cinnamon. Breakfast bliss.
You can, of course, make it with typical slices of bread, but a heart-shaped cookie cutter makes cinnamon French toast extra fun for Valentine's day.
I've added a simple chocolate yoghurt dip so everyone can dunk their French toast hearts in it for extra decadence.
I hate waste, so we dip the bread scraps leftover from cutting out hearts into the egg mixture and fry them up into a pile of extra French toast.
But of course, you can just cook the full bread slices or cut them into sticks.
What bread is best for French Toast?
You can use any sliced bread, from brown to gluten-free. But for a truly decadent breakfast, I usually go for fluffy white bread. It's usually something I avoid, but for French toast, to me, it's the best.
Try Texas toast, basic Wonder bread, thick slices of French bread or just try it with whatever sliced bread you have!
You could even use a fluffy challah or brioche!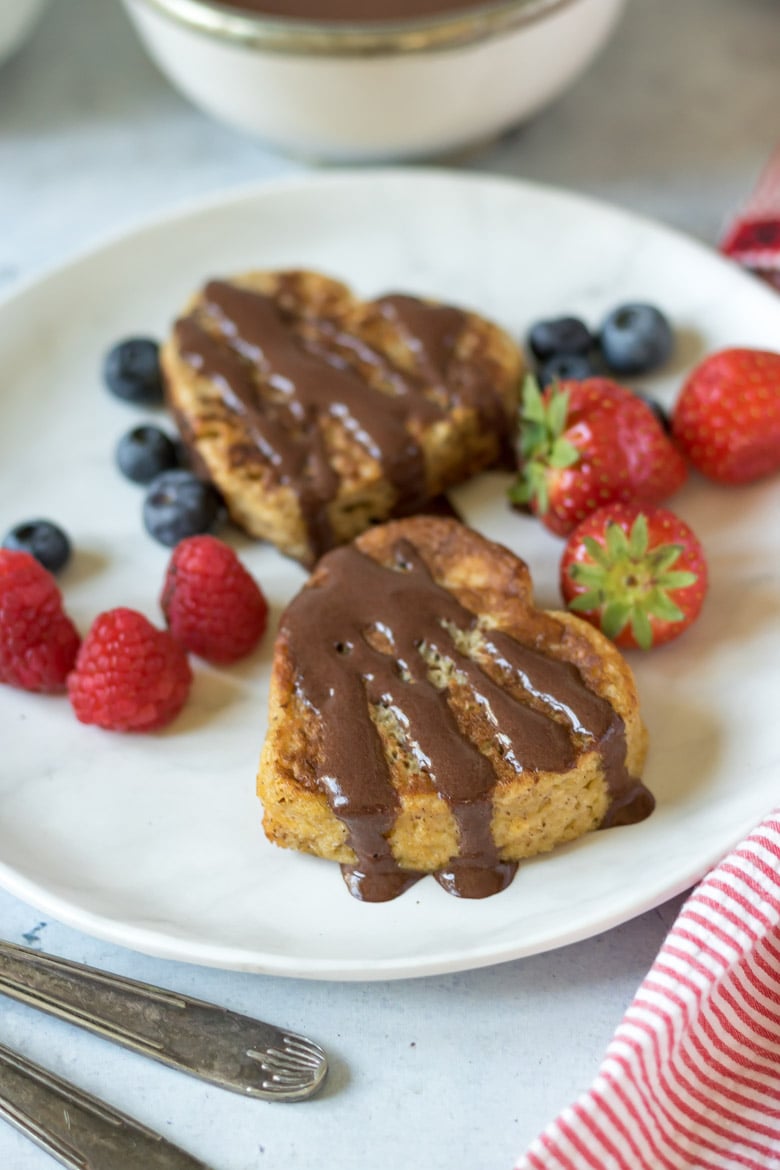 Where did French toast originate?
So, firstly, French toast isn't french. As with many traditional recipes, it's origins aren't clear. What we do know, is that during the Roman Empire they used to fry bread in milk and sometimes egg. And in Medieval England they had the dish and called it suppe dorate.
That takes the dish back to the 5th Century. Which is long before the French were eating 'Pain Perdue' (lost bread). They called it that because they ate it as a way to use up stale bread.
The eggy bread really got around. It was popular in Henry VII's court and is found as street food in India called Bombay Toast. It's spiced with cardamom in Norway (Arme Riddere) and it's considered a Christmas dessert in Brazil (rabanadas).
In Spain, they add wine and honey to their French toast and enjoy it over Lent. Wine? I've got to try that one!
In Hong Kong, they make a peanut butter and jelly sandwich, then soak it in egg and deep fry it. That sounds so wrong, but yet so right. Like something Elvis would have loved. They call it Western Toast.
Eggy bread recipe
French toast is, literally, fried eggy bread. Perhaps it's the countries' rivalries, but usually in the United Kingdom they refer to it as 'eggy bread'. That's a bit like calling your dog, Dog. Nothing fancy, but you get the gist of what it is.
It's also commonly known as gypsy bread, pain perdu or fried eggy bread.
Cook's Tips
Ensure the eggs and milk are well combined. If you see streaks of egg white in the bowl, you'll have little pieces of cooked fried egg white on your French toast. You don't want that. Get it nice and mixed.
French toast really benefits from stale bread. It's a great way to use it up.
Be sure the bread is fully coated in the mixture.
For a richer result, try half-and-half or heavy cream instead of milk.
If your bread is thin and soft, don't soak if for long. Firmer, staler heartier bread can handle being left a little longer.
Soak the bread all at once in a large deep baking sheet, or just soak them one at a time in a rimmed plate or a bowl.
Let the excess custard mixture drip off before frying, or you'll get little bits of scrambled egg next to the French toast.
Looking for a Valentine's dessert recipe? Try my delicious Pistachio Blondies with Raspberry Swirl Hearts.
Variations
Try swapping the vanilla for almond extract.
Try making savory French toast, by leaving out the cinnamon and vanilla and adding a small handful of grated cheese to the egg mixture.
Instead of nutmeg, add some pumpkin pie spice, chai spice or a little nutmeg. All are amazing...
Serving suggestions
Try it with compote! Raspberry compote, pineapple compote and mango compote are all tasty choices.
Drizzle slices with maple syrup, or try a dollop of yogurt and fresh berries.
It's best enjoyed for breakfast in bed, with fresh coffee, the weekend newspapers and some peace and quiet. Am I right?
How to make French toast
This is really simple. Just mix eggs, milk, vanilla and cinnamon (mix it well!). Dip in slices of bread and fry them until golden.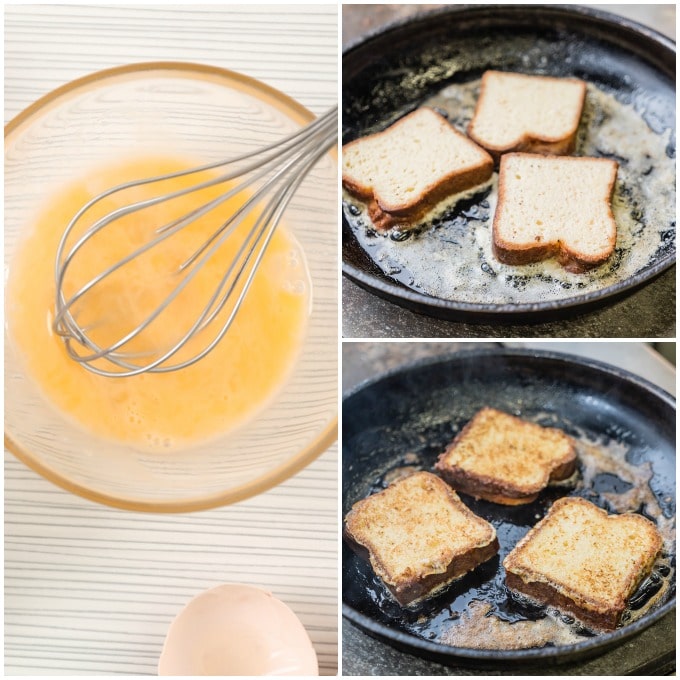 1. Beat the eggs, add milk, cinnamon and vanilla and beat again to completely combine.
2. Soak the bread on both sides.
3. Heat a frying pan with butter or oil. Fry one side until golden.
4. Flip and fry the other side until golden.
If desired, but into heart shapes with a cookie cutter before frying. Then fry the scraps as they're just as tasty!
How to cook French toast
Okay, so you're wondering how this hasn't been covered above in my tutorial for making French toast? Well, there are a few ways that you can cook them!
I usually use a skillet, but you can also make them:
On a griddle pan for lovely char lines.
In a George Foreman grill - they'll flatten a little but will cook super quickly!
If you cut them into sticks you can cook them in an air fryer.
Bake it in the oven.
More breakfast recipes
Looking for more tasty breakfast recipes? Try these!
Mushrooms on toast
Vegan pancakes
Peas on toast
Vegan banana bread
Recipe
Did you make this recipe? Please let me know how it turned out for you!
Leave a comment and star rating below and share a picture with the hashtag #veggiedesserts. I love seeing your recreations of my vegetarian and vegan recipes.
Follow me on Instagram * Twitter * Facebook * Pinterest * Youtube
📖 Recipe
Cinnamon French Toast with Chocolate Yogurt Dip
A heart-shaped cookie cutter makes cinnamon French toast fun for Valentine's day. But if you don't have one, just cook the full eggy bread slices and cut into sticks. Then they can still easily be dunked into the chocolate yoghurt dip.
Save
Saved!
Ingredients
2

eggs

1

tablespoon

milk

1

teaspoon

vanilla extract

½

teaspoon

ground cinnamon

6

thick slices of bread

2

teaspoon

butter

for frying
For the chocolate dip
1

cup

(125ml) plain yogurt

2

tablespoon

cocoa powder

2

tablespoon

sugar

½

teaspoon

vanilla extract
Instructions
Whisk the eggs well, then add the milk, vanilla and cinnamon and whisk together until completely blended.

(Optional) Use a heart-shaped cookie cutter to cut hearts out of slices of bread. Dip each bread heart into the egg mixture. Be sure to also dip and cook the scraps - they taste great, too.

Alternatively, just dip the slices of bread into the egg mixture. Ensure they're completely coated.

Melt the butter in a frying pan over a medium/high heat.

Let excess egg mixture drip off the bread, then add as many slices of bread that will fit the frying pan and fry until brown, then flip and fry on the other side. Repeat with all the slices of bread.
For the chocolate yogurt dip:
Mix all the ingredients together and serve in small bowls to dip the french toast into.
Nutrition
Calories:
233
kcal
Carbohydrates:
34
g
Protein:
11
g
Fat:
6
g
Saturated Fat:
3
g
Cholesterol:
89
mg
Sodium:
317
mg
Potassium:
301
mg
Fiber:
3
g
Sugar:
14
g
Vitamin A:
181
IU
Vitamin C:
1
mg
Calcium:
200
mg
Iron:
2
mg
The nutritional information provided is approximate and can vary depending on several factors, so is not guaranteed to be accurate. Please see a registered dietician for special diet advice.
Tried this recipe?
Mention @kateveggiedesserts or tag #veggiedesserts! I love seeing your recreations.