Orange marmalade is deliciously sweet and bitter. This simple no pectin recipe includes ginger for an extra special flavour. Use Seville oranges when you can get hold of them, but out of season any oranges will do. Perfect on toast or crumpets for breakfast.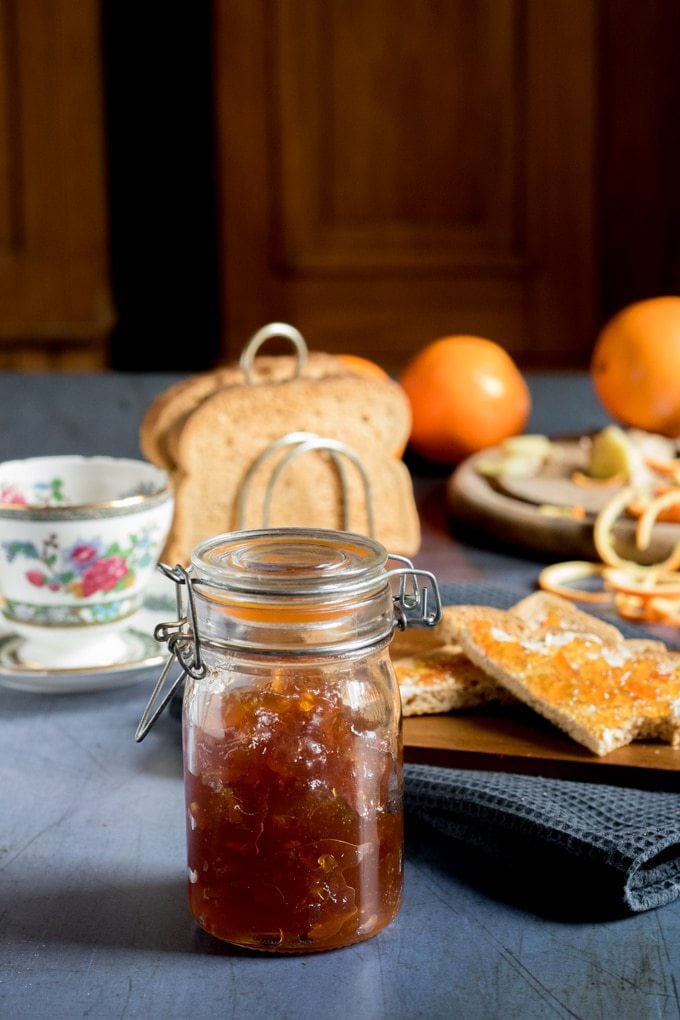 Ginger Orange Marmalade
Don't be scared of marmalade.
It's actually quite simple to make, you just need to give it time to boil and soften the peel.
Simply follow my easy instructions and soon you'll have a pantry stocked with jars of this delicious ginger orange marmalade.
This ginger orange marmalade recipe is sweet, yet bitter, with a lovely subtle heat from the fiery ginger.
Seriously, the most taxing part is just chopping the peel finely, but all you need is a sharp knife and (this is essential) good tunes on the radio.
You'll need to sterilize a few jam jars (I am majorly obsessed with saving all useful jars for a rainy day - anyone else?).
I just run my jars through the dishwasher, but you can also put them in a low oven.
Check out this guide to sterilizing jars.

This recipe is naturally vegetarian, vegan and gluten free.
How to enjoy orange marmalade
I love spreading orange marmalade on hot slices of toast.
You could also try it on my quick carrot soda bread or fluffy milk rolls.
It would also be amazing on my turmeric bread or date and walnut bread.
If you're looking for other jam recipes, you must try my carrot jam.
It's sooo easy to make and, bizarrely, the carrot jam ends up tasting like apricot jam!
For another way to enjoy it, try it on cinnamon scones, on French toast, swirled into yogurt or dolloped onto baked oatmeal.
Or of course, try it in marmalade sandwiches, like Paddington Bear!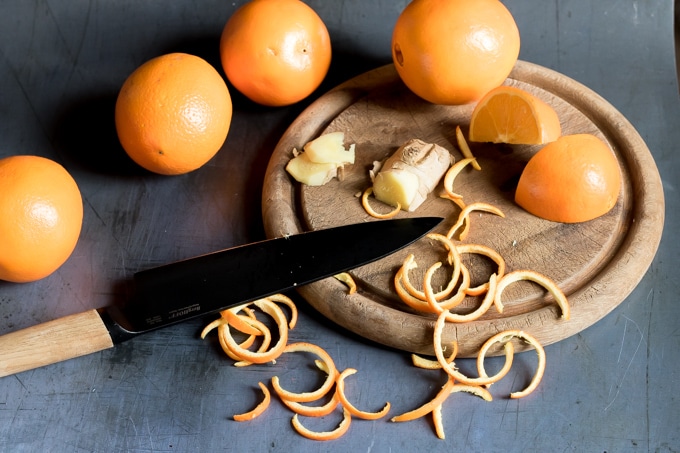 How to make marmalade
There are different ways to make marmalade, but this is my simpler recipe.
Some recipes call for soaking the peels overnight, but I'm not known for my patience.
Others call for boiling the oranges whole, but I find that fiddly when it comes to cutting the slippery peels into shreds.
For this marmalade recipe, you simply need to
1. Juice the oranges and lemon, saving the pips (seeds).
2. Scrape out the white pith.
3. Cut the orange peels into shreds.
4. Add the juices, peels and water to the pan.
5. Put the pith and pips into a little pouch made from tied muslin cloth (cheesecloth) and add that to the pan.No muslin? Read on!
6. Simmer for 2 hours until soft.
7. Add sugar and simmer a further 20 minutes.
8. When setting point is reached (see plate test in the recipe below), spoon into sterilized jars.
>>Scroll down for the full recipe.
Marmalade without muslin (cheesecloth)?
Muslin is a fine weave cloth that's useful for straining in many recipes.
If you don't have any muslin cloth (or cheesecloth) for your marmalade, try these muslin alternatives:
Nut milk bag
Clean 100% cotton tea towel
100% cotton sterilised bandages from medical kit
Clean baby muslin cloth (aka burp cloth!)
A clean (but old) pillowcase. Note that it will be stained from the marmalade after use.
Cut the foot from a pair of new tights / pantyhose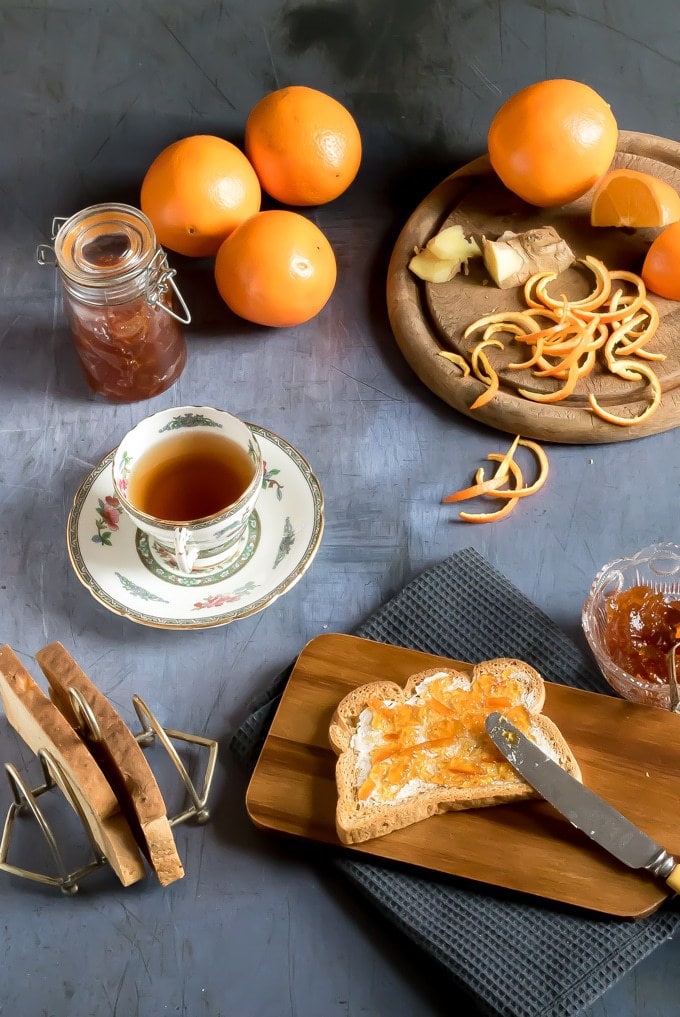 Did you make this recipe? Please let me know how it turned out for you!
Leave a comment and star rating below and share a picture on Instagram, Twitter or Facebook with the hashtag #veggiedesserts.
Thanks for checking out my recipe! I love hearing from my readers. You all allow me to do what I love and write this food blog, sharing vegetarian recipes, vegan recipes, vegetable cake recipes, vegan cake and also easy vegan desserts.
Kate x
Get the Ginger Orange Marmalade Recipe
📖 Recipe
Ginger Orange Marmalade
Orange marmalade is deliciously sweet and bitter. This simple recipe includes ginger for an extra special flavour. Use Seville oranges when you can get hold of them, but out of season any oranges will do.
Save
Saved!
Ingredients
1

kg

oranges

Seville or any others

1

lemon

1.5

tablespoon

finely chopped fresh ginger

2

kg

granulated sugar
Instructions
Sterilise 5 jam jars by either running through the dishwasher, or washing well then putting in a low oven until dry.

Place a small plate into the freezer (for checking doneness later)

Cut the oranges in half and squeeze out the juice into a preserving pan or large saucepan (saving the pips).

Cut each orange half in half again into quarters and use a metal spoon to scrape the pith( white membrane) from the peel (save it).

Place the pips and pith onto a square of muslin cloth and tie into a bundle with string.

Finely cut the orange peels into shreds with a sharp knife, then place it into the pan, along with the orange juice, lemon juice, chopped ginger and muslin bag of pith and pips. Add 2.5 litres (4 pints) of water, then bring it to the boil, reduce the heat and simmer for 2 hours.

The peel will soften and the mixture will reduce.

Remove the muslin bag carefully (it will be hot) squeeze all the liquid back into the pan. This contains pectin which will help the marmalade set.

Add the sugar to the pan over a low heat, stirring regularly until completely dissolved. Bring to the boil, then reduce the heat and simmer rapidly (without stirring) for 20 minutes, skimming off and discarding any froth that forms on the surface.

Take the pan off the heat, then take the plate out of the freezer and spoon a small amount of the marmalade onto it. Leave it for a few seconds, then use your finger to push it. If it wrinkles, then the marmalade is ready. If not, place the plate back in the freezer and the pan back on the heat and continue simmering for 10 minutes, then try again.

Leave the marmalade in the pan off the heat for 10 minutes, then transfer to the sterilised jars.

Store in a cool, dry place until ready to use, then store in the fridge once opened.
Notes
Guide to sterilizing jam jars
If you don't have muslin cloth (cheesecloth) use the foot of a pair of unused tights, a clean 100% cotton or linen tea towel or a nut milk bag.
The nutritional information provided is approximate and is created with online calculators. Info will vary based on cooking methods and brands of ingredients used.
Nutrition
Serving:
1
tablespoon
Calories:
183
kcal
Carbohydrates:
47
g
Potassium:
45
mg
Sugar:
46
g
Vitamin A:
50
IU
Vitamin C:
13.1
mg
Calcium:
10
mg
Iron:
0.1
mg
The nutritional information provided is approximate and can vary depending on several factors, so is not guaranteed to be accurate. Please see a registered dietician for special diet advice.
Tried this recipe?
Mention @kateveggiedesserts or tag #veggiedesserts! I love seeing your recreations.