These milk rolls are so fluffy and full of flavour. They're also easy to make with no long kneading times.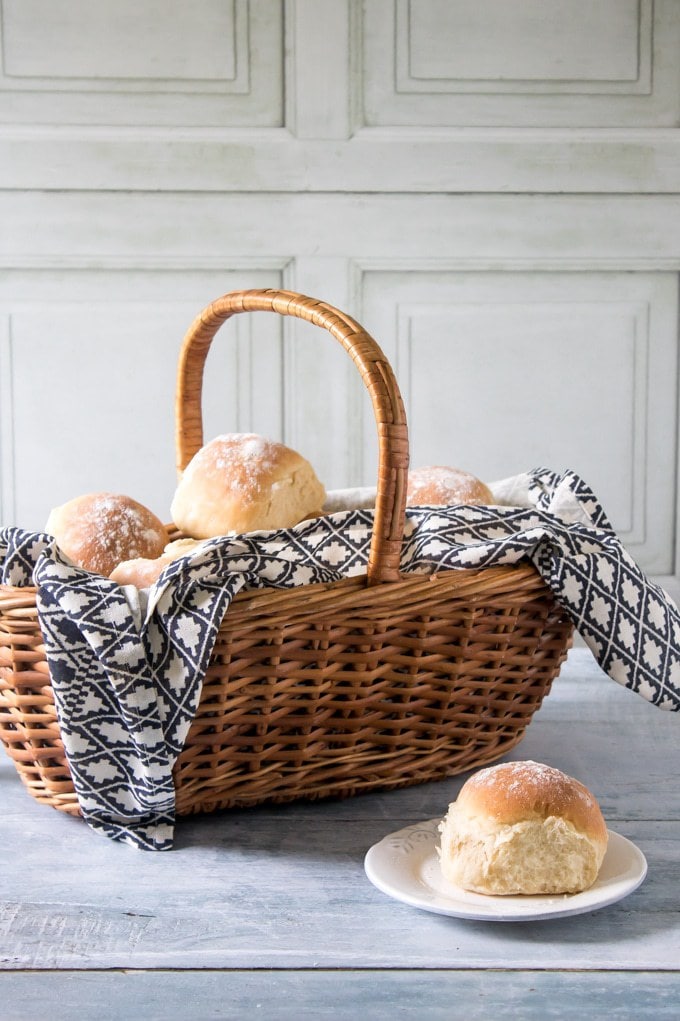 Commissioned recipe.
These yeasted milk rolls are fluffy and flavourful. They don't require a lot of kneading, but just some time to rise. They're perfect as dinner rolls, as burger buns or just spread with butter and a sprinkling of sea salt. But in fact, I'm happy just to spread them with a little butter, fresh from the oven, and eat them on their own. They need no adornment.
The bread is really airy, soft and delicate, with a subtle sweetness. They're definitely my ultimate dinner rolls.
Why should you make these milk bread rolls?
Not much kneading
Fluffy and soft
Full of flavour
Subtly sweet
I go through phases of making my own bread. For a while I used my bread maker a few times a week to make mix the dough, then I'd pat it into shape and bake it in the oven. Then I fell out of the habit.
It's so wonderful when the smell of bread permeates the air all around the house. I'm back to making bread regularly now, because it's easy and delicious. You just need to give it a little time and attention. You need to be patient, to wait. In this age of fast information and constant connectivity, we're losing the art of patience. We can bring it back, a little, by slowing down food. Slower eating and cooking, slower baking and enjoying.
It's usually the mess that makes me stop baking my own bread, but with this recipe for milk rolls you can knead right in the bowl. It also doesn't need much kneading, so you won't be spending all day with a sore arm.
Get the recipe for Fluffy Milk Rolls
If you make this recipe, please tag it with #veggiedesserts on Instagram or other social media. I LOVE seeing your recreations of my recipes.
Fluffy Milk Rolls Recipe
These yeasted milk rolls are fluffy and flavourful. They don't require a lot of kneading, but just some time to rise. They're perfect as dinner rolls, as burger buns or just spread with butter and a sprinkling of sea salt.
Save
Saved!
Ingredients
400

ml

milk

75

ml

cold water

2

tsp

fast action dry yeast

600

g

plain flour

(all purpose)

75

g

butter

, melted

2

tbsp

caster sugar

2

tsp

sea salt
Instructions
Scald the milk by bringing it just to the boil in a saucepan and then removing it from the heat. Pour the hot milk into a large bowl and add the cold water. Leave it to cool to warm, then stir in the yeast and leave for 5 minutes.

Add the flour, melted butter, sugar and salt to the bowl. Stir to bring it together, then knead it in the bowl for two minutes.

Cover the bowl with a tea towel and leave to rise for 1 hour, kneading for 1 minute twice during the rising time.

Line a baking tray with baking paper.

Shape the dough into small equal-sized balls and place slightly apart on the prepared tray. Leave to rise for 40 minutes.

Preheat oven to 200C/400F

Dust the tops of the dough lightly with flour, then bake for 20 minutes or until risen and golden.
Nutrition
Calories:
218
kcal
Carbohydrates:
35
g
Protein:
5
g
Fat:
5
g
Saturated Fat:
3
g
Cholesterol:
14
mg
Sodium:
383
mg
Potassium:
83
mg
Fiber:
1
g
Sugar:
3
g
Vitamin A:
180
IU
Calcium:
40
mg
Iron:
2
mg
The nutritional information provided is approximate and can vary depending on several factors, so is not guaranteed to be accurate. Please see a registered dietician for special diet advice.
Tried this recipe?
Mention @kateveggiedesserts or tag #veggiedesserts! I love seeing your recreations.
a2 Milk™
I used a2 Milk™ for these fluffy milk rolls. There are a lot of people who feel discomfort after drinking standard milk. However, this is often down to the A1 beta-casein protein that is found in most milk, but not in a2 Milk™.
Standard cows' milk contains two proteins: A1 and A2. These proteins digest differently and some people find the a1 beta-casein protein difficult to digest and are left feeling bloated or with stomach discomfort. Believing themselves to be lactose intolerant, many then abstain from milk. However, they may just need to switch to milk that naturally doesn't contain that A1 protein. At a2 Milk™ they don't add anything to, or take anything away from, their milk. They simply choose breeds that only have the A2 protein.
Find out more about a2 Milk™.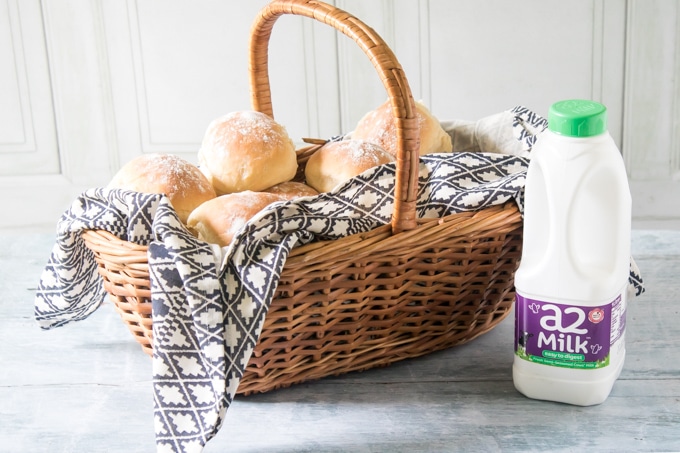 Looking for more recipes using a2 Milk™?
Try baked pumpkin doughnuts, Queen of Puddings, or Yorkshire parkin - a sticky ginger cake.
a2 Milk™ can be used just as you'd use it in all recipes, on cereal or in drinks. It tastes the same and works the same as standard cow's milk.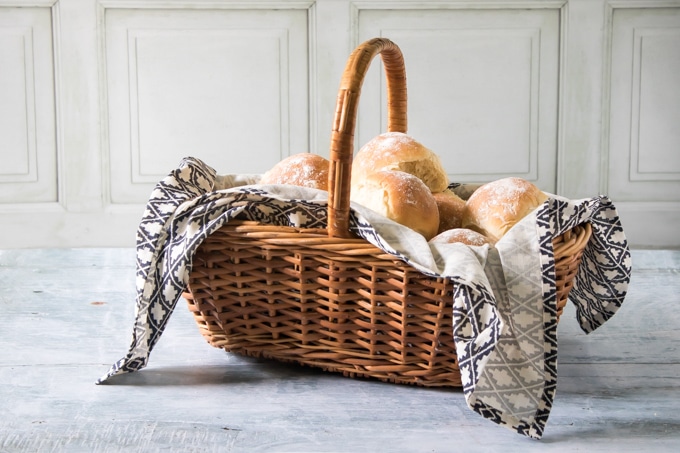 Disclosure: This recipe for Milk Rolls was sponsored by a2 Milk™. All opinions are my own. Thanks for supporting the brands that make it possible for me to write Veggie Desserts.