Here are my healthier kids birthday party tips. From sugar-free party bags to healthy, but fun, treats for the buffet. Parties don't need to be a sugar-fest to be fun.
Commissioned post.
There's nothing scarier than a village hall filled with a dozen 5-year olds-chasing balloons in a sugar frenzy. Trust me. Except, perhaps, when your own child has been to a particularly sugar-fuelled party and they come home with a heaving goody bag with yet more sugar. Shudder. There will be tears before bedtime, guaranteed.
There's got to be a way to make kids parties a bit healthier without compromising on the fun. I'm not talking about feeding them chia crackers and lentil dip, but there are some simple ways to lighten the ol' sugar load. I'm working with Organix again this year to promote healthy eating for kids, so here are my healthier birthday party tips.
Healthier Kids Birthday Party Tips
Food
My biggest tip for party food is to serve savoury foods first. I usually line the table with plates of veggies and hummus, fruit, sandwiches, crackers and breadsticks. Then I unleash the kids on it and they fill up before I bring out the sweet treats. I try to keep those to a dull roar, but, you know, it's a party.
However, you can make healthier swaps and the little darlings will never know. Mixed in with the Party Rings and Oreos, I add some Organix gingerbread men (sweetened with grape juice). I also thread fresh fruit onto Poky or Mikado chocolate biscuit sticks so they have to eat the fruit to get to the chocolate.
You can even enlist your child's help in the run up to the party to whiz up some energy balls. At parties I serve them on sticks, because kids love anything on sticks, amiright? Try my kid-approved sweet potato and ginger balls, beetroot chocolate energy balls or carrot cake balls.

You could even try my beetroot vanilla healthy freakshakes. They would also be great for a freakshake bar. Just make up a load of beet vanilla smoothie, then lay a table with healthier adornments - from apple rice cakes to fresh fruit - and let the little ones build it themselves.
The Cake
Looking for a healthier birthday cake is the whole reason that I started Veggie Desserts. It was coming up to my son's 1st birthday and I was all worried about giving him cake after only every feeding him healthy food. I made a low-sugar beetroot chocolate cake with avocado icing. He got his cake, but without all the fat and sugar. And it was delicious.
I have loads of cake recipes on my blog, usually with crazy bright colours and the veg replaces some of the fat and sugar. Icing is the biggest culprit for excess sugar, so you could try 'naked' cake, only icing the top and middle. Fruit is also great for a colourful decoration, as are small plastic toys that fit the party's theme.
Or, just go for it with a sugar and colouring-filled confection. Because birthdays are just once a year and you can make all the other elements healthier. I often lower the sugar in the sponge and then let loose(ish) on the themed cake decorations.
Pinata
I'd be pretty horrified by kids getting all jacked up on sugar and brandishing sticks at the best of times. But when you have a pinata at a party and it rains sweeties down upon all the already-hyperactive kids, well that's even worse. No. More. Sugar. So I've got a better idea...
You know all the plastic tat that kids get in other kids' party bags and Christmas crackers? The kinder egg toys, balls and little plastic 'things' that seem to accumulate around the house at a rapid rate? Save it up.
If you're going to do a pinata, why not rescue all the plastic tat from around your house and fill it with that. Then your house will be clear of bouncy balls, little figurines of horses and keyrings (seriously, kids don't have keys - how can they have so many keyrings??). Keep it out of landfill and send it home with partygoers and their unsuspecting parents (evil cackle).
Party Bags
These seem to be mandatory. My kids would pretty much lose their tiny minds if they didn't get one. We once came home from a party and they had each been given an eye-watering (and tooth-eroding) 24 (24!) sweeties. I know because with utter glee my son and daughter lined each piece up and counted it, like Scrooge on Christmas Eve.
I usually go easier on party bags. Instead of giving the party-goers cake at the party, after watching the birthday boy/girl blow out the candles, I wrap it up and pop it into the bags.
For my son's birthday in a few weeks, my plan is to buy some kinder eggs in bulk (should be about £0.40 each. thanks Lidl!)
and put one into each bag, along with cake and maybe a glow stick. Because hey, once a 1990s raver, always a 1990s raver. Kinder eggs are minimal chocolate and kids love the rubbish little toy.
For my daughter's 5th birthday last year, I bought a massive collection of early learning reading books from The Book People, on sale so they worked out at £0.30p each and just put them in the bag with cake and a temporary tattoo. I also added an Organix Mini Oaty Bar - and I'm not just saying that because I'm working with them. They're individually wrapped in bright packaging, plus the kids love them.
Top tip: sign up for The Book People's newsletter and they often send out discount codes for a percentage off.
ORGANIX NO JUNK JOURNEY
As part of the No Junk Journey with Organix, I've been working with them to highlight healthy eating for kids.
Organix have loads of healthy birthday party tips so check out their infographic below.
I hope that you'll follow fun and think about healthier choices for kids parties. You can share your food adventures using the hashtag #NoJunkJourney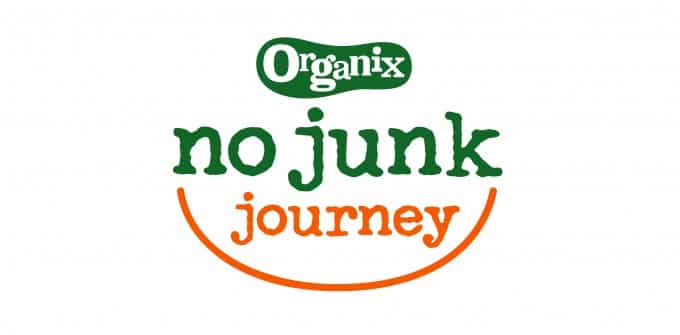 Disclosure: This post for healthier birthday party tips is part of my ongoing campaign with Organix as part of the No Junk Journey. All opinions are my own. Thanks for supporting the brands that make it possible for me to mess up my kitchen and write Veggie Desserts – Healthy Food and Lifestyle.