Whether you're a seasoned chef or just getting started in the kitchen, you've probably wondered: is garlic a vegetable? The answer may surprise you!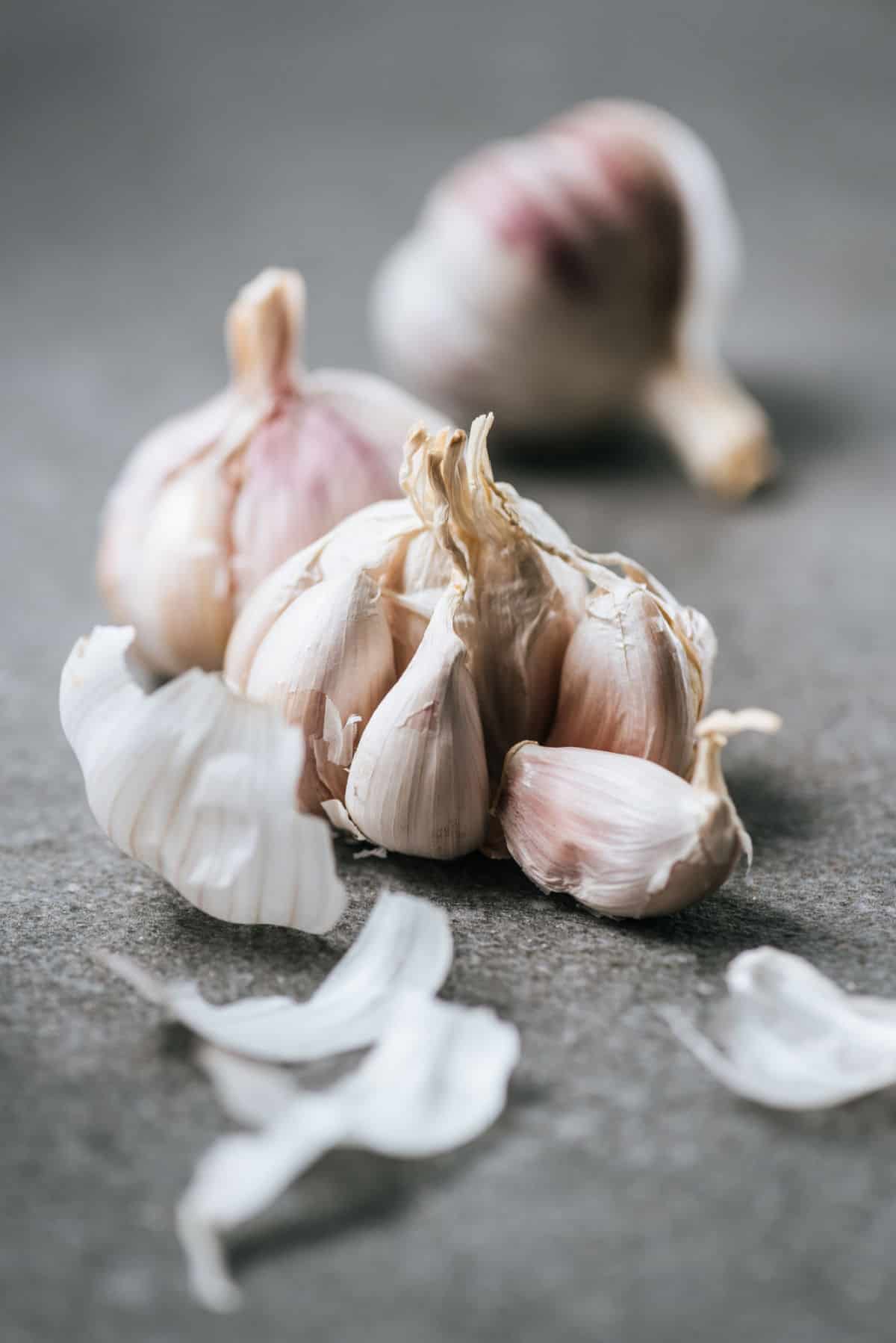 Sometimes it's obvious when produce is a vegetable (carrot = root vegetable), while others are a little more confusing (tomato = fruit).
Then there are other varieties of produce that will have you scratching your head, like if you're wondering, 'is garlic a vegetable?'.
Perhaps you are confused if garlic is a herb or spice?
Read on for all the info you need!
Jump to:
What is garlic
Garlic is a type of onion that is commonly used as a flavoring in cooking in many cuisines around the world.
It is believed to have originated in Central Asia and has been cultivated for over 5,000 years.
Garlic is a member of the onion (Allium) family, which also includes onions, shallots, and leeks. It is grown for its edible bulbs.
Garlic grows in many parts of the world and has a long history of use in both cooking and medicine.
Classifications of Vegetables
Before we can determine the answer to the question, is garlic a vegetable? we need to learn a little more about how vegetables are classified.
There are 3 classifications of "Vegetable": culinary, botanical and legal.
Culinary Vegetables: These are edible plants and plant parts that are considered veggies for cooking purposes. They are usually savory or are put into savory dishes. This includes pumpkins, eggplant, tomatoes and bell peppers, which are, botanically speaking, fruits.
Botanical Vegetables: Botany is the study of plants. Botanically, a fruit is seed-bearing and develops from the ovary of a flowering plant, while vegetables are all other parts of the plant, such as roots, stems and leaves.
Therefore, seeded parts of plants, such as apples, squash, green beans, okra, tomatoes, cucumber etc... are all botanically fruits. Roots, such as potatoes, beets, turnips, stems, such as celery and asparagus and leaves, such as spinach and kale, are all botanically, veggies.
Legal Vegetables: Some edible plants are legally classified as vegetables for tariff, tax and regulatory purposes. The U.S. Supreme Court ruled in 1893 (case: Nix v. Hedden) that tomatoes are legally vegetables, for customs purposes, despite them botanically being fruits.
If you want to know more about veggies, check out this List of Vegetables A-Z, Cruciferous Vegetables, or All About Legumes.
You might also be wondering, Is Onion a Vegetable?
Is garlic a vegetable?
In botanical terms, garlic is a vegetable from the onion family (Allium sativum). Since it is the root of the plant, it is a root vegetable.
Since it is commonly used as a flavoring, in culinary terms you could also consider garlic to be a spice.
What is a garlic clove?
The root of the plant is called the bulb or head.
This head is made up of a thin inner stalk surrounded by smaller segments called cloves, covered in thin papery skin.
How to use garlic
If you're looking to add some flavor to your cooking, garlic is a great way to do it! But how do you prepare and use garlic? Here are a few tips:
The bulb (head) of the garlic plant is composed of individual cloves that are covered in thin, papery skin. The cloves are used as a flavoring or seasoning in many dishes.
To use, the papery skin is removed from individual cloves, and then the clove can be chopped, minced, crushed, sliced or used whole.
To start, you'll need to peel the garlic. The best way to do this is to cut off one end of the clove and then peel off the papery skin. Once your cloves are peeled, you can chop them up into smaller pieces, or crush them if you'd like.
The cut surface of the garlic cloves imparts more flavor. When garlic is chopped or crushed, it releases a strong, pungent aroma.
If you want a milder garlic taste/aroma: leave them whole or slice them.
For a slightly stronger taste, chop your garlic finely.
For the most intense taste and aroma, crush or mince your garlic clove.
Garlic can be used fresh, cooked, or dried. It is an important ingredient in many savory dishes and adds flavor to soups, stews, sauces, and marinades.
Garlic recipes
Garlic is a wonderful way to add bold flavor to many dishes. Try these tasty garlic recipes!
FAQs
How many cloves does a garlic bulb have?
There are approximately 10-20 cloves in a head of garlic.
Can garlic be eaten raw?
Garlic can be eaten raw. Although usually cooked, some people consume garlic raw since it contains more allicin, an enzyme that is responsible for many of garlic's health benefits.
What is a clove of garlic?
A head (also called a bulb) of garlic is made up of many smaller teardrop-shaped cloves.
📖 Recipe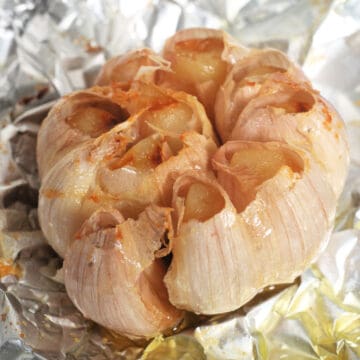 Roasted Garlic
Whether you're a seasoned chef or just getting started in the kitchen, have you wondered: is garlic a vegetable? The answer may surprise you!
Save
Saved!
Ingredients
2

whole heads garlic

2

teaspoons

olive oil
Instructions
Preheat oven to 350°F /175°C.

Trim away a little off the top of the heads of garlic. This will expose the tops of the garlic cloves.

Rub the oil onto the heads of garlic and let it drip down into the exposed cloves.

Wrap the garlic bulbs in foil and place into a baking dish. Bake for 40 minutes to 1 hour.

After 40 minutes, open one up from it's foil and check if the cloves are super soft and starting to brown and caramelise.

If necessary, re-wrap and cook a little longer.
Notes
Store roasted garlic cloves, wrapped, for up to 4 days in the fridge.
Uses for roasted garlic:
Spread onto bruschetta or toast.
Stir into hummus or other dips.
Mix the roasted garlic into softened butter and use as a condiment.
Add the roasted cloves to a sanitized jar of olive oil to make garlic oil.
Garnish soups.
Nutrition
Calories:
10
kcal
Carbohydrates:
0.2
g
Protein:
0.05
g
Fat:
1
g
Saturated Fat:
0.1
g
Polyunsaturated Fat:
0.1
g
Monounsaturated Fat:
1
g
Sodium:
0.1
mg
Potassium:
3
mg
Fiber:
0.02
g
Sugar:
0.01
g
Vitamin A:
0.1
IU
Vitamin C:
0.2
mg
Calcium:
1
mg
Iron:
0.02
mg
The nutritional information provided is approximate and can vary depending on several factors, so is not guaranteed to be accurate. Please see a registered dietician for special diet advice.
Tried this recipe?
Mention @kateveggiedesserts or tag #veggiedesserts! I love seeing your recreations.