If you want to know all about legumes you've come to the right place! Get a list of legumes, cooking guides, pictures, examples, types, and lots of information. Plus, you can find out answers to questions like What are legumes? Are green beans a legume? Read on to get all the answers.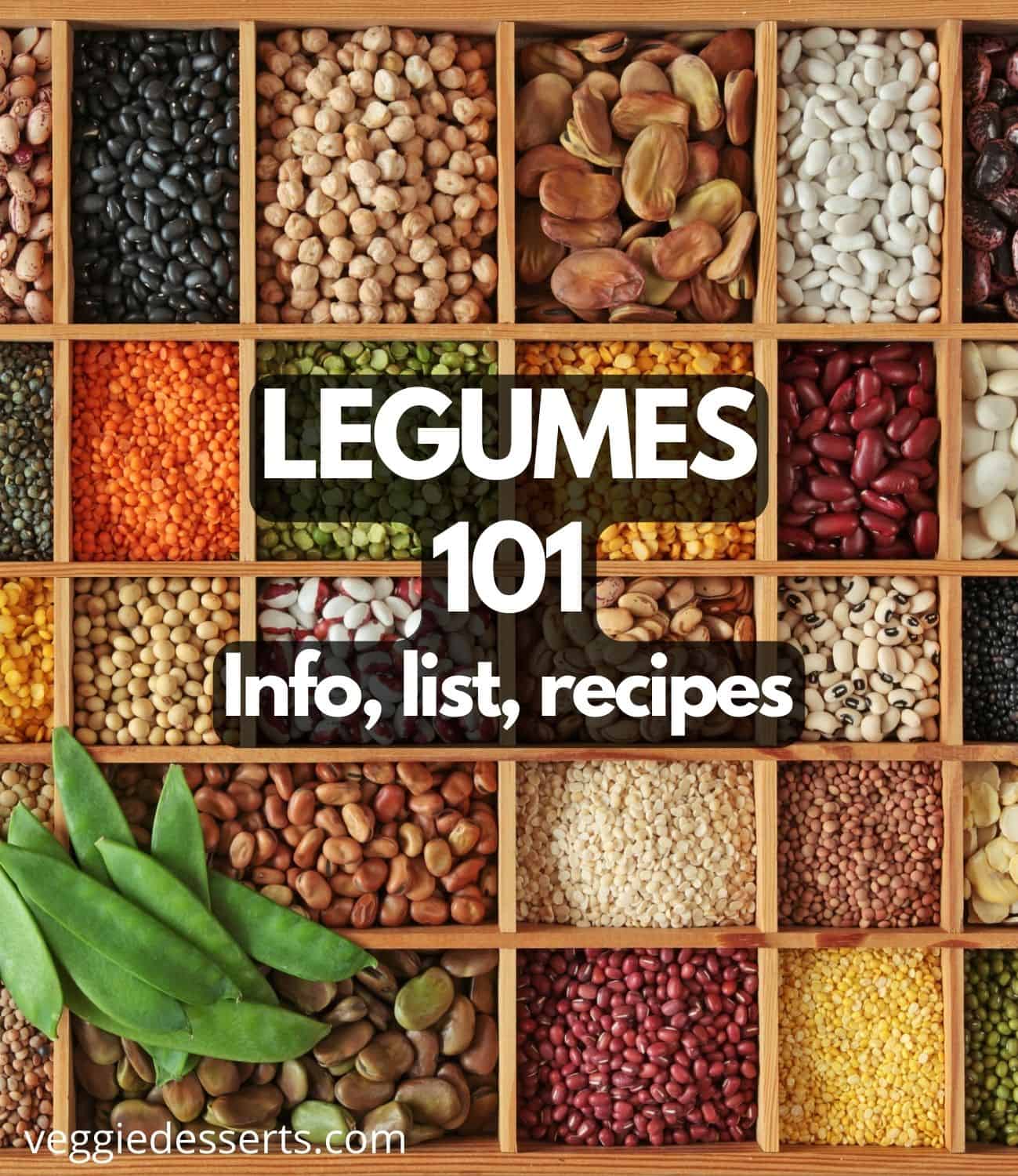 The legume family (Leguminosae or Fabaceae) is very diverse with nearly 20,000 species worldwide. These nutritious foods include many beans, peas, lentils, soya, and even licorice!
Legumes are a dietary staple all around the world. They're also often a big part of vegan and vegetarian diets and often found on vegan grocery lists, not only for their variety of tastes but because they're a great source of fiber and protein.
But although you may love black beans, broad beans, and chickpeas, you may have a lot of questions about this classification of vegetables.
So this article is here to not only give you a list of legumes but to answer all your questions!
Jump to:
What are legumes?
You're probably here because you're wondering, what are legumes?
It's simple: Legumes are edible seeds that grow in pods, in the Fabaceae or Leguminosae botanical family.
Types of legume include beans, peas, peanuts, lentils, and lupins.
Green peas and green beans are eaten in their immature form. Dried peas, chickpeas, beans, and lentils are eaten in their mature form.
Legumes come in a variety of shapes, colors, and sizes. They can be found in many formats including dried, canned, cooked, frozen, split, or ground into flours.
Legumes refer to all beans, peas, and lentils, including fresh and dried.
They play an important role in human health, providing an inexpensive and nutritious source of fiber and plant-based protein.
Try them in these lists of the 15 Best Lentil Recipes and 18 Best Bean Recipes.
Fun fact: Lentils have been eaten since 6,750BC in what is now the Middle East.
Types of legumes
Beans - such as pinto beans, black beans, black-eyed peas, cannellini beans, kidney beans, chickpeas (garbanzo beans), great northern beans. Tofu, from soybeans, is a legume.
Peas - such as English peas, snow peas, mangetout, sugar snap peas.
Peanuts
Lentils - such as red lentils, brown lentils, green lentils, puy lentils.
Lupins - popular served pickled in Mediterranean countries, lupini are small round yellow beans.
Are legumes a vegetable?
Yes, a legume is considered to be a vegetable. They are a classification of vegetables that includes beans, lentils, and peas.
They belong to the vegetable food group. Other food groups are fruit, protein, dairy, and grains.
Try them in these recipes: Green Beans with Cranberries and Pecans, Green Beans Almondine, and Green Bean Casserole.
Are green beans a legume?
Yes. Since the fruit of the green bean plant is inside a pod, green beans are legumes.
What are pulses?
Pulses are dried edible seeds that grow in pods (legumes). They include dried peas, beans and lentils. Pulses are rich in fiber, protein, carbohydrates, and nutrients such as B vitamins.
Although pulses are part of the legume family, the main difference is that pulses are dried. Therefore, fresh peas are considered legumes, while dried peas are also considered pulses.
Many pulses need to be soaked before cooking, but smaller pulses, such as dried red lentils, can be cooked without soaking.
Since they are dried, pulses are inedible when uncooked. They must be rehydrated to restore the moisture that is removed in the drying process. This is usually done by soaking or boiling. Soaking first often reduces the cooking time.
Types of pulses include dried split peas, black beans, kidney beans, and chickpeas, but do not include soybeans, peanuts, or fresh beans. They are all considered to be legumes as well as pulses.
Fun fact: The word 'pulse' comes from the Latin word puls, which translates to mean seeds that can be made into a thick soup.
Examples of Legumes
If you're wondering which vegetables are legumes, here is a list of many common varieties:
alfalfa sprouts
adzuki beans
bean sprouts
black beans
black-eyed peas
borlotti beans
broad beans / fava beans
chickpeas / garbanzos
green beans
kidney beans
lentils
licroice
lima beans / butter bean
mangetout
mung beans
navy beans
peanuts
pinto beans
split peas
sugar snap peas
soy beans / tofu
peas
Recipes
Now that you've had all your questions answered, you will probably want to cook up some of these healthy beans, peas and lentils.
The good news is that there are SOOOO many recipes to try, from many cuisines around the world. We hope you'll find plenty of inspiring ways to incorporate them into your diet more often.
So, if you're looking for legume recipes using these healthy veggies, then here are plenty! Try a Legume Salad or Mashed Legumes on Toast.
Try these recipes too:
Legume Recipes
Make the most of healthy legumes with these great recipes! The vegetarian and vegan recipes contain hero ingredients that are edible seeds that grow in pods, in the Fabaceae or Leguminosae botanical family - making them legumes!
You can also find out more about veggies with this Vegetables List.
You may also be interested in a list of the Cruciferous Vegetables.
Be sure to also check out this list of Vegetables That Start with A, as well other lists with the rest of the alphabet.
Looking for some recipes? Find Vegetarian Recipes You'll Love.