You'll be inspired by these mind-blowing Vegan Fish and Seafood Recipes! Pretty much any recipe can be veganized, including fish and seafood. In this collection, you'll find meat-free versions of your old favorites: vegan lobster, fish cakes, fish tacos, fish n chips and more.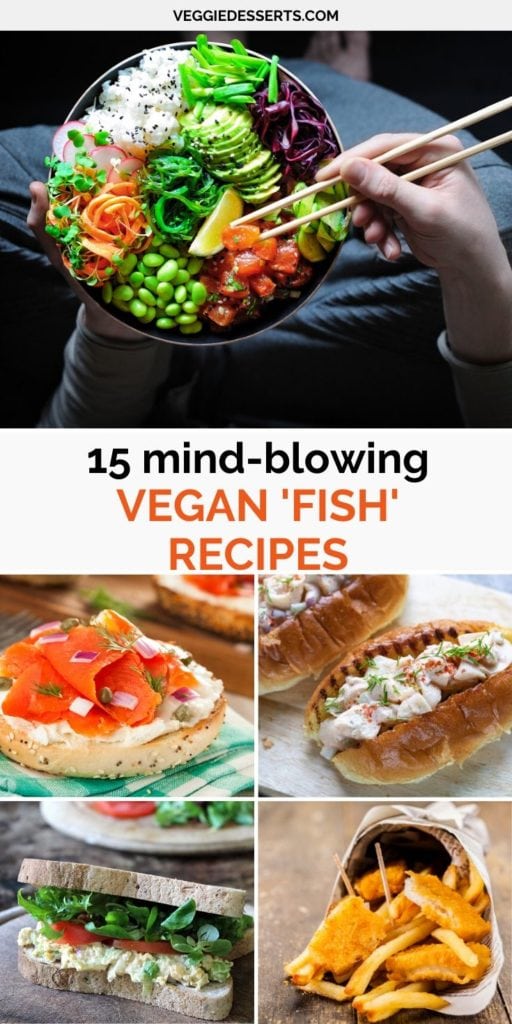 Veganized Fishless Fish Recipes
You don't have to miss out on flavors of the sea if you're a vegan or vegetarian.
This collection is full of cruelty-free fish-free vegan seafood and fish recipes.
From traditional British fish and chips (without the fish!) to a classic New England lobster roll made with hearts of palm, you'll be inspired by this fishless fish recipe collection.
I absolutely adore the creativity that cooking vegan and vegetarian brings. This is a seriously mind-blowing collection of fishless recipes!
You can't just use any old ingredient so you need to think outside the box. You need to consider flavors and textures more. That's part of what makes vegan cookery so exciting.
Jump to:
Vegan Fish Alternatives
So, you might be wondering what plant-based vegan foods can you use to replace 'fish' in seafood recipes? There are so many!
Tofu - I love the texture of tofu, particularly battered a la fish 'n chips!
Banana blossoms - they're available, usually canned, in the canned vegetable aisle. They're also amazing battered.
Chickpeas - these dense little balls of goodness are perfect in my vegan chickpea tuna sandwich!
Carrots - their orange colour makes carrots a perfect substitute for salmon in lox / smoked salmon.
Hearts of Palm - these are, literally, hearts of the palm plant. They come canned (in the veg aisle) in sticks. They're perfect to substitute lobster or crab (like in my Vegan Lobster Roll).
Artichoke hearts - these are another great mimic of seafood's texture. Try them battered!
How to Veganize Fish Recipes
Like most other recipes, you can just make a few simple swaps to veganize your favorite fish and seafood recipes.
You'll need to choose a replacement for the actual fish. Use the list above to choose the most appropriate color and/or texture.
Next, you'll want to replicate any sauce or flavors in the recipe, but vegan. There are plenty of great brands of dairy free cream, milk etc...
When cooking the recipe, you can usually use similar cooking methods. But since you've replaced the main ingredient, be sure to check and adjust cooking times if necessary.
Then, finish the dish with vegan condiments and flavors. Perhaps a wedge of lime, a sprig of dill and maybe veganize this tartare sauce recipe with dairy free ingredients, or this sriracha aioli for a burst of zingy flavor.
Vegan Fish Flavor
All those products are great, texture-wise, but what about the fishy flavor in dishes?
If you've been meat-free for a long time (like me) then you won't miss the fishy flavor so don't need to add it.
However, if you're cutting down on meat/fish, you're flexitarian or newly vegan or vegetarian, then you may want to replicate that sea-like taste. Here's how!
Nori Seaweed - In some dishes, like vegan tuna, I like to add nori seaweed. You can find it in ethnic stores, larger grocery stores and Trader Joe's. It's the sheets of seaweed that are used in sushi to wrap around the rice rolls. Try adding a little crumbled into vegan fishless dishes.
Other Seaweed - Just like Nori, dulse, kelp and other seaweeds bring an authentic salty seaside taste, but without harming any fish! Just crumble up a little and add it instead of salt. Plus, it's good for you too!
Old Bay Seasoning - Old Bay is a tasty seasoning mix that's often used in fish dishes. It's vegan so it's a great way to add a tasty flavor. Get the easy Old Bay Seasoning recipe.
Lemon juice - Many fish and seafood dishes are paired with wedges of lemon, so adding some to a fishless dish gives it a little fishy taste.
Dill - Dill is often the go-to herb for fish dishes, so you can add a little for a taste reminiscent of fish.
Vegan Fish Sauce - many recipes call for fish sauce to give them lots of flavor. You can leave it out, or try making your own vegan fish sauce, based on a concentrated cooled broth of mushroom powder, Bragg's aminos, soy sauce, seaweed and garlic.
The Best Vegan Fish Recipes and Vegan Seafood Recipes
So, without further ado, it's time to show you the best Vegan Fish recipes and Vegan Seafood Recipes on the internet! Prepare to have your mind blown.
No fish wish harmed in the making of any of these tasty recipes - yay! Nemo salutes you.
Vegan Fish Recipes
You're going to love these amazing vegan fish recipes. This collection is full of the best fish and seafood recipes - but they're all fish-free and vegan! From Vegan Lobster Rolls and Vegan Tuna Sandwiches to Vegan Fish n Chips and vegan seafood recipes, you're sure to find a recipe that you'll love.