In these Grapefruit Watercress Donuts, the peppery flavor of the watercress fades, leaving a lovely earthy taste that pears beautifully with the grapefruit. The grapefruit pears are a fun alternative to sprinkles.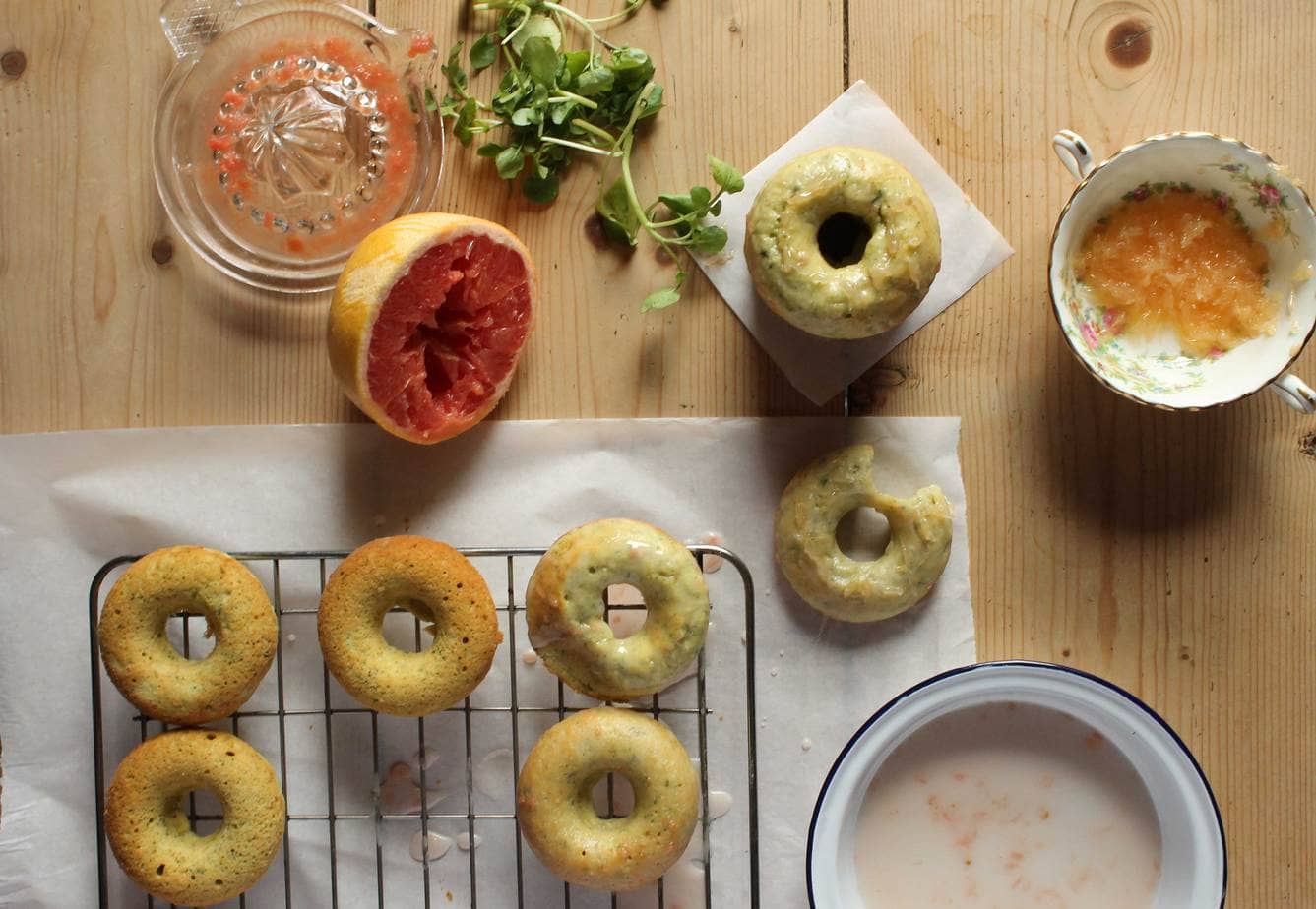 I put watercress in doughnuts. Indeed. Watercress donuts. Yessiree.
And I'll do it again. These zesty grapefruit baked doughnuts are vibrant, green-flecked spongy bursts of summer.
When cooked, the watercress loses the pepperiness and turns more floral, lending these doughnuts a subtle earthiness to compliment the gutsy kick of the fruit.
What are grapefruit pearls, you ask?
I discovered them from the food Gods over at Saveur and they are little tangy bubbles of sunny citrus.
So simple to make, they are a quirky, healthy alternative to sprinkles.
Thursday was not a pleasant day. Double disappointments, wallowing in self-pity and Bob Marley's Legend on repeat. Friday dawned a little brighter. I had a quiet word with myself. Someone's mother said "What's meant for you won't pass you by." It helped.
Today, however, is great. The sun blazed all day, and now I'm rambling on my computer to you while drinking Pimm's. My glass (okay, it's a jar, but I swear I'm only using it because the other glasses are all in the dishwasher. My grandmother would be horrified.) is rammed full of ice, lemon, strawberries, fresh mint and cucumber. So, it's sort of a veggie dessert.
My husband is in the dining room with the exposed skeleton of a Victorian grand piano dismembered around him. He's listening to Chilly Gonzales while hacking away at pieces with small vintage tools like a gin-soaked (Pimm's-soaked) eccentric. Sweeney Todd with a tuning fork, if you will. A hundred years of the dust of dead people who hit keys in the succession to make tunes dances ghostly in the air as he tinkers and mends, prodding the music back into the wood. He is a piano tuner. I've encouraged him to sport a handlebar moustache, but thus far he is not keen.
* I have a broken rib from an over-enthusiastic coughing fit three weeks ago.
* I would like to see a barbershop quartet one day. Make it happen, someone.
* My house is up for sale and I've cleaned it more in a week than in all of 2013.
Chomp, chomp, chomp.
Notice that coffee ring on the table? Oops. Caffeinating between shots.
Donut Recipes
Looking for more donut recipes? Try these!
Irish Cream Baked Donuts
Pumpkin Donuts with Chocolate Drizzle
Baked Lemon Spinach Donuts
Vegan Baked Chocolate Donuts with Earl Grey Glaze
Get the recipe
📖 Recipe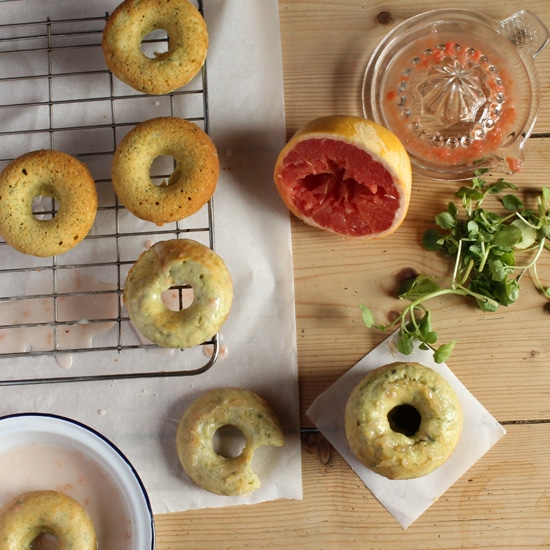 Watercress and Grapefruit Baked Doughnuts with Citrus Glaze and Grapefruit Pearls
In these Grapefruit Watercress Donuts, the peppery flavor of the watercress fades, leaving a lovely earthy taste that pears beautifully with the grapefruit. The grapefruit pears are a fun alternative to sprinkles.
Save
Saved!
Ingredients
50

g

1 cup, packed fresh raw watercress

250

g

2 cups plain (all-purpose) flour

100

g

¾ cup sugar

2

teaspoons

baking powder

pinch

of salt

1

egg

250

ml

1 cup buttermilk (or mix full-fat milk with 3 teaspoons of lemon juice and let stand for five minutes)

2

tablespoons

butter

melted

1

tablespoon

pink grapefruit juice

1

teaspoon

grapefruit zest

1

teaspoon

vanilla extract
For the grapefruit pearls:
Half a grapefruit

Oil

to cover
For the glaze:
200

g

1 ½ cups powdered sugar

3-4

tablespoons

grapefruit juice
Instructions
Preheat oven to 175C/350F. Grease a doughnut pan.

Simmer the watercress for a few minutes until tender. Drain, refresh under cold water, squeeze out the moisture and puree with a hand-held blender or food mill. Set aside.

In a large bowl, whisk the flour, sugar, baking powder and salt.

In another bowl, whisk the watercress, egg, oil, buttermilk, butter, zest, juice and vanilla. Add to the dry ingredients and gently stir to combine but don't overmix.

Fill the doughnut moulds with the batter until nearly full and bake for 15 minutes or until springy and an inserted skewer comes out clean. Allow to cool in the tray for 5 mintues, then carefully remove from the pan to cool completely on a wire rack.
For the grapefruit pearls
Peel and

segment

the grapefruit over a bowl to catch the juices (reserve for the glaze). Put the segments in a bowl and cover with olive oil. Gently stir, occasionally. After about 15 minutes the grapefruit will dissolve into pearls. Strain the grapefruit (reserve the infused oil for salad dressings) and rinse under cold water to remove traces of oil. Set aside.
For the glaze
Mix both ingredients until smooth, adding more juice to make a thin consistency. Dip the fully cooled doughnuts in the glaze and allow to cool on a wire rack. Top with the grapefruit pearls.
Nutrition
Calories:
212
kcal
Carbohydrates:
43
g
Protein:
3
g
Fat:
3
g
Saturated Fat:
2
g
Cholesterol:
21
mg
Sodium:
47
mg
Potassium:
143
mg
Fiber:
1
g
Sugar:
26
g
Vitamin A:
245
IU
Vitamin C:
3
mg
Calcium:
63
mg
Iron:
1
mg
The nutritional information provided is approximate and can vary depending on several factors, so is not guaranteed to be accurate. Please see a registered dietician for special diet advice.
Tried this recipe?
Mention @kateveggiedesserts or tag #veggiedesserts! I love seeing your recreations.