Tuck into this healthy and delicious broccoli salad with potatoes, peas, spinach and fresh herbs. It's vegan, gluten free, dairy free and sooo easy and tasty. This salad is a great barbecue side dish or main meal. Ready in just 15 minutes.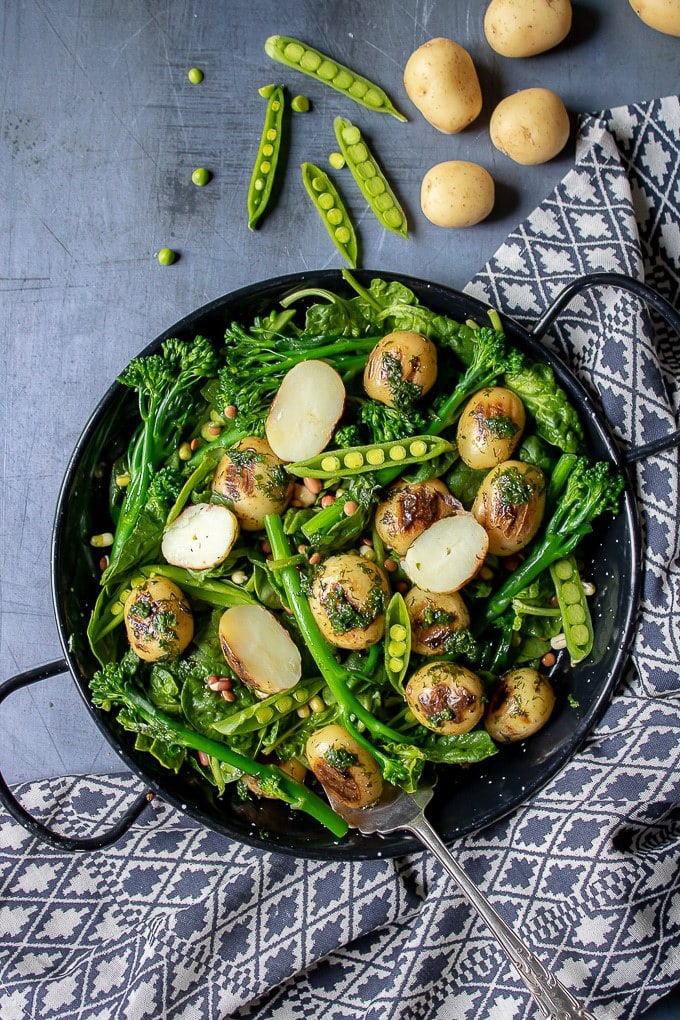 Eschew a boring salad of leaves or a heavy potato salad. Instead try this glorious broccoli salad! It's quick and simple to make - but it's a showstopper with all those lovely green veggies and hearty spuds. I urge you to make it now!
Rather than just leaves in a green salad, I love creating salads that are a mix of hot and cold foods and burst with flavour! A base of spinach is topped with Tenderstem broccoli (aka broccolini), raw peas and sprouted lentils. Then it's crowned with grilled garlic and herb potatoes.
Flavour people, flavour. All from garlic and loads of chopped fresh herbs and the natural flavour of healthy veggies.
Broccoli Salad
Make broccoli the star of the show in this quick, easy and delicious broccoli salad. It's filling from the grilled potatoes and full of flavour from the herbs. With spinach, peas and broccoli, it's full of green goodness. I know, you've been wowed - right?
That's because this isn't some boring potato salad, it's a vibrant, flavourful, healthy salad! It's showstopper of green goodness.
Make it. Now. I urge you. Tuck a bowl of this awesome salad under your arm when you turn up at the next barbecue and you'll earn brownie points from the host.
Veggie Salad
There's more to salad than a green salad. This veggie salad is full of sweet peas, delicious broccoli and then the greens.
Make it for an easy dinner. Make it for a healthy gluten free lunch. Just make it.
Tuck into this healthy and delicious brocoli salad with potatoes, peas, spinach and fresh herbs. It's vegan, gluten free, dairy free and sooo easy and tasty. This salad is a great barbecue side dish or main meal.
This broccoli salad would be perfect at a barbecue alongside grilled vegetables, Brazilian potato salad or a Mexican grilled chipotle salad in a tortilla bowl. I always think the best barbecues have a variety of exciting salads and these all definitely fit that bill!
Why is this the best broccoli salad?
Tenderstem broccoli (aka broccolini) is tender and delicate
The potatoes make it a hearty salad
Herbs give it loads of flavour
This is a non-creamy, dairy free potato salad
Lots of goodness from the green vegetables
Vegan and gluten free
Ready in 15 minutes
A great barbecue side dish
A tasty side or main meal
A healthy broccoli salad recipe with no mayo or cream
Only 134 calories per serving
Cook's Tips:
If you don't have Tenderstem/broccolini - then just use standard broccoli. The salad still tastes delicious!
Substitute spinach for any seasonal greens such as kale, chard or lettuce in this vegan broccoli salad
If you don't need it to be dairy free, you can use butter instead of oil for the potatoes
Short on time? You can skip grilling the potatoes and just cook them for longer, drain, then toss in the herby dressing
Check out my other vegan salad recipes!
Spinach salad with strawberries
Walnut Salad
Beetroot Salad
Shredded Sprout Salad
Fruit Salad
Did you make this Tenderstem Broccoli Salad recipe? Please let me know how it turned out for you!
Leave a comment and star rating below and share a picture with the hashtag #veggiedesserts. I love seeing your recreations of my vegetarian and vegan recipes and cakes.
Thanks for checking out my recipe! I love hearing from my readers. You all allow me to do what I love and write this UK food blog, sharing vegetarian and vegan recipes, vegetable cake recipes, vegan cake and also easy vegan desserts.
Kate x
Follow me on Instagram * Twitter * Facebook * Pinterest * Youtube
Get the Vegan Broccoli Salad recipe!
Broccoli Salad with Potatoes, Peas and Herbs
This vibrant healthy broccoli salad is quick, easy and packed with flavour. It's also vegan, gluten free and dairy free. Perfect for a summer dinner or barbecue side dish. Ready in just 15 minutes!
Print
Pin
Rate
134
kcal
Ingredients
3

cups

(350g) new potatoes

3

cups

(250g) Tenderstem broccoli (broccolini)

½

cup

(50g) raw snap peas

1

tbsp

olive oil

2

garlic cloves, crushed

2

tbsp

fresh dill, chopped

2

tbsp

fresh parsley, chopped

1

tbsp

fresh mint, chopped

3

handfuls

spinach leaves

3

tbsp

sprouted lentils (optional)
Instructions
Part boil the potatoes for 7 mins or until just tender (halve any larger new potatoes first). Drain well, rinse under cold water to cool enough to handle then thread onto skewers.

Heat a griddle pan or barbecue. Mix the oil, garlic and herbs in a small bowl, then brush it all over the potatoes.
Grill for a few minutes until lightly charred.

Meanwhile, bring a medium pan of water to the boil, add the Tenderstem/broccolini and cook for 1 minute. Drain, rinse under cold water to stop them cooking further.

In a large serving bowl, add the spinach, then top with the broccolini, grilled potatoes (and any remaining herby sauce), snap peas and sprouted lentils (if using).
Nutrition Information
Calories:
134
kcal
Carbohydrates:
21
g
Protein:
4
g
Fat:
3
g
Sodium:
41
mg
Potassium:
518
mg
Fiber:
3
g
Sugar:
2
g
Vitamin A:
3350
IU
Vitamin C:
88.4
mg
Calcium:
82
mg
Iron:
2.1
mg
The nutritional information provided is approximate and can vary depending on several factors, so is not guaranteed to be accurate. Please see a registered dietician for special diet advice.