Check out these great healthy salad recipes! Here you will find dozens of tasty green salads, dinner salads, light salads and many more salad ideas.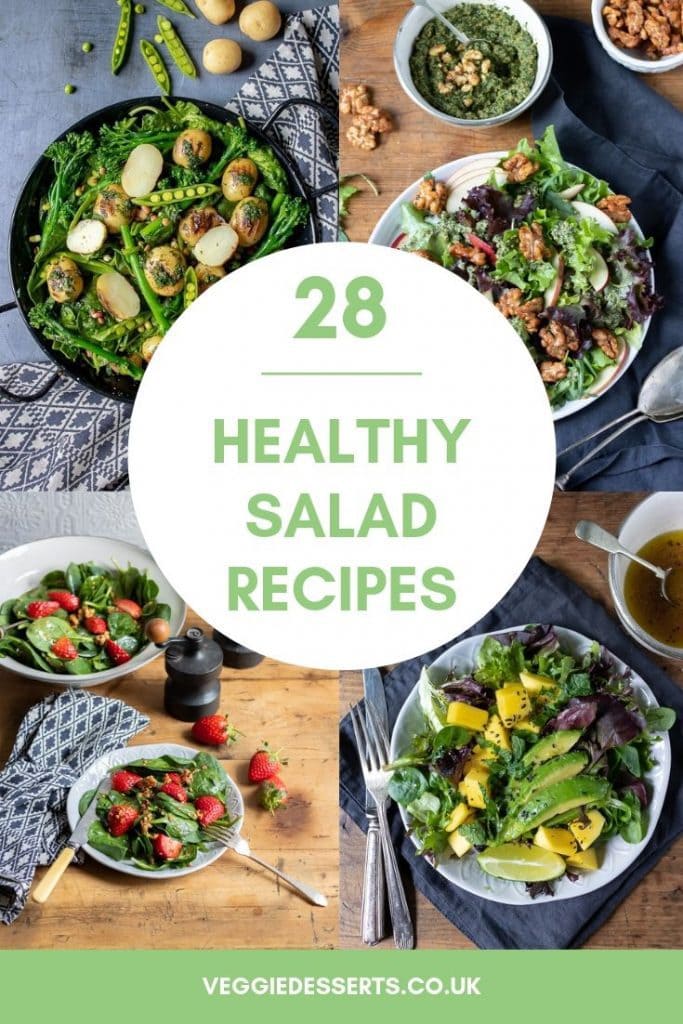 Salad Recipes
Remember when you used to order a salad in a restaurant and it was literally a plate of iceberg lettuce. Maybe a couple of cherry tomatoes to garnish or a sprig of parsley? Well the world has seriously upped it's salad game. Thankfully!
They can still be quick, healthy choices for dinner, lunch or even breakfast (maybe not dessert - a dessert salad that isn't fruit may be a step too far, even for me). But a little bit of extra thought and you can have a healthy salad recipe that tastes AMAZING. It's all about getting a good balance of flavours, texture and the all-important dressing.
So I've put together this big list of tasty healthy salad recipes to inspire you to up your salad game. From noodle salad and potato salad, to green salad and fruit salad, this list has it all. They're all vegetarian or vegan salad recipes.
28 Healthy Salad Recipes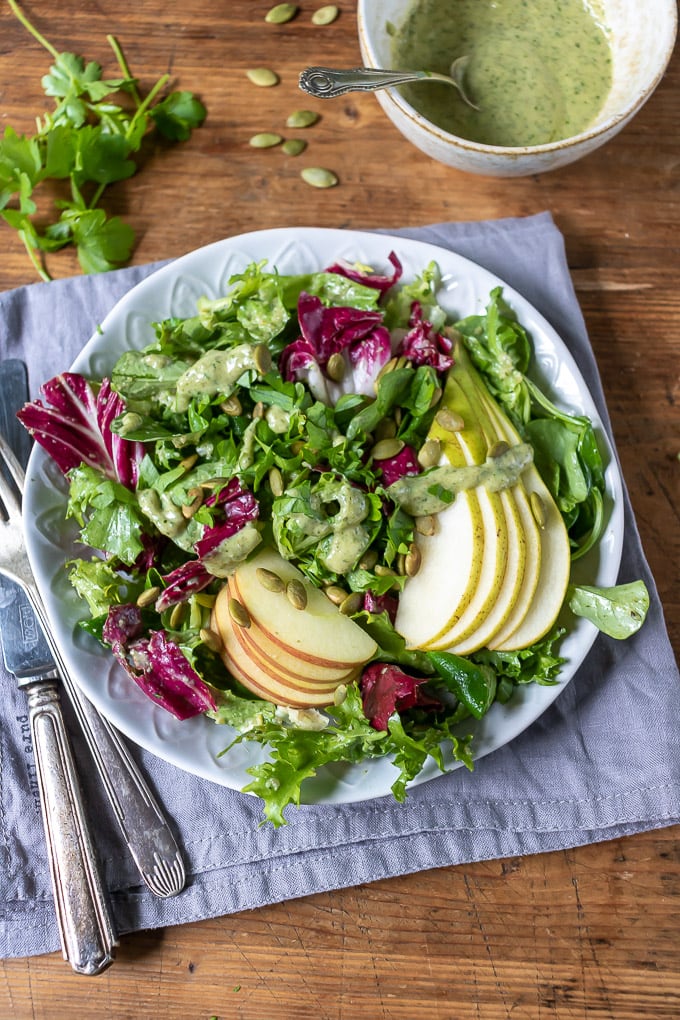 Green Salad with Pumpkin Seed (pepita) Dressing
Green salad doesn't have to be boring! These leaves are made extra special with slices of pear and apple, plus a super-easy, tasty pumpkin seed (pepita) dressing. Your new go-to summer salad.
Vegan, vegetarian and gluten free.
288 calories.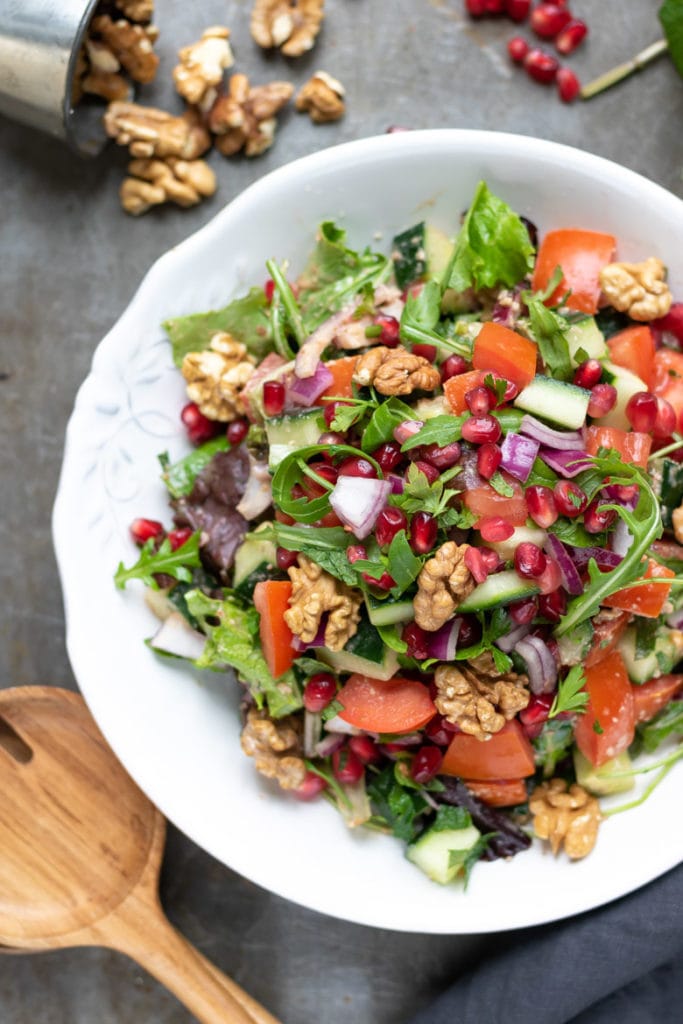 Rocca Salad is a tasty mix of arugula (rocket) with walnuts, pomegranate and a Persian dressing. It's a delicious salad with a Middle Eastern flavor.
Vegan, vegetarian and gluten-free.
233 calories.
Mango Salad with Avocado and Lime Ginger Dressing
This mango salad is zingy and refreshing. Mango, avocado and lettuce are piled high, then drizzled with a tasty lime ginger dressing. It's easy, bursting with flavour and ready in minutes!
Vegan, vegetarian and gluten free.
204 calories.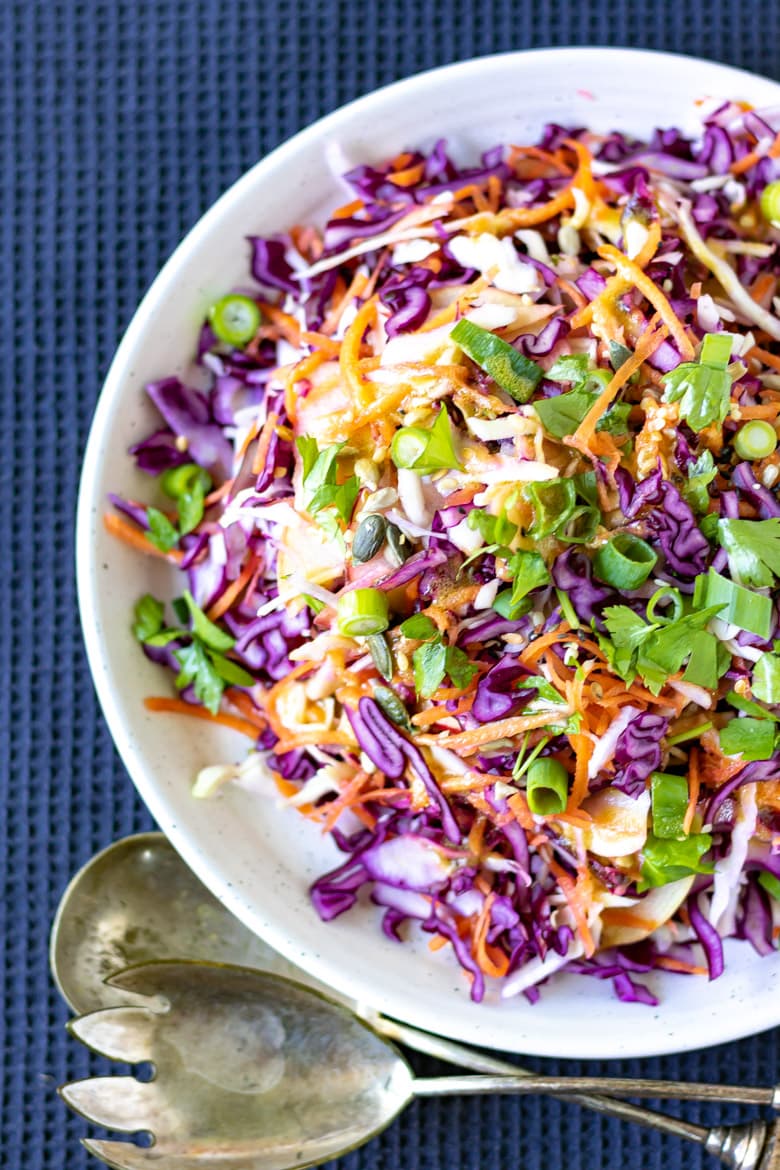 This tasty Cabbage Salad has a wonderfully crispy fresh texture and won't go soggy. It's perfect for making ahead, meal prep, picnics and barbecues, as well as an easy healthy side dish. This slaw is ready in 10 minutes and it lasts in the fridge for days.
Vegan, vegetarian and gluten free.
4 Weight Watchers Smartpoints.
96 calories.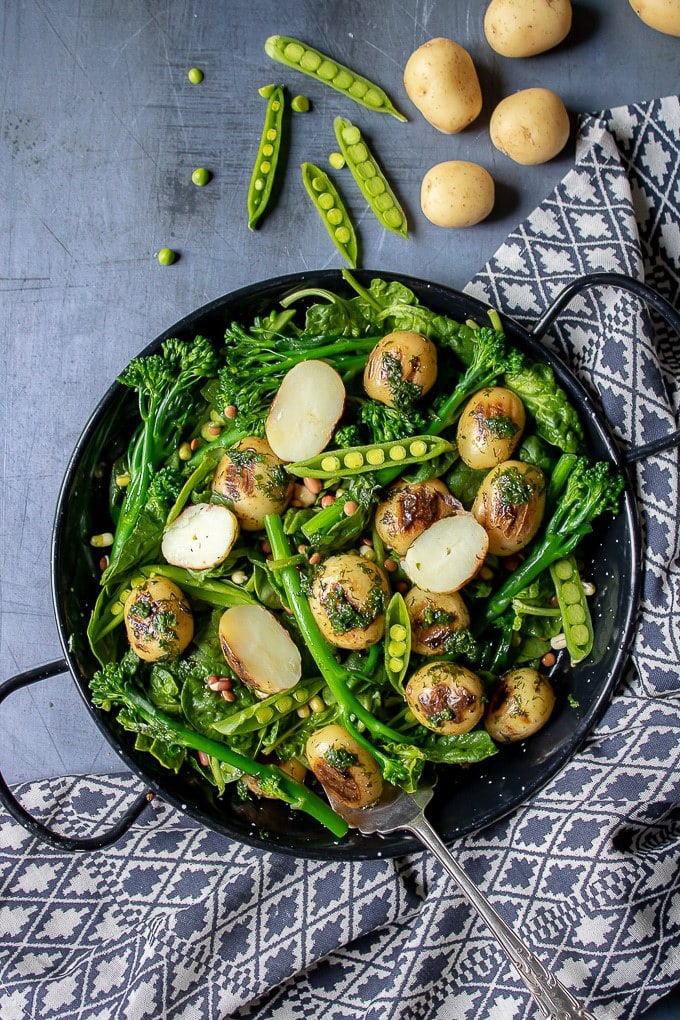 Broccoli Salad with Grilled Potatoes and Herbs
Make broccoli (or broccolini) the star of the show in this quick, easy and delicious broccoli salad. It's filling from the grilled potatoes and full of flavour from the herbs. With spinach, peas and broccoli, it's hearty full of green goodness.
Vegan, vegetarian and gluten free.
134 calories.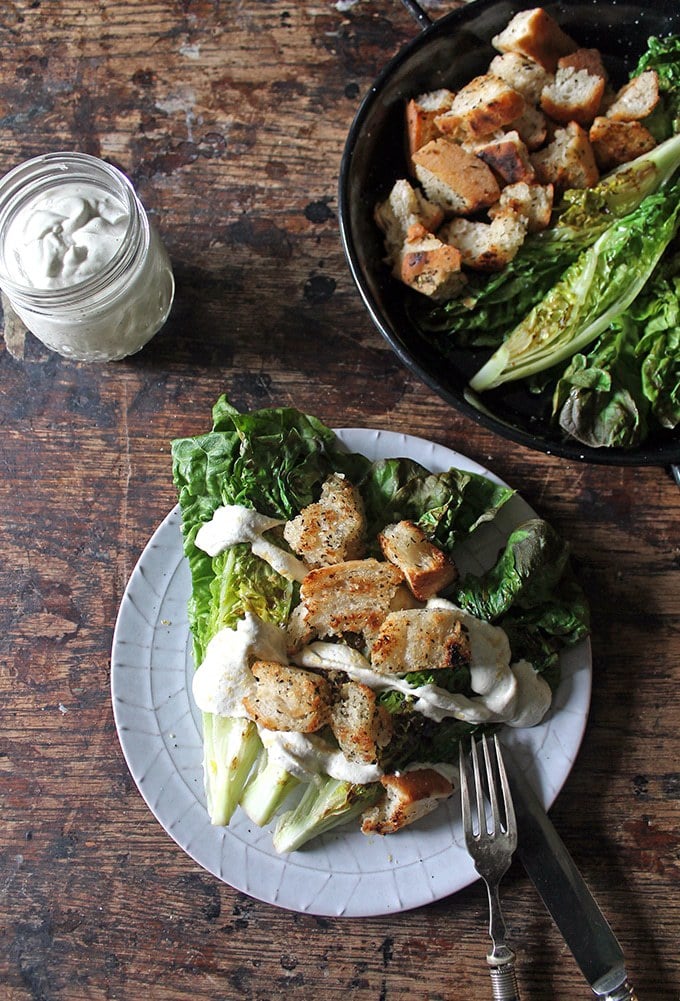 Vegan Caesar Salad with Grilled Lettuce and Herby Croutons
This easy vegan caesar salad is extra special with creamy cashew dressing, grilled lettuce and homemade herb croutons. Grilling the lettuce is optional, but makes it a little extra special. Ready in just 20 minutes!
Vegan, vegetarian and gluten free.
256 calories.
Apple Walnut Salad with Walnut Pesto Dressing
This tasty apple walnut salad is dressed with an easy and delicious walnut pesto. It's then sprinkled with quick maple and rosemary glazed walnuts. It's a flavour packed vegan salad that's great on it's own or as a side dish.
Vegan, vegetarian and gluten-free.
313 calories.
This strawberry spinach salad is fresh, colourful and has a tasty 5 ingredient dressing. It's a simple 15 minute recipe that adds a burst of flavour and 'wow' to your table. The easy dressing brings together the beautiful flavours of balsamic, maple syrup and fragrant toasted seeds.
Vegan, vegetarian and gluten free.
118 calories.
This Thai Tofu Noodle salad has air fried tofu to make it lovely and crispy, with rice noodles and veggies plus a delicious Thai peanut sauce for the noodle salad. It's ready in just 25 minutes!
Vegan, vegetarian and gluten free.
258 calories.
Sauteeing the beans for this butter bean salad makes them delicately crisp. The insides are fluffy and give a great texture to this fresh and vibrant salad. It's livened up with toasted seeds, spring onions and chilli.
Vegan, vegetarian and gluten free.
327 calories.

Beetroot Salad with Apples, Walnut and Tahini Dressing
This beetroot salad uses the entire beetroot: root, stems and leaves. The earthy beetroot and sweet apple pairs beautifully with the creamy lemon and tahini dressing, which brightens up the flavours.
Vegan, vegetarian and gluten free.
200 calories.
This Brazilian gaucho potato salad brings together the best summer flavours – from charred new potatoes and grilled sweetcorn, to peas, carrots and apples – all in one delicious dish that's perfect as a barbecue side.
Vegetarian and gluten free. (easily vegan)
181 calories.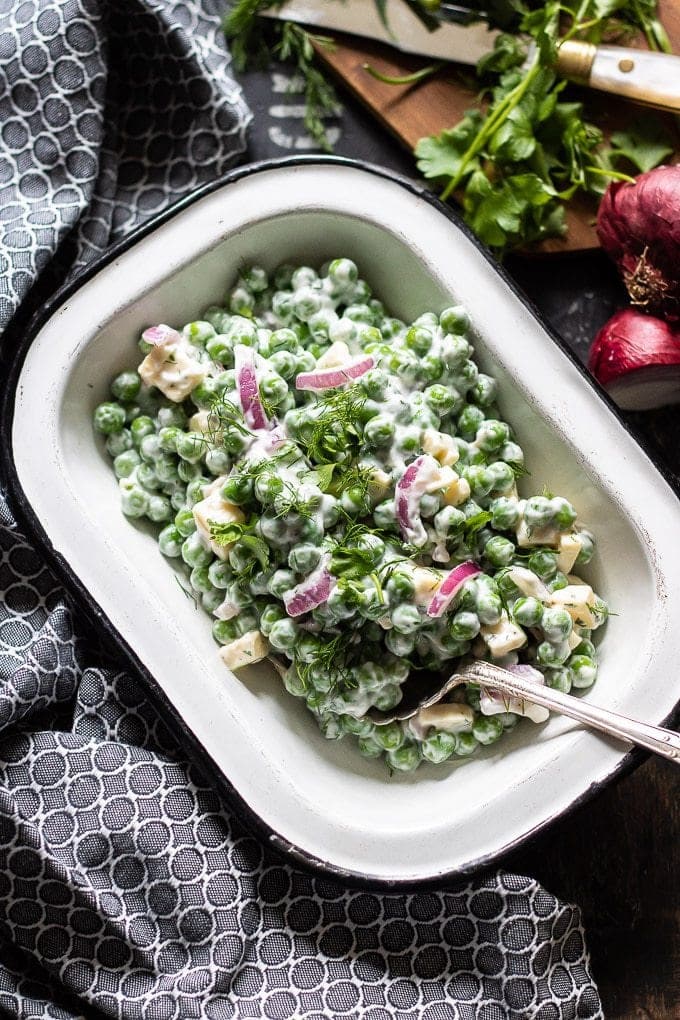 This creamy pea salad recipe is easy to make (using frozen peas – or even canned or fresh!) and it's full of flavour. It's a delicious side dish for all seasons and sure to be your new favourite salad.
Vegetarian and gluten free. Easily vegan.
209 calories.
This simple and flavourful Asian-inspired vegan noodle salad is quick and delicious, with pizazz from the easy peanut sauce.
Vegan, vegetarian and gluten free.
280 calories.
This vibrant turmeric roasted cauliflower is delicious hot or cold, as a salad, main meal or side dish. It only takes 20 minutes and roasting the cauliflower makes it deliciously soft but crispy.
Vegan, vegetarian and gluten free.
86 calories.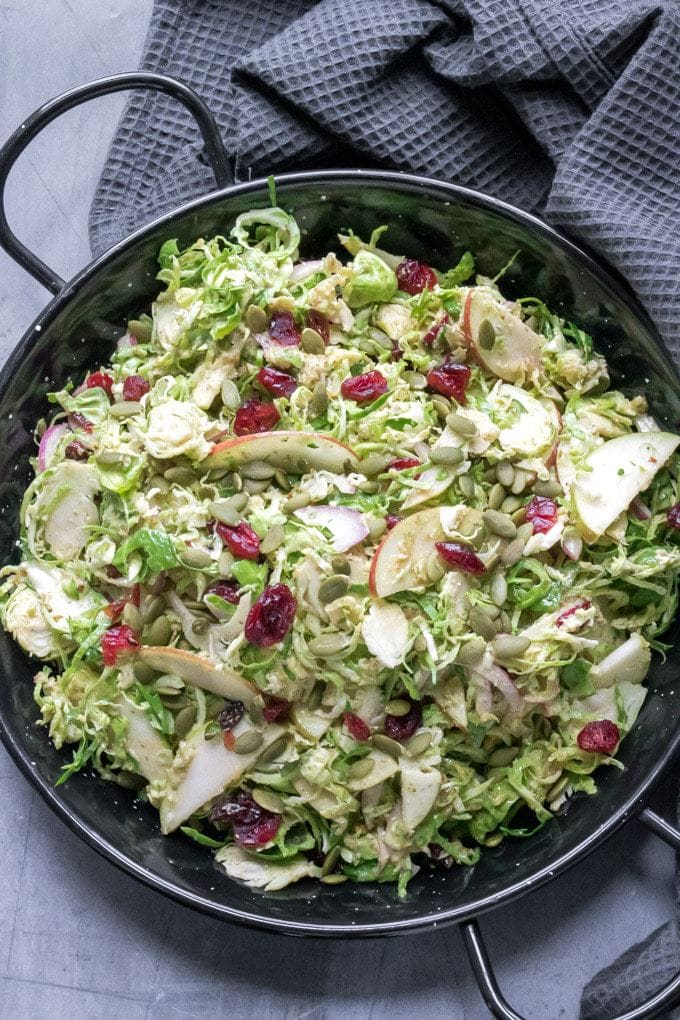 This Brussels Sprout Salad combines shredded raw sprouts, crisp tangy apples, sharp red onion and jewels of dried cranberries. The salad is tossed in a tasty and simple toasted pumpkin seed dressing. Enjoy this flavourful sprout salad as a side dish, lunch or light dinner. A tasty healthy salad recipe that's great in winter.
Vegan, vegetarian and gluten free.
130 calories.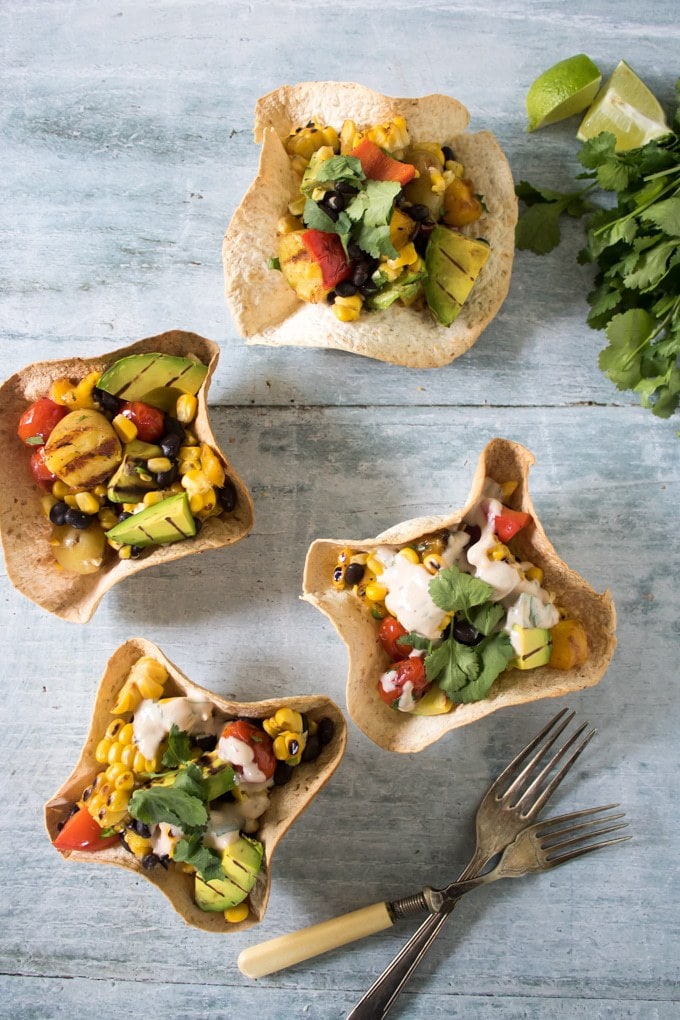 Don't these tortilla bowls look great? They're fun, but so easy to make. I've filled them with a salad of chipotle black beans, and barbecued corn, potatoes, mango and peppers.
In this beetroot labneh dukkah salad from Leon, the lightly salted labneh adds a creamy subtle richness to this dish and complements the beetroot so much that it blushes pink.
Vegetarian and gluten free.
Who'd a thought that you could even use your IP for healthy salad recipes?! This easy Instant Pot Chickpeas Salad from Recipes From A Pantry includes a lemony baharat spiced salad dressing that screams all things Middle Eastern and summer. Fresh sweet tomatoes, crunchy peppers and radishes and fresh cilantro with quick-cook chickpeas make the perfect summer salad that can also be whipped up at any time of the year.
Vegan, vegetarian and gluten-free.
335 calories.
5 Freestyle SmartPoints - Weight Watchers.
This hearty grain salad from Fab Food 4 All is full of veggies, and is topped with pan fried tofu. It gets a lovely crispy exterior and a divinely light soft centre. Perfect for dinner as a healthy salad recipe.
Vegan, vegetarian.
This is a healthy, protein packed salad that you can meal prep for grab and go lunches all week. The beauty of A Virtual Vegan's recipe is that it's full of crunchy ingredients, so it won't go soggy!
Vegan.
415 calories.
This Shirazi Salad from Know Your Produce is a flavourful Persian Salad that's very similar to to Israeli Salad, with cucumbers, tomatoes, and peppers. It's dressed with fresh or dried mint, fresh parsley, lemon juice, extra virgin olive oil, salt, and pepper. It's ready in just 10 minutes.
Vegan, vegetarian and gluten free.
25 calories.
A vegan version of the iconic macaroni salad, from Make it Dairy Free. Just swap to vegan mayo and add loads of other yummy flavours in for a salad that's perfect for a picnic, potluck, cookout or dinner.
Vegan.
282 calories.
Fruit in a salad does not make a dessert, this seared peach and feta cheese salad from Krumpli is full on savoury. A vegetarian main course salad featuring nutty puy lentils and peppery rocket alongside the feta and peaches that will have you making it all summer! This is another pretty summery healthy salad recipes.
Vegetarian and gluten-free.
589 calories.
Cooking Carnival's Balela Salad (Bah-lay-la) is Middle Eastern-style Chickpea salad. It's hearty refreshing salad is bursting with zesty flavor. So easy, so delicious, nutrient dense and satisfying meal! It is perfect for any party or busy weeknight meal.
Vegan, vegetarian and gluten-free.
109 calories.
In this hearty salad from Hungry Healthy Happy, roasted chunks of lightly seasoned butternut squash are paired with olives, sundried tomato and Džiugas cheese in a flavour packed salad that is perfect for lunch, dinner, or batch cooked for a BBQ side.
Vegetarian and gluten free.
281 calories.
Weight watchers pro points: 8
Juicy tomatoes, aromatic basil, crunchy cabbage, cucumber and quinoa, are paired with creamy mozarella and broad beans in this pretty salad from Kitchen Sanctuary. It has a light drizzle of balsamic vinegar and olive oil dressing.
Vegetarian and gluten free.
512 calories.
Salad Dressing Recipes
If you're just looking for salad dressing ideas to jazz up your leaves, healthy salad recipes and veggies, try these! Some of them are sugar free salad dressings, as well as light and oil-free dressings. All absolutely full of tasty flavour.
Pumpkin Seed Dressing (pepita dressing)
Tahini Dressing
Lime and Ginger Dressing
Vegan Caesar Dressing
Walnut Pesto Dressing

I hope you've enjoyed these healthy salad recipes!