Enjoy nutritious lentils in these Best Lentil Recipes! Use dried or canned lentils in these tasty meat-free recipes. Hearty, healthy lentils are the perfect base for dhals, curries, stews, tacos, and even veggie hot dogs in these vegan and vegetarian recipes.
You're going to love this collection of the Best Lentil Recipes!
Lentils are a terrific source of meat-free protein, plus fiber and nutrients, so they are a staple part of many vegan and vegetarian diets.
We love how they bulk up a dish while adding flavor and incredible texture.
Whether you have a can of green lentils, a bag of dried red lentils, or a jar or puy lentils, you'll find lots of recipes here to inspire you to make the most of them!
Lentils are not only inexpensive, tasty, nutritious, and easy to make, but they're a great way to add protein to curries, salads, side dishes, and more.
Lentils are a dietary staple around the world. They're also often a big part of vegan and vegetarian diets, not only for their variety of tastes, textures, and colors but because they're a great source of fiber and protein.
Jump to:
What are lentils?
Lentils are small disc-shaped edible seeds that grow in pods of plants in the Fabacea family. They are classified as a legume (along with peanuts, beans, and peas).
Lentils are considered to be vegetables and can be used as food for humans or animals.
There are a huge number of varieties and they are used in many traditional cuisines around the world.
Examples of lentils are red, brown, green, and puy lentils. You'll find many of them in this list of lentil recipes.
They are an affordable source of fiber, protein, iron, and vitamins, with many health benefits. I use them in many lentil recipes.
Pair them up with healthy Cruciferous Vegetables for a healthy meal!
Make them a big part of your vegan grocery list.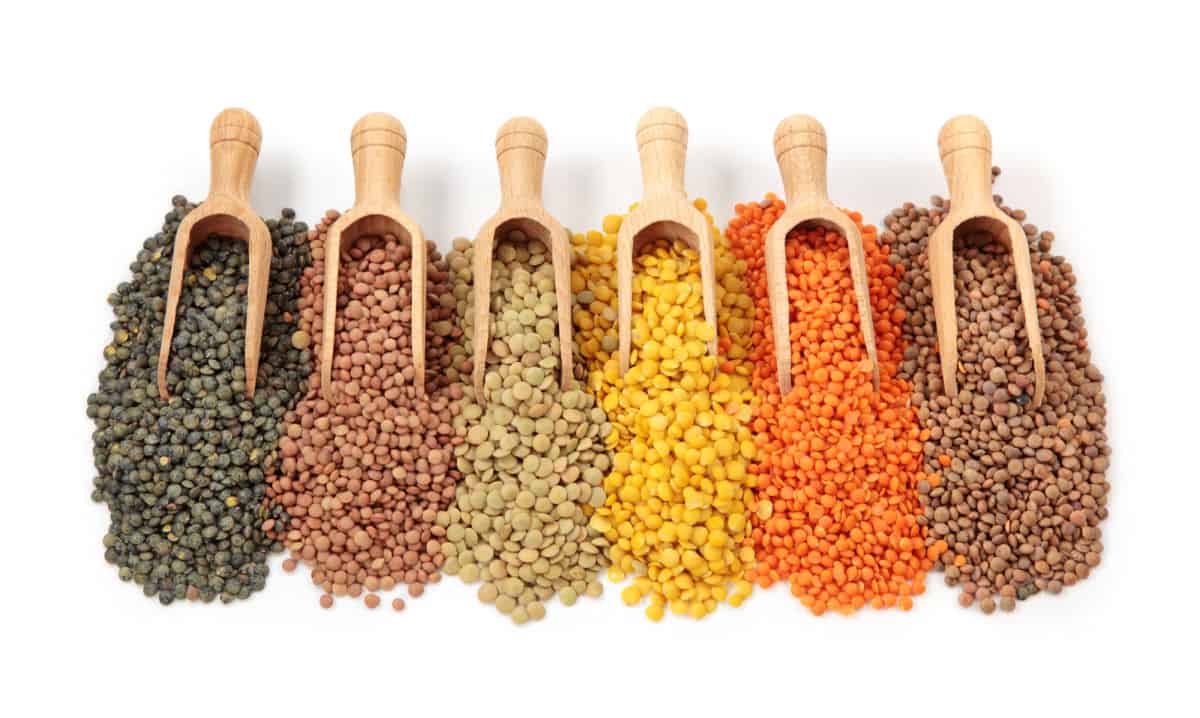 Types of lentils
There are many different varieties of lentils. Here are some popular ones that we hope you'll enjoy!
Brown lentils
Abundant and inexpensive, brown lentils are fairly mushy once cooked, so are great in soups and veggie burgers. Mild, earthy flavor.
Cooking time: approximately 25 minutes.
Try them: Lentil Stew.
Green lentils
Green lentils are very similar to brown lentils and can be used interchangeably. They have a mild flavor and break down well so are perfect in soups and stews.
Cooking time: approximately 25 minutes.
Try them: Lentil Stew with Harissa.
Red lentils
Red lentils are small with an orange/red color. They're commonly used in Indian dhal curries. Quick to cook in lentil recipes, they collapse and break down once cooked into a tasty mush.
Cooking time: approximately 15-20 minutes.
Try them: Red Lentil Dahl.
Puy lentils (aka French lentils)
French puy lentils have a green/blue/grey color and a thicker skin, which means they hold their shape better when cooked. They take longer to cook than other lentils, but have a great flavor and are perfect with salads or in soups. They're also delicious dressed simply (try garlic, lemon, and fresh herbs) and served as a side dish.
Cooking time: approximately 45 minutes.
Try them: Persian Roasted Eggplant Salad
Black lentils (beluga lentils)
Black lentils are dark, rounder and more flavorful than brown lentils. They have a thick skin, so hold their shape when cooked (or can be cooked longer if you want them to collapse a little) and are therefore great in salads, though also tasty in soups.
Cooking time: approximately 35 minutes.
Try them: Greek Lentil Salad
Fun Fact: Canada is the world's largest producer of lentils. The country grows 38.5% of the world's lentils, which is approximately 4million metric tonnes. Canadian pulses are exported to over 150 countries.
Pulses
Beans and lentils are known as pulses when they're dried. They need to be cooked in order to make them soft enough to eat.
Some dried lentils need to be soaked, but since they're small they can often be cooked right into dishes.
Lentil Recipes
Here are all the tasty lentil recipes!
If you have any other favorite lentil recipes, then let us know in the comments so we can check them out! Also, take a look at these 18 Best Bean Recipes.
Lentil Recipes
Make the most of nutritious and versatile lentils with these tasty, meat-free lentil recipes! From tacos and stews to soups and casseroles. Use up those bags of red lentils, puy lentils, green lentils and brown lentils with these inspiring recipes.