This easy Vegan Caesar Salad is extra special with creamy cashew dressing, grilled lettuce and homemade herb croutons. It's simple to make and perfect as a main meal or side dish.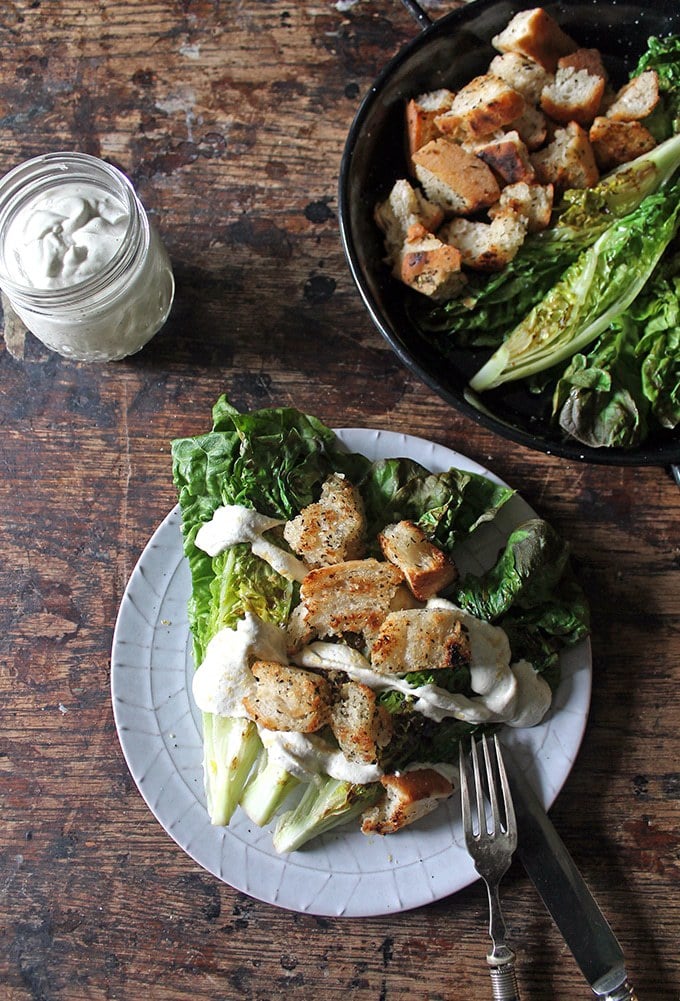 It's easy to whiz up this creamy vegan Caesar salad dressing in a blender.
With just a handful of ingredients and a decadent base of soaked cashews, it becomes whirled into a dreamy, intense dressing that goes well over the smokey grilled lettuces.
You could do this on a barbecue, a griddle pan on the hob or skip the step altogether. Though I'd definitely recommend you try it!
Herby croutons are a great way to use up slightly stale bread. You could cut the pieces of bread, but I like to tear it so the uneven surfaces char in the frying pan, adding more smokey flavours to the dish.
You will have lots of leftover dressing, so store it in the fridge. It's also nice as a dip for raw vegetables.
Gardening
Try as I might, I'm not a gardener. I have visions of myself wafting about the garden, pruning with wild abandon, having some sort of idea what needs to be done. But truth be told, I am a serial plant killer.
I forget to water things; weeding is a necessity that I can't be bothered with. I don't completely blame myself though. It's the little beasties that nibble everything that I plant that cause me such discouragement. I can't seem to grow food for my table, and instead I grow buffets for slugs and snails. I'm nice to them like that.
I don't have the stomach to pick them off and move them to another part of the garden, and I certainly wouldn't want to hurt them, so I've resorted to asking them nicely to leave my kale alone. Here's a gardening tip: slugs don't understand gentle persuasion and reasoning.
Windowsill Harvest
There's one place, however, where I can garden with a little more confidence (and a lot less talking to slugs): my kitchen windowsill.
Herbs are very easy to take care of, so I always have a few varieties on my windowsill, waiting to pep up meals. It's hard to forget to water them when I'm so often at the sink getting water or filling the kettle anyway. I also like to grow lettuce. It's fast-growing and you can cut it and it will quickly grow back. It's easy gardening and a level that I can definitely handle. Plus, the slugs and snails can't get to it.
Lettuce is one of those windowsill crops that is both simple and rewarding. It's lovely to have a steady supply of salad leaves that couldn't be any fresher. It also cuts down on wasteful packaging and saves a trip to the shops. There's no long wait for harvest and not a lot of effort involved. It's lazy gardening, and that's just my sort.
Tips to Reduce Food Waste
Keep the root end of little gem and romaine lettuce, place it in a dish with a little water in a windowsill and it will regrow.
If your windowsill herbs are growing too big, chop some up and save them in ice cube trays with a little water or olive oil, perfect for soups and other meals.
If you're trying to cut carbs, large lettuce leaves are a great substitute for bread rolls and wraps for burgers or falafels.
Add lettuce to soups; it will wilt and bring extra flavour and goodness.
More Salad Recipes:
I love easy salads for a healthy dinner, lunch or side dish. Hearty salads, vegan salads, garden salad, tossed salad – you name it, I adore an easy salad.
Try some of these salad recipes:
Apple Beetroot Salad with Tahini Dressing
Strawberry Spinach Salad
Apple Walnut Salad with Walnut Pesto
Shredded Brussels Sprout Salad
Pea Salad
Broccoli Salad
Brazilian Gaucho Potato Salad
Vegan Caesar Salad
Mexican Grilled Chipotle Salad in Tortilla Bowls
Sauteed Butter Bean Salad
Green salad with pepita dressing
Get the recipe!
If you make this easy vegan caesar salad recipe, please tag it with #veggiedesserts on Instagram, Twitter or Facebook. I LOVE seeing your recreations of my recipes!
Also, pop down to the comment and let me know how you got on with the recipe. It's always great to hear from my readers. Your support allows me write this food blog and bring you vegetable cake recipes as well as vegan desserts, plus savoury vegetarian and vegan recipes and breakfasts and drinks.
📖 Recipe
Vegan Caesar Salad with Grilled Lettuce and Herby Croutons
A creamy vegan caesar salad dressing with grilled lettuce and herby croutons. Serves 2 as a main meal or 4 as a side dish.
Save
Saved!
Ingredients
50

g

cashews

raw unsalted, soaked overnight

4

tablespoon

water

2

tablespoon

olive oil

3

teaspoon

lemon juice

2

teaspoon

capers

1

teaspoon

wholegrain mustard

½

teaspoon

garlic

crushed

Sea salt and black pepper
For the herby croutons
2

large slices of bread

slightly stale rustic loaf works best

1

tablespoon

olive oil

2

teaspoon

mixed herbs
To serve
2

little gem lettuces

1

tablespoon

olive oil

4

teaspoon

nutritional yeast

optional

2

teaspoon

lemon juice
Instructions
Soak the cashews in a bowl of water overnight (or for at least 4 hours). Drain and rinse well.

In a high speed blender, blitz the drained cashews, water, oil, lemon juice, mustard, garlic and capers until smooth and creamy. If necessary, add a little more water, sparingly, to make it a thick drizzling consistency. Season with the salt and pepper.
For the herby croutons
Tear the bread into bite-sized pieces, then toss in a bowl with the olive oil and herbs to coat.

Heat a frying pan over a medium heat and pan fry the bread pieces until crispy.
To serve:
Heat a grill pan until hot.

Meanwhile, slice the little gem lettuces into quarters lengthways. Drizzle with the olive oil and use your hands to coat it thoroughly.

Place the lettuce quarters onto the hot grill pan and sear to create char lines.

Divide the lettuces onto plates, drizzle with the dressing and top with the croutons. Sprinkle with the nutritional yeast and enjoy immediately.
Nutrition
Calories:
256
kcal
Carbohydrates:
13
g
Protein:
5
g
Fat:
21
g
Saturated Fat:
3
g
Sodium:
118
mg
Potassium:
200
mg
Fiber:
2
g
Sugar:
2
g
Vitamin A:
1220
IU
Vitamin C:
3
mg
Calcium:
35
mg
Iron:
1.8
mg
The nutritional information provided is approximate and can vary depending on several factors, so is not guaranteed to be accurate. Please see a registered dietician for special diet advice.
Tried this recipe?
Mention @kateveggiedesserts or tag #veggiedesserts! I love seeing your recreations.