This roundup of the 25 BEST Vegan Pancake Recipes is going to change your breakfasts forever. They're fluffy, they're easy and they're all full of tasty flavors. The eggless and dairy-free recipes make no compromise, they're just all great pancakes!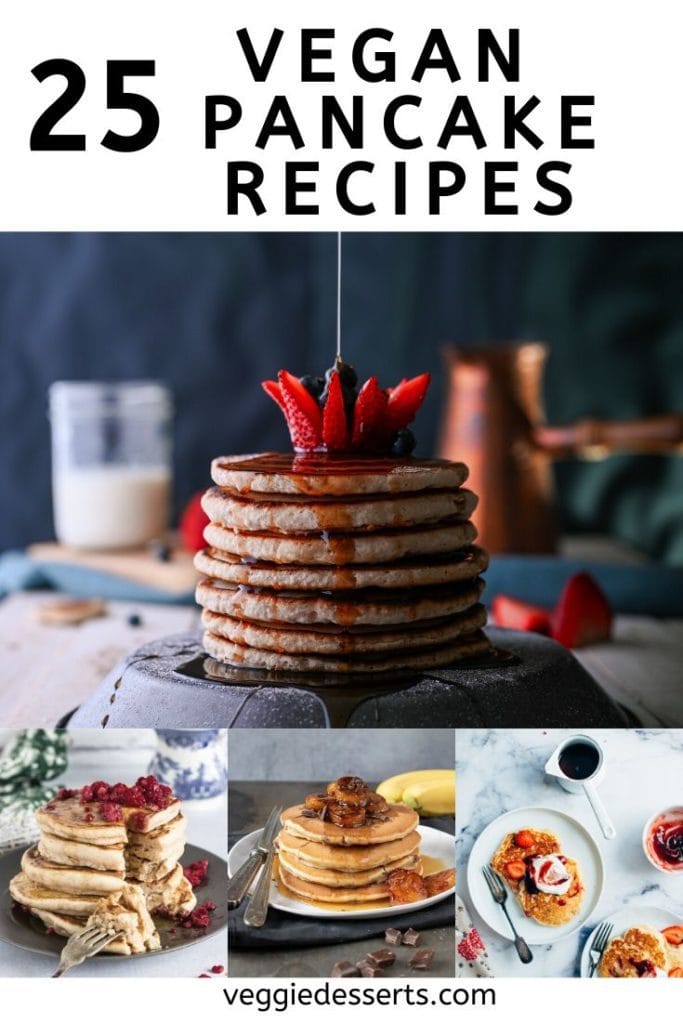 Vegan Pancake Recipes
If you're vegan, plant-based, dairy-free or egg-free, you may think that pancakes are off the menu. Or that there will be a texture and taste compromise. WRONG!
Pancakes are usually just flour, milk and eggs. So how do you make them vegan? It's easy!
All you need is something to give them a little 'lift'. In most of these recipes, that comes from adding lemon juice or vinegar to the vegan milk, then letting it react with the baking powder. Boom - fluffy vegan pancakes!
You can enjoy them with all sorts of flavors, from vegan chocolate chip pancakes to blueberry, gingerbread to the most perfect plain vegan pancakes.
So, read on and get ready to make a stack of the best breakfast food ever - pancakes!
Helpful info for new vegans: Vegan Grocery Shopping List
Tips for the BEST vegan pancakes
Make a well in the dry ingredients, then pour in the wet ingredients before mixing.
It's fine for the batter to be lumpy - in fact it probably will be. You don't want streaks of flour in the bowl, but you don't need to beat out the lump.
Let me repeat: don't overmix it.
If the recipe calls for letting the vegan pancake batter rest, don't skip it. Those few minutes will make all the difference to getting the vegan pancakes nice and fluffy.
Grease a nonstick skillet or griddle with oil, coconut oil or dairy free butter.
For evenly-sized pancakes, use a cookie scoop, pancake dispenser or cup measure to pour the batter onto the skillet.
When to flip? When the middle gets bubbles and they start to pop.
Vegan breakfast recipes
Looking for more vegan brunch or breakfast recipes? Try these!
Fluffy Vegan Waffles
Mushrooms on Toast
Peas on Toast
Coconut Chocolate Granola
Pancake Toppings
You'll love these great toppings for your stack of pancakes!
Maple syrup is, of course, AMAZING (I say that as a true Canadian). It's a classic, for very good reason: it's sooo delicious.
But open your mind to other toppings and you can really elevate your vegan pancakes to something even more special. Here are some of my favorite ideas to inspire you.
Maple syrup
Lemon juice and sugar (a British classic)
Vegan chocolate, peanut butter and slices of banana
Whipped coconut cream and strawberries
Fresh berries
IHOP copycat blueberry syrup
I hope you'll be inspired by the Vegan Pancake Recipes in this roundup! Let me know if you make any of the recipes that I've included. Share a picture with the hashtag #veggiedesserts. I love seeing your recreations of my vegetarian and vegan recipes.
Follow me on Instagram * Twitter * Facebook * Pinterest * Youtube
25 Best Vegan Pancake Recipes
Are you ready for some incredible breakfast or brunch inspiration? Read on for the 25 BEST vegan pancake recipes!
I've searched the web, so you don't have to. This list has all the best flavors, methods and combinations for the most incredible fluffy vegan pancakes. Be wowed by some of these inspiring hotcakes.
Without further adieu, here is the only vegan flapjack list you'll ever need!