Here's my vegan grocery list, so you can stock your store cupboard with handy vegan foods. Whether you're already vegan, transitioning, or just trying to eat more plant-based, this shopping guide will ensure your kitchen is well stocked with vegan staples.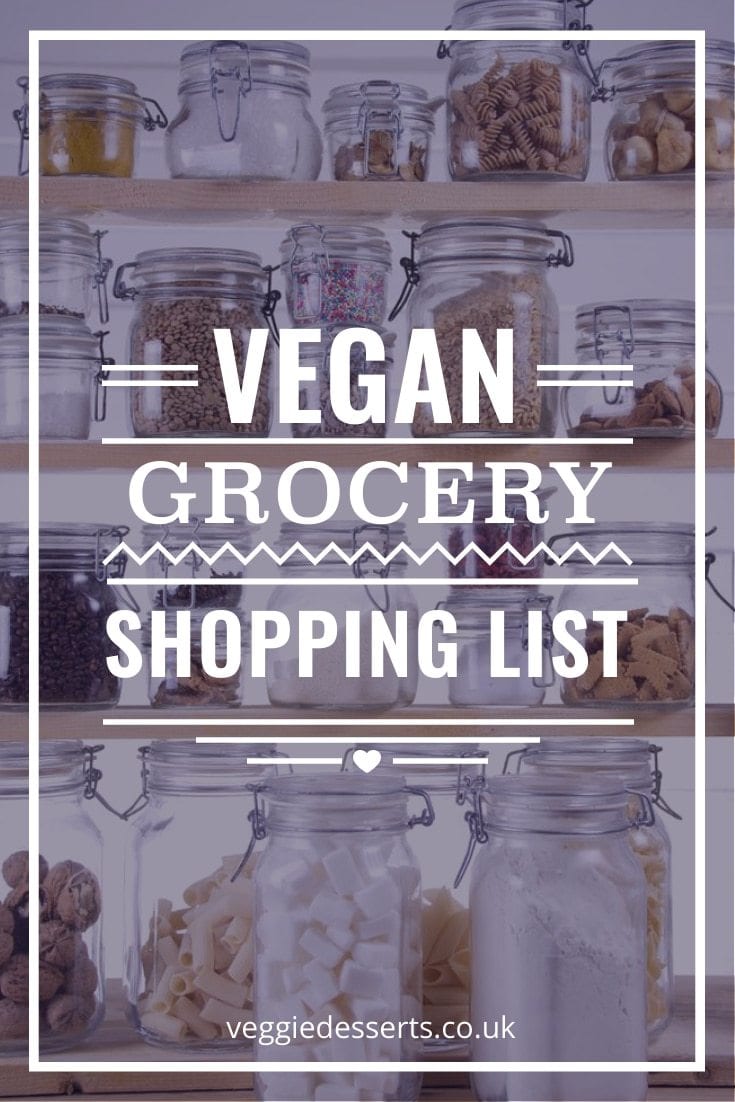 We all know that fruit and vegetables are vegan, but when transitioning to a vegan diet it can be tough to know what you'll need to make vegan cooking a breeze.
This handy vegan shopping list will help you fill your fridge and pantry with essential vegan ingredients.
Look for seasonal local produce and pad them out with nutritious beans and grains.
It can be easy to fall into the trap of trying all the mock meats and pre-made vegan foods.
There are loads of them around now and many are delicious.
But it's far cheaper, and better for you, if you cook from scratch. You can batch cook and keep food in the freezer, plus many of my favourite vegan meals only take 15-20 minutes to prepare, like my Tofu Curry and Spanish Beans.
You don't need to stock up all at once, but as you start exploring more vegan cooking you'll surely find these vegan pantry essentials come in handy time and again.
Of course, the list may vary for you due to food allergies or intolerances, dietary requirements and personal preferences. Buy what suits you and your family.
Jump to:

Non-obvious Animal Products to Avoid in Ingredient Lists
Some products aren't obviously non-vegan. When you're shopping for vegan food, take a look at the label and avoid these ingredients:
Honey - mass production methods mean honey isn't vegan. But you can make your own vegan honey!
Beeswax - avoid for the same reason as above.
Gelatine - most are animal based, but vegan versions are available.
Casien - a milk product.
Lactose - another milk product.
Whey - a byproduct of cheesemaking, often found in non-vegan protein powders.
L. Cysteine - derived from feathers and hair, it is sometimes used in bread as a dough conditioner.
Shellac - derived from insects and sometimes used on candy.
Lanolin - from the wax sheep produce in their wool, look out for it in gum and beauty products.
Isinglass - made from fish bladders and found in some wines and beers.
Rennet - from calve's stomaches, it's usually used in cheesemaking.
Castoreum - made from Beaver anus (no, really) this is used as a 'natural flavouring'.
Cochineal (E120) or Carmine - this insect based product is often used to colour foods red.
Bone Char - In the USA, some sugar is filtered through bone char, so look for Certified Organic cane sugar. UK sugar isn't processed with bone char)
How to use this vegan shopping list
Take this grocery list to the grocery store and pick up all the ones you like, but take care not to overbuy and let anything go to waste.
I'd suggest adding in one item that you haven't had before or don't think you like every week so you can be sure to try new things.
If you're worried about getting all the right macros and nutrients, read Dr Gregson's How Not To Die or use the app and log everything you eat. It will make sure you hit his Daily Dozen so you have a variety of nutrients for optimum health.
Fresh produce is usually best (though frozen peas lock in more nutrients than fresh and canned tomatoes have more lycopene than fresh) but also look at canned and frozen.
Dried fruit is handy, but the sugar is concentrated so have it as a treat.
Go for local produce that's in season for the best taste and nutrients.
This is just a guideline; go with you and your family's preferences and just get what you need.
Eat a rainbow - try to get as many different colours of foods as you can into every day.
Canned beans are handy, but if you have time to soak and cook them, dried are often much cheaper.
The list looks long, but just buy what you need. The spices and condiments will last for ages so you can just buy a new one each week and soon you'll have a collection to flavor your vegan meals with.
So, without further adieu, here's my...
Vegan Shopping List
Beans and Legumes
Chickpeas
Baked beans
Butter beans (aka lima beans)
Lentils
Kidney beans
Peas (fresh or frozen)
Hummus
Black beans
Pinto beans
Dried red lentils (no need to precook, so perfect for my 30 minute daal)
Chickpea flour (besan/gram flour) (excellent in baked vegetable pakora)
Fruit
(fresh, canned and frozen, whatever works best for you)
Berries (strawberries, blueberries etc)
Grapes/raisins
Apples
Cherries
Melon
Nectarines
Apricots
Peaches
Plums
Mango
Lemon
Limes
Grapefruit
Bananas
Pears
Kiwi
Passionfruit
Tomatoes
Canned tomatoes (check out my list of tasty recipes using canned tomatoes and this easy tomato soup)
Avocados
Vegetables
(fresh, canned and frozen, whatever works best for you)
Lettuce
Spinach
Rocket / arugula
Swiss chard
Kale
Spring greens
Broccoli
Cauliflower
Cabbage
Brussels sprouts
Carrots
Corn
Courgette / zucchini
Aubergine / eggplant
Mushrooms (put them in the window for a few minutes before cooking to boost their vitamin D content)
Pumpkin
Squashes
Sweet potato
Potatoes
Bell peppers
Cucumber
Celery
Asparagus
Garlic
Onions
Frozen peas (try my 4 ingredient, 15 minute pea soup)
Nuts and Seeds
(unsalted is best)
Cashews
Walnuts
Almonds
Peanuts
Pecans
Pistachios
Peanut butter
Tahini
Nut butter
Flaxseeds
Chia seeds
Sunflower seeds
Pumpkin seeds (pepitas)
Sesame seeds
Grains
Rice (brown and wild rice is best as it has more nutrients)
Couscous
Quinoa
Oats
Pasta (whole wheat pasta is best)
Flour (plain, self raising, wholegrain)
Noodles (rice, wheat, soba)
Whole grain bread
Tortillas
Cornflour / cornstarch
Vegan fridge staples
Dairy free milk (soy, almond, rice, oat, cashew etc...)
Dairy free cream (oat, soy etc..)
Vegan cheese
Dairy free yogurt (soy, coconut etc...)
Vegan butter (Earth balance, Vitalite etc...)
Herbs
Parsley
Thyme
Basil
Coriander / cilantro
Rosemary
Sage
Rosemary
Spices
Turmeric
Garam Masala
Cinnamon
Ground cumin
Nutmeg
Ginger
Curry powder
Chilli flakes
Ground ginger
Cayenne
Paprika
Oregano
Salt
Pepper
Condiments
Soy sauce or tamari
Apple cider vinegar
Mustard (powder, dijon, wholegrain etc)
Nutritional yeast (these healthy flakes have a mild cheesy flavour and are full of b-vitamins. It's delicious in my vegan parmesan cheese)
Balsamic vinegar
Cooking spray
Olive oil
Coconut oil
Rapeseed or canola oil
Vegetable stock / broth (try mushroom broth for 'meaty' flavor or vegan chicken seasoning)
Tomato paste / puree
Passata
Cocoa powder or cacao
Peanut butter (or try walnut butter)
Store bought usually isn't safe for vegans, but you can make your own Vegan Worcestershire Sauce in just 10 minutes!
Sweeteners
Sugar (in USA look for certified organic sugar, in the UK and most other countries sugar is vegan)
Maple syrup
Dates
Date syrup
Agave syrup
Coconut sugar
I hope you've found this vegan grocery shopping list useful! Let me know in the comments if there are any other must-have ingredients in your vegan kitchen.
You'll see that you can get many of these items on your vegan grocery list at big grocery stores like Kroger's, Tesco or Trader Joe's. You'll also find lots at small ethnic shops or even corner stores. It's easy to find vegan foods!
Be sure to also check out these roundups of vegan recipes for cooking inspiration!
Vegan Fish and Seafood Recipes
25+ Delicious Vegan Soup Recipes
50 Signs That You're A Good Cook
40 Vegan Afternoon Tea Recipes
For extra help with cooking, check out How Many Ounces in a Quart, How Many Ounces in a Gallon or how to convert cups to ounces, pints, quarts, gallons.