This easy homemade Blueberry Syrup recipe shows you exactly how to make a berry fruit syrup from scratch using 3 simple ingredients. Use it on pancakes, waffles, ice cream, or in your favorite cocktails! You'll love this IHOP copycat blueberry syrup recipe!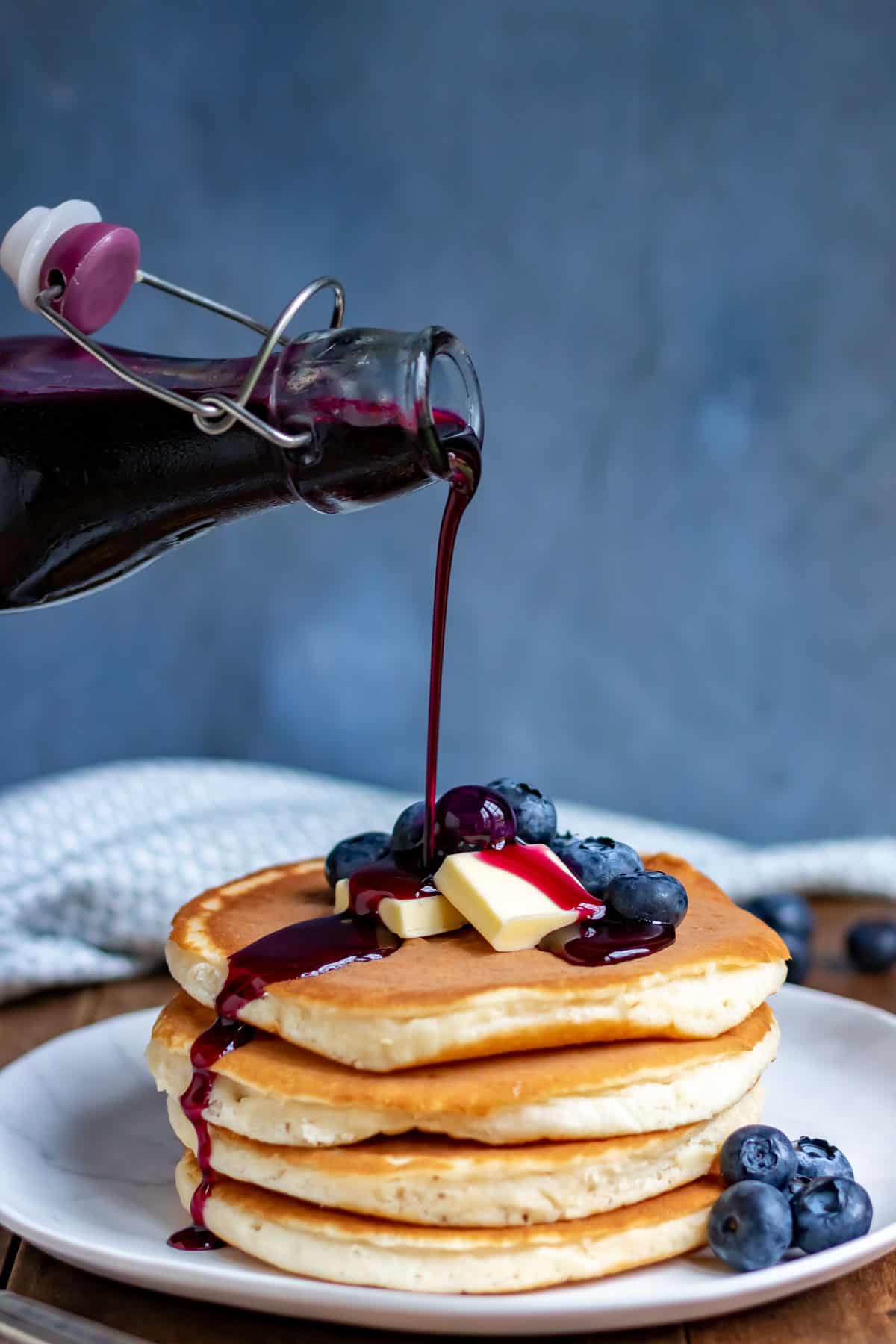 Homemade simple syrups are quite easy to make from scratch! Using your favorite fruit along with sugar, and water gives you a sweet and smooth fruit syrup that you can use in many different ways.
And trust me, homemade fruit syrups taste WAY better than store-bought. Plus, they're cheaper too!
For this recipe, we use fresh blueberries to make a deliciously sweet blueberry syrup with natural flavors. This syrup has a deep blue-purple color that will stand out when drizzled on top of your favorite desserts, or breakfasts.
You can even use it in your favorite drinks and cocktails to give them a refreshing sweet blueberry flavor that's great for the summer months! Gin, tonic, and blueberry syrup, anyone?
Growing up, a trip to IHOP for breakfast pancakes with my family was always such a treat. But the best part, by far, was that awesome tray on the table with a variety of flavored pancake syrups.
Boysenberry and blueberry were always my favourite, but my sisters and I always tried all of them every time!
This recipe was inspired by my other fruit syrup recipes on this site, including Mango Syrup, Peach Syrup, Lavender Syrup, Raspberry Syrup, and Strawberry Syrup. Once you start making syrups at home, I'm sure you'll be hooked, like me!
Jump to:
Why You'll Love This Recipe
It's healthier than any storebought brand as it does not contain any chemicals or preservatives.
An IHOP copycat recipe, made without any high fructose corn syrup or preservatives!
A great way to use up in-season blueberries in the summer months.
Blueberry syrup can be used in breakfast, desserts, and cocktails.
It takes just 15 minutes to make from start to finish.
Ingredients
You only need a few simple ingredients for this blueberry syrup!
Blueberries - Makes up the sweet fruit base of the syrup and gives it a blue-purple color. You can use fresh or frozen (thawed).
Granulated White Sugar - You'll need sugar to help sweeten the syrup which also helps thicken it up.
Water - Thins out this fruit syrup into a pourable consistency.
See the recipe card at the bottom of this post for quantities.
Instructions
Wondering how to make homemade blueberry syrup? It's so easy! Follow these step-by-step instructions, then scroll down to the recipe card.
Prepare the blueberries: Once you get your blueberries, give them a good wash or soak to remove any dirt or impurities.
Add the blueberries, sugar, and water to a small saucepot and turn the heat to medium-high.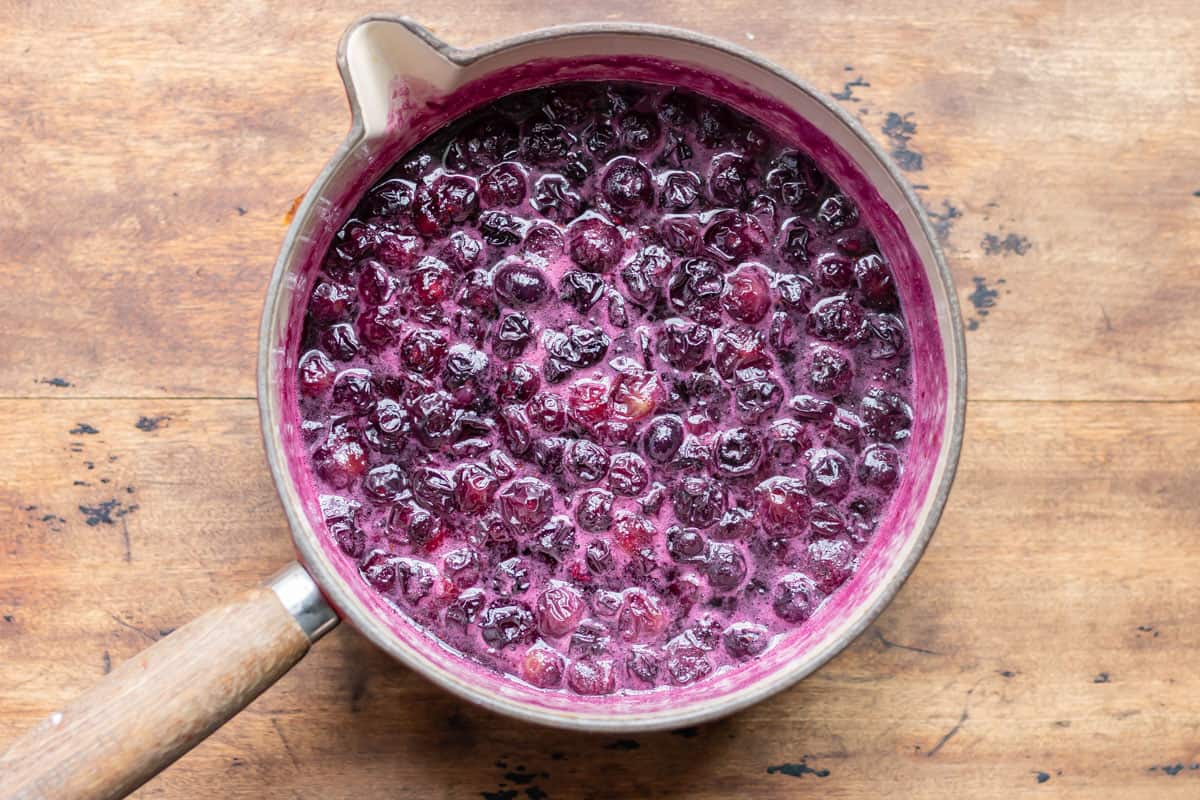 Cook the syrup: Turn the heat to medium-high. Bring the mixture to a boil, then back down to a simmer for 10 minutes stirring occasionally until the blueberries have broken down.
Strain: Once the blueberry mixture is cooked, place a sieve over a bowl or jar and pour the liquid in. Mash the blueberries down with a spoon to extract as much juice as possible. If any foam forms, just skim it off and discard it.
Cool and store: Let the syrup cool for 15-20 minutes before pouring it into a sanitized jar or container. The fresh blueberry syrup will stay fresh in the fridge for up to 2 weeks. It will thicken after being in the fridge.
Serving Suggestions
Enjoy your blueberry syrup on pancakes or waffles for breakfast.
Try it drizzled over cake, like this Vegan Vanilla Cake. Or drizzle over Vegan Cheesecake.
Try it on your favourite ice cream, or this tofu ice cream recipe!
Add a dash to this Cranberry Ginger Kombucha Mocktail for a sweet hint of blueberry flavor. Or add a swirl to Berry Iced Tea.
Drizzle some onto a fresh Fruit Salad to enhance the natural flavors of the fruit.
Makes a great topping for a morning stack of Fluffy Vegan Pancakes or Vegan Waffles. Add it to a Pancake Board, charcuterie-style.
Drizzle on top of a sweet Peaches and Cream dessert or Strawberries and Cream.
Serve drizzled over a dish of Whipped Coconut Cream.
Variations
Use brown sugar instead of white sugar for a hint of caramel flavor.
Strawberries, blackberries, and raspberries make a great addition to this blueberry syrup and can be cooked in with the blueberries.
Add a touch of cinnamon or pumpkin pie spice for a warming fruit flavor.
A teaspoon of vanilla, or maple, can be used for a unique layer of flavor along with the blueberries.
Add some lemon juice for a burst of fresh citrus flavor and a bit of acidity.
Honey or agave can be used in place of the white sugar if you'd like to use a different kind of sweetener.
Storage
Storing: Freshly made blueberry syrup can be stored in the fridge once it's cooled, for 2 weeks in an airtight container.
Freezing: You can freeze blueberry simple syrup in a sealed jar or container for up to 2 months. Just make sure there is enough room in the container for the syrup to expand. Thaw in the fridge overnight before serving.
Top tips
Washing the blueberries before using them for syrup is super important as their delicate skins can harbor dirt and other impurities that may make the syrup bitter.
When storing, make sure you are adding to a sanitized jar or container to prevent any bacteria from forming. Running it through the dishwasher is the easiest way to sanitize it.
Cooling the blueberry syrup is very important before pouring as the hot liquid could burn very easily. Use a funnel to transfer the syrup to a jar for best results.
If your blueberry syrup still has pulp inside, you may need to strain it twice for a smoother liquid syrup.
The syrup will thicken after being chilled in the fridge.
FAQs
What can you use in simple syrup besides granulated sugar?
You can sweeten your blueberry simple syrup with honey, agave, coconut sugar, or maple sugar in place of the granulated white sugar.
What's the best way to freeze simple syrup?
If you're making a large batch and would like to freeze, add cooled fruit syrup to a sanitized jar or container that has a tight lid. The syrup should have enough room as the liquid will expand. It will stay fresh in the freezer for at least 2 months and can be thawed overnight in the fridge before serving.
What can I use to thicken blueberry simple syrup?
If your syrup is a bit thin, a dash of cornstarch mixed with water or a dash of xanthan gum will thicken it up. Keep in mind that it will thicken as it cools!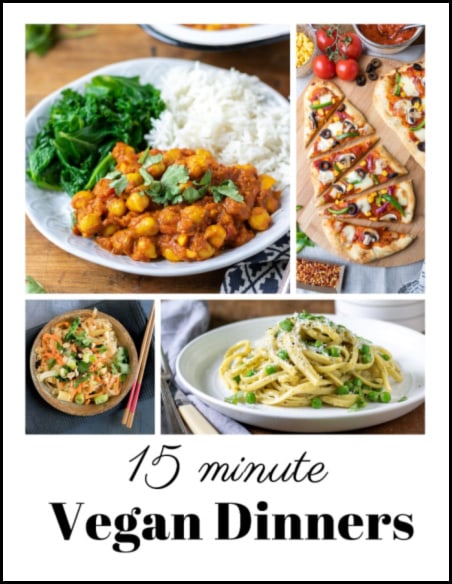 Sign up for our free newsletter and never miss a recipe!
Plus, you'll get a free eBook: 15 Minute Vegan Dinners!
Did you make this recipe?
* Head down to the comments and leave a ⭐ star rating!
* Share with #veggiedesserts on social media so I can see your creations.
* Follow me on Instagram, Facebook, Pinterest, and Twitter.