This is the ultimate classic Gin Rickey cocktail! It is refreshing and delicious, plus it's super easy to make with just a few ingredients. I've decorated it with edible flowers to make it extra special.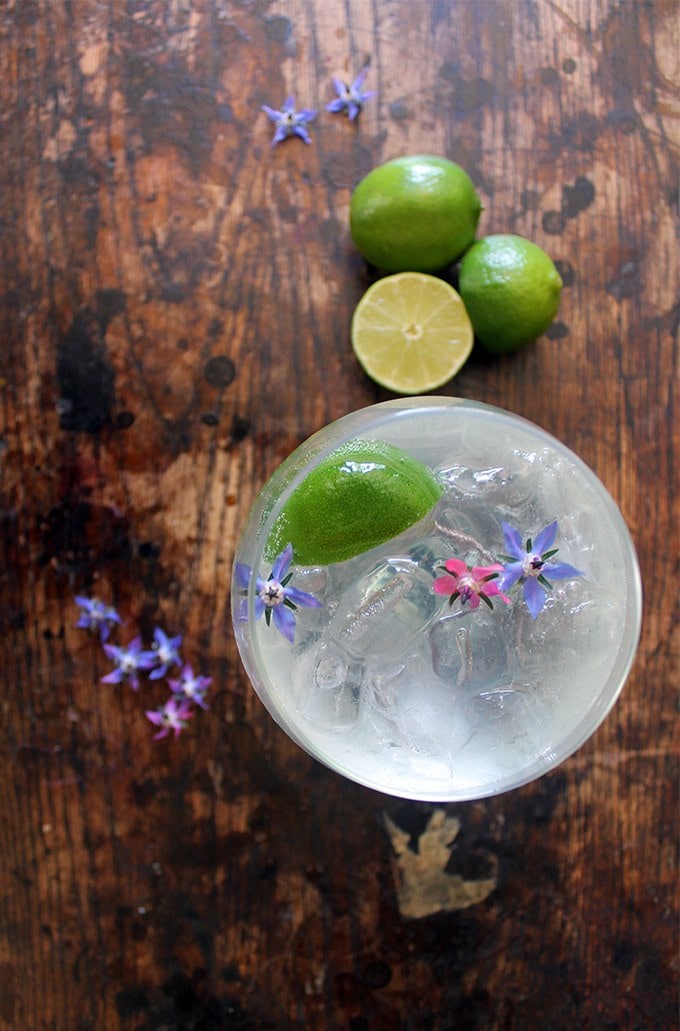 A Gin Rickey is a classic cocktail, and a great alternative to the more ubiquitous G&T.
Made with just three simple ingredients: gin, lime juice and soda water (aka club soda), the Gin Rickey is refreshing without the cloying sweetness that many other cocktails have.
I like that it lets the flavours and botanicals of your chosen gin shine through and be elevated by the tart lime juice.
It's perfect for a refreshing cocktail in the backyard on a hot summer's day, for a cookout, barbecue, picnic or party!
Unlike it's popular cousin the Gin Gimlet, a Gin Rickey doesn't have any fussy sugar syrups to sweeten it.
It's a grown up, elegant drink and perfect for hot evenings.
Gin Rickey
The Gin Rickey cocktail was originally created in Washington DC in the late 1800s.
It was originally made with bourbon, though it didn't become popular until the bourbon was swapped for gin. Then it soared in popularity for a while before recently undergoing a new renaissance.
Now, it is often found in lists of classic cocktails. It's often overshadowed by showy cocktails and sweet concoctions, but I love it for it's classy bitter flavour that really makes the most of good gin.

As I'm sure you know, gin has really come into its own in the past few years. Craft distilleries are popping up everywhere and it has become the drink du jour in the trendiest bars.
I, for one, am loving this resurgence. I wasn't keen on gin when I was younger, but I have now been completely converted.
Gin is always my drink of choice these days, and I prefer drinks that aren't too sweet, like this Gin Rickey.
Take a look at my other cocktail recipes:
Cucumber Gin and Tonic
Cucumber Caipirinha
Carrot Moscow Mule
Cranberry Pomegranate Cosmopolitan
Ginger Cranberry Kombucha Mocktail
Get the Gin Rickey Cocktail Recipe
📖 Recipe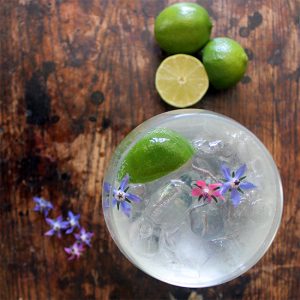 Classic Gin Rickey Cocktail
The perfect Gin Rickey cocktail - a simple and refreshing gin drink.
Save
Saved!
Ingredients
1

handful of ice

½

a lime

2

oz

gin

Club soda water
Instructions
Fill the glass with ice, then squeeze half a lime per glass and drop the lime half into the glass. Add a shot of gin, then top up with the club soda (soda water). Gently stir, top with borage flowers and serve.
Nutrition
The nutritional information provided is approximate and can vary depending on several factors, so is not guaranteed to be accurate. Please see a registered dietician for special diet advice.
Tried this recipe?
Mention @kateveggiedesserts or tag #veggiedesserts! I love seeing your recreations.