This cucumber caipirinha cocktail is refreshing, sweet and delicious. The cucumber and lime work well together and it's salad so healthy, right?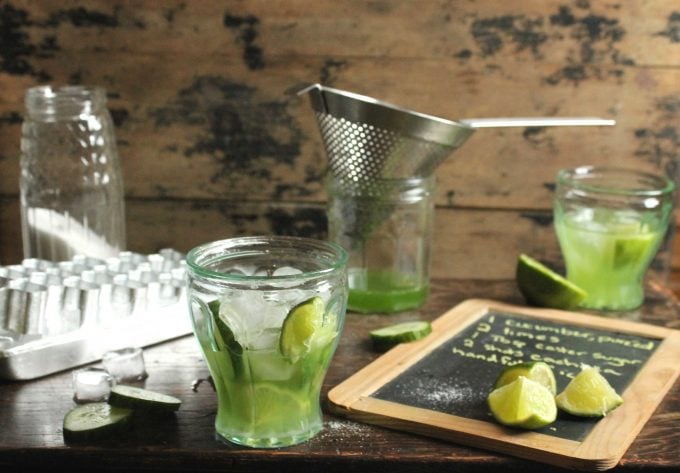 Let's get drunk on vegetables, shall we? Put salad in our cocktails, sit in the sun and watch the world through sunglasses. We can drink this refreshing and summery Brazilian cocktail with the smugness of a smoothie and talk rubbish.
Actual rubbish.
Food waste
Bellies rumble in the night and we throw food in the bin. Children look in empty fridges and unfathomable tonnes of food waste is generated by commercial and industrial sources around the world.
I bake food that my family doesn't actually need to eat to survive. Food that, in excess, would make us fat while others waste away. Sometimes I feel guilt. Though not as much as those who throw it away on a mass industrial scale should feel, though they probably don't. Otherwise something would be done.
Use it up
Usable food rots in landfill. Where possible we can compost, allowing our waste to nourish the soil.
We can reuse vegetable scraps into stocks and soups. Perhaps just giving thought about eating root to stalk when buying the vegetables is a good place to start. Great, thick cauliflower leaves are so often discarded, but surely can be eaten. Even strawberry tops can be used, corn cobs can be turned into jelly and carrot juicer pulp can be used in pastry.
So much food is discarded and I suppose that I've been considering it more and more lately. This is a huge issue that I don't purport to know a lot about, but I'd like to learn more. Using up my carrot tops isn't going to move usable produce out of industrial waste bins and onto the shelves of the food banks, but surely the more we think about wider food issues, the better.
The fat and the famished
The fat and the famished show that the food system is broken, globally. I'm not really sure what I can do about it, personally, but I suppose one of the smallest things I can do, after buying only what I need and using what I've bought, is to stop wasting food by being more creative about using plant parts that are normally discarded.
If you make these cocktails, you'll be left with cucumber pulp. Why not try using it in Cucumber and Mint Cupcakes or Cucumber and Lemon Cake? Maybe make it into a smoothie or use it as a face mask? The lime peels can be dried or zested for future recipes. Making cupcakes, and thus using even more ingredients, isn't going to help the hungry, but thinking about food before binning it and using it up might, eventually.
What are your tips for reducing food waste at home? What normally wasted parts of plants do you use? I'd love to hear in the comments.
Get the Cucumber Caipirinha Cocktail recipe
Cucumber Caipirinha Cocktail
Ingredients
1 cucumber
2 limes
1-2 tablespoons caster sugar
2 shots cachaca
handful of ice
Instructions
Chop the unpeeled cucumber into chunks and puree with a hand blender. Strain through a sieve, reserving the juice.
Cut the limes into chunks and put into two glasses. Add the sugar to the glasses and muddle with the end of a rolling pin or spoon to extract the lime juice. Pour in about a shot of the cucumber juice and add a shot of cachaca. Top with ice and enjoy. You will have leftover cucumber juice for more cocktails!
Here are some useful sites for more information on issues in our food system:
Food Tank
Love Food Hate Waste
Tristram Stuart, Waste: Uncovering the Global Food Scandal
Feeding the 5000