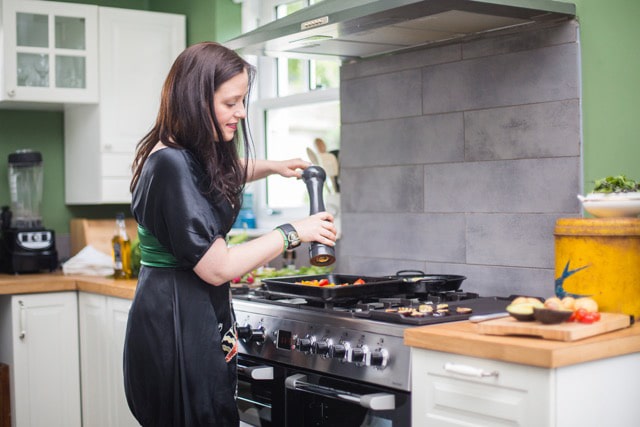 Recently, I was asked to take part in a campaign for Leisure cookers. Part of it involved heading to London to host a cookery masterclass for press and Guardian newspaper readers alongside three fellow bloggers.
It's been five years since I lived in London and I don't get back nearly enough. With two small children, there's something so liberating about getting on the train in Somerset and heading to the big smoke for a few days of 'me time'.

I was in London as part of Leisure Range Cookers' Tribes to Table event, where I helped to host a few meals and did cookery demos over a few days.
The tribes to Table campaign aims to 'set your inner foodie free'. They recognise that consumers are becoming more adventurous with different styles of food, as well as cooking and entertaining at home. The aim of the campaign is to help boost confidence in the kitchen and bring out the passionate side of feasting. The Leisure Feasts initiative uses the concept of food 'tribes' (meat, fish, vegetarian and baking) to help people get the most out of every meal.
The four of us bloggers were split into various 'tribes'. Naimh from Eat Like a Girl headed up the fish tribe, Dom from Belleau Kitchen was the baking tribe and Helen from Food Stories was in charge of the meat tribe. My tribe was, of course, vegetables. We each had to demonstrate recipes in front of audiences including, press, retailers and Guardian newspaper readers.
For the fish tribe, Naimh gave a demo of razor clams and oysters motoyaki with gojuchang and lime.
Of the dish, Naimh says, "Shellfish is often overlooked in the perpetual hunt for healthy quick dishes. I love to look east for inspiration, as I have done here with the motoyaki recipe, a popular Japanese way of cooking oysters with mayonnaise on top, finished under the grill. A razor clam has a gentle texture, somewhere between a clam and a squid and they are extremely popular in Asia and in most of Europe. I don't know why they aren't popular here. They make an elegant and very impressive dish." Get the recipe.
I was up next and showed the various groups how to use all of beetroot, root to leaf, in this beetroot pizza with beet leaf pesto.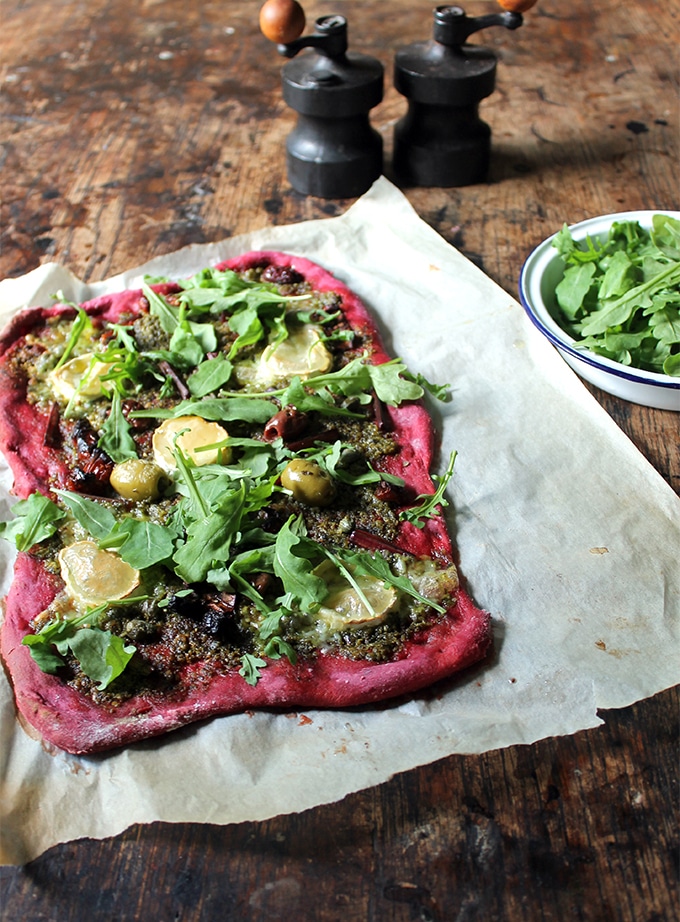 Here's what I had to say about the recipe: "This eye-catching beetroot pizza is easy to make and uses every bit of a bunch of fresh beetroots: from stem to leaf. The roots are roasted and then pureed before being added to the pizza dough, while the leaves are whizzed into a tangy pesto. Chopped bright purple beetroot stems add another shock of colour to the pizza, as well as a lovely texture. The flavours of this pizza all come together with rich, salty goat's cheese and a crown of peppery rocket. With capers and olives, the flavours of this pizza are as intense as the colour." Get the recipe.
Next up was Helen from Food Stories who gave a demo of her Middle Eastern-inspired recipe, Shawarma-Spiced Lamb.
Helen says, "This shawarma spiced lamb recipe is based on meals I enjoyed in Lebanon, where lamb shawarma would be cooked on a spit - this is a recipe I've adapted for the home cook. It's perfect for sharing when you have a few people over as there's minimal prep time and the oven does most of the work. You can then lay everything out on the table for people to help themselves. It's messy, fun and tastes amazing." Get the recipe.
Finally, we had Dom from Belleau Kitchen who showed everyone that you don't need sugar to make decadent brownies.
About his sugar-free date, almond, fennel-seed and banana brownies, Dom says, "It's undeniable that sugar-free baking can be a little complex, with lots of ingredients needed to enhance the texture and flavour you lose when not using refined sugar. Although these substitute ingredients aren't rare, they're not your usual store cupboard regulars. I was keen to go back to basics with this recipe. I've tried to create something that was simple, had mostly ingredients that you'd be likely to have in your cupboards already, but still sugar-free and of course, ultimately tasty. These brownies really hit the spot. Not only are they divine, they are also super-easy to make." Get the recipe.
One of the highlights of the event was definitely sitting down to enjoy the meals with the various groups, particularly the lively Guardian readers who won tickets to join us. They had loads of great questions and we had wonderful foodie discussions. A few lucky diners also won new Leisure range cookers!
This post was part of my campaign with Leisure Range Cookers. All opinions are my own. Thanks for supporting the brands that make it possible to mess up my kitchen and write Veggie Desserts - Healthy Food and Lifestyle. Event images courtesy of Leisure. Images of me in my kitchen, courtesy of Bill Bradshaw.