The Omlet Automatic Door is a handy and practical addition to your chicken coop. Read my review of the electric chicken door.

Omlet Automatic Door
One of the few jobs you have to do when keeping backyard chickens, is to close them into the coop at night.
They wander up when their biological clocks tell them to each night. But to ensure they're safe from predators, you need to close the door.
That's not usually a problem in the mid seasons, but it can be harder to work around your schedules when the days are particularly short or long.
The Omlet Automatic Door makes chicken-keeping even easier!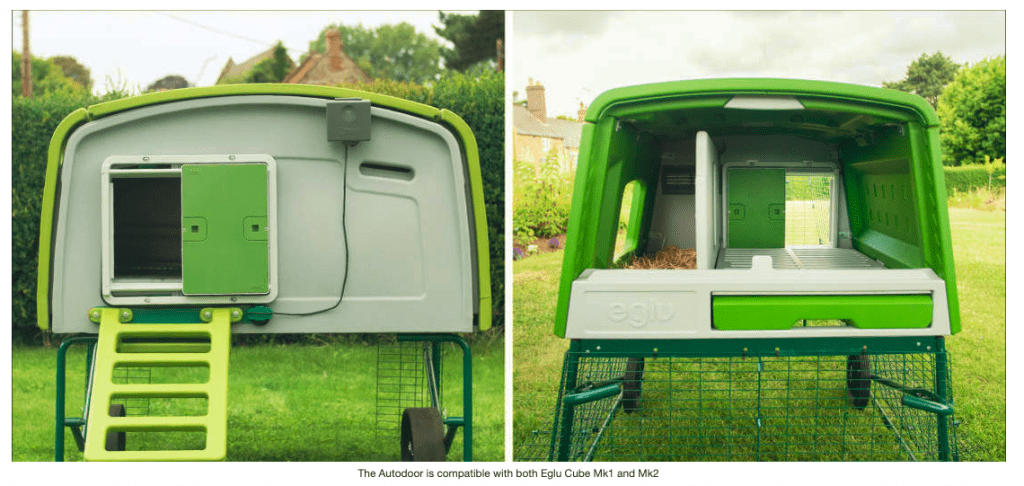 Automatic Chicken Door
We've been delighted with Omlet's Automatic Door, which solves the problem of being on call to open the coop door.
The battery operated door is operated by a light sensor or you can set the time. We started with the light level sensor, but poor Bluebell, last in the pecking order, didn't get in on time one night.
The poor girls all made a lot of noise so we soon let her in. Since then, we've set the timer to give her plenty of time.
They're rescue chickens, so they're just getting used to what to do and how to use the stairs to the coop!
I love that the Omlet Automatic Chicken Door has a safety sensor, so your beloved hens will never be trapped. Omlet really have thought of everything with this door.
Where can you use the Omlet Automatic Door?
Omlet Eglu Cube Mk2
Omlet E Cube MK1
Wooden Chicken Coops
The mesh of the run
A walk-in chicken run

How does the Chicken Coop Door work?
The door automatically moves sideways to open or close based on your setting on the control panel.
The control panel can be set to use the light sensor to automatically shut or open the door. Alternatively, you can set the timer. That's useful if your chickens are a little slower to go into the coop!
You can override the sensor/timer and just press a button to open or shut the door when you like.
The safety sensor means your chickens will never be caught in the door.
The door is really easy to install and the only maintenance is to check and replace the batteries when necessary.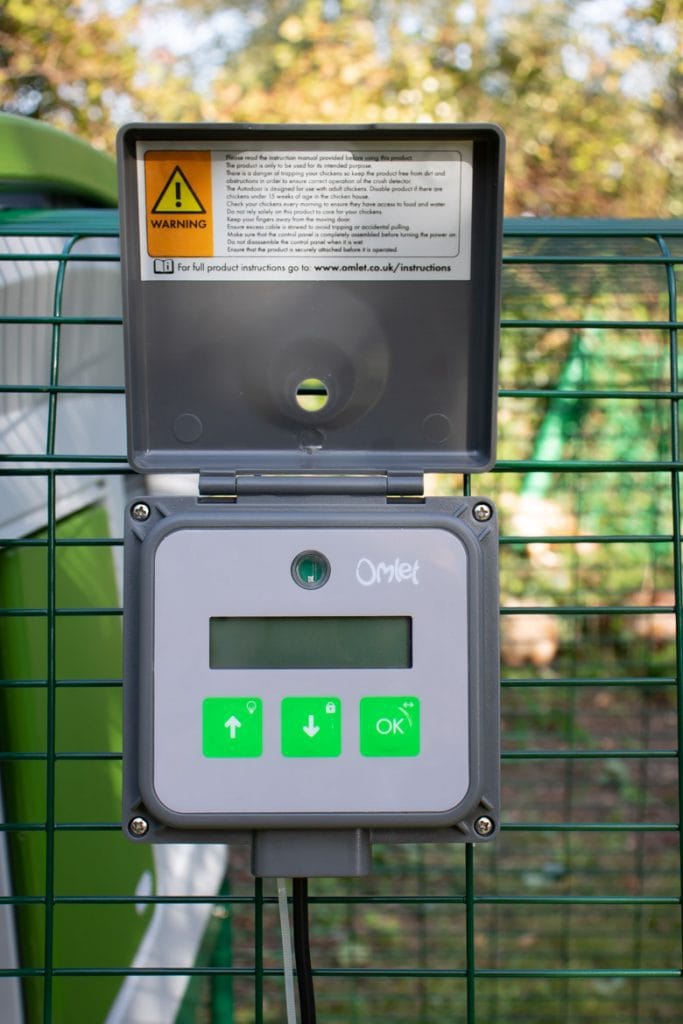 Like all the Omlet products I've tried (read my Omlet Eglu Cube Review), it's a robust piece of kit that's built to last.
The heavy duty plastic frame, motorised door and operation panel are all great quality.
We've found it's very worthwhile to have, so we don't need to be available at dawn and dusk to open and close the door manually.
Find out more about the Omlet Automatic Door
Disclosure: I was gifted an Omlet Automatic Door for this review. All opinions are my own. This post contains affiliate links.