We tried out the Omlet Eglu Cube plastic chicken coop for our rescue chickens. Read our Eglu Cube review to find out our honest thoughts about this model, and how we're enjoying life with our four ex battery hens.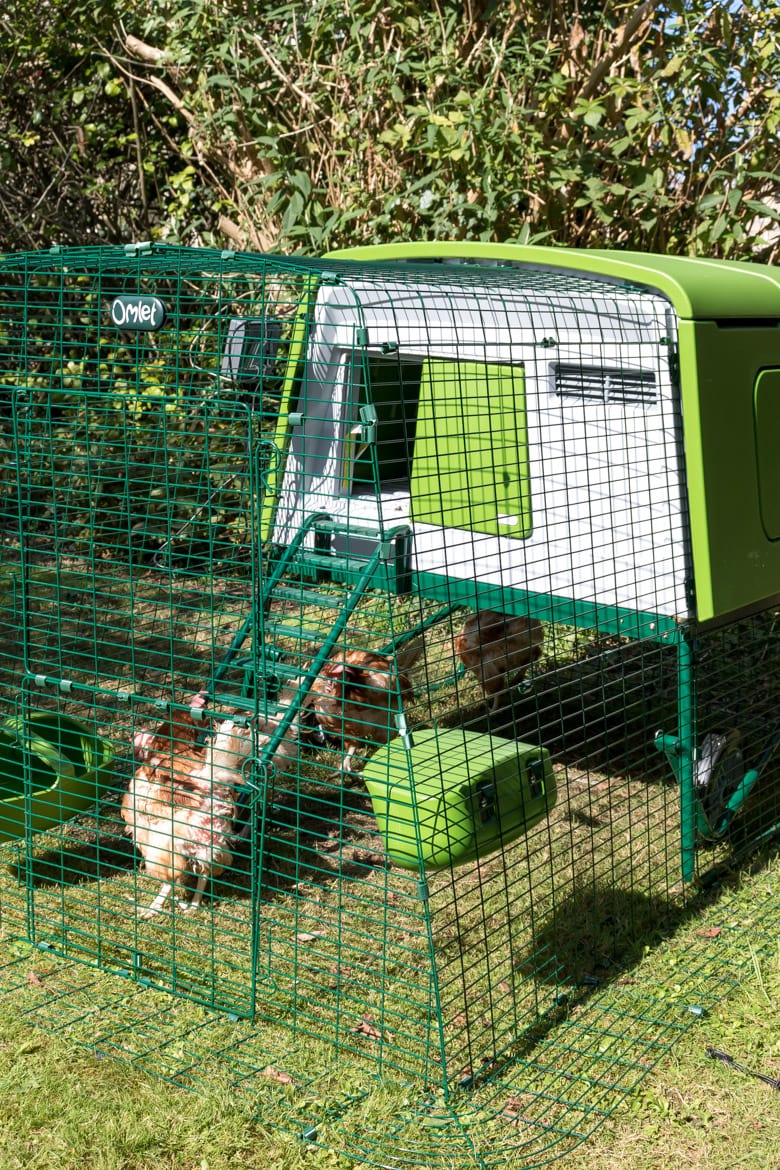 gifted product from Omlet
Omlet Eglu Cube Review
We have four new members of our family. Two weeks ago we rescued some ex-battery hens so they could live with us and have a happy retirement.
After a LOT of pester power by my son, and a few dreams of living a more rustic life by my husband and I, we finally did it. And we're so happy about it.
Meet Falafel, Bob the Second, Bluebell and Lady Esmeralda.
A local rescue centre had saved 80 of their sisters from a sad fate, so we arranged to collect them and bring them home. Omlet, the famous plastic chicken coop people had been in touch and kindly sent us their Eglu Cube to review. The timing was perfect.
Be sure to also check out my Omlet Automatic Door Review.
Assembling the Eglu Cube
The day before we collected our rescue chickens, we set up the Eglu Cube. It's not difficult, but is a little time consuming.
We took delivery of the cube and it came flat packed in six large boxes. The directions are pretty straight forward and it took two of us (and two excited 'helping' children) about an hour to set up.
There are plastic clips that join the metal mesh of the run, which are a bit fiddly and take most of the assembly time. It's not difficult at all, just takes a little while to clip it all together. But then it's done and you don't need to adjust it.
The run feels sturdy and strong. It has a small 'skirt' around the edges to prevent foxes or any other keen animals from digging into the run, which is a great feature.
It has vents, a nesting box door, a coop access door at the back and removable tray under the roosting bars. It's double-walled plastic so should keep the hens toasty even in the winter and cool in the summer.
The plastic of the coop is top quality, thick and feels extremely robust.
This coop is strong, well-made and feels like it will last a lifetime.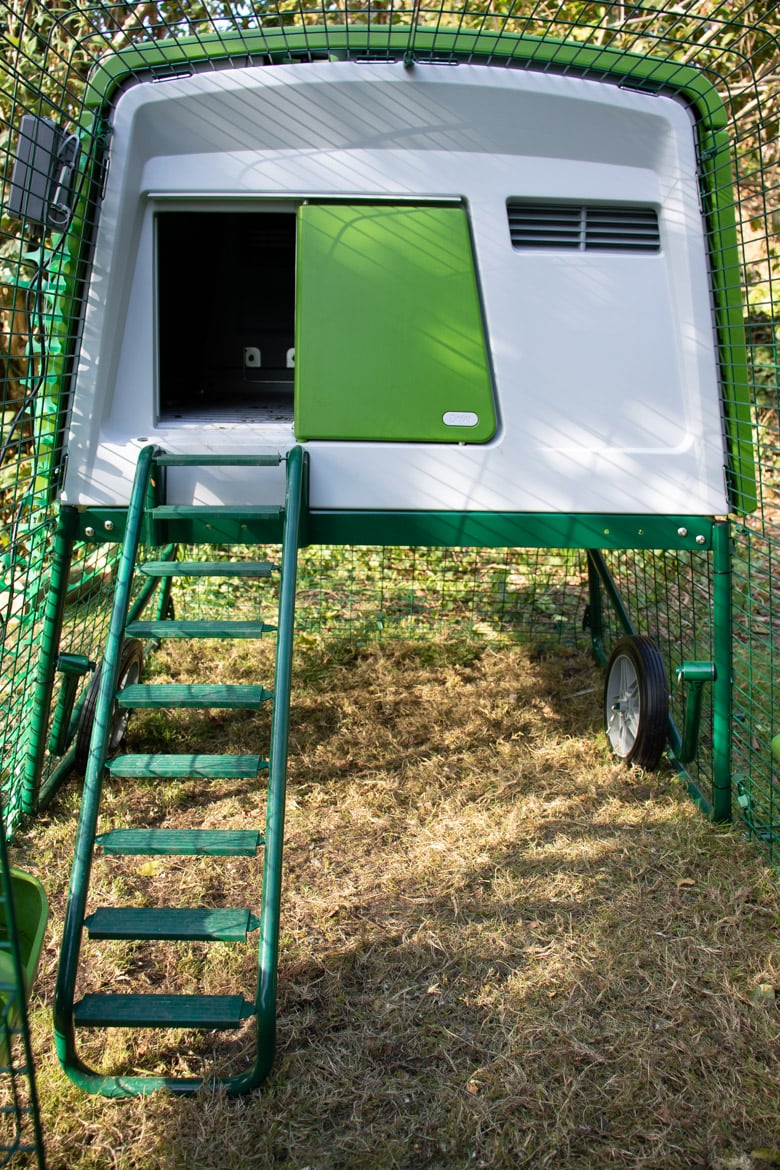 Inside the Eglu Cube
Stairs run from the ground up to the raised plastic chicken coop, where there's a manual door. The door works by simply raising and turning the lever in order to tuck the hens up safely at night.
Inside the coop there's a plastic tray with roosting bars, a divider with a door and a plastic nesting box.
Access is via a large removable panel at the back and a door to the nesting box for collecting eggs.
The roosting bars, tray underneath and divider are all removable for cleaning.
On the first night our rescue chickens figured out how to get up the stairs and put themselves to bed for the night. They still sometimes sleep in the nesting box rather than on the roosting bars, but some are figuring it out! They've lived in a small box their whole lives (16 months), so it's not surprising that they need a while to get used to things now.
Cleaning and moving
I found it really easy to clean the Eglu Cube. A power washer would make it even easier, but for now the garden hose does the job well.
Just compost the bedding in the nest box (straw or shavings), remove the divider, tray and roosting bars and hose them clean. That's it!
The coop is on wheels, so it's easy enough to move around - saving your grass from being completely decimated!
Omlet Chicken Run
We got the 2m run for our Eglu Cube, which means the chickens have 1m under the coop and 1m in front. It's a sturdy coated metal mesh with a removable door and 'skirt' around the edge to prevent foxes digging under.
Our rescue chickens spent the first few days just in the run to get used to life outside of the battery farm. We didn't want to overwhelm them but they soon got used to seeing sunshine, bugs and grass. Then we allowed them out to free range in the garden.
According to the Omlet website, an Eglu Cube with 2m run is suitable for 8-10 chickens.
We have 4 and that feels like a perfect amount. Unless you're going to allow them to free range all day every day, then I wouldn't like to have more in this setup. They've been through a lot and I don't want them caged and crowded now.
We're going to get another metre of run so when we're not home and have to keep them inside, they'll have more safe space.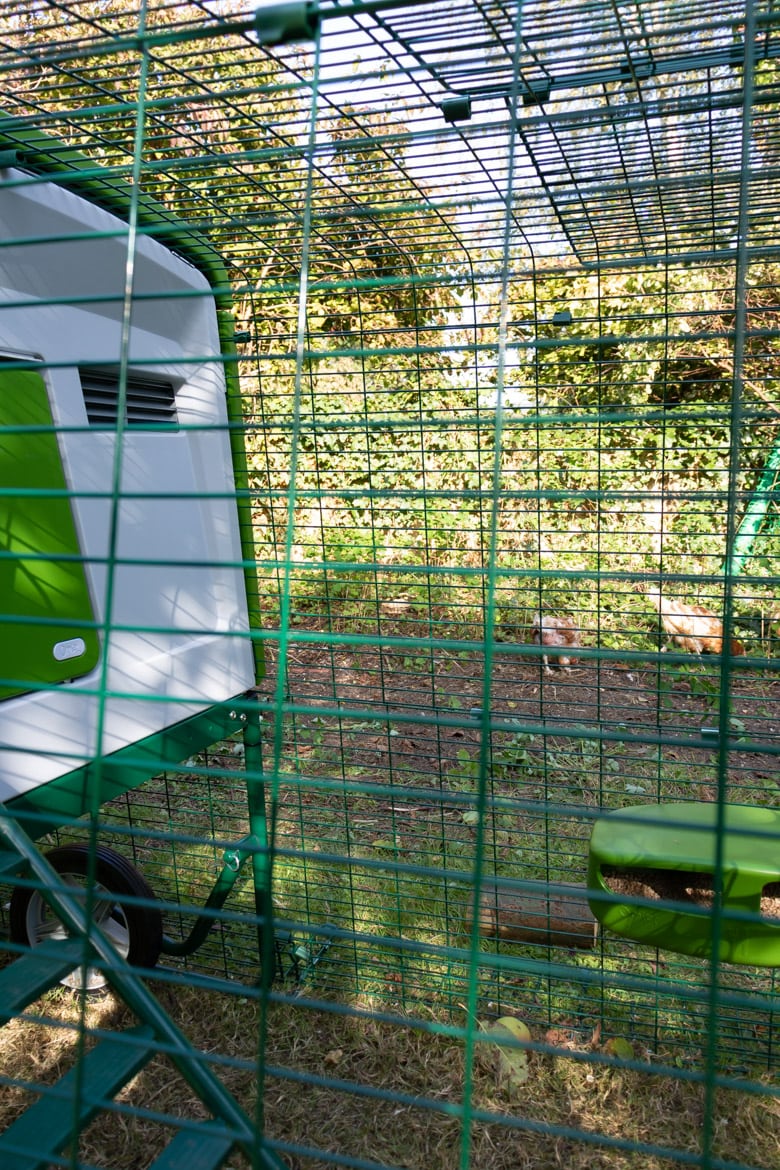 Free Ranging
At first we were worried about letting the chickens free range in the garden. I had visions of them escaping onto the road, wandering off too far or getting hurt.
I bought some flexible mesh fencing from the garden centre and penned them into a large rather wild section at the corner of the garden. They are so incredibly content out there, exploring, pecking, eating. They busily eat insects and leaves, stretch their wings and wander around.
It's quite beautiful to watch, knowing they didn't get this opportunity to explore before.
It's an area that we were slowly trying to tame in our overgrown backyard so we've just let them go for it.
They are quickly clearing it of plants. I took the above picture a week ago and I can't quite believe how much of the grass and weeds they've eaten!
Omlet Automatic Door
We've also tried out the Omlet Automatic Door. Here is my full automatic chicken door review.
It was easy to fit, particularly as we weren't retro-fitting it and just assembling along with the Eglu.
The door simply works by slowly opening and closing it's coop door so you don't have to be there to do it at dusk and dawn. It takes away one of the chores with chickens: shutting the door. It's a simple thing but has meant we don't have to go out first thing or be home in the evening to close it. I imagine it will be even more useful in the long days of summer.
It has a sensor so your chooks will never be squashed by the door. You can also set it for a particular time or use it's light sensor.
We set it to use the light sensor, but one day Bluebell, the last in the pecking order, wasn't fast enough so she got locked out. It was a cacophony of clucks as they all stressed out to be missing one of their flock. You can simply override the door with one button to open it when you like.
If we're going to be away, I'd set the timer for the door a bit later so they all have plenty of time to get inside the coop.
Rescue Chickens
Our chickens were 16 months old when they were saved by a local animal rescue centre. They were missing a lot of feather and their faces were so, so pale.
In just a few weeks they're getting colour and growing feathers. It will likely be a few months before they're pretty looking, but sunshine, fresh air and kindness has set them on their way.
On the first day, they each laid an egg. Then we got three, then two, then one and now none. The rescuer told us that they would likely slow or cease egg production while their bodies put all their effort and protein into regrowing feathers.
We didn't get them for their eggs, but rather to save them, let the kids know more about caring for animals and as pets.
Chickens
I became vegetarian when I was 12. My parents owned a florist and I accompanied my mum in the car while she delivered a bouquet. Unbeknownst to us, the address was a chicken abattoir.
We lived in Canada and it was winter. So although I didn't see anything particularly grotesque, from the car I saw the truck full of chickens. And the blood staining the snow. That was enough for me to stop eating meat then and there.
I suppose it feels good now to know that we've saved four from not only a similar fate, but also a terrible life in the run up to that moment.
They seem happy here, and we're happy to have them.
Use the code VEGGIEDESSERTS at Omlet for 10% off orders until the end of October 2019.
Disclosure: Omlet sent the coop for this Omlet Eglu Cube Review. All opinions are my own. This post contains affiliate links.