This moist one-bowl zucchini cake / courgette cake is a great way to use up seasonal gluts. The cake has reduced sugar, so much of the sweetness comes from the lemon drizzle. The flavour of the courgette fades away beneath the zingy lemon, but leaves pretty flecks of green. Dairy free and easily vegan, gluten-free.
What better way to eat the fruits of our labour than in cake. Courgettes are mild, so are a green vegetable that kids are usually pretty happy to eat.
In this courgette loaf they're not exactly hidden, but neither are they a boring plate of veg.
The lemon works beautifully with the courgette and really lifts it into a springy/summery dessert.
Since the cake isn't overly sweet, it really balances well with the zingy lemon drizzle. You'll also love my Lemon Drizzle Cake.
Vegetable cake recipes
Since I wrote my cookbook Veggie Desserts + Cakes, I've taken a bit of a break from creating vegetable cake recipes for you!
As you can imagine, I made a LOT for the book and tested them all quite a few times.
But I've got my vegetable cake mojo back now, so I'm pleased to bring you this courgette cake with a zesty lemon drizzle.
It's also known as zucchini bread, which is super popular in North America, where I'm from. In fact it's as ubiquitous as carrot cake there.
Often it's paired with chocolate chips, but I've decided to make it summery with lemon this time.
Lime courgette cake is awesome too, just substitute lime for the lemon in my recipe!
Not to diss my beloved chef legends, but I greatly prefer my version to Mary Berry or Nigella Courgette Cakes, and I hope you do too!
Courgette / Zucchini
I'm a rubbish gardener. I'm not at all proud of this fact, but no matter how hard I try, I just can't seem to grow anything.
Actually, that's likely the problem. I don't really, honestly try.
I have good intentions, but they're marred by poor effort.
I can happily peruse a garden centre, picking up pots of herbs or vegetable plants, dreams of self-sufficiency and an autumn harvest dancing in my head.
But at home, once I can be bothered to plant them, I'm unlikely to routinely water, tend for and even remember the plants.
Basically, I'm extremely lazy.
Courgette recipes
I love cooking with courgettes as they're so versatile. You can eat raw courgettes in a salad or spiralize it into courgetti with pea mint sauce or courgetti and beet balls.
I also love courgette fritters and courgette blueberry muffins.
Is zucchini the same as courgette?
Yes! Zucchini (zoo-KEE-knee) is the North American name, while courgette (coor-ZSHETTE) is the European name, but they're both the same summer squash.
Often this recipe would be called zucchini loaf or zucchini bread in North America, but in Britain it's considered a cake, even though it's cooked in a loaf pan.
Cook's Tips
Don't skip the step to remove some moisture from the grated courgette. Otherwise the cake will be soggy!
This zucchini loaf cake itself has reduced sugar, but still kid and adult approved. You can go as heavy or as easy on the sugary lemon drizzle as you like.
You can substitute the courgette for marrow (older courgette).
This recipe is for a 900g / 2lb loaf pan - which is the typical size pan for bread making (approx 23cm x 13cm x 7cm (9 inches x 5.5 inches x 3 inches).
No need to peel the raw courgette - a lot of goodness is in the green skin.
Swap the lemon for lime for a different flavour.
Special Diets
Make it gluten-free by using gluten free flour and baking powder.
Make it vegan: swap eggs for flax eggs (2 tbsp of ground flax stirred into 6 tbsp of water and allow to stand for 5 minutes to become gelatinous)
This is a dairy free courgette cake.
How to freeze zucchini
You can freeze zucchini. Simply cut into chunks, blanch in boiling water for 2 minutes, cool completely and then freeze in a suitable container or bag.
Use in stews, soups etc..
To freeze grated zucchini, squeeze out the excess moisture into a clean tea towel, then freeze in a bag or container. Use next time you make this loaf cake!
Step by step tutorial
It's really easy to make this easy zucchini cake, and you only need one bowl, plus a 900g / 2lb loaf tin to cook it.
1 - Use a box grater or food processor to make the grated courgette. Lightly squeeze the gratings in a clean tea towel or with kitchen paper to remove a bit of the moisture.
2 - Mix the oil, eggs (or flax eggs), sugar, zest and lemon juice until smooth.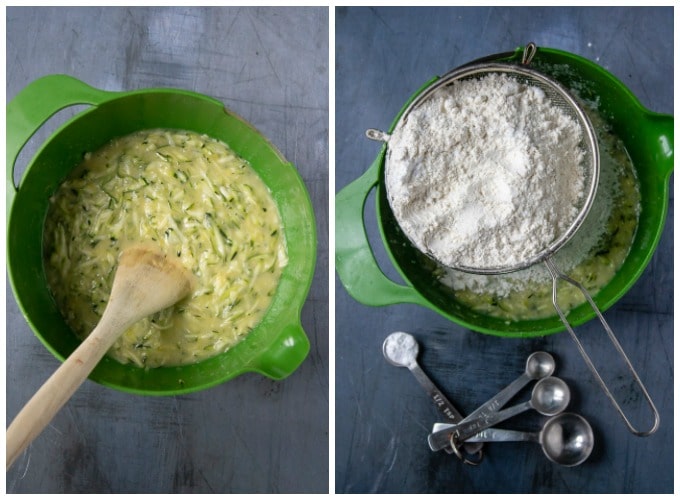 3 - Stir in the grated zucchini.
4 - Sift in the flour, baking powder, soda and salt.

5 - Gently combine the flour mixture into the wet mixture, taking care not to overmix.
6 - Pour the batter into the prepared pan and bake.
Recipe
Thanks for checking out my courgette cake recipe! I love hearing from my readers. You all allow me to do what I love and write this food blog, sharing vegetarian and vegan recipes, vegetable cake recipes and also easy vegan desserts.
Kate x
Courgette Cake with Lemon Drizzle
This moist courgette (zucchini) cake is a great way to use up seasonal courgettes. I've used minimal sugar in the sponge, so much of the sweetness comes from the drizzle. The flavour of the courgette fades away beneath the zingy lemon, but leaves pretty flecks of green.
Easily vegan and gluten free.
Save
Saved!
Ingredients
oil

- for greasing

350

g

(3 cups) courgette

(zucchini) raw, approximately 1-2 medium

125

ml

(½ cup) vegetable oil

2

free-range eggs

100

g

(½ cup) granulated sugar

zest and juice of 1 lemon

300

g

(2 ½ cups) plain flour

(all purpose flour)

1

tsp

baking powder

½

tsp

bicarbonate of soda

(baking soda)

½

tsp

sea salt
For the lemon glaze
85

g

(¾ cup) powdered icing sugar

(confectioner's sugar)

1

tbsp

lemon juice

lemon zest

to decorate
Instructions
Heat oven to 180C/160C fan/350F. Grease a 900g/2lb loaf tin and line with baking paper.

Coarsely grate the unpeeled raw courgettes (in a box grater or food processor). Lightly squeeze the gratings in a clean tea towel to remove a little of the moisture.

In a large bowl, whisk the oil, eggs, sugar, zest and juice together until smooth, then stir in the courgette. Sift in the flour, bicarb, baking powder and salt and gently combine.

Pour the batter into the prepared tin and bake for 75 minutes, or until an inserted skewer comes out clean. Leave to cool in the tin completely.
For the lemon drizzle
Mix the lemon juice and icing sugar together until smooth. Drizzle over the cooled cake and sprinkle with the lemon zest.
Notes
Suitable for freezing
Make it vegan: use flax eggs
Make it gluten-free: use gluten free flour and baking powder
Nutrition
Calories:
308
kcal
Carbohydrates:
42
g
Protein:
4
g
Fat:
13
g
Saturated Fat:
10
g
Cholesterol:
32
mg
Sodium:
195
mg
Potassium:
186
mg
Fiber:
1
g
Sugar:
19
g
Vitamin A:
120
IU
Vitamin C:
6.8
mg
Calcium:
37
mg
Iron:
1.7
mg
The nutritional information provided is approximate and can vary depending on several factors, so is not guaranteed to be accurate. Please see a registered dietician for special diet advice.
Tried this recipe?
Mention @kateveggiedesserts or tag #veggiedesserts! I love seeing your recreations.