This list of 25+ tasty Courgette Recipes (zucchini recipes) is sure to inspire you! Use up those courgettes with these simple, tasty vegetarian and vegan courgette recipes. From breakfast and lunch to dinner and dessert, I've got you covered.
Are courgettes (zucchini) taking over your vegetable gardens?
I'm most certainly not green fingered, but even I can't help but see them piled up on the shelves of the grocery store. Have you tried growing courgettes?
They're bursting out of CSA veg boxes and being passed to neighbours. But don't stick to the same old recipes to use up healthy courgettes!
Try some of these inspiring dishes. I've got you covered with breakfast, appetizers, side dishes, mains and desserts. I love using them, and you can check out my courgette archive.
These are all vegetarian and vegan courgette recipes and zucchini recipes.
So they'll show how you can turn this humble and prolific summer squash into a multitude of tasty dishes.
You won't get bored of them when there are so many tasty recipes to try!
What flavors go with zucchini?
I love using courgettes in both sweet and savory recipes. They add bulk, color and flavor to all sorts of recipes.
Try courgette with garlic, parsley, basil, oregano, thyme, cinnamon, chocolate or ginger.
It's also great with lemon, feta cheese, parmesan, ricotta, goat's cheese.
Cooking Courgette
If you don't like courgette, you're probably cooking it wrong.
If not treated properly, it can turn into a bland, mushy mess. You want to stay away from boiling or over-steaming it. It has such a high water content that it quickly collapses.
Some recipes call for pre-salting them, but even easier is to just cook courgettes quickly at a high heat.
They're perfect quickly sauteed in a frying pan, or flash cooked on a grill or griddle pan
Courgette can also be eaten raw. Wash it well then thinly shave it into a salad. Or make courgetti (zoodles) by spiralizing it and using it instead of pasta for a healthier alternative.
About Courgettes
Although you may think courgettes/zucchini are vegetables, they're actually Fruits, botanically-speaking.
These summer squashes are oblong in shape and are green, yellow or striped.
Courgette is the young fruit, and older ones are tougher and called marrow. It comes from the same family as cucumber, melon, and squash.
The skin of courgettes is edible. They can be eaten raw, fried, roasted or grilled.
They have a high water content, so aren't great boiled as they'll fall apart.
The mild flavor lends itself well to sweet dishes as well as savory and they are one of the most popular vegetables to use in desserts.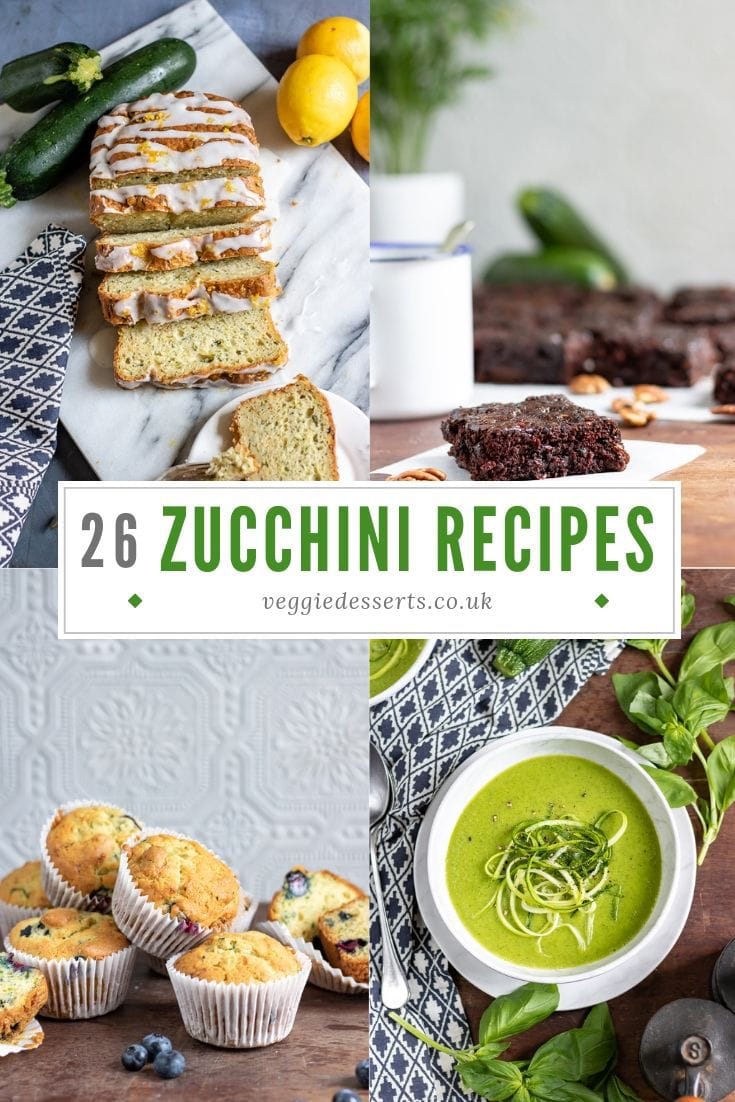 25+ Tasty Courgette Recipes
Looking for courgette recipes to use up courgettes (zucchini)? This list of tasty recipes will inspire you, from soup and salad, to dinner and cake!
In late summer, gardens, vegetable patches and CSA vegetable boxes are bursting with the summer squash. Luckily, courgette is very versatile and can be used in loads of delicious recipes.
When I have extra courgettes, my first recipe is usually soup, then cake. Or cake, then soup. Or both. But there are also many many ways to use up courgettes, so you won't get bored.
Read on to find inspiring, healthy, vegetarian and vegan courgette recipes.