These mint cucumber cupcakes have a lovely light fresh flavor - the mint is subtle and the cucumber flavor fades. I've topped them with rose water buttercream, which works beautifully with the mint and cucumber.
I can't believe that it's been a year since I started this blog. I've absolutely loved learning about blogging, creating recipes, getting to grips with my camera and delving into social media.
So, what started this all off twelve months ago?
My obsession with vegetable desserts began some time before I launched the blog, but I put fingers to keys and started Veggie Desserts after being made redundant. It was a week before I was due to return from maternity leave and I had been there for eight years. Pretty harsh.
I was lost.
Regardless of the actual business reasons behind it, redundancy felt like being repeatedly punched in the stomach while my peers pointed and jeered like schoolchildren about how useless and inept I was.
Redundancy on maternity leave felt like those who once respected me had deemed that once a baby comes out of you, you must clear your desk of in-trays, staplers and computers and pile it high with yogurt, wipes and loo roll crafts.
That I should hang my career up on a low hook next to a frog umbrella and spaceman bag.
The door to a major part of my past had been slammed in my face and I had to turn around, stand up straight, smooth my dress, walk away down an unknown corridor and pretend I was okay about it.
So I retreated to the safe haven of my kitchen and began to bake like a flour-covered, red-eyed, cymbal-banging monkey toy.
One who bakes with kale. And parsnips. And spinach.
I took a career-related course.
Then I started this blog.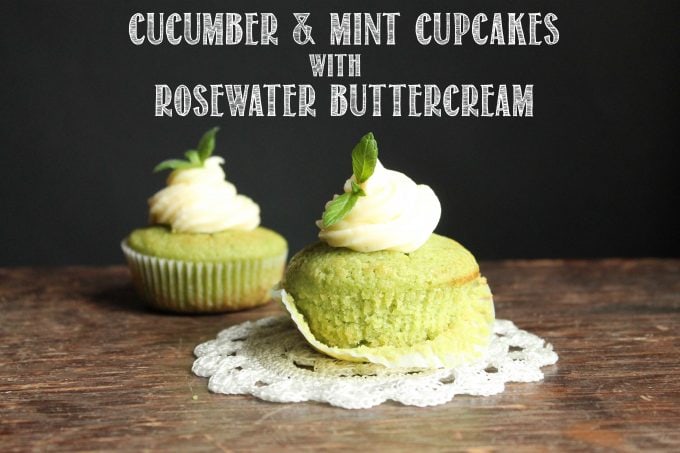 My standard response to why I began blogging has always been that I started veggie desserts in order to share my recipes with others.
True, in part, but also it was to save my sanity and stop me from wallowing in self-pity.
To give me a non-baby focus, a purpose, a project. To prove, to myself, that I am still me. I love my little ones dearly, and completely cherish my time with them (even while tearing up the living room carpet after my son pooped on it and drove his cars through the muck, making 'roads' on the cream carpet).
But I needed a little 'me time', too. I'm sure you'll all appreciate that.
Every blog achievement has meant so much to me.
I've glowed with pride (while an imaginary neon sign flashes above my head screaming "She's not useless, see?"), at seeing my recipes in newspapers and magazines, linked by major sites, interviewed as a blogger of the year by Top Sante Magazine, and being made Jamie Oliver's blog of the month.
Although the initial redundancy despair, then anger, has faded, when you've hit your lowest point in self-esteem the odd pat on the head means so much.
So the other night, on the eve of Veggie Desserts' first birthday, I won Best Food Blog at the National UK Blog Awards.
It was a major head-pat, back-pat and arm punch. Woop!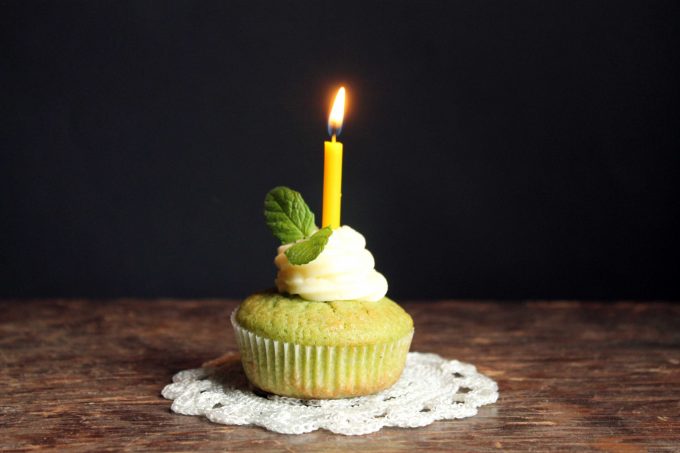 Thank you so much for visiting, commenting, tweeting and baking. And for nominating, reading and supporting.
I'm fine. Really. I've had extra time at home with the little ones and that is amazing.
Now, that's enough of that. Stiff upper lip and all. Next week I'll go back to comparing cauliflowers to strippers, I promise.
As for these cucumber and mint cupcakes with rose icing, as usual you can't taste the vegetable in this cake recipe. So these are minty (but not in a toothpaste sort of way, more like a summer cocktail) with a very subtle rose buttercream. These would be perfect for a picnic in the sunshine, along with an icy cold gin and tonic (and this is a food blog so it is mandatory that you drink it out of a mason jar with a red stripy paper straw).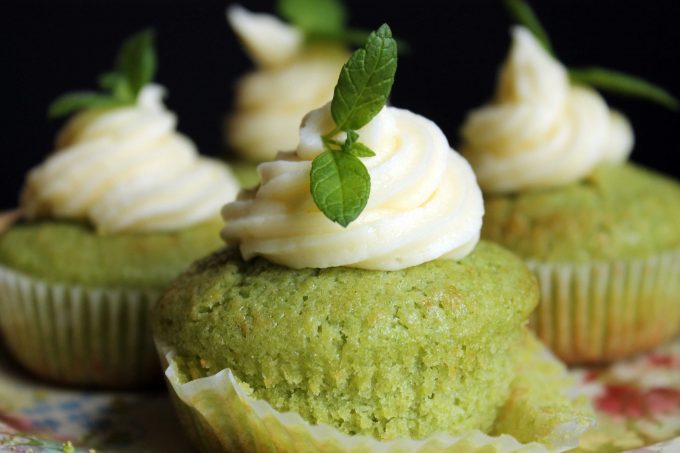 Vegetable cupcake recipes
Looking for more vegetable cupcakes? Try these!
Kale cupcakes
Carrot cupcakes
Beetroot chocolate cupcakes
Pea Cupcakes with Lemon and Lavender
get the mint cucumber cupcakes with rose frosting recipe
Did you make this cucumber cupcakes recipe? Please let me know how it turned out for you!
Leave a comment and star rating below and share a picture with the hashtag #veggiedesserts. I love seeing your recreations of my vegetarian and vegan recipes.
Follow me on Instagram * Twitter * Facebook * Pinterest * Youtube
📖 Recipe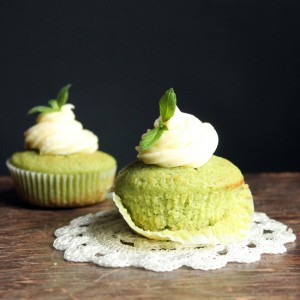 Mint Cucumber Cupcakes with Rose Frosting
These mint cucumber cupcakes have a lovely light fresh flavor - the mint is subtle and the cucumber flavor fades. I've topped them with rose water buttercream, which works beautifully with the mint and cucumber.
Save
Saved!
Ingredients
200

g

cucumber

about half a cucumber

½

cup

about a handful fresh mint leaves

1

tablespoon

lemon juice

115

g

½ cup butter, softened

150

g

¾ granulated sugar

1

teaspoon

vanilla extract

2

eggs

150

g

1 ⅛ cups self raising flour

Pinch

of salt

For the Rose Water Buttercream:

75

g

⅓ cup butter, softened

150

g

1 ⅛ cups powdered icing sugar

½

teaspoon

rose water

1-2

tablespoons

milk
Instructions
Preheat the oven to 170C/325F. Line a 12 cup muffin tray.

Leave the skin on the cucumber and de-seed it by cutting it in half lengthways and scraping the seeds out with a teaspoon. Cut into chunks and puree until smooth in a blender. Add the mint leaves and lemon juice and blend until smooth.

Cream the butter, sugar and vanilla together for a few minutes until light and fluffy.

Add the eggs, one at a time, beating each one in well.

Stir in ⅓ of the flour (with the salt), then add ⅓ of the cucumber and continue alternating until it is all combined.

Bake in the preheated oven for 12-15 minutes or until an inserted skewer comes out clean. Allow to cool slightly in the tin then cool completely on a wire rack before icing.

For the Rose Water Buttercream:

Beat the butter, icing sugar, rose water and 1 tablespoon of milk together until smooth and fluffy. Add more milk if necessary to make it a frosting consistency. Keep in the fridge until ready to ice the cupcakes.
Nutrition
Calories:
271
kcal
Carbohydrates:
35
g
Protein:
2
g
Fat:
14
g
Saturated Fat:
8
g
Cholesterol:
61
mg
Sodium:
125
mg
Potassium:
46
mg
Fiber:
1
g
Sugar:
25
g
Vitamin A:
447
IU
Vitamin C:
1
mg
Calcium:
14
mg
Iron:
1
mg
The nutritional information provided is approximate and can vary depending on several factors, so is not guaranteed to be accurate. Please see a registered dietician for special diet advice.
Tried this recipe?
Mention @kateveggiedesserts or tag #veggiedesserts! I love seeing your recreations.