Wondering what to serve as your Vegan Christmas main dish? I've got you covered! You'll love this huge list of incredible plant-based, meat-free mains to serve at your holiday dinner table.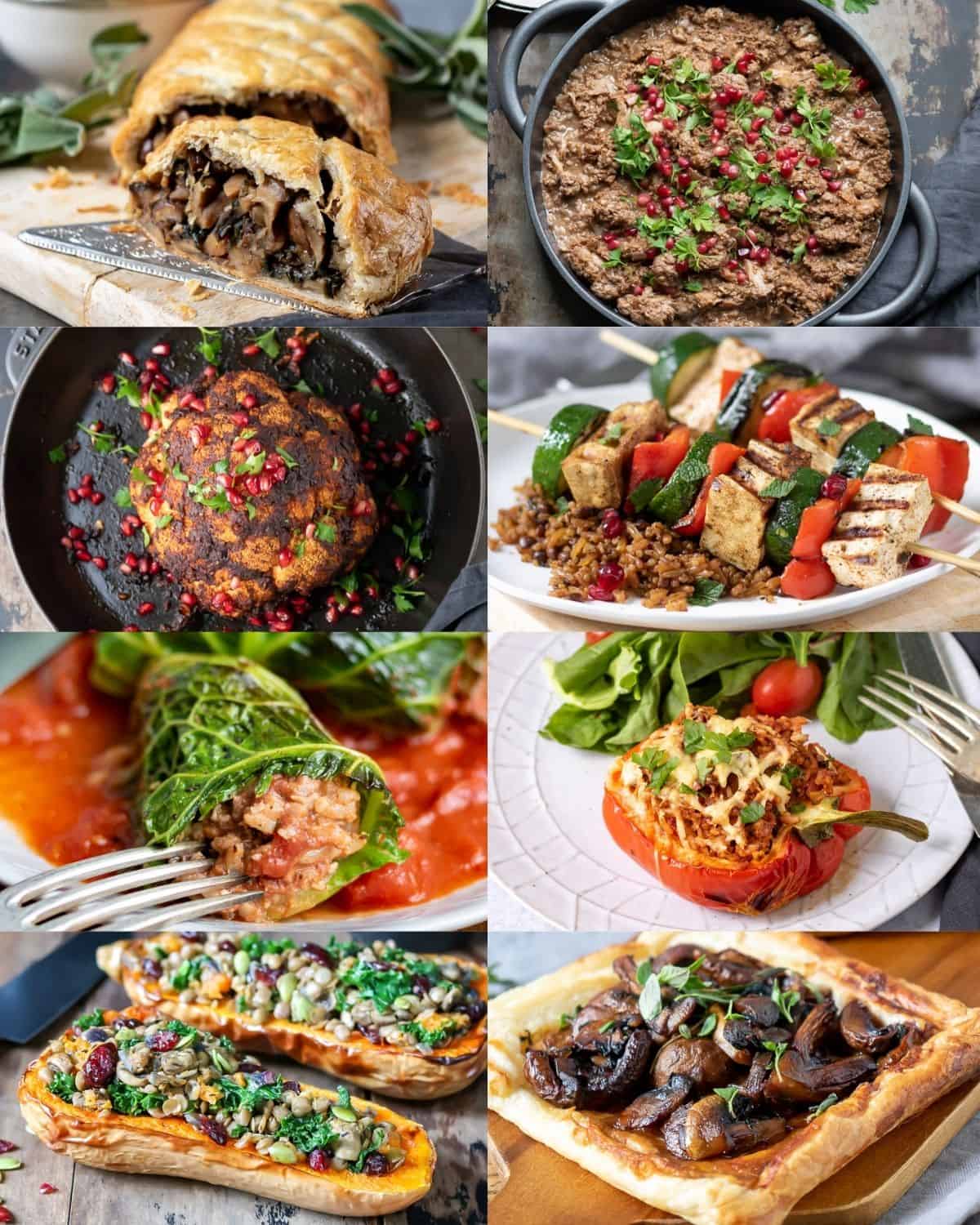 Whether you're hosting a fully vegan Christmas dinner, or you're looking for some plant-based options for vegan guests, you'll find everything you need right here!
Often it's easy to veganize your holiday side dishes (perhaps simply swapping butter for vegan butter in Green Beans Almondine, or Candied Sweet Potato Casserole. Ditto, using oil rather than animal fats in your roast potatoes, or using dairy-free alternatives in your Vegan Mashed Potatoes.
So far, so easy!
But Christmas main dishes for vegans can be a little more difficult to think of some simple swaps.
So for your vegan main dish, I love to go for a vegetable-packed recipe that's full of flavor. Perhaps at Stuffed Butternut Squash, Onion Tarte Tatin, Mushroom Wellington, Nut Roast, or a Whole Roasted Cauliflower that's delicious cut into 'steaks'.
Now this might be a little odd, but I always make TWO vegan main dishes.
Why? Because us veggies and vegans are used to only normally having one choice on a menu or at someone's house. And Christmas is about excess and making everything special, so two vegan main dishes it is at our house!
So, I've compiled this big roundup of vegan main dishes that are perfect to serve at Christmas (or Easter, Thanksgiving or other special meal!)
You'll find plenty of recipes that are sure to please everyone (vegan or not).
Be sure to also check out these Vegan Thanksgiving Recipes for more ideas too!
And if you're new to veganism, or want to learn more, then this Vegan Grocery Shopping List will be helpful!
The Recipes
Without further adieu, here is my roundup list of Vegan Christmas Main Dish Recipes!
Please be sure to comment on any recipes that you make and let me know how you and your guests liked them!
Vegan Christmas Main Dish Recipes
Check out this collection of my BEST vegan main dish Christmas recipes! Here you'll find plant-based, meat-free mains that everyone will love. Scroll down and find your showstopping vegan centerpieces.