This epic collection of the best vegan Thanksgiving recipes includes appetizers, side dishes, desserts, condiments, and more. Here's everything you need to make a tasty plant-based, meat-free feast for the holidays!
Check out this epic collection of the BEST vegan recipes for Thanksgiving!
Here you'll find vegan appetizers, side dishes, main dishes, condiments, and desserts that everyone will love. From Mushroom Wellington and Stuffed Butternut Squash to Vegan Mashed Potatoes and Red Wine Mushroom Gravy.
Whether you're creating a vegan Thanksgiving feast, or you want some tasty vegan options that will even impress non-vegan guests, this list is for you!
I hope you'll discover the perfect recipe in this roundup.
I love the process of planning Thanksgiving. Dreaming up the perfect menu that friends and family will love is positively joyous. I love mixing and matching to get the full spread of everyone's classic favorites, new exciting recipes, and making the most of new plant-based foods.
So, I wanted to create this huge collection of vegan Thanksgiving recipes for you.
I've gathered exciting vegan appetizers, side dishes, main dishes, desserts, and condiments. They are all tried and tested recipes to impress your guests.
Planning Thanksgiving
Wondering how to make it easier on Thanksgiving or the days before when you meal prep?
Simply print the recipes, bookmark them, or save them to a Pinterest board. Then you can quickly and easily access them when you're ready to cook or shop!
I hope that you love these plant-based vegan Thanksgiving recipes, so be sure to come back and leave a note in the comments or star rate the recipes.
Hint: Click the link text or photos to go straight to each recipe!
Thanksgiving Tips
Plan ahead! Decide on your menu in advance, and write out timings and shopping lists. Using a calendar or printed calendar page can really help.
If you can make it ahead, do it! In the few days before, it's great to prep items and cook recipes that just need to be heated.
Go through all your chosen recipes and write out a full shopping list. Double check pantry items that you need, in case they're out of date or run out.
Be sure that the dishwasher is empty before you start cooking so you're not running out of dishes as you cook.
Set the table the night before. That way you have plenty of time to make it look beautifull.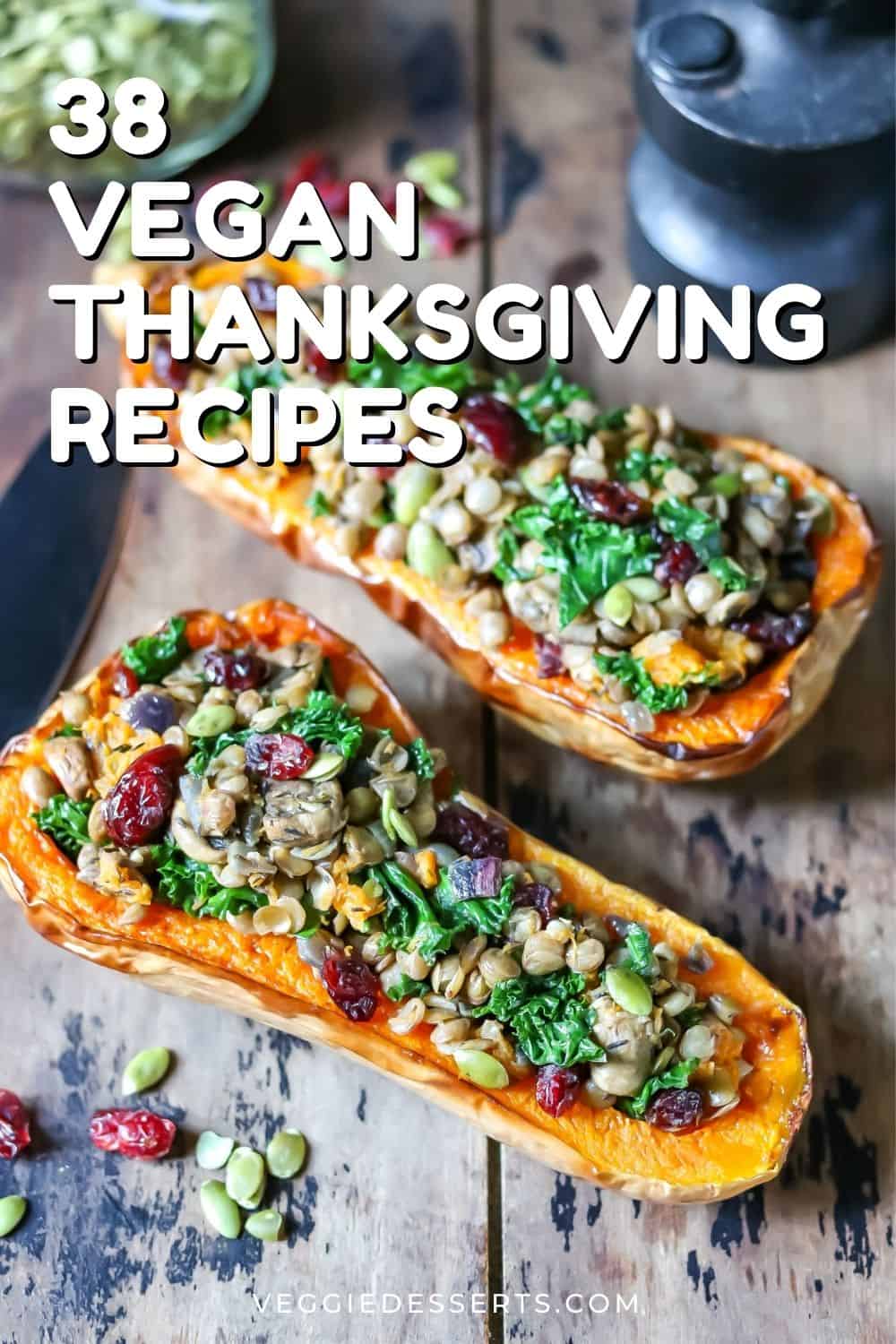 The Recipes
Without further adieu, here are the recipes!
I hope you find some recipes here for your perfect Thanksgiving meal. Be sure to star rate and comment on your favorites to help others make their choices too!
Happy Thanksgiving!
Kate x
Vegan Thanksgiving Recipes
Check out this collection of my BEST vegan recipes for Thanksgiving. Here you'll find vegan appetizers, side dishes, main dishes, and desserts that everyone will love. Happy Thanksgiving!