Vegan Crispy Duck and Pancakes is a tasty homemade twist on the classic Chinese takeout favorite. This dish features seasoned roasted shredded cauliflower, easy-to-make pancakes, and a bold plum sauce, all crafted from scratch.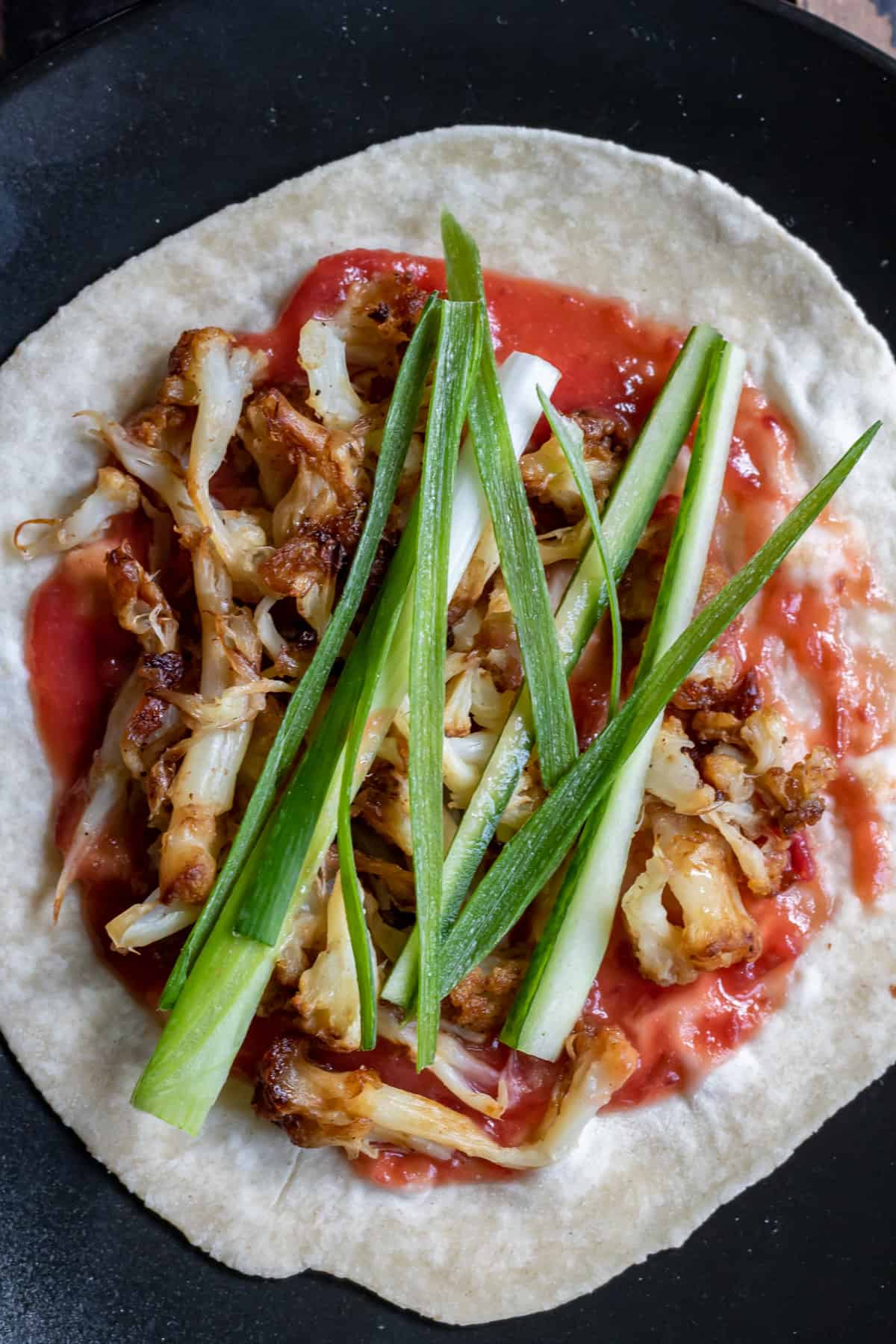 Vegan Crispy 'Duck' and Pancakes is a dish that'll have you craving seconds (and maybe even thirds).
To make this dish plant based, the duck is made with five-spice seasoned, slow-roasted cauliflower that's then shredded, instead of meat!
Shredding the cauliflower and then re-roasting it makes it soft yet crispy - perfect for topping homemade Chinese pancakes.
While the marinated cauliflower is roasting in the oven, it's easy to make a tangy, spiced plum sauce. Just cook it all until soft and puree with a hand blender and you have a delicious sauce miles better than store-bought.
It's also very quick and easy to make the pancakes.
They're simply flour and boiling water mixed into a dough, rolled and pan-fried for 30 seconds on each side.
The warm pancakes are amazing topped with the plum sauce and vegan crispy duck (cauliflower) and some fresh spring onion and cucumber matchsticks.
Of course, you can 'cheat' and buy store bought Chinese pancakes, or a jar of plum sauce. However, they are super easy to make, so why not give it a try!
Homemade takeout bliss.
We went through a phase of making this on our weekly dinner rotation since it was always a family hit.
If you love vegan Chinese dishes, be sure to also try my pan-fried Asian Tofu with Sticky Garlic Sauce.
This post was originally published Sept 2017. Updated Sept 2023 with new photos and information. The recipe remains the same.
Jump to:
Why You Should Make This Recipe
It's Vegan: If you're on a plant-based journey or just looking to reduce your meat intake, this recipe allows you to enjoy the flavors you love without the guilt.
Healthier Choice: Cauliflower is not only delicious but also packed with vitamins and fiber. By using it as a duck substitute, you're making a healthier choice for your body.
Homemade Plum Sauce: Forget about store-bought sauces loaded with additives. With this recipe, you'll learn to make your own delectable plum sauce from scratch.
Easy to Customize: Whether you want to spice things up or add more veggies to the mix, this recipe is versatile and open to your creative twists.
Ingredients
Let's talk about the stars of the show – the ingredients. Here's what you'll need:
Vegan Cauliflower Crispy 'Duck':
Cauliflower: The hero of this dish. It's going to mimic the texture and flavor of duck when roasted to crispy perfection.
Maple Syrup: Adds a touch of sweetness and helps the cauliflower caramelize beautifully.
Cooking Oil: You can use olive, sunflower, or canola oil for that essential crispiness.
Soy Sauce: Provides that savory umami flavor.
Chinese Five-Spice: This blend of spices (usually star anise, cloves, Chinese cinnamon, Sichuan peppercorns, and fennel seeds) is the secret behind the unique taste of Peking duck.
Pancakes:
Plain Flour: The base of our soft, delicate pancakes.
Boiling Water: This is key to achieving the right texture.
Cooking Oil: Just a touch for a little extra richness.
Plum Sauce:
Ripe Plums: The main flavor component of the sauce. No need to peel them.
Maple Syrup: Adds sweetness to balance the tartness of the plums.
Rice Wine Vinegar: Provides acidity and depth of flavor.
Garlic and Ginger: These aromatics add complexity to the sauce.
Star Anise: For that distinct, warm, and slightly sweet spice note.
To Serve:
Cucumber: Sliced into long, thin strips for a refreshing crunch.
Spring Onions: Also cut into long, thin strips to add a mild, oniony kick.
Substitutions
Feel free to get creative with substitutions:
Cauliflower: If you're not a fan, try using mushrooms, tofu, or seitan as your 'duck' substitute.
Maple Syrup: Swap it out for agave nectar or another liquid sweetener.
Soy Sauce: Tamari or coconut aminos work as great gluten-free alternatives.
Plain Flour: Opt for a gluten-free flour blend if needed.
Serving Suggestions
Now, let's talk about how to enjoy this delightful dish:
Assemble and Wrap: Lay out your warm pancakes, top them with a generous portion of crispy 'duck,' cucumber, spring onions, and a drizzle of plum sauce. Then, fold them up like little flavor-packed bundles.
Share with Friends: This recipe is perfect for gatherings or dinner parties. Set up a DIY assembly station, and let your guests build their own pancakes.
Pair with Sides: Serve it alongside some steamed broccoli, fried rice, or even some vegan egg rolls for a complete Chinese feast.
Storage Advice
If you happen to have leftovers (which is a rarity in my house), here's how to handle them:
Cauliflower 'Duck': Store it in an airtight container in the fridge for up to 3 days. Reheat in the oven for maximum crispiness.
Pancakes: Keep them in a zip-top bag or airtight container in the fridge for 2-3 days. Gently steam or microwave to warm them up.
Plum Sauce: Store it in a sealed container in the fridge for about a week.
Tips and Tricks
If you don't have fresh cauliflower, frozen works well too.
You can buy store-bought plum sauce, or use the recipe below to make your own in minutes.
Chinese pancakes can be bought in many large grocery stores or Chinese supermarkets, but you can easily make your own - just scroll down for the recipe in the recipe card.
Try it served with Stir-Fried Garlic Spinach
Vegan Dinner Recipes
Jackfruit Bao Buns
Mango Salad
Vegan Shepherds Pie
Jerk Tofu Skewers
Vegan Fajitas
Vegan Peanut Stew
Cauliflower crispy 'duck'
By using cauliflower, you still have the texture that you'd expect from crispy duck, but without all the grease or it being, well, meat.
Shredding the soft roasted cauliflower and then re-roasting it means it gets extra crispy on all those exposed edges. Delicious!
The stalk works great for shredding, so be sure to use it as well.
I marinaded the cauliflower in typical crispy duck seasonings of maple syrup (traditionally honey is used by it isn't vegan) and Chinese five-spice.
Five-spice is an aromatic blend of star anise, Szechuan peppercorns, fennel seeds, cinnamon and cloves. It brings together all five flavours – sweet, sour, bitter, umami and salty.
You can easily find it premixed in the spice aisle. I adore the way it's at once sweet and savoury. In fact, I used it in a carrot cake! Try my Carrot Chinese Five Spice Cake with Orange Icing.
You'll also love my Asian Tofu with spicy garlic sauce.
If you make this recipe, please tag it with #veggiedesserts on Instagram or other social media. I LOVE seeing your recreations of my recipes!
📖 Recipe
Vegan Crispy Duck (Cauliflower) and Pancakes
This vegan version of the classic Chinese takeaway dish Crispy Duck and Pancakes uses shredded seasoned and roasted cauliflower in place of the meat. It also has easy fresh plum sauce and homemade pancakes.
Save
Saved!
Ingredients
For the vegan cauliflower crispy 'duck'
1

head of cauliflower

(or 550g/19oz frozen florets, defrosted slightly)

1

tablespoon

maple syrup

1

tablespoon

cooking oil

(olive, sunflower, canola)

1

teaspoon

soy sauce

1

teaspoon

Chinese five-spice
For the pancakes
2

cups

(200g) plain flour

1

cup

(230ml) boiling water

1

teaspoon

cooking oil
For the plum sauce
6

ripe plums

2

tablespoon

maple syrup

1

teaspoon

rice wine vinegar

1

clove

garlic

minced

½

teaspoon

ginger

grated

1

star anise
To serve:
½

cucumber

cut into long thin strips

3

spring onions

cut into long thin strips
Instructions
Preheat oven to 190°C/375°F.

Cut the cauliflower into bite-sized florets. In a large bowl, mix the maple syrup, oil, soy sauce and five-spice. Add the cauliflower and toss to coat thoroughly. Allow to marinade for 15 minutes.

Add the cauliflower to a large baking tray and roast for 35 minutes or until soft but crispy on the outside.

Shred the cauliflower with two forks, then return to the oven and cook for a further 15 minutes.
Meanwhile, make the plum sauce.
Halve and stone the plums (don't peel them), then chop into large pieces and add them, along with all the other plum sauce ingredients to a pan over a medium heat. Bring to a boil, then simmer for 10 minutes or until the plums are cooked and soft.

Remove the star anise, then puree with a hand-held stick blender or with a potato masher.
For the pancakes
In a bowl, mix the flour, boiling water and oil with a spatula to form a dough.

When it's cool enough to handle, knead by hands for a few minutes until it's smooth and elastic, then roll the dough into eight equal-sized balls. Roll each piece out very thinly (you may need to lightly flour the work surface).

Heat a dry frying pan and cook each pancake for half a minute on each side, so they're lightly cooked but aren't browned. Repeat with the remaining dough.
To serve
Serve the pancakes topped with plum sauce, cauliflower crispy 'duck', cucumber and spring onions.
Notes
If you don't have fresh cauliflower, frozen works well too.
You can buy store-bought plum sauce, or use the recipe above to make your own in minutes.
Chinese pancakes can be bought in many large grocery stores or Chinese supermarkets, but you can easily make your own - just scroll up for the recipe in the recipe card.
Nutrition
Calories:
338
kcal
Carbohydrates:
65
g
Protein:
7
g
Fat:
5
g
Sodium:
96
mg
Potassium:
415
mg
Fiber:
3
g
Sugar:
20
g
Vitamin A:
460
IU
Vitamin C:
25.7
mg
Calcium:
54
mg
Iron:
3.4
mg
The nutritional information provided is approximate and can vary depending on several factors, so is not guaranteed to be accurate. Please see a registered dietician for special diet advice.
Tried this recipe?
Mention @kateveggiedesserts or tag #veggiedesserts! I love seeing your recreations.