You'll love this selection of the BEST Fruit Compote Recipes. Compote is a tasty topping or dessert made from fruit that is simmered briefly in sugar that forms a syrup. Perfect on ice cream, oatmeal, cheesecake and more.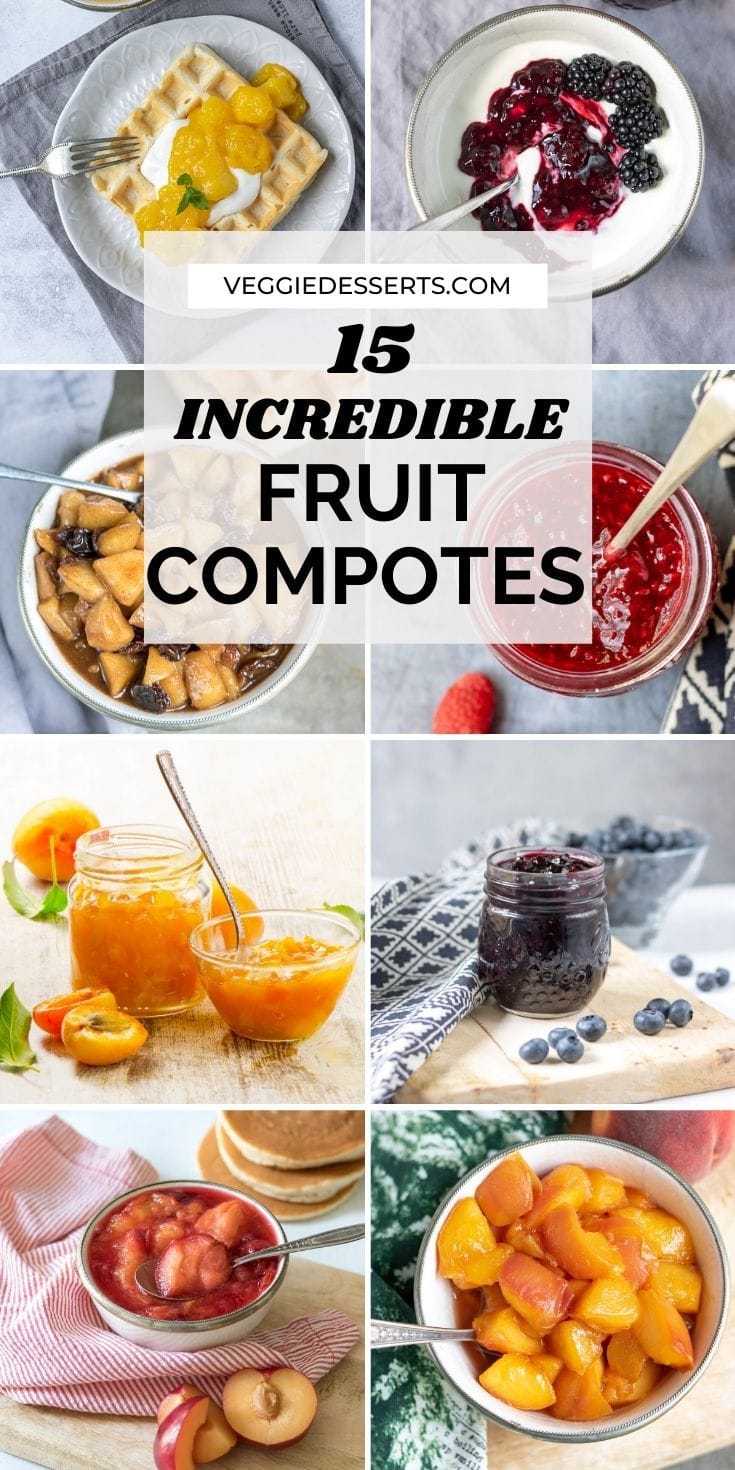 What is fruit compote
Fruit compote (compôte) is a topping or dessert that's made with fruit or dried fruit that's briefly cooked with a little sugar until it forms a thick, fruity sauce.
It's a quick and easy fruit sauce that is served warm or cold, with lots of uses, from a cheesecake or pancake topping to an easy flavoring for oatmeal or yogurt.
It's like a simple jam, but is faster and has less sugar and doesn't keep for long.
Compote originates from medieval Europe and is popular in many countries around the world and can be made with whole or chopped fruit.
Why you'll love compote
A versatile fruit sauce with many uses.
A great way to use up fruit that's past it's best or slightly underripe.
Very quick and easy.
Made in one pot.
Mix and match fruits and flavors.
Not necessary to sterilize the jar.
Use fresh or frozen fruit.
Types of fruit
You can make fruit compote with most fruits!
Stone Fruit - these all work well. Try Peaches, Nectarines, Plums, Apricots.
Citrus - you can make compote with citrus fruits. Try oranges, clementines, satsumas, grapefruit. Remove the peel and white pith. Lemon and lime are a bit too bitter, but are great paired with other fruits in compote.
Tropical fruit - mangoes, pineapple, figs, papaya etc.. are all great in compote. You can even make a banana compote, but the method is a little different: slice them, add to a skillet with a little butter and sugar and cook until golden and caramelised, flip and cook the other side.
Melons - you can even make melon compote! Try cantaloupe, watermelon, honeydew etc... Remove the seeds, chop and cook in a pan with a little sugar.
Tomatoes - Tomatoes are technically a fruit and you can certainly make a compote from them. It's a savory compote and great on vegetables, as a dip or spread in a burger. Make Tomato Compote.
How do you eat fruit compote
There are so many ways to enjoy compote. Here are lots of ideas, but get creative and see what serving suggestions you can come up with.
Ice cream or sorbet - try it on vanilla or get creative with flavor combinations. Pineapple Compote would be incredible on coconut sorbet, while Winter Spiced Berry Compote would be tasty on a ginger ice cream. I adore how the warm fruit compote melts the ice cream slightly.
Yogurt - a classic way to enjoy compote is to swirl it into plain or flavored yogurt. It's perfect for breakfast or dessert and this is one of my usual ways to enjoy it! Or layer it into a yogurt parfait.
Oatmeal - I love serving a bowl of hot oatmeal with a spoonful of fresh compote (grape compote is a particular favorite!). It really jazzes it up and makes the morning meal special. It's great on baked oats too.
Cheesecake - Spoon any type of compote onto a vanilla cheesecake to add a pop of flavor. It's great on this vegan cheesecake.
Pancakes, crepes or waffles - liven up your breakfast with a spoonful of fresh fruit compote. Try it on vegan pancakes or zucchini pancakes. Add a few bowls of fruit compotes to a pancake board!
French toast - A little whipped cream and fresh strawberry compote are perfect on French toast. Like at IHOP or Denny's but fresh, healthier and much nicer. Great on cinnamon French toast.
Straight up! - You can also enjoy compote simply on its own, or with a little whipped cream.
Toast - spoon it onto toasted bread, brioche or challah.
Variations
Try these add-ins to make your fruit compote recipe extra special.
I love how a dash or this or a drizzle of that can turn my simple fruit compote into something different.
I make a LOT of compote (it's just so easy!), so it's fun to mix it up with spices, extracts, herbs or alcohol.
Spices
Spices are great for adding a different flavor.
Sweet spices like pumpkin pie spice, ground cinnamon, ginger, nutmeg or cloves would be delicious with berries, plums or pears.

For tropical fruit, such as pineapple or mango, try adding a little ground cardamom or ginger.
You could even add a little kick of heat by adding a touch of cayenne to a cantaloupe compote.
Extracts
Extracts are an easy way to add flavor is with a splash of rosewater (great with apricot compote), orange blossom water (perfect with Peach Compote) or of course vanilla extract.
Mix it up with a little almond extract (incredible with Blackberry Compote) or coconut extract.
Use extracts sparingly (particularly rose and orange) as a little goes a long way in a fruit compote. Just a few drops stirred in at the end is enough.
Alcohol
Alcohol makes a tasty grown-up treat. Simply stir a little alcohol into your fruit compote.
A boozy fruit compote is great on ice cream or cheesecake.
Rum, bourbon, whiskey, gin etc... all work well. Get creative with sweeter alcohol too.

For something fancy, opt for fruity cassis with Berry Compote, rum with Pineapple Compote or Pimm's Cup with strawberry compote.
A splash of Cointreau is perfect in an apricot compote.
Try wine - a crisp white wine would be lovely with mango, while red wine would be gorgeous with winter berries.
For a festive compote, pair spiced mulled wine (or German Gluhwein) with a berry compote.
Acid
Many compote recipes call for an acid, usually orange or lemon juice, to cut through the sweetness and brighten the flavor.
Mix it up and try vinegar too - a dash of balsamic vinegar is perfect in strawberry compote, and a little apple cider vinegar would be tasty in apple compote.
Herbs
Herbs add a new flavor dimension.
Try a sprig of thyme (perfect in an Orange Compote), some rosemary (with a watermelon compote), a few bay leaves or some mint (great with a Mango Compote).
Dried Fruit
You can add dried fruit for more texture and flavor in your fruit compote.
I love adding raisins to my Apple Compote and they would be great in pear compote too.

Dried cranberries add a festive flavor to a mixed berry compote, and chunks of dried apricot are delicious in a peach compote.
Fruit combos
Mix the fruit! There's no need to stick to one variety of fruit for your compote. You can mix different berries or other fruits for a different taste.
Sweeteners
Instead of sugar, try sweetening your compote with maple syrup, honey, agave, coconut sugar, stevia etc...
FAQs
Can I use frozen fruit for fruit compote?
Absolutely! Just use frozen fruit the same as you would fresh. You may need to decrease the water if it is added in your recipe.
How many days does compote last?
In the fridge up to 5 days or in a sterilized jar in the fridge for up to 2 weeks.
How many calories in fruit compote?
This depends on the recipe. My Raspberry Compote has 20 calories per serving, while my Blueberry Compote has 33 calories and my Mango Compote has 18 calories. Reduce the calories further by using a little less sugar.
Storage and freezing
Compote can be stored in the fridge in a lidded dish for up to 5 days. It will keep in a sterilized jar in the fridge for up to 2 weeks.
How to freeze compote
Fruit compotes can be frozen. Allow it to cool completely, then put into freezer-safe bags or containers. It can be frozen in individual portions or batches. To defrost, place into the fridge overnight and reheat in a pot on the stove.
Types of fruit sauces
You can make so many different types of sauces made with fruit. Although they all generally contain fruit and sugar, the varying proportions, textures and cooking methods all have subtle differences that create quite different results.
I love turning some ripe fruit in my fruit bowl into something extra special with just a few simple pantry ingredients.
Compote
Compote is when fruit is cooked quickly with just a little bit of sugar until it softens. They generally take about 15 minutes to make, but don't keep for long. It's usually eaten on the same day or within a few days. Pectin is not added to fruit compote recipes.
Jam
Jam is when fruit is cooked with a larger quantity of sugar, which acts to help preserve the jam. When stored in a sterilized jar, it can be store for longer periods of time.
Depending on the fruit, pectin is sometimes added to help it thicken and gel.
Jelly
Jelly is similar to jam, but is strained or made with juice so that the results are more translucent and there aren't any chunks of the original fruit.
Pectin is usually added and it has a firm 'jelly-like' texture.
Chutney
Chutney is a more savory version of a fruit sauce. Fruit (chopped or whole) is cooked with sugar, spices and an acid such as vinegar so it's not too sweet.
It can be stored for longer periods of time, like jam.
Chutney is often served with cheese and crackers, used as an Indian condiment (like mango chutney) or used in sandwiches.
Fruit Pie Filling
Fruit Pie Filling - this is similar to compote but is sweeter and thicker.
You can turn your compote into fruit pie filling by adding more sugar and thickening the results with a slurry of 1 tablespoon of corn starch stirred into 1 tablespoon of water, then stirred into the pot and heated until thicker.
As the name implies, it's used in pies and tarts! You can buy it in a can, but fresh is so much nicer. Try it in my Cherry Pie.
Fruit Compote Recipes
You can make fruit compote with so many different fruits for different flavors! Make it simple and highlight the taste of the fruit, or try it with add-ins like spices, herbs, extracts or alcohol.
Use your quick and easy versatile fruit compote on waffles, pancakes, yogurt, French toast, ice cream, cheesecake...
I hope you'll love all these tasty fruit compote recipes! Scroll down to the comments and let me know your favorites.