I've gathered the best traditional Irish recipes here for you! My family is from Ireland and Northern Ireland, so I've opened their recipe books and gathered the best meat-free foods for St Patrick's Day or any day! From Colcannon to Potato Farls and everything in between. Authentic and delicious.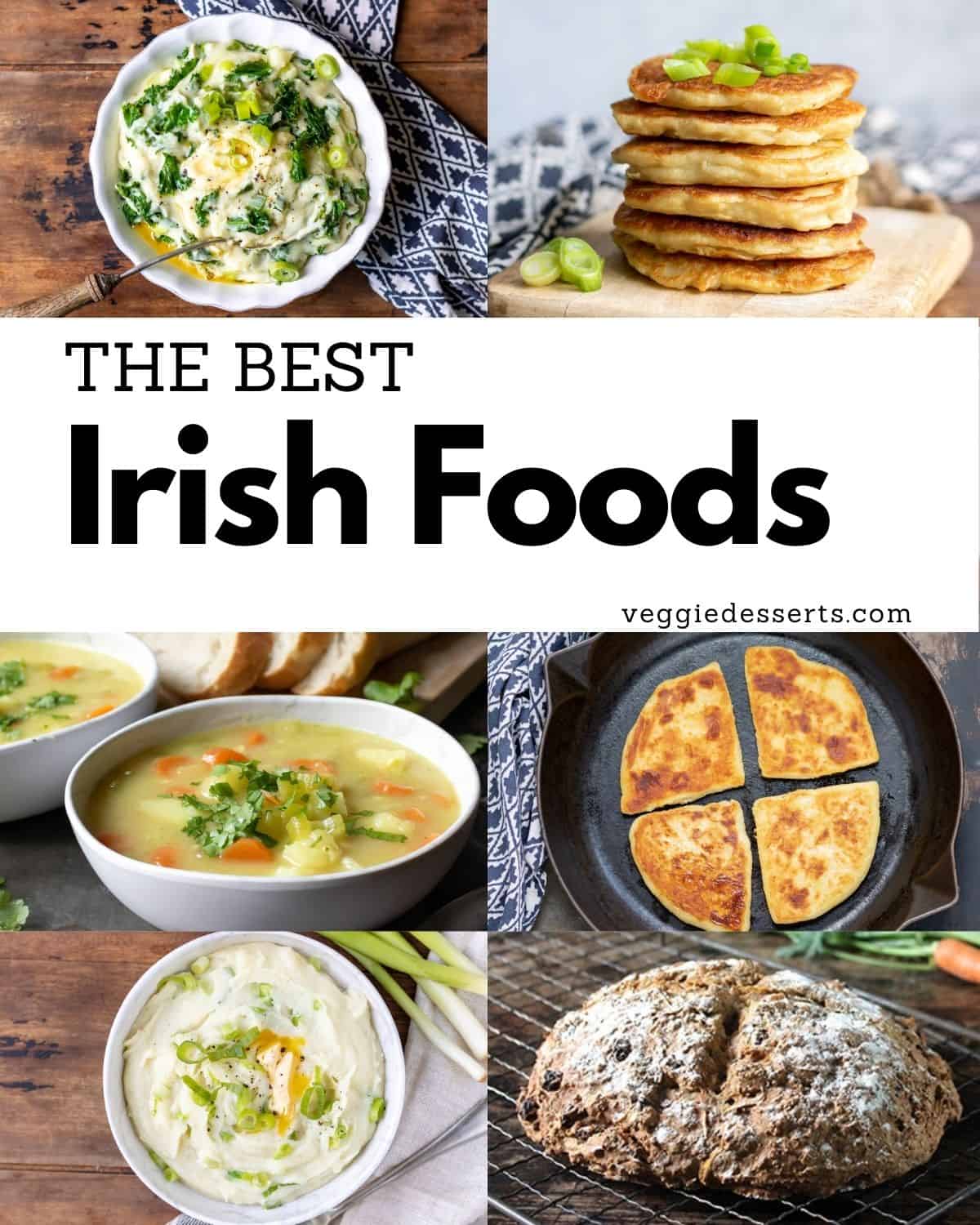 There's more to Irish food than just potatoes. But I've got to admit that potatoes feature pretty heavily and there is a lot of wonderful comfort food.
Traditional Irish foods, from colcannon and boxty to stew and shepherd's pie, are warming, hearty, and taste incredible.
My dad is from a small village in County Roscommon, Ireland, and my mum is from Belfast in Northern Ireland.
Although I grew up in Canada (due to 'The Troubles'), we ate a lot of traditional Irish food and meals at home.
There was often a loaf of soda bread or wheaten bread in the cupboard. Weekend breakfast often consisted of an Ulster Fry with potato farls or fried potato cakes.
So I wanted to open up my families' recipe books and share our traditional Irish food recipes with you all! Just in time for St Patrick's Day. I've also added more recipes from my favorite bloggers.
Obviously, in modern Ireland and Northern Ireland, the food has moved on from the traditional. Historically, most countries' traditional food was pretty carb-heavy stodge, intended to fuel manual labor, and Irish food was the same.
Nowadays from a gastropub in Cork to a Michelin-starred restaurant in the Cathedral Quarter of Belfast, you're going to find modern food dishes and less traditional cuisine.
But there are still plenty of pubs and restaurants full of classic dishes. The tourists at the pubs in Temple Bar, Dublin definitely want their coddles and stews! And they're still often cooked at home, of course.
Food memories
I love how food memories conjured up with traditional recipes are wonderfully heartwarming.
The metalic 'ping' of taking the lid off a tin of treacle.
The smell when opening up a bag of wheat germ for wheaten bread.
A puff of flour in the air when sprinkling it over a round of potato farls.
The wonderfully calming ASMR feeling when slashing a cross (to let the fairies out!) across the top of a round of soda bread.
Dusty flour and stains on an old and much-used handwritten recipe card.
A noisy crinkle of a bag of dulse seaweed being opened on a rugged windswept beach.
The clink of the widget in a can of Guinness being opened to add to a stew.
The sound of rich Irish butter being spread across a toasted slice of Barm Brack at Bewley's restaurant.
That is Irish food to me.
With these recipes, I hope it is for you too.
Green Foods
When St. Patrick's Day comes around, there are lots of faux-Irish cuisine dishes and drinks suddenly.
Sure, green beer and shamrock shakes are fun and have their place in the celebrations. But they're not actually Irish. Even corned beef and cabbage isn't actually Irish (it's bacon and cabbage).
It's fun to make a bright green Kale Cake, or Irish Cream Donuts though!
With this list, I'm focusing here on authentic, traditional Irish recipes. Though some have been adapted slightly to make them suitable for vegetarians and vegans.
But go on, enjoy your shamrock shakes too. I won't judge (promise).
Just be sure to scroll down and find some authentic Irish recipes to try too.
Meat Free Irish Food
Like spuds, Irish food can also be pretty meat-heavy, but these recipes are all vegetarian or vegan.
Many recipes from Ireland are naturally veg-friendly. Such as soda bread, colcannon, champ, boxty, potato farls...
So, you can still eat authentic Irish foods, and avoid the Dublin Coddle or Irish Stew - or make meat-free versions of those classics.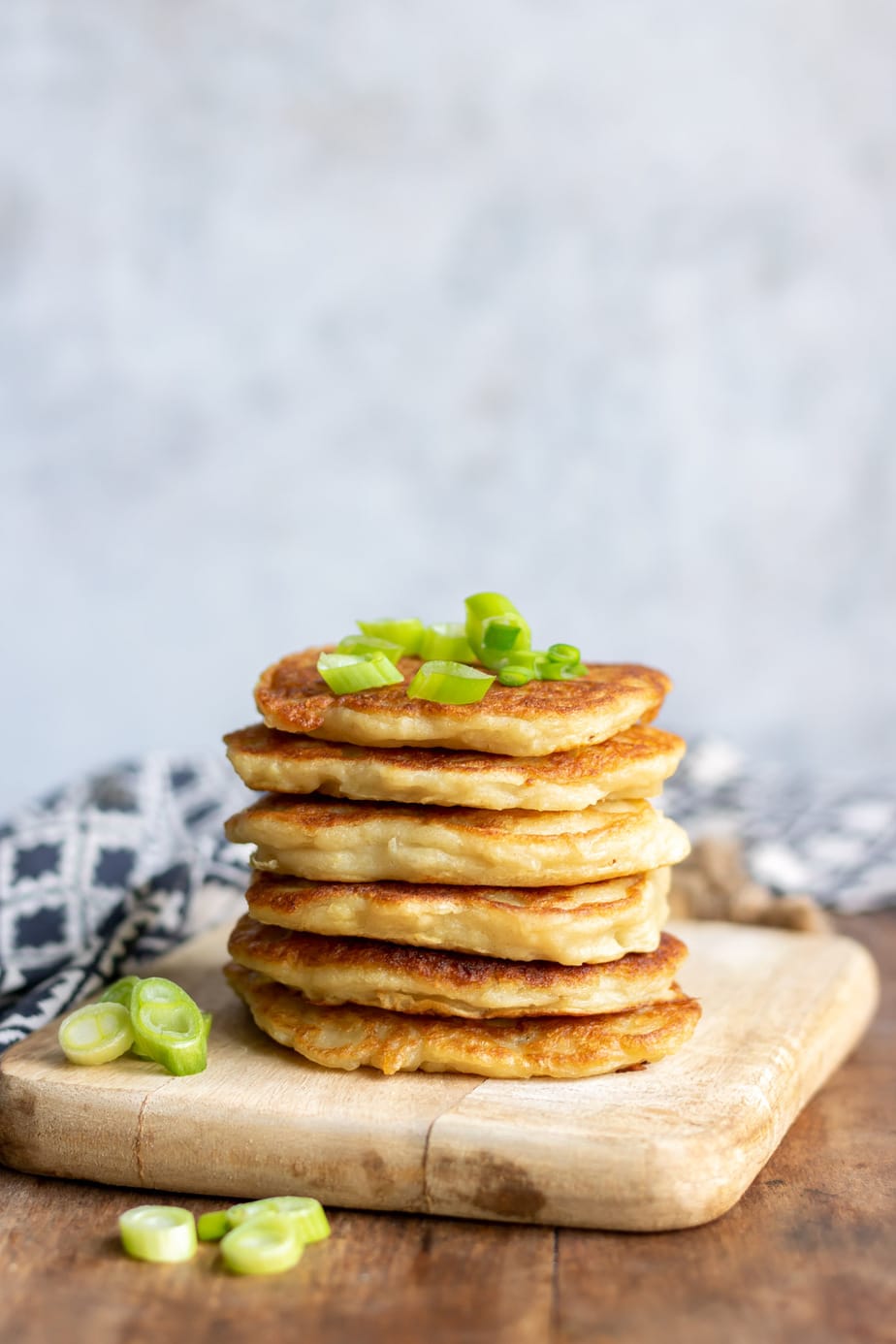 Irish Potato Recipes
It may be a cliche, but the Irish really do love their potatoes! They're a crop that grows easily in poor soil, so it's easy to understand the history of it being a well-used food. Here are my favorite Irish potato recipes. Carbs have never been so good. Spuds are also a must in Irish Stew too.
Potato Farls
Colcannon
Boxty
Champ
Irish Bread Recipes
Irish bread recipes are generally no-knead, no-yeast quick bread with baking soda. But whether oven-baked or pan-fried, there are lots of different textures and flavors!
Soda Farls - pan fried buttermilk soda breads.
Cinnamon Carrot Soda Bread - you can add lots of different flavors to a basic soda bread recipe.
Seeded Soda Bread - Add seeds for a great texture.
Wheaten Bread - This classic Northern Irish brown soda bread is full of flavor.
Irish Recipes
Enjoy this collection of the best Irish foods! Whether you're looking for dishes to celebrate St. Patrick's Day, you're looking for foods you remember from the past, or you're curious about food in Ireland, there's something here for you!
Ireland is known for seafood, seasonal vegetables, fresh produce, full breakfasts, dried fruit cakes, incredible butter, and, of course, meat, potatoes, oats, and soda bread.
But I hope you'll be surprised and delighted by some other incredible foods of Ireland, from hearty breakfasts to quick yeast-free breads.
There's no need to wait until St. Patrick's Day to enjoy these Irish dishes. They are wholesome, rustic, and simple foods that taste incredible all year round.
Irish Food
I've gathered the best meat-free traditional Irish recipes here for you! There are plenty of great ideas for St Patrick's Day or any day! From Colcannon to Potato Farls and everything in between.