This easy soda bread is naturally green from... kale! The herb soda bread is quick and easy with no yeast and no kneading. It's a quick bread that's perfect alongside soup or toasted with butter.
Recipe commissioned by Discover Great Veg.
Growing up with Irish parents, we often had a fresh loaf of soda bread on the counter. Bread making is easy, but can be a bit time consuming. So that's where soda bread comes in handy. It's no-yeast and no-knead, so you can have it ready in just 40 minutes.
This recipe is based on my mum's tried and tested soda bread recipe. She has it on a weathered old card and has used it for decades. I can close my eyes and picture that hand written recipe, which instantly reminds me of the smell of her freshly baked soda loaf.
My sisters and I have all copied it out and have made it our own. It's a hand-me-down recipe that has never failed any of us.
But my love of tweaking recipes and adding veg to any recipe I can, means I've put my own twist on it this time. I've added loads of nutritious and versatile kale, plus a generous few spoonfuls of fragrant dried herbs. The result is a vibrantly green, soft and flavourful soda bread.
Kale Herb Soda Bread
This kale herb soda bread is bright green, though the flavour of the kale fades away, leaving colour, moistness and a bit of that green goodness. The mixed herbs give it a fragrance and flavour that's perfect within the soft crumb and gentle crust.
This bread is best eaten on the same day, but it will keep for up to two days wrapped in a bread bin. The kale adds extra moistness to the loaf, so it doesn't dry out as fast as other soda breads. On day two it's lovely lightly toasted, with butter melting into the pretty green bread.
Make this a very green meal by serving alongside kale soup , or serve it with an Irish stew or my kale and ale stew. You could even finish with kale apple cake or kale cupcakes with orange frosting for a real kale-tastic three course meal.
Kale most certainly is versatile, as well as healthy and nutritious. I always feel that if you start with some great veg, then you'll be amazed at what you can create.
Discover Great Veg
I'm working with Discover Great Veg again to help showcase how versatile, healthy and delicious kale can be. They love veg, I love veg, it's pretty much a match made in heaven, right?
Last year I worked with them to bring you spinach lemon doughnuts with lemon glaze, and I now have a series of creative veg recipes that will soon be on their site. Keep your eyes on the Discover Great Veg site for the recipes and to discover everything you need to know about Great Veg, from how they are grown to delicious ways to enjoy them and what they each offer as part of a healthy balanced diet. Their hero vegetables are cavolo nero, kale, leeks and spinach.
Kale is an excellent source of vitamins K, A and C, as well as containing useful amounts of manganese, copper and phytochemicals, which are believed to help against certain types of cancer. It is also rich in lutein, an antioxidant that can help keep eyes healthy.
In addition, in a portion of cooked kale (80g) there is 120mg of calcium; 69µg of folate and 2.2g of fibre. It is of course virtually fat free too and in every portion, there is just 19kcals. - Discover Great Veg
How to make Kale Herb Soda Bread
Ingredients
Kale
Flour
Dried mixed herbs
Bicarb of soda (baking soda)
Salt
Sugar
Buttermilk (or milk with vinegar or lemon juice)
Puree the kale with a hand blender. If necessary, add some of the buttermilk to aid pureeing.
After mixing the dough together, pat it into a round, cut a cross across the top and bake.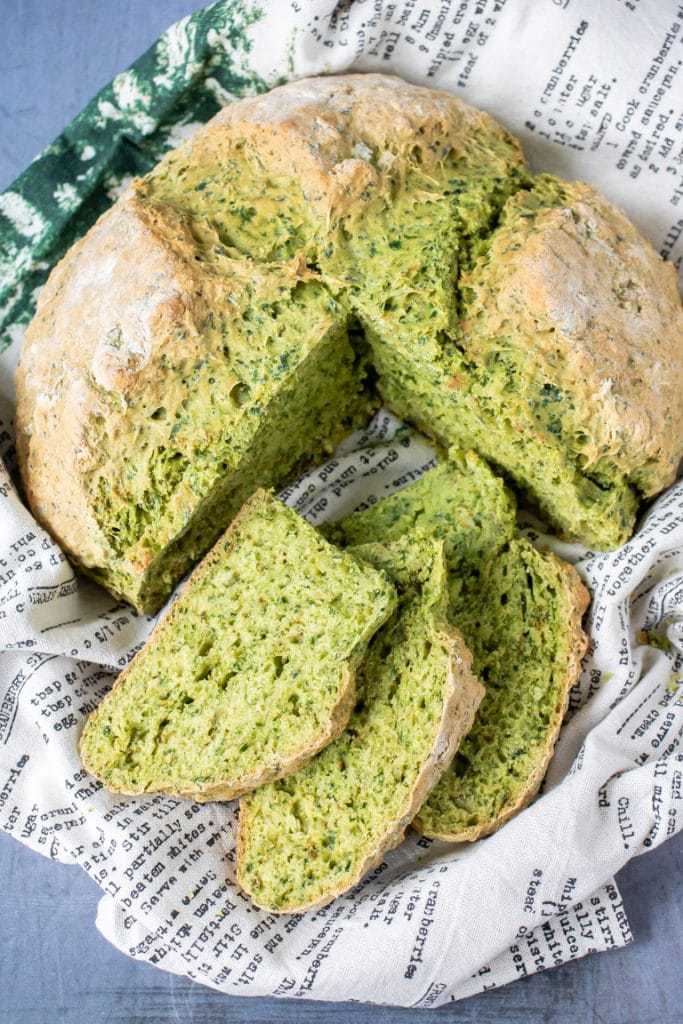 Cook's Tips
Soda bread is best when eaten on the same day
To store for up to two days, wrap the soda bread in a tea towel and keep in a bread bin at room temperature.
Don't overwork the dough or it will become tough. Just gently pat it into shape.

Make it vegan: use non-dairy milk soured with 1 tablespoon of lemon juice or vinegar in place of the buttermilk

Make it gluten-free: use gluten-free plain flour
This is a n

o knead, no yeast, quick bread recipe.

Kale is fibrous, so can be a little difficult to puree. If necessary, just add in a little of the buttermilk to make it easier.
Thanks for checking out my recipe! I love hearing from my readers. You all allow me to do what I love and write this UK food blog, sharing vegetarian and vegan recipes, vegetable cake recipes and also easy vegan desserts.
Kate x
Disclosure: This recipe for kale herb soda bread was commissioned by Discover Great Veg. All opinions are my own.
📖 Recipe
Kale Herb Soda Bread
Kale makes this herb soda bread bright green, plus it adds health benefits and makes it lovely and moist. This easy no yeast, no knead bread is full of flavour.
Save
Saved!
Ingredients
150

g

kale leaves

woody stalks discarded

400

g

plain flour

(all purpose), plus extra for dusting

2

teaspoon

dried mixed herbs

(such as oregano, basil and thyme)

1

teaspoon

bicarbonate of soda

(baking soda)

1

teaspoon

sea salt

1

teaspoon

sugar

300

ml

buttermilk

or 300ml milk with 1 tablespoon lemon juice stirred in and left to sit for 5 mins
Instructions
Heat the oven to 200C/400F/Gas Mark 6 and grease a baking sheet with a little oil or line it with baking paper.

Tear the kale leaves into bite sized pieces and boil or steam them for a few minutes until tender. Refresh by running under cold water to cool, then drain, squeeze out any excess moisture and puree to a paste with a hand blender.
Note: Kale can be fibrous, so if necessary add a little of the buttermilk to aid pureeing.


Sift the flour, bicarbonate of soda, herbs, sea salt and sugar into a large mixing bowl, adding any sifted out herbs or salt back to the bowl, and make a well in the middle.

Stir the pureed kale into the buttermilk, then add it to the well in the dry mixture, and stir with a wooden spoon until it forms a sticky dough.

With floured hands, pat the dough into a ball and flatten slightly, then place on the baking sheet.

Cut a deep cross across the top with a knife and sprinkle it with a little flour.

Bake for 30 minutes or until the top is golden and tapping the bottom of the soda bread makes a hollow sound. Allow to cool on a wire rack.
Notes
Make it vegan: use non-dairy milk with 1 teaspoon vinegar or lemon juice instead of buttermilk
Make it gluten-free: use gluten free plain flour
Nutrition
Calories:
264
kcal
Carbohydrates:
46
g
Protein:
6
g
Fat:
5
g
Sodium:
647
mg
Potassium:
183
mg
Fiber:
1
g
Sugar:
1
g
Vitamin A:
1500
IU
Vitamin C:
18
mg
Calcium:
43
mg
Iron:
3.1
mg
The nutritional information provided is approximate and can vary depending on several factors, so is not guaranteed to be accurate. Please see a registered dietician for special diet advice.
Tried this recipe?
Mention @kateveggiedesserts or tag #veggiedesserts! I love seeing your recreations.