Wondering what leeks are? How to cut them, how to prep them and what recipes you can cook? I've got you covered with Leek 101 guide to this tasty vegetable from the onion family.
If you love garlic, onion, and all things green in your food, then this is your post! Leeks are a great addition to any dish because they provide tons of mild onion flavor and a great texture.
Add them to vegetable soups or rice dishes for an extra punch of flavor that will make dinner taste like something from a fancy restaurant!
In this article, you'll learn how to cook with leeks, their health benefits, how to cut leeks, storage and recipes to use them up.
There's more to leeks than potato soup, so I hope this post opens your mind to their many possibilities.
Jump to:
What Are Leeks?
Leeks are part of the allium family, like onions and garlic. They have a cylindrical white bulb and broad leaves and look like a large green onion/scallion/spring onion.
When raw, they have a stronger taste, but when cooked they mellow with a mild oniony sweetness.
The white part is eaten, and most of the tougher dark green thick leaves are discarded. Be sure to wash them well, as the layers can have trapped dirt.
Leeks can be roasted, braised, pan-fried, slow-cooked, steamed, grilled, or used in soups and stews.
When they're cooked for a long time, they disintegrate into a delicious, unctuous soft texture that can thicken the liquid and add flavor.
What Do Leeks Taste Like?
Leeks have a milder onion flavor than green onions or spring onions and they're sweeter.
The flavor depends on how you eat them. When they're raw, they have a slightly grassy mild onion flavor and a slightly chewy texture.
Cooked chopped leeks become sweeter and the mild onion flavor fades further. They soften considerably when they're cooked.
When preparing them, they're usually used as a vegetable base with other ingredients. They provide flavor, but the texture is soft and mushy once cooked, making them great for soups and stews.
How to Prepare Leeks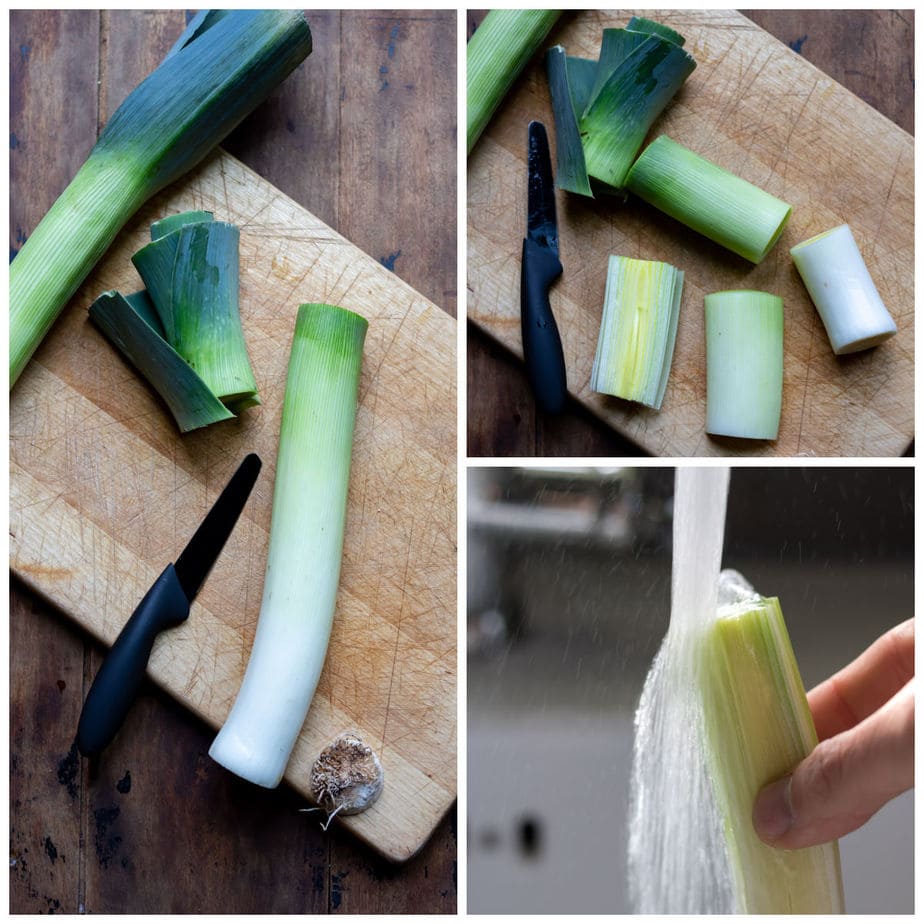 Leeks need to be thoroughly cleaned before using them in a recipe because by the nature of the way they grow, they can harbor dirt between the layers.
To prep and clean leeks:
Trim and discard the tough top tough green part and the root bottom. The flavor is in the white part and the pale green. The dark green leaves are too tough to enjoy.
Cut the trimmed leek lengthways (whole or in sticks) with a sharp knife.
Run them under cold water vertically, fanning them out slightly, so any dirt is flushed out.
What To Do With the Green Parts
The dark green leaves aren't great for cooking so get trimmed away before using.
As well as the white parts, the pale green parts are edible, so try to use as much of that as you can, only trimming away the tough dark greens.
You can use the dark green leaves in a homemade vegetable stock.
How to Choose Leeks
For the best leeks, look for ones that have bright green leaves, without any brown edges or wilting.
Storing
Leeks should be stored in the refrigerator for up to 1 week because they deteriorate quickly.
If they get old they'll look a little shriveled, but you can just strip away and discard the outer leaves and the inside should be fine to eat as long as it looks fine.
You'll know if they're rotten because they stink pretty bad!
How to Cook Leeks
Leeks have a sweet oniony flavor that makes them perfect for soups, stews, stir-fries, casseroles, savory pies and rice dishes.
STEAMED: Small, thin leeks can be steamed whole (not chopped larger leeks or they'll go too mushy). Trim the dark green parts, slice them down the middle lengthways, run under cold water to flush any dirt out, then place them into a steaming basket over a pan of boiling water and cover with a lid. Steam for 5 minutes or until the thickest parts are tender.
Drain and season with butter, parmesan, salt and pepper, lemon juice or any other desired seasonings. A tasty side dish.
SAUTEED: Larger leeks are best chopped. Prepare them as above, then slice into ½ inch pieces and cook for 7-10 minutes in a saute pan with a little butter or oil.
Enjoy them on their own or try stirring the cooked chopped leeks into mashed potatoes, bechamel sauce, or mac and cheese. They're also great on a salad, on toast or over proteins like fish.
RAW: Leeks can be eaten raw, but you'll want to slice them very thinly so they're not tough.
SLOW COOKED: Like onions, leeks also turn out beautifully when slow cooked (in a crock pot or slowly over a low heat in a pot on the stove). They collapse and turn into a soft, sweet tangle. Perfect to add to dishes, or enjoy on buttered toast with a sprinkling of sea salt. Bliss.
GRILLED: I love grilling leeks. The charred taste works so well with their mellow flavor. Steam or boil first, then finish on the grill or grill pan. Cut larger ones or grill young leeks whole.
Health Benefits
Leeks are low in calories, but they're still filling thanks to their fiber content. They provide more than one-half of your daily requirement of Vitamin C and 100% of your recommended allowance of Vitamin K.
They also provide significant amounts of potassium, copper, manganese, and phosphorus - all important nutrients for building strong bones!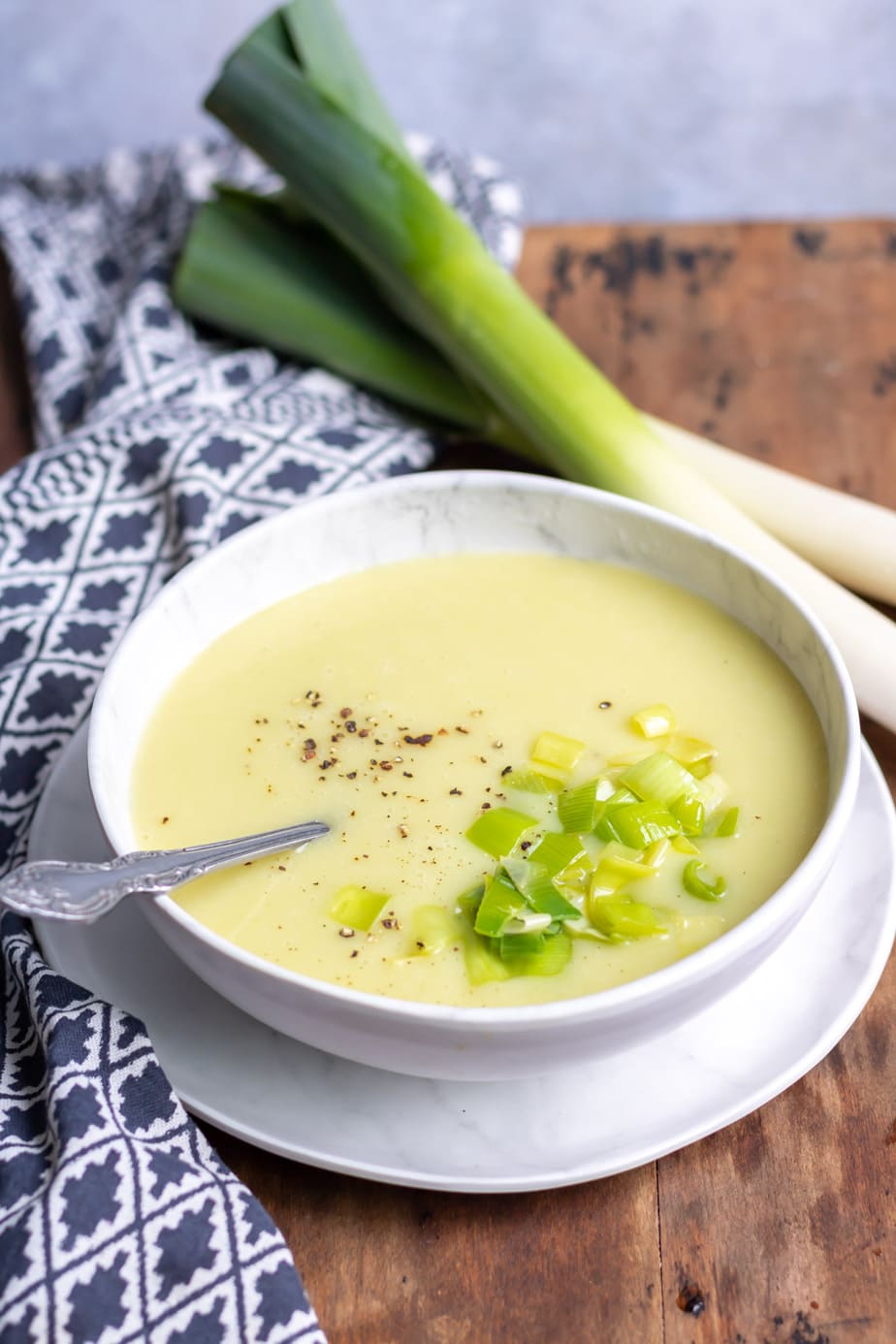 What Flavors Go With Leeks?
The mild sulfurous oniony flavor of leeks pairs well with many different complementary ingredients.
Try it with garlic, lemon, tarragon, chives, thyme, basil, oregano, sage, and parsley.
They also work well with butter, cream, and cheeses such as goat's cheese, parmesan, cheddar, gruyere.
In Season
Leeks are available year-round, but they're best during the wintertime because their flavor is milder than other vegetables.
In the US, they are available from January through April and then again from September to December.
In the UK, they're harvested from autumn through to late winter.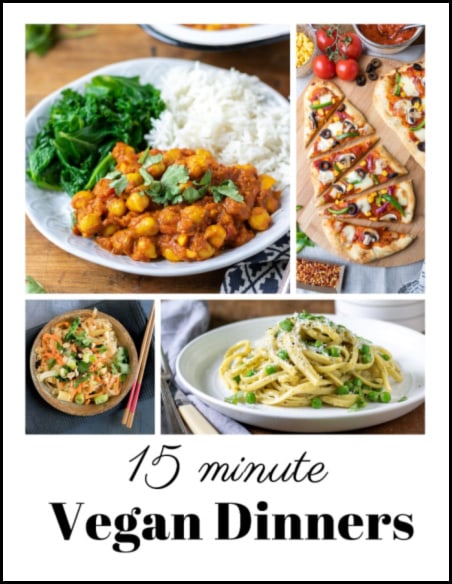 Sign up for our free newsletter and never miss a recipe!
Plus, you'll get a free eBook: 15 Minute Vegan Dinners!
We hope that you've enjoyed this guide to leeks. Be sure to also check out my guide to broad beans, also including prep, info, and recipes.
For more kitchen tips, check out my guides to how many ounces in a gallon, how many ounces in a quart, and cups in pints, ounces, quarts and gallons.
What are Leeks?
Cruciferous Vegetables
15 Best Lentil Recipes
18 Best Bean Recipes
Recipes
Now that you know all about leek vegetables, from how to cut them to what they are, here are some recipes for you to try them in! The classic recipe is Potato Leek Soup, but there is so much more that you can do with them, from Grilled Leeks to gratin.
Leeks
Now that you know all about leeks, here is a selection of tasty recipe for you to use them in! They're all vegetarian or vegan.