These naturally green cakes use vegetables for the colour instead of food dyes!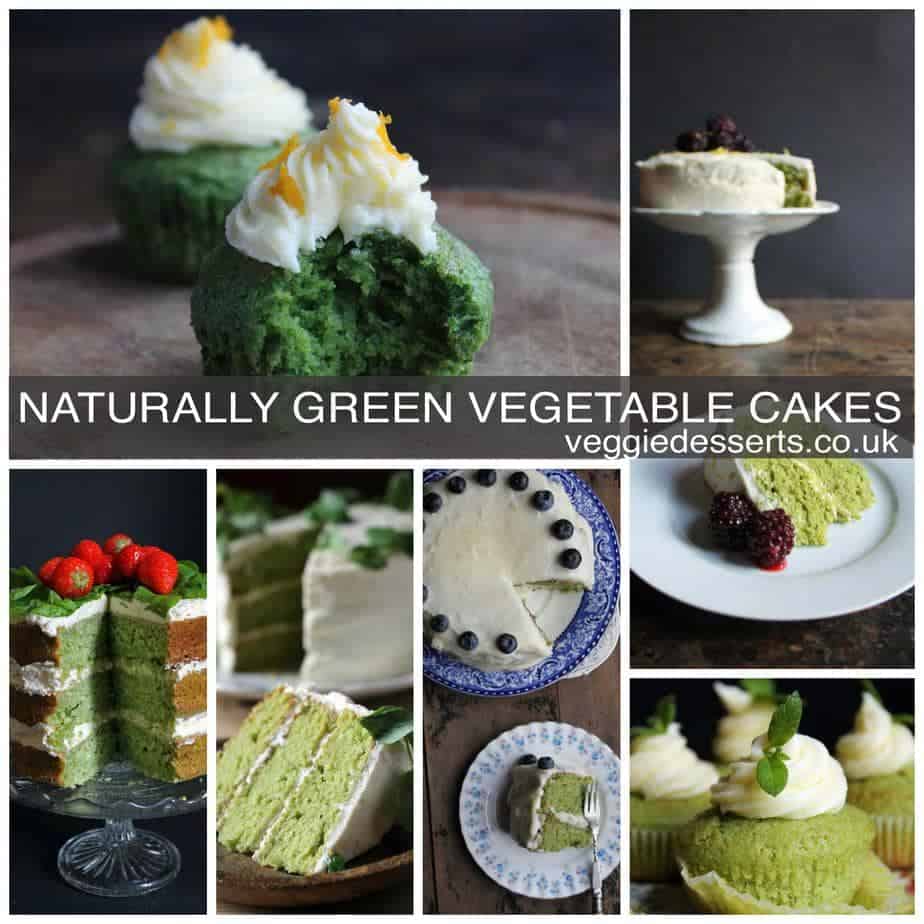 Pictured recipes (clockwise from main picture):
Kale and Orange Cupcakes with Orange Icing
Stinging Nettle and Lemon Cake with Lemon Icing and Blackberries
Cucumber and Mint Cupcakes with Rose Water Buttercream
Kale and Apple Cake with Apple Icing
Pea and Vanilla Cake with Lemon Icing and Pea Shoots
Spinach and Coconut Yogurt Cake
St Patrick's Day is massive in North America. When I was growing up in Canada, mid-March was awash with green beer, green-dyed party foods like devilled eggs, green bread and plenty of green cakes. But they were dyed with huge amounts of chemical food dyes. That stuff can't be good for anyone. Particularly people drunk on green beer and their yearly pint of Guinness.
How else to celebrate without donning a giant leprechaun hat and filling yourself with dye? Colour your cakes naturally, with kale, spinach and cucumber.
I've been adding vegetables to my cakes for years. Like in carrot cake, you can't actually taste the vegetable, but they mean that you can add less fat and sugar. And the added moisture from the vegetables means that they last for ages. With no dodgy preservatives, vegetable cakes can easily last a week without drying out. Plus, those veg leave behind some extra nutrients in the cake, so you can appease your dessert guilt by fooling yourself that it's a portion of veg.
Where to start with your naturally green vegetable cake adventures? How about this Kale and Apple Cake with Apple Icing. My sister has made it half a dozen times on her boyfriend's request (fiancee, actually. Seriously, engaged for more than two years? Sort it out!) and I've had many many readers write to me about how much they've enjoyed it. This is my most popular recipe on the blog. You can't taste the kale, the cake is wonderfully moist and isn't sickly sweet. For the icing, I lightened the usual buttercream by replacing much of the butter with applesauce to give it structure and flavour without being heavy.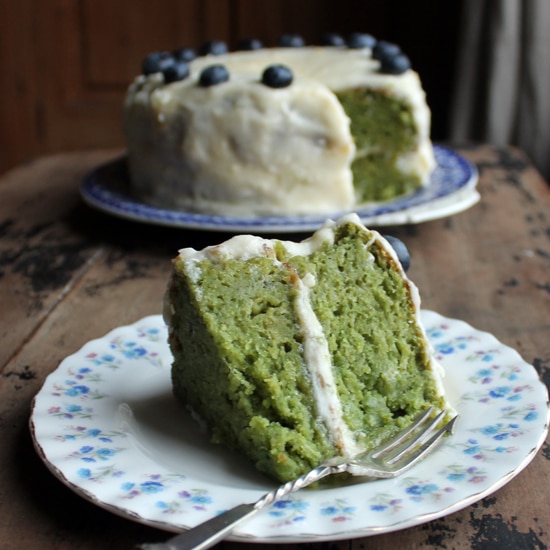 Happy St Patrick's Day and happy vegetable cake making!
Follow my new Veggie Desserts facebook page for vegetable desserts, healthy living tips and a love of veg.
What are you planning for St Patricks Day? Leave me a comment. Sláinte!