Are you thinking of glamping at a festival? Read my Podpads review now! We stayed in a 4 person Bellepad bell tent at Camp Bestival, where despite a massive storm we were cosy and dry.
Review Post.
We've just returned from our third family trip to the incredible Camp Bestival family friendly festival. Read my review of Camp Bestival 2018, 2017 or 2016.
This time, however, we were invited to stay at guests of Podpads to review their Bellepad bell tents in the glamping Boutique camping area. It was a welcome bit of luxury during what would turn out to be a rather stormy festival!
Find out more at Podpads
What are Podpads?
Podpads are a UK-based a company that has luxury glamping accommodation available to hire at a variety of festivals in the UK and Europe. They create pretty rainbow coloured villages at the festival with all of their tents.
Podpad villages are pre-pitched in a specially allocated boutique camping area, provided with upgraded toilets & washroom facilities and 24-hour security.
The range of accommodation includes wooden sided Octopads with canvas tops, bell tents of various sizes, wooden Podpads huts with bunkbeds and electricity and more. Accommodation ranges from 2 person to 8 person.
You can stay with Podpads at many festivals, including Camp Bestival, Bestival, Glastonbury, Isle of Wight, Latitude, Reading, Leeds and many more.
Podpads 4 person Bellepad
We stayed in a 4 person standard Bellepad. This is a pre-pitched fully canvas 4m bell tent with groundsheet and carpet. Inside were four camp beds with sheets and a lantern.
The Bellepad had great head height and we loved the pretty rainbow colours of all the tents on our lane. Cute heart shaped window cutouts added to the adorableness of our home for the weekend. Having carpet was another great luxury!
There was a surprising amount of space inside the Bellepad. They had laid it out with the beds all around the edges, but we rearrange the beds all in a row at the back. That gave us plenty of space for our camping furniture.
We brought a collapsible tall shelving unit for clothes and a low table unit with cupboards for our food. Both fit in easily and the kids still had plenty of space to sit on the floor to colour and draw.
Extra facilities with PodPads at Camp Bestival
Upgraded toilets & washroom facilities
Posh Wash showers
24-hour security and separate Boutique camping entrance
Closer Boutique car park (less than 10 minute walk and with no big hills!)
Dedicated Podpads reception tent
Complimentary phone charge outlet tent
Free tea & coffee stations
(Most of these extra facilities will be found at other festivals with Podpads too)
Sleep Easy Package
We upgraded to the Sleep Easy package. This included pillows, duvets (and duvet covers), throw pillows, blankets, rugs, towels, hand towels, eye masks and ear plugs.
I'd strongly recommend you go for the package. It made it feel so luxurious in the tent, plus it's great not having to bring sleeping bags and pillows to the festival and lug them all back home too. The earplugs definitely came in handy, but it's much quieter on the Boutique campsite anyway.
Other optional extras are actual wooden beds and mattresses, as well as a Sit Easy package with camping chairs, table and lantern.
What's it like staying in a Bellepad with Podpads at Camp Bestival?
In a word: amazing
Every other year we've been in general camping, where to get a good flat pitch, particularly if you're with a group, you need to arrive early. Like at 10 am on the Thursday. Then it's a good 25 minute hike with all of your gear: tent, clothes, food etc... up and down the camping hills to find yourself a pitch.
With glamping, the Boutique car park is really close to the site. You park up and just have a short gentle slope down to the dedicated entry where you get your wristbands and go through security.
Next it's only about 5 minutes walk to the Boutique Camping area. You'll get a boutique wristband and security check them so only those camping in this area are allowed in.
On arrival, we went to the Podpads reception where friendly faces gave us our Podpads wristbands and showed us to our Bellepad. We settled in and unpacked. It was very very hot out as it had been a heatwave, so we opened up the bottom flaps of the bell tent for a bit of welcome ventilation.
The breeze quickly cooled it down inside. Every evening we shut the flaps and tucked them under the ground sheet so if it rained we'd be dry.
The tents are all pretty close together so there's no room to put up a gazebo or have any outdoor shelter. We sat outside the tents on some chairs and the kids all ran around making friends with our tent neighbour children. We had a small camping stove so we cooked the peanut stew that I brought and had dinner before heading into the festival.
There were flushing toilets with cold running water, hand soap and lotion and mirrors. Nearby we had 16 Posh Wash showers.
It was only about 10 minutes walk to the Big Top at our edge of the arena, so we often popped back to our tent to refuel the kids with snacks.
Comfort
We all slept very well. None of us had been on camp beds before and found them much more comfortable than air mattresses. It was great to be off the floor and we were able to stash our belongings under the beds.
The tent was warm at night and we were able to make it breezy on the hot days.
Then the weather turned... (dun dun duuuuun...)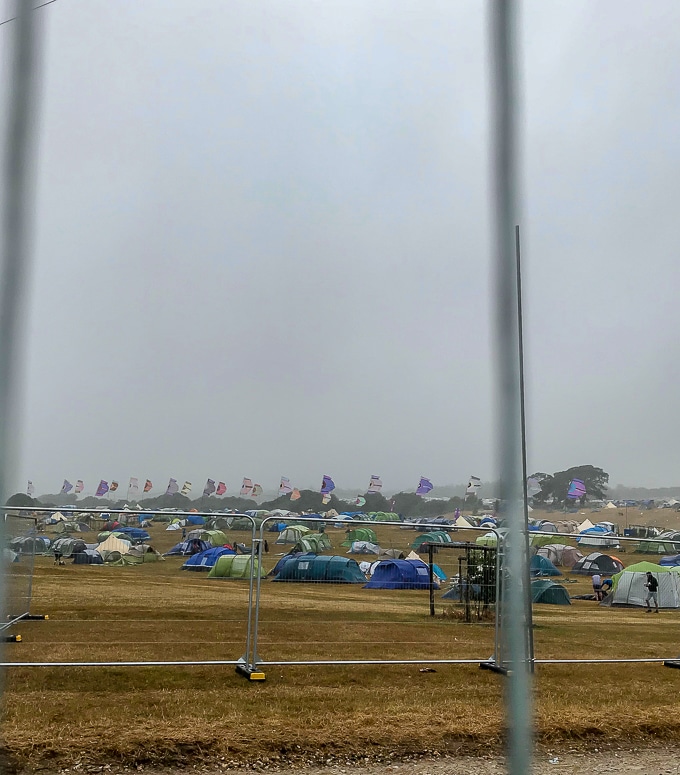 Stormy Weather
A massive storm came on the Saturday night at Camp Bestival 2018.
Intense gales were blowing and the rain went on for hours. We felt really secure, however, and stayed tucked up in our beds. Wind lashed the side of the Bellepad but it didn't ever feel unsafe.
By the time we emerged from our rainbow striped cocoon, we saw carnage on the general camping field.
Tents were flattened. Gazebos were flying around. Portable toilets were toppled like dominoes.
People were trying to rescue their tents as they acted like sails in the wind. Many people packed up and headed for home. One festival goer remarked on twitter, "it was like sleeping in an angry crisp packet".
Unsurprisingly, they weren't able to open the festival that morning for safety reasons. We waiting watching twitter for updates (and taking turns to fetch coffee and hot chocolate at the Podpads reception) but sadly they announced in the afternoon that Camp Bestival couldn't open at all on the Sunday.
How did the Bellepad fare in the storm?
Wonderfully. We didn't have any leaks at all, and neither did our neighbours. The groundsheet goes up quite high, and we had sensibly tucked up the flaps that we had opened during the heatwave so the water just ran under.
We were warm and cosy and watched the rain pelt down our heart shaped windows. After a slow morning we then packed up and headed for home. It's pretty amazing not to have to worry about packing the tent up in the rain!
Final thoughts:
We really loved staying in the Podpads Bellepad. It's not cheap (our standard 4 person Bellepad is from £480), but it certainly is a great bit of luxury at a festival. And it can withstand an intense gale too!
It's so much easier having it all pre-pitched, having great amenities (flushing toilets, showers, tea and coffee, food stalls) and needing less equipment. It's a quieter part of the campsite, close to the carpark as well as the arena and it all just makes festival life so much easier.
Find out more at Podpads
Disclosure: We were guests of Podpads. All opinions are our own.