This collection of 25 Vegan Street Food Recipes is sure to inspire you! I've curated a list of incredible globally-inspired meat-free dishes that are packed with taste - but are easy to make.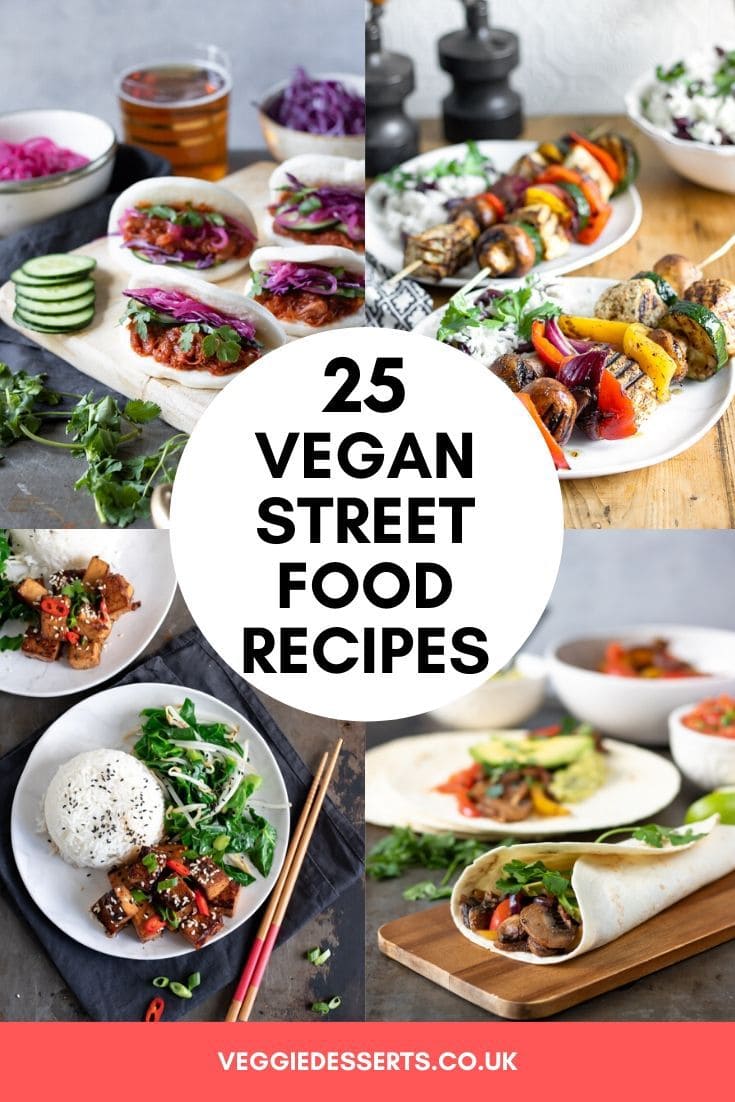 Vegan Street Food
From vegan Indian street food recipes and Thai, to Jamaican and American, this list is a riot of spices and flavors. There are plenty of vegan street food dinners, as well as side dishes and snacks.
Whether you're vegan, plant-based or just trying to cut down on meat, this list is for you!
The recipes are all 100% vegan, and many are also low-calorie, keto, gluten-free or suitable for other diets.
Let the spices, herbs, and plant-based ingredients all take you on a street food journey around the world.
But not all the dishes are from far-flung corners of the globe. I've also got vegan burgers, hot dogs and even a vegan lobster roll.
Street Food
So, what is street food? It's simply food and drink sold by a vendor in a public place, market or street!
For the past few years, a proliferation of food trucks have sprung up in Western countries, selling all manner of foods. But globally, street food has long been the place to get, often inexpensive, traditional food.
Think Mexican street corn on street stalls in Mexico City, soy sauce noodles on the streets of Phuket or banh mi served on the roadside in Vietnam.
But it's not all far-flung destinations. There are plenty of street foods to be found in the USA too! Think Philly Cheesesteaks (vegan versions, of course!), Pizza on the streets of New York or vegan corndogs from a food truck outside a baseball game.
Find out more about American Street Food.
New to veganism?
If you're just starting on your vegan journey or looking for more ways to incorporate vegan and plant-based meals into your diet, try these guides!
25+ Delicious Vegan Soup Recipes
Vegan Recipes for Weight Loss
Vegan Grocery Shopping List
So sit and have a read, as this post takes you on a culinary tour of the world through the medium of Vegan Street Food Recipes.
Be sure to PIN THIS POST so you can come back and try all the recipes!
Vegan Street Food
Be inspired by this collection of International Vegan Street Food recipes!