Check out these great vegan soup recipes! Here you will find dozens of delicious plant based blended soups, chunky hearty plant based soups and vegan Instant Pot soups. You're sure to find a delicious recipe that's perfect for you.
Vegan Soup
Whether you're vegan, doing Veganuary (going vegan for the month of January), you're dairy free, veggie or just trying to eat more plant based meals, you're sure to find loads of great recipes in this epic soup roundup.
Soup is a great way to get lots of portions of vegetables in a meal.
They can be filling, easy to make and many freeze well.
I like to make big batches of soups and freeze portions so I can have them for lunch or dinner.
Actually, I often have breakfast soup! It's as warming as oatmeal, and you start the day with nutritious veg.
Soup Recipes
Here are 25+ plant based soup recipes to keep you warm and full of veggies.
There are loads of recipes here from easy hearty vegan lentil soup to a Malaysian vegan laksa (that actually only takes 15 minutes to make).
There are stove top soup recipes, blended, chunky and even vegan pressure cooker soup recipes.
In this list below you'll find:
Plant based blended soups
Hearty soups
Vegan Instant Pot soups
So read on and I hope you'll find some inspiring soup recipes to try!
Blended Soup Recipes (vegan)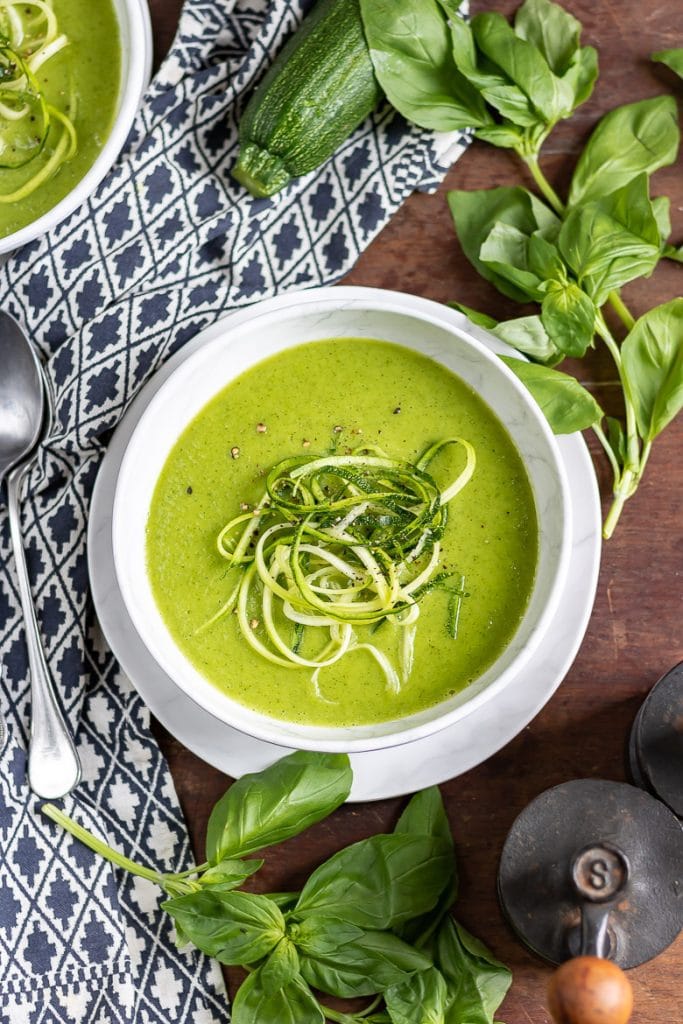 Courgette Soup with Basil (zucchini soup) // You only need 5 ingredients and 15 minutes for this tasty, healthy soup.
It's velvety smooth and the spiralised raw courgette/zucchini adds a great texture contrast.
Just 46 calories per bowl.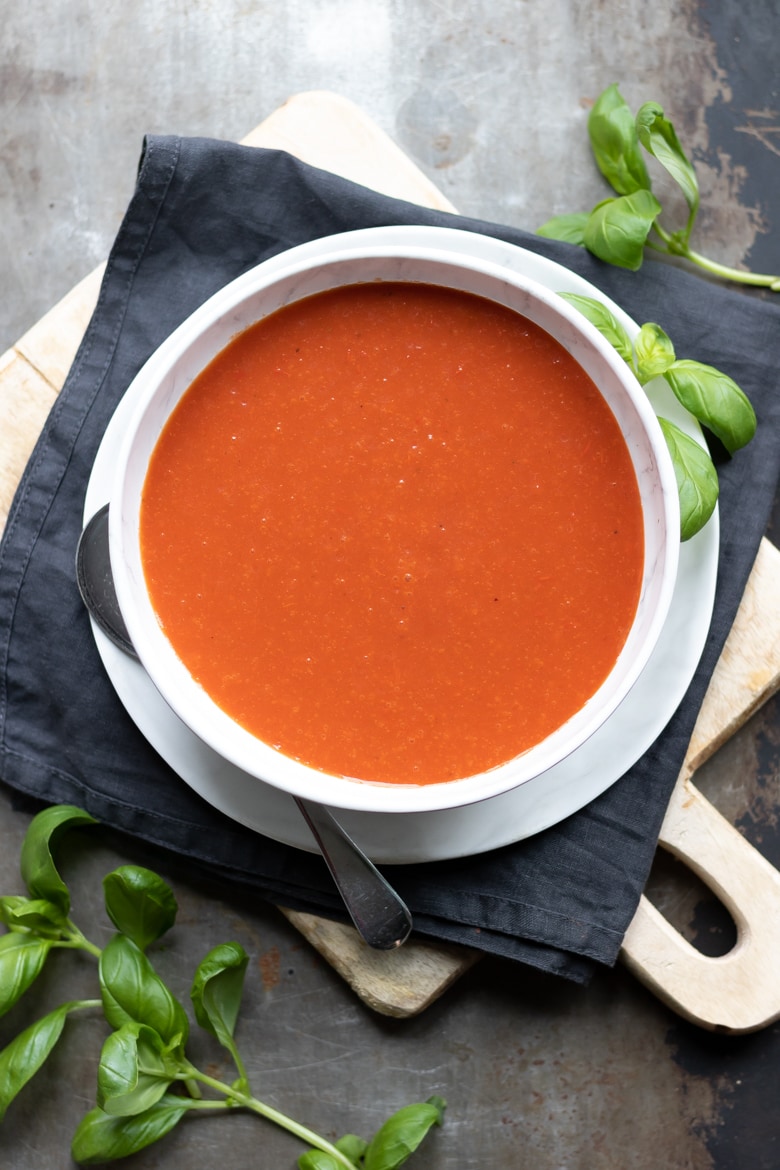 Easy Tomato Soup // This delicious easy tomato soup recipe only takes 20 minutes to make and 6 simple ingredients.
It's full of flavour, creamy and a healthier version of the classic canned soup.
Cauliflower Soup - This roasted cauliflower soup is easily vegan- just use vegan butter and milk.
Celeriac Soup - Roasted celery root is combined with thyme, garlic and stock, then blended into this velvety soup.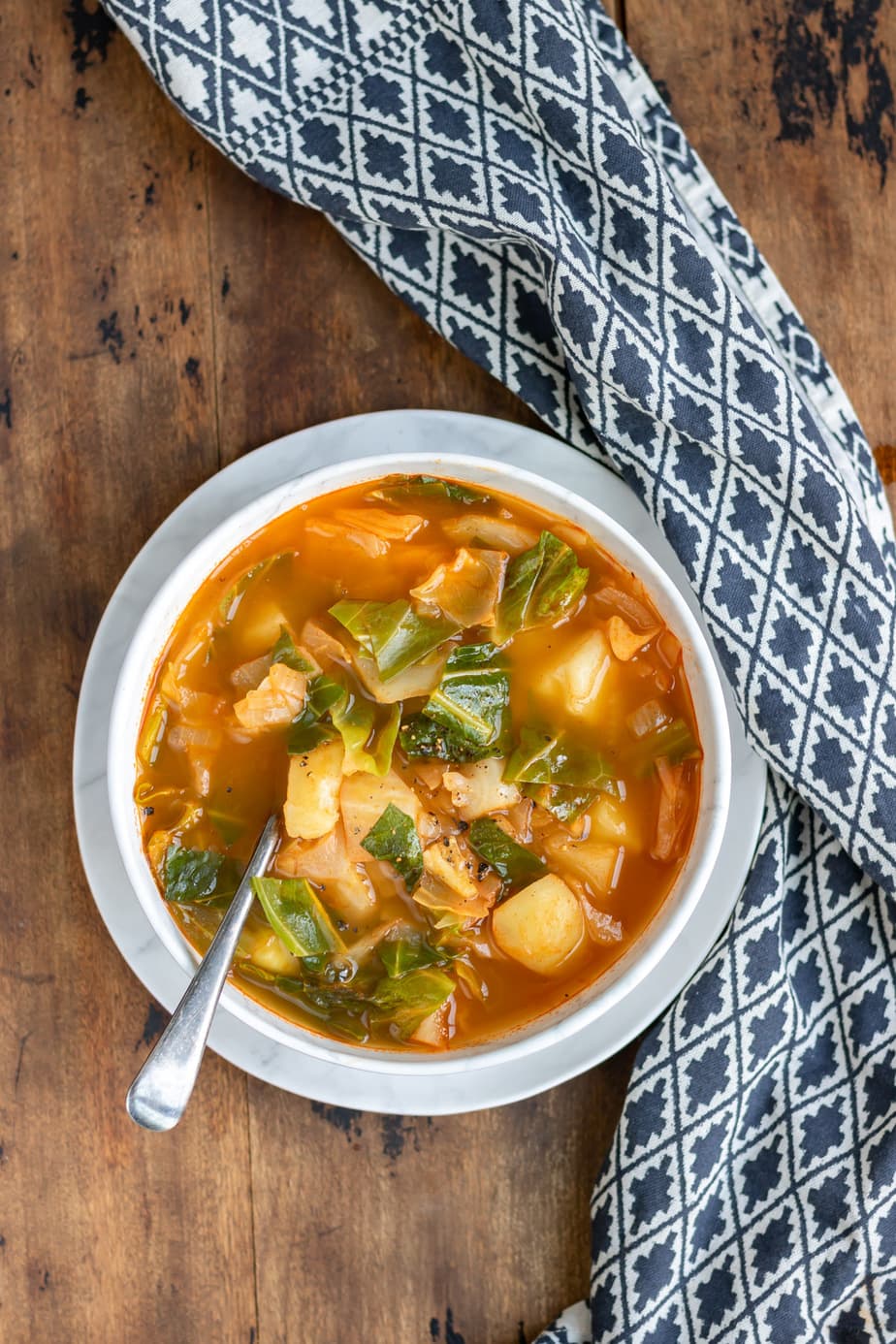 Cabbage Soup - this low calorie, healthy soup is perfect for dieting. Just 98kcals with the potatoes or 38 kcals without.

Beetroot Soup // This beetroot soup is vibrant, smooth and full of flavour.
You only need 6 ingredients for this smooth, creamy and tasty vegan or vegetarian beet soup.
It is similar to borscht soup and it's hearty and filling and each bowl only has 143 calories!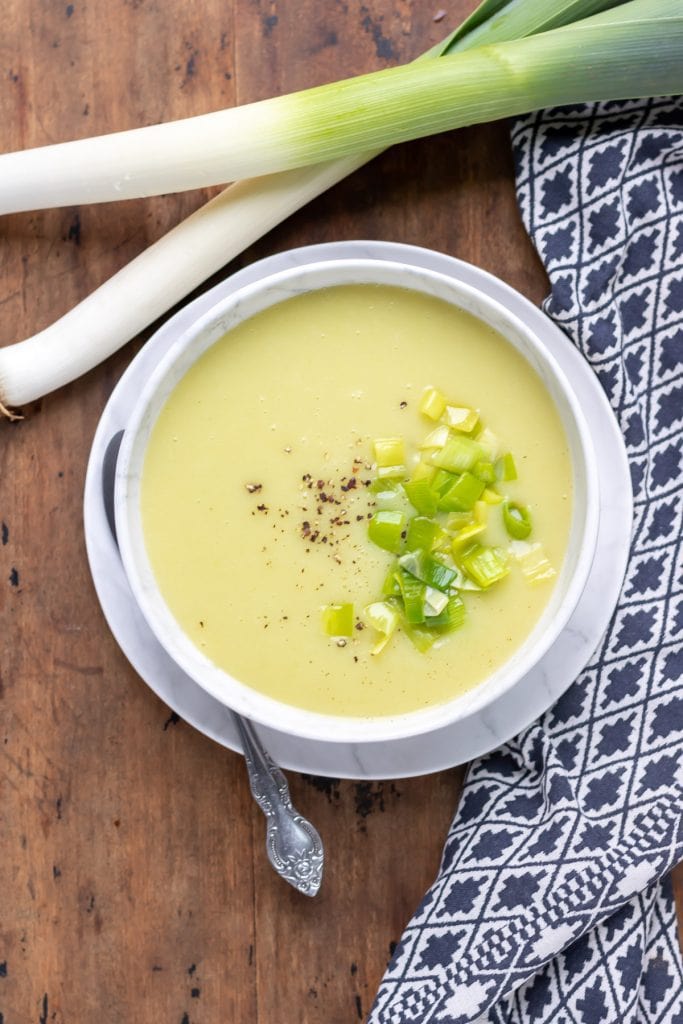 Potato Leek Soup is easy, tasty, budget friendly and totally dairy free!

Spicy Vegan Cauliflower Soup // This spicy cauliflower soup from The Last Food Blog is warming and filling, smooth and creamy.
It only takes 30 minutes and it's perfect for those chilly days when you need something really satisfying.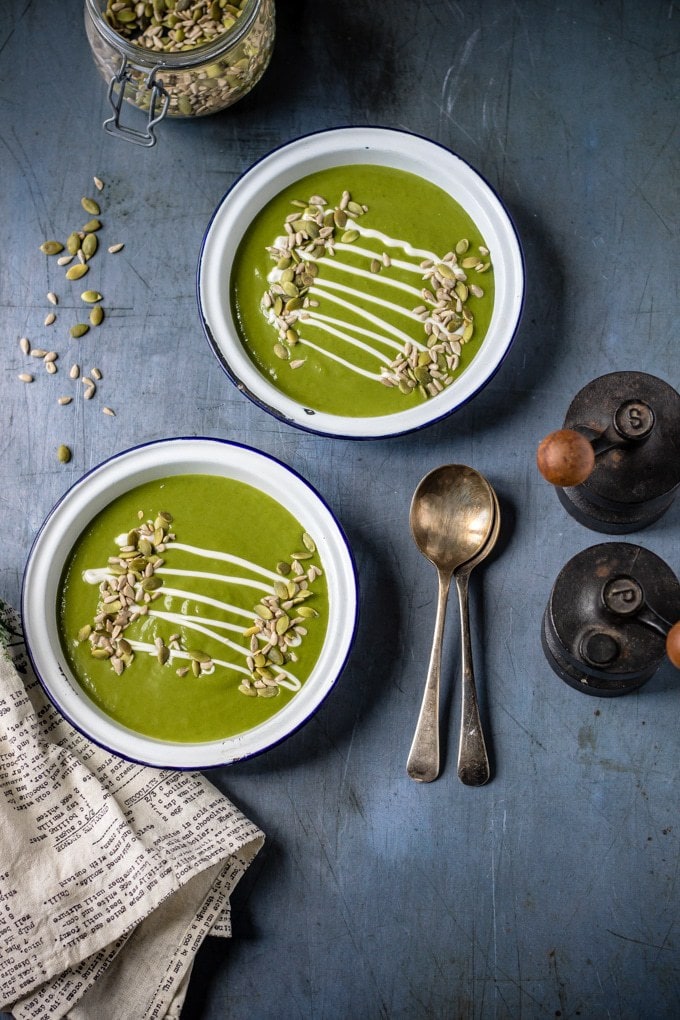 Quick Kale Soup // Ready in just 20 minutes, this thick and creamy kale soup is hearty and tasty and only 150 calories per generous bowl.
Plus it's bursting with green goodness.

Vegan Roasted Red Pepper and Tomato Soup // Downshiftology's roasted red pepper soup is a blend of red peppers, tomatoes, onions, garlic and basil - all roasted for extra flavour.
It's delicious, healthy and easy to make – just roast, then blend!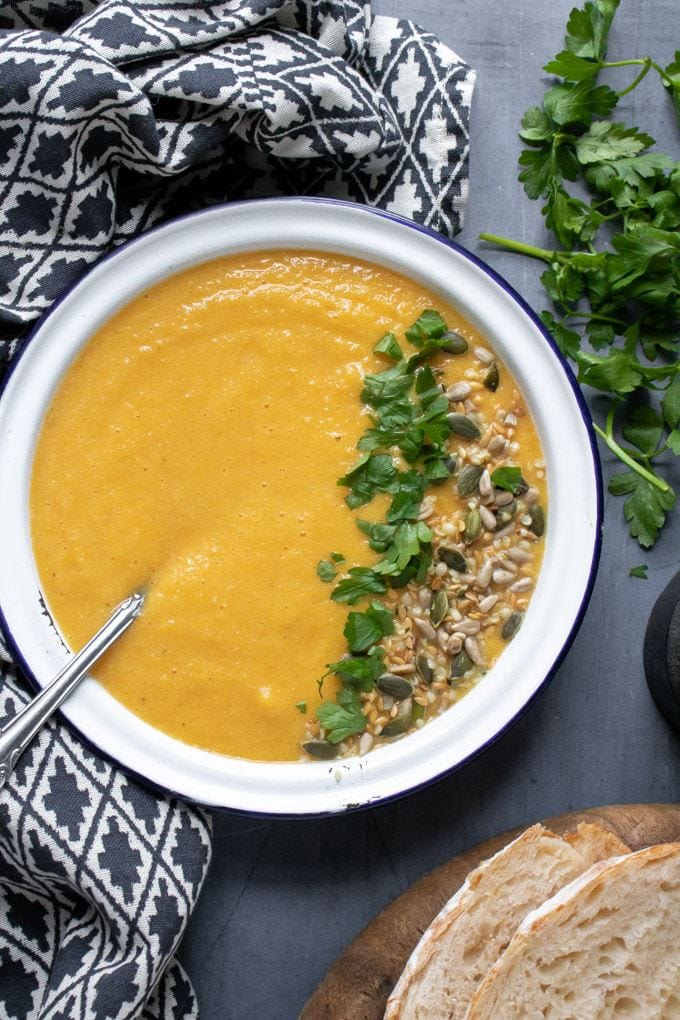 Easy Vegan Lentil Soup // This vegan lentil soup is velvety smooth, creamy, nourishing and only has 7 ingredients!
Ready in less than 25 minutes, it's a one-pot high-protein, filling and delicious soup recipe.
3 Ingredient Zucchini Soup // You only need 3 ingredients for My Goodness Kitchen's vegan zucchini soup.
It's deliciously creamy from the cashews, light from the zucchini and ready in just 20 minutes.

Carrot Sweet Potato Soup // This carrot sweet potato soup is rich, creamy and packed with vegetables.
It's really easy to make, vegan, gluten free and freezable.

Roasted Pumpkin Apple Soup // This stunning Roasted Pumpkin Apple Soup from Flavor The Moments is a healthy, vegan pumpkin soup made with homemade pumpkin puree.
It's smooth, velvety and delicious!
Roasted Carrot Soup // This vegan Roasted Carrot Soup with lentils and Moroccan spices from Happy Kitchen Rocks is velvety, rich and full of flavour.
Moroccan Spiced Parsnip Soup // Ready in just 45 minutes, this Ras el Hanout spiced parsnip soup is not only tasty but also Whole30 compliant. And those toppings look incredible.
Hearty Soup Recipes (vegan)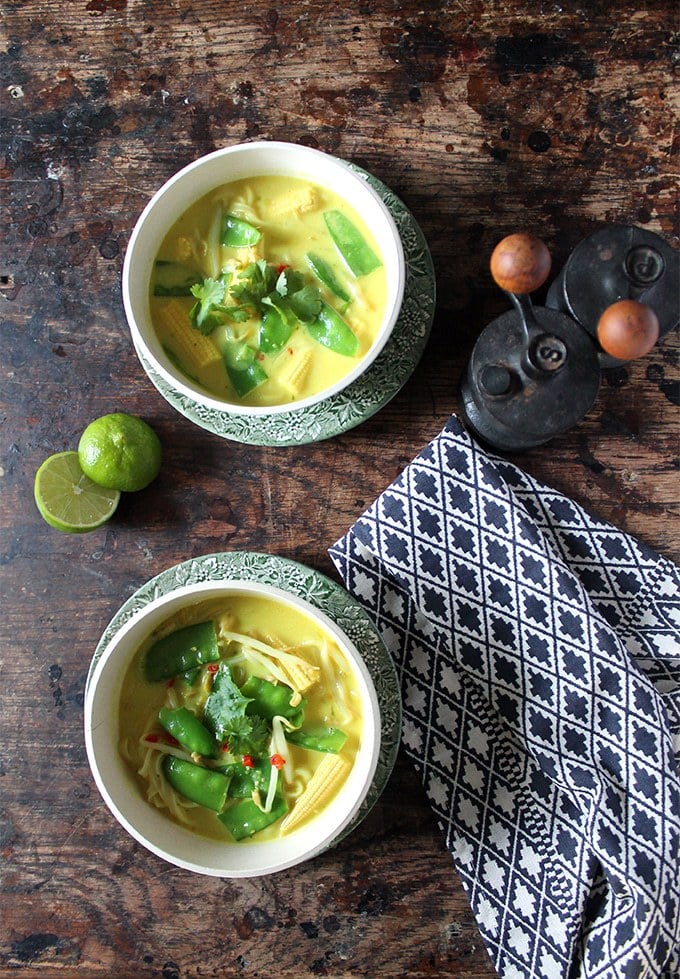 Easy Vegan Laksa // This easy Laksa (Malaysian soup) is ready in under 15 minutes, and it's bursting with flavour from the coconut milk, chilli and turmeric.
It's a filling meal, warming starter or easy side dish - full of nourishing cold and flu busting spices.

Vegan Pho Noodle Soup // This easy version of Vietnamese Vegan Pho Noodle Soup (Pho Chay) is hearty and tasty.
While this vegan pho from Delightful Plate is quicker to make than traditional beef pho, it is just as comforting and delicious.

Mexican Bean Soup // This easy vegan Mexican Bean Soup is a hearty bowl full of flavour.
It's rammed with beans and veggies, and is deliciously spiced and warming.
The best thing is you can make this recipe in just 15 minutes!
Shiitake Ginger Broth with Gyoza Dumplings // This Shiitake-Ginger Broth is light and deeply-nutritious, with thinly-cut vegetables and a few juicy gyozas. Kellie from Food to Glow suggests that it's the perfect antidote to heavy winter food and you should sip this wholesome, healing Japanese-inspired soup piping hot for the best cold-blasting effect.

Moroccan Chickpea Cauliflower Soup // The fusion of North African flavours make this soup from The Simple Green extra special.
Cauliflower lends it a lovely meatiness and interesting texture, plus cauliflower soaks up so much flavour goodness which makes it somewhat better the next day.
Serve with fresh squeezed lemon and cilantro or parsley.
Vegan Potato Soup // This Vegan Potato Soup is smooth, rich and creamy without any cream!
It's chunky and filling so will satisfy you for ages.
Mel from A Virtual Vegan suggests that you make it even more filling and delicious by adding toppings.

Chickpea Noodle Soup // Umami Girl's Chickpea noodle soup (vegan chicken noodle soup) is easy vegan comfort food at its best, and it's ready in just 30 minutes!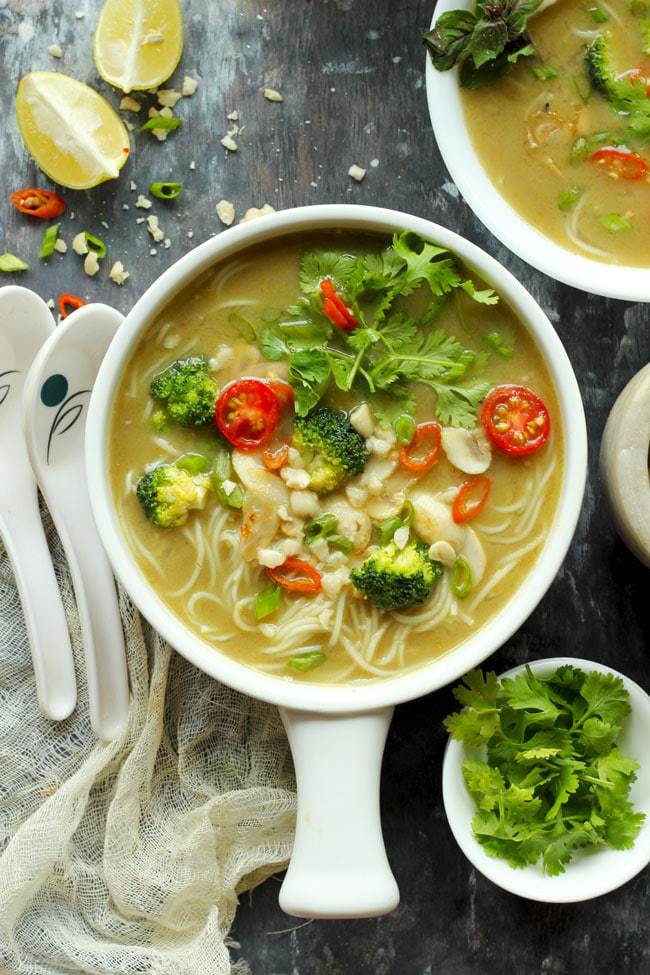 Vegan Thai Green Curry Soup // Hina from Fun Food Frolic suggests that This Thai Green Curry Soup is a healthy, hearty, bowl of comfort soup.
And it is surely going to keep you warm during the cold winter nights.

Vegan Chickpea Vegetable Chowder // Ready in just 30 minutes with no unusual ingredients, Running on Real Food's chowder is satisfying and delicious.
It's made with chickpeas, potatoes and carrot for a bit of a twist on classic veg chowder.

Pasta e Fagioli // Pasta e Fagioli is an Italian pasta bean recipe.
This hearty soup from Little Sunny Kitchen is perfect for a chilly evening as it will not just fill you up, but it will also keep you warm.
Instant Pot Soup Recipes (vegan)

Instant Pot Vegan Curried Butternut Squash Soup // Instant pot Curried Butternut Squash Soup from Sandhya's Kitchen is a velvety soup that's perfect for weeknight meals and it's ready in less than 30 minutes.
Vegan Instant Pot Lasagna Soup // This vegan Lasagna Soup from Vegan Richa is full of nourishing red lentils, lasagna noodles, veggies and basil.
This nut free recipe can be made in the Instant Pot or stovetop.

Vegan Instant Pot Cauliflower Soup // This Mexican Spiced Instant Pot Cauliflower Soup from Recipes From A Pantry is easy, comforting, smooth and creamy with just a handful of ingredients.
It's perfect for a low carb midweek meal.

Vegan Instant Pot Sweet Potato Soup // Natasha from Salt and Lavender has created this Instant Pot sweet potato soup recipe that's easy to make, healthy, vegan, naturally creamy, and deliciously sweet.
A lovely warming soup for winter or fall.
Vegan Instant Pot Sweet Potato Chickpea and Red Lentil Soup // Supergoldenbake's delicious and hearty sweet potato, chickpea and red lentil soup cooks in just 10 minutes in your Instant Pot.

Vegan Instant Pot Chipotle Lentil Soup with Zoodles // This vegan Instant Pot soup is easy, filling and extremely delicious.
The soup, by Cooking with Molly has smoked chipotle flavors mixed with lentils and topped with zoodles.

Vegan Instant Pot Wild Rice Mushroom Soup // Cooking Carnival's vegan wild rice and mushroom soup can be made in your Instant Pot.
It's creamy, earthy and full of flavor.
I hope you've enjoyed this soup roundup.
There are so many delicious ones to try from blended soups and hearty soups.
Plus I've also added vegan Instant Pot soup recipes for those of you with a pressure cooker.
Thanks for checking out my post!
Please comment below with your favourite recipes because I love hearing from my readers. You all allow me to do what I love and write this food blog, sharing vegetarian recipes, vegan recipes, vegetable cake recipes, vegan cake and also easy vegan desserts.
Kate x

PIN FOR LATER!