Check out these great vegan soup recipes! Here you will find dozens of delicious plant based blended soups, chunky hearty vegan soups and vegan Instant Pot soups. You're sure to find a delicious recipe that's perfect for you!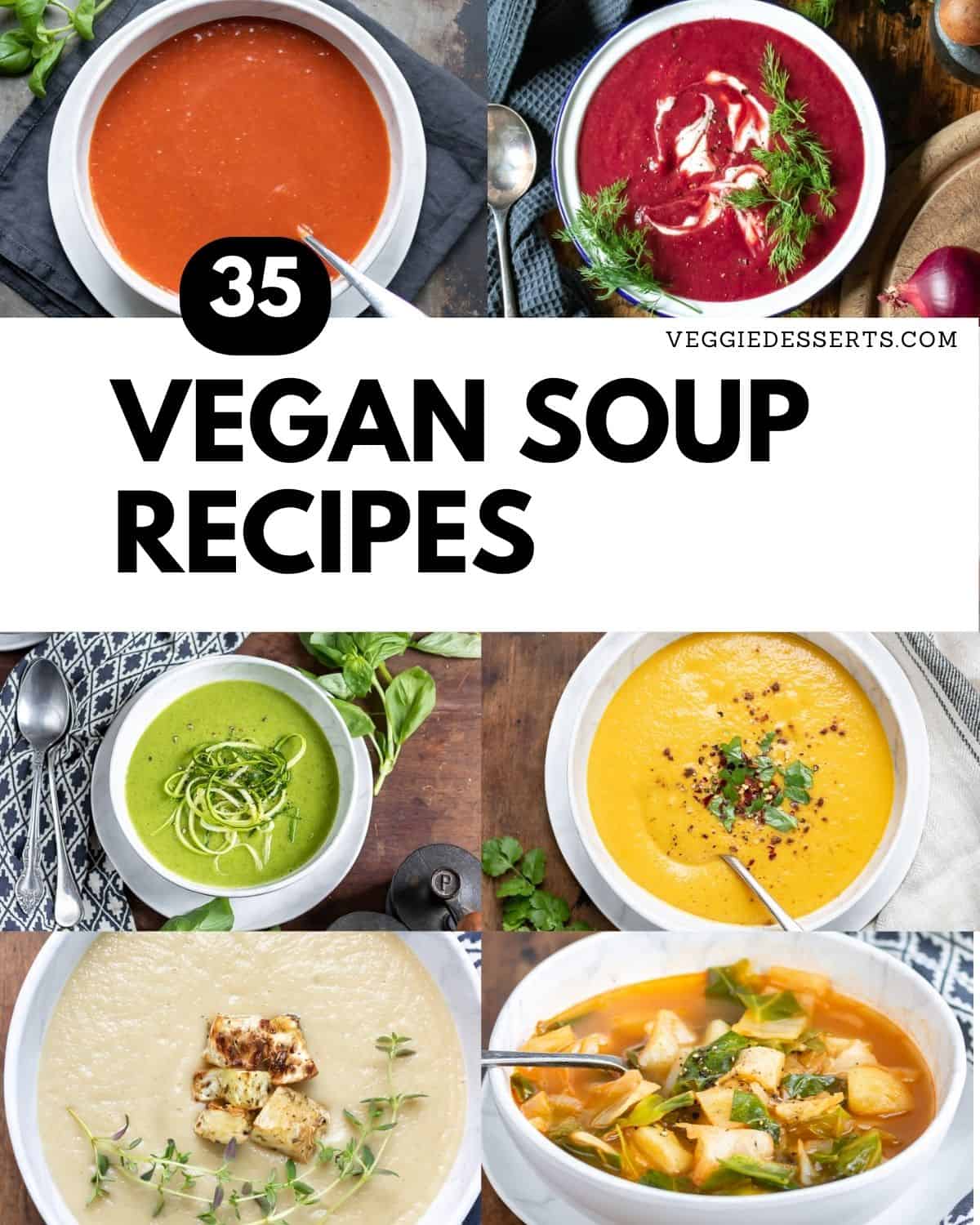 Whether you're vegan, doing Veganuary (going vegan for the month of January), you're dairy free, veggie or just trying to eat more plant based meals, you're sure to find loads of great recipes in this epic soup roundup.
Soup is a great way to get lots of portions of vegetables in a meal.
They can be filling, easy to make and many freeze well.
I like to make big batches of soups and freeze portions so I can have them for lunch or dinner.
Actually, I often have breakfast soup! It's as warming as oatmeal, and you start the day with nutritious veg.
This post was originally posted on January 23, 2019, and republished with new recipes and text on January 12, 2023.
Jump to:
Vegan Soup
Vegan soups can be incredibly flavorful and nutritious. I eat a bowl of soup pretty much every day for lunch. It's just so easy to make and there are myriad different versions.
It's also a great way to use up the week's veggies. I tend to make a huge pot of soup on a Sunday and enjoy it throughout the week for lunch.
Some of our favorite vegan soup recipes include:
Lentil Soup: This simple blended Lentil Soup is velvety smooth, creamy, nourishing and only has 7 ingredients! Ready in less than 25 minutes, it's a one-pot high-protein, filling and delicious blended soup recipe.
Tomato Soup: This delicious easy tomato soup recipe only takes 20 minutes to make and 6 simple ingredients. It's full of flavor, creamy and is vegetarian, vegan and gluten-free. Use fresh or canned tomatoes.
Beet Soup: This beetroot soup is vibrant, smooth and full of flavour. You only need 6 ingredients for this smooth, creamy and tasty vegan or vegetarian beet soup. It is similar to borscht soup and it's hearty and filling and each bowl only has 139 calories!
Pea Soup: Make this rich and tasty Pea Soup using frozen peas! The creamy pea soup is ready in 15 minutes with just 4 simple ingredients. Freezable and naturally vegan.
Vegan Laksa Soup: This easy vegan laksa is ready in just 15 minutes, and it's bursting with flavour from the coconut milk, chilli and turmeric. It's a filling meal, warming starter or easy side dish.
Ways to make soup extra special
Soup doesn't have to be boring! Use these ideas to make your vegan soup recipe extra special.
Croutons (try air fryer croutons)
Fresh Chopped Herbs
Diced Vegetables - I like to save some from making the soup to use as a topper.
Sliced Avocado
Shredded Vegan Cheese
Mixed seeds or chopped nuts
Hot Sauce - Check out Is Sriracha Vegan?
Tortilla Strips
Vegan Aioli (Garlic Mayonnaise)
Recipes
So, there are the vegan soup recipes! If you try any, be sure to head down to the comments and let us all know how you liked it!
Vegan Soup Recipes
You're going to love these vegan soup recipes! From healthy soups and hearty soups, to blended soups and vegetable-packed nutritious soups. There's a soup for everyone!
NOTE: For any soups that include butter, cream or milk, be sure to use dairy free vegan versions!