Parsnips are delicious pale root vegetables, similar to carrots and parsley! Find out more about what they are, how to prep them, and how to use them!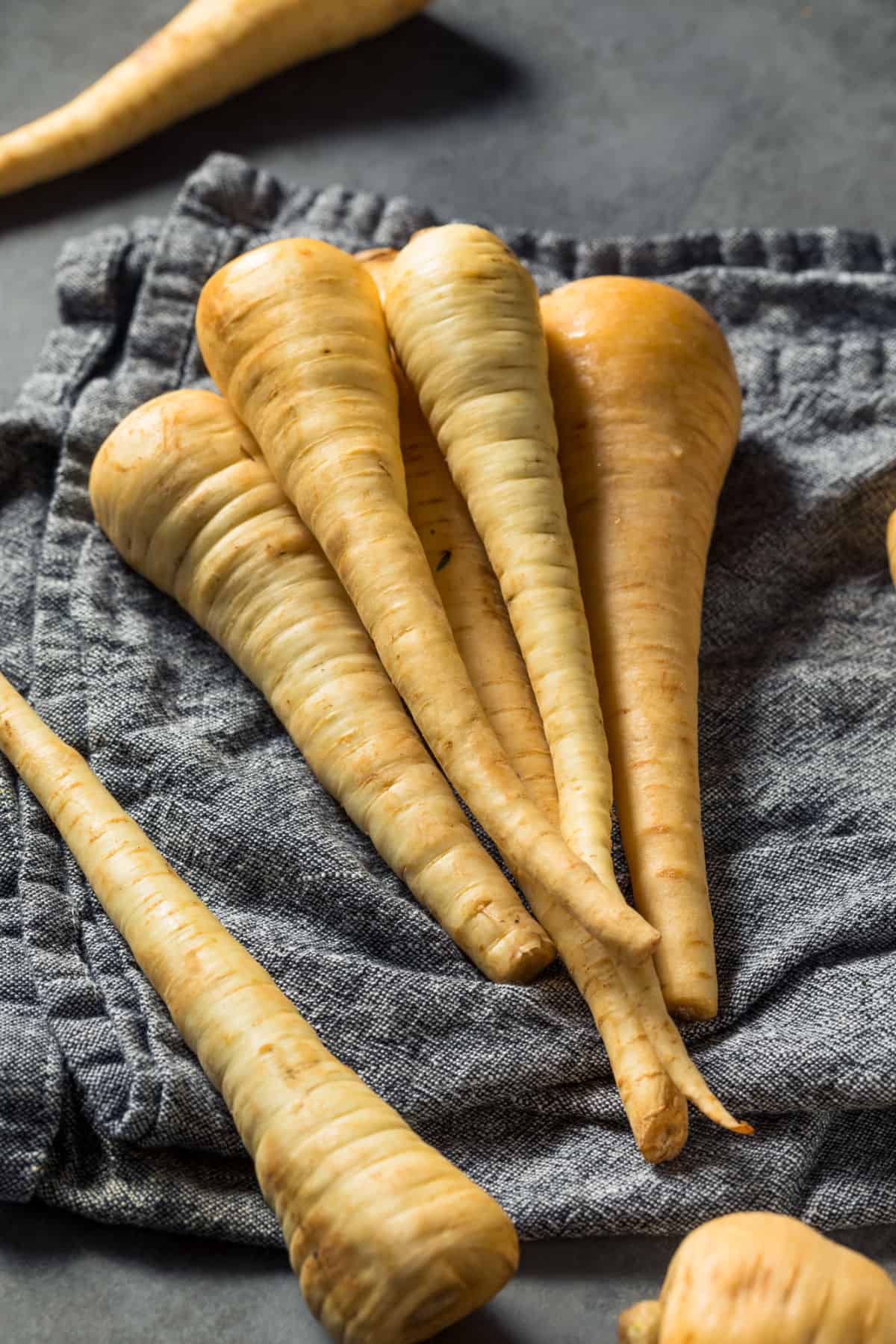 What are parsnips?
Roots. Parsnips (Pastinaca sativa) are long, pale roots with a delicately nutty flavor that are closely related to carrots.
They have pale skin and flesh. They harvested after the final winter frosts have a sweeter taste.
Their sweetness lends them to be used not only in savory dishes but also in sweet ones. They make a great alternative to carrots in carrot cake. Try Parsnip Loaf Cake.
Parsnips are native to Europe and Asia and used throughout northern European countries, particularly the UK and Ireland.
What does parsnip taste like?
The flavor of parsnips is sweet, earthy and nutty.
Winter parsnips are sweeter than fall or spring parsnips, because their natural starches convert to sugar in cold temperatures.
How to buy
Look for parsnips that aren't too large (or they can get a bit woody) - look for ones under 3-inches across the fat end. Ensure they aren't shriveled and are firm with an even pale beige color.
How to prep
Due to their slightly ridged exterior, parsnips are usually best peeled, though you can also scrub them well to remove any dirt.
They can then be diced, chopped, or cut into sticks, depending on the recipe.
How to cook
Parsnips can be:
Roasted/baked
Boiled
Steamed
Mashed
Pureed
Fries
Baked goods
Raw
Soups and stews
Boil: Parsnips can be boiled or steamed for approximately 10 minutes, depending on the size of the pieces.
Roast: My favorite way to cook parsnips is to roast them in a hot oven with a little oil for 40 minutes or until golden and slightly crispy. Try Parmesan Parsnips.
Air Fry: Air fry at 400F/200C for 12 minutes, tossing often, or until golden.
How to store
Store: Parsnips should be kept in the vegetable drawer of the refrigerator and should last for up to 2 weeks. To ensure they last, you can wrap them in paper towel.
Freezing: To freeze parsnips, peel, chop and parboil them for 4 minutes. Cool completely, then transfer to a baking sheet and freeze until solid, then transfer to a freezer-safe container or ziploc bag. They should last in the freezer for 8 months.
Serving suggestions
Par snips can be used very similarly to carrots.
Add boiled parsnips to mashed potatoes for extra nutrients, flavor and texture.
Serve Honey Roasted Parsnips with a Roast Dinner.
Swap parsnip for carrot in your favorite Carrot Cake recipe.
Julienne or shred parsnips and include raw in a salad.
Try them roasted, baked, boiled, or steamed as a simple side dish.
Enjoy them in soup, such as Roasted Parsnip Soup or Carrot & Parsnip Soup.
Try them in a sweet dessert: Lemon, Poppy Seed and Parsnip Muffins, Parsnip Loaf Cake, Maple Parsnip Cake, or Winter-Spiced Parsnip Cake.
Puree steamed or boiled parsnips into a rich and velvety sauce. Parsnip Puree.
Turn them into fries, as an alternative to potatoes: Parmesan Parsnip Fries.
What flavors go with parsnips?
The mildly nutty flavor of parsnips pairs well with:
Spices: nutmeg, ginger, anise, garlic.
Herbs: parsley, rosemary, sage, thyme.
Sweet: maple syrup, honey, brown sugar.
Fruit and Vegetables: apples, banana, carrots, pea, potatoes, watercress.
Dairy: parmesan, hard cheese.
Meat: bacon, beef, chicken, pork, shellfish, white fish chicken.
Health benefits
Parsnips are considered to be a good source of potassium, dietary fiber, and folic acid.
In season
Parsnips are in season in fall, winter and spring: late August to March, although then can often be found in stores year-round.
How many
These equivalents are approximate, but a good guide to help you with your recipe!
1 lb parsnips = 4 medium or 2 large
2 cup cooked, diced = 1 lb
1 parsnip = ½ to ⅔ cup, diced
1 parsnip = approx 4 ounces (115 grams)
Fun facts
Parsnips were cultivated by the Romans.
Emperor Tiberius accepted them as payment from the Germans.
Before cane sugar came to Europe, parsnips were used as a sweetener.
Although usually cooked, parsnips can be eaten raw.
Parsnip Recipes
Make the most of the root vegetable in these tasty recipes!
Be sure to also check out these other handy vegetable guides including, Hearts of Palm Recipes, and this post about how to Find Vegetarian Recipes You'll Love.