These 16 veggie and vegan cold and flu-fighting recipes will show that you don't need chicken soup to feel better. From soups and smoothies to hot toddies and tonics, this list of immune-boosting recipes will see you on the mend in no time.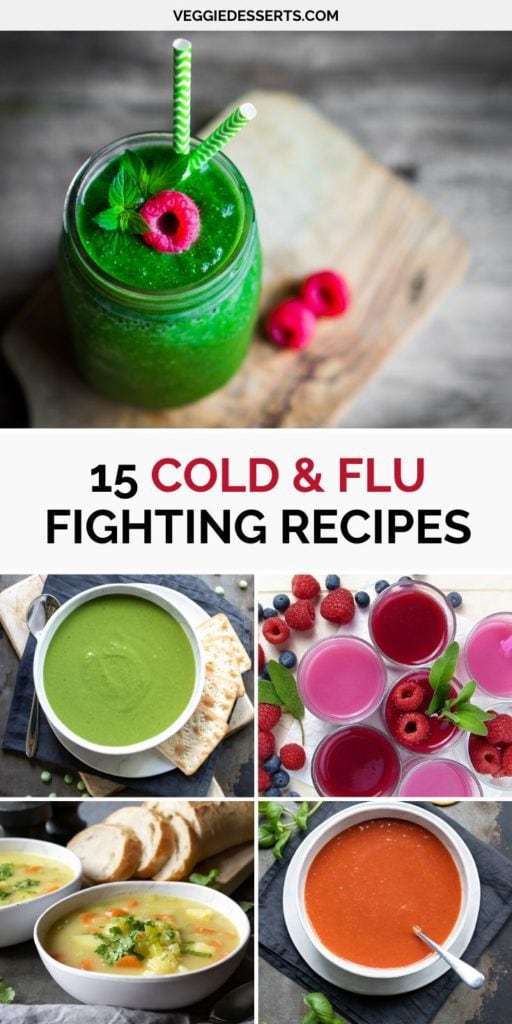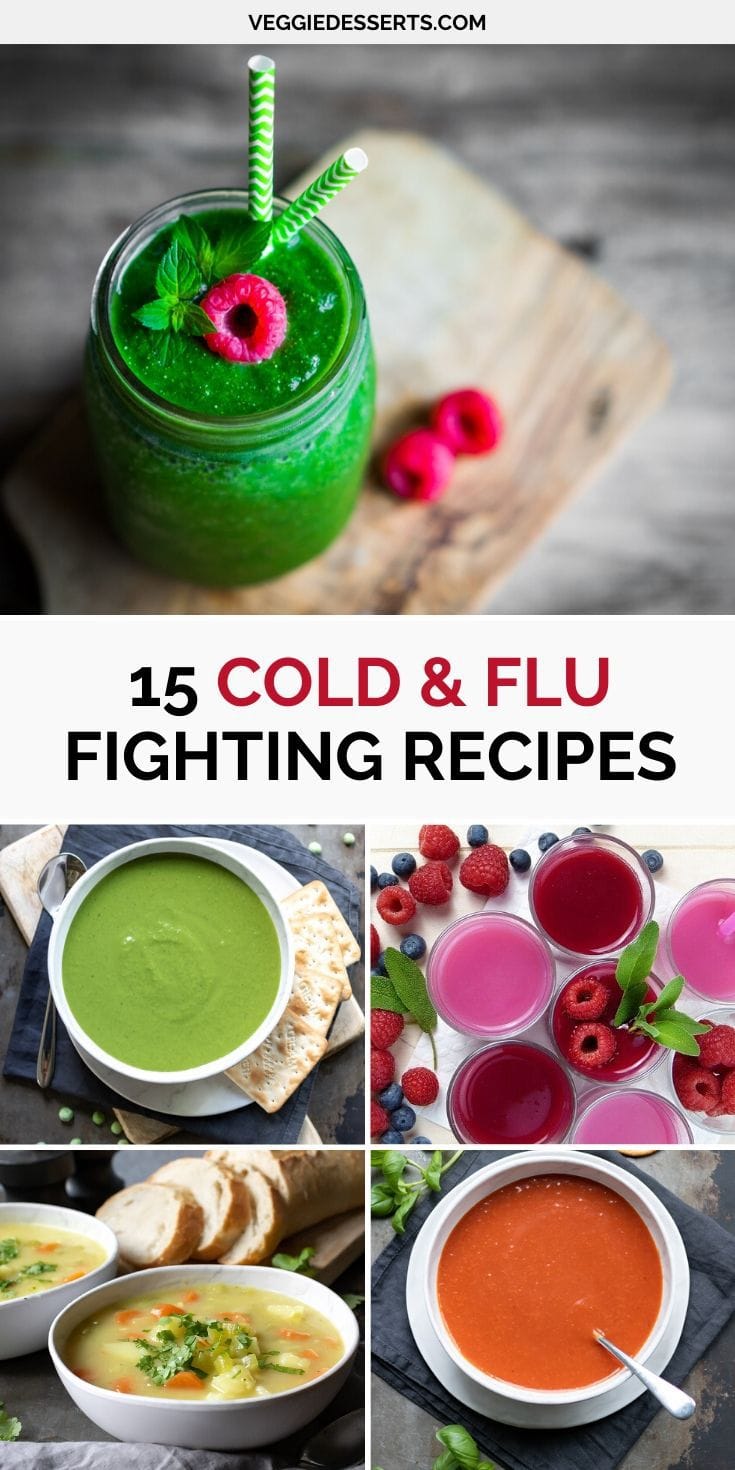 When you think about cold and flu fighting recipes, you'll likely first think of chicken soup.
But us vegetarians and vegans certainly don't need to miss out on poorly comfort food. There are plenty of options for tasty and healthy vegetarian and vegan sick food.
There are loads of great meat-free recipes that will support your immune system and help prevent colds and flu.
When I was scouring the web for the best remedy recipes, a few ingredients cropped up time and again.
Garlic and ginger came out on top, closely followed by turmeric.
Below you'll find plenty of veggie cold and flu fighting recipes, from tonics and smoothies to soups and hot toddy.
Here are some great options of what to eat when sick.
veggie and vegan cold and flu fighting recipes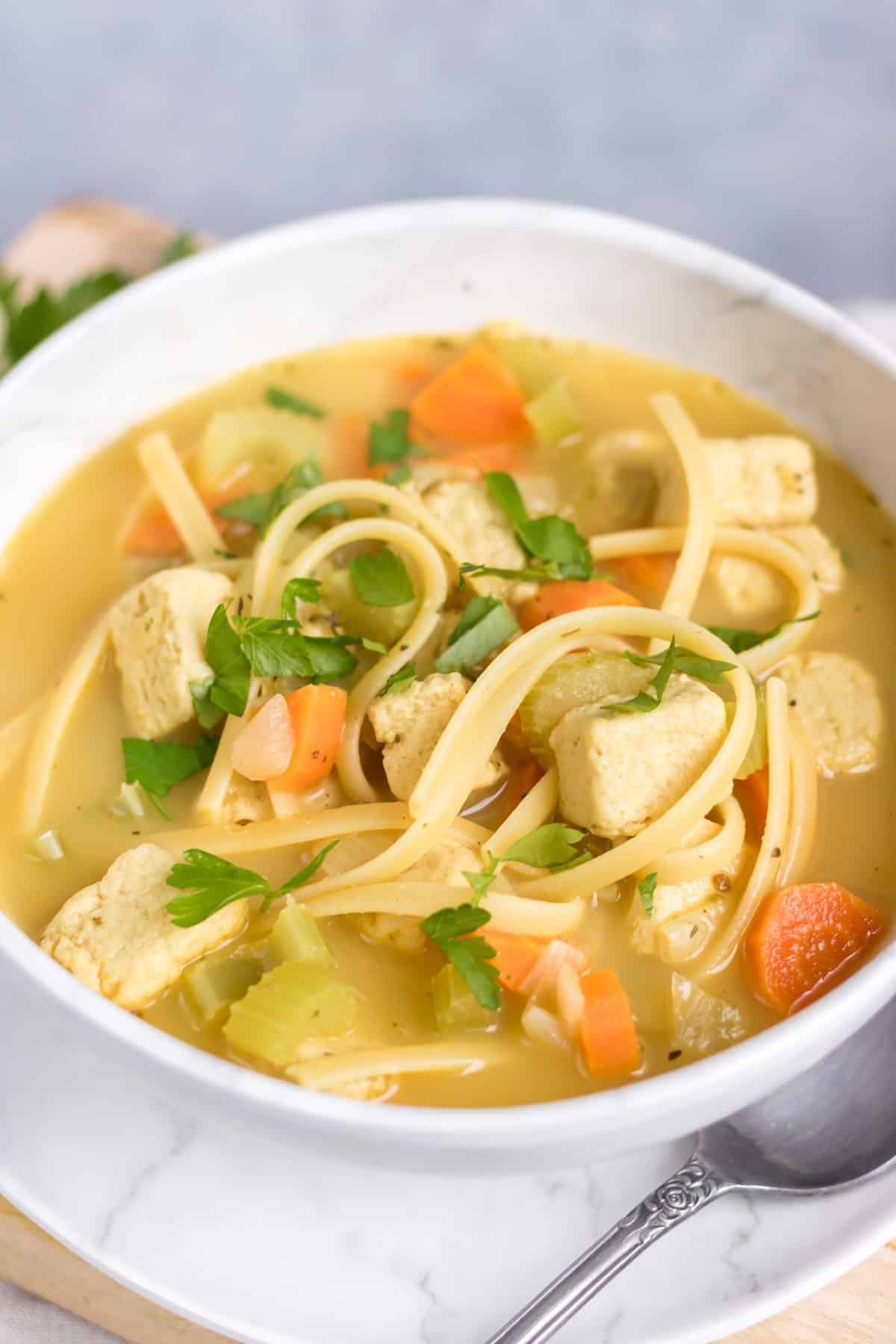 Vegan Chicken Noodle Soup // This vegan version of the classic chicken noodle soup is easy to make, full of flavor and comforting.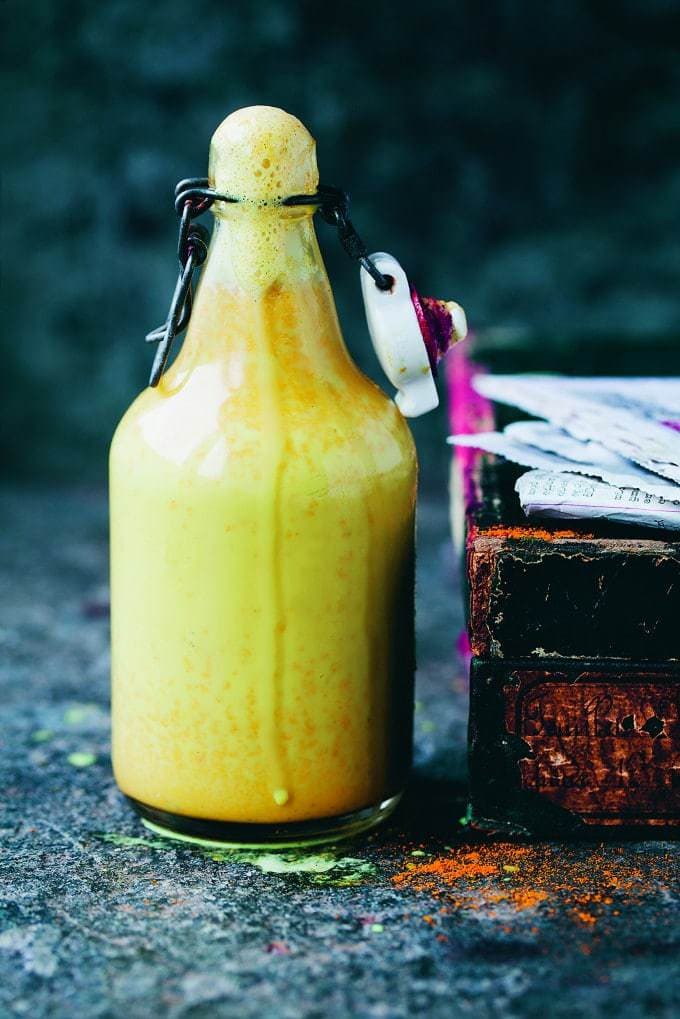 Turmeric Tonic // This turmeric tonic, from Green Kitchen Stories is a soothing and sweet drink based on an Indian Ayurvedic home remedy.
Beetroot Soup // Beetroot soup harnesses all the nourishment of beets in a creamy flavorful soup to help you recover from flu!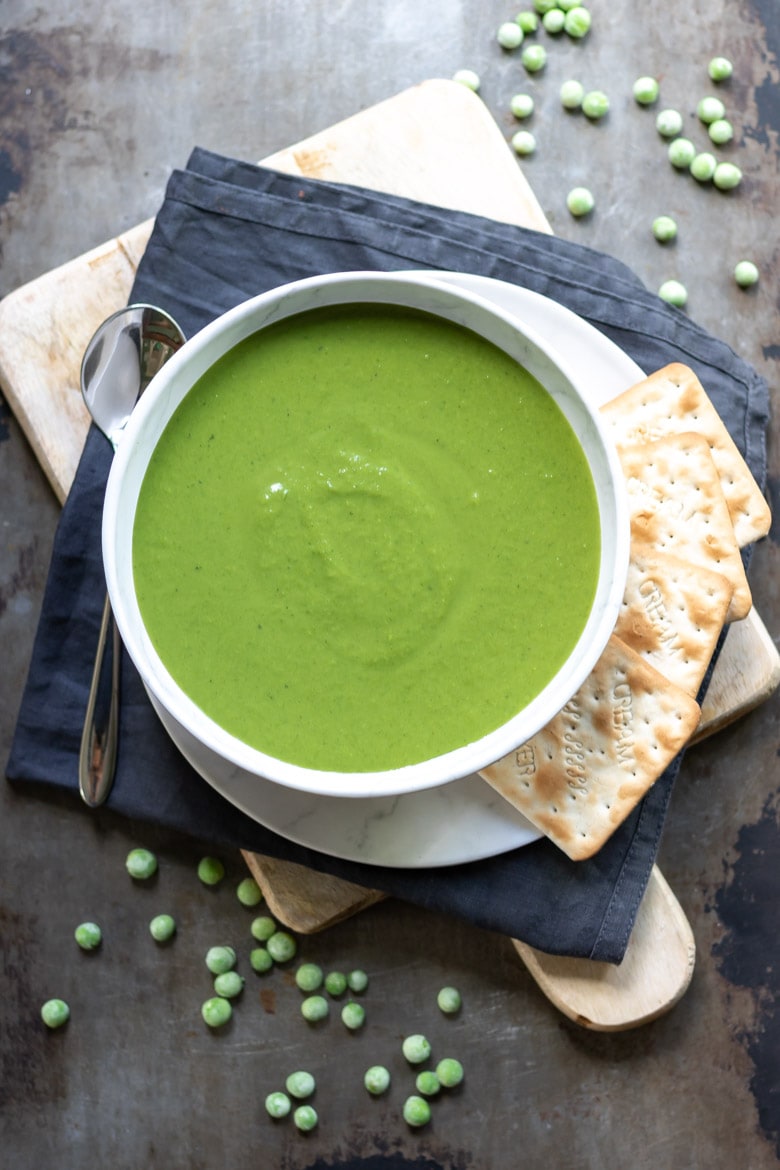 Pea Soup // This quick and easy pantry pea soup is full of nourishing peas. A super simple cold and flu fighting recipe.
Zucchini Soup // This is another quick simple vegetable soup. Zucchini soup is full of nourishing green veg so it makes a great vegan sick food.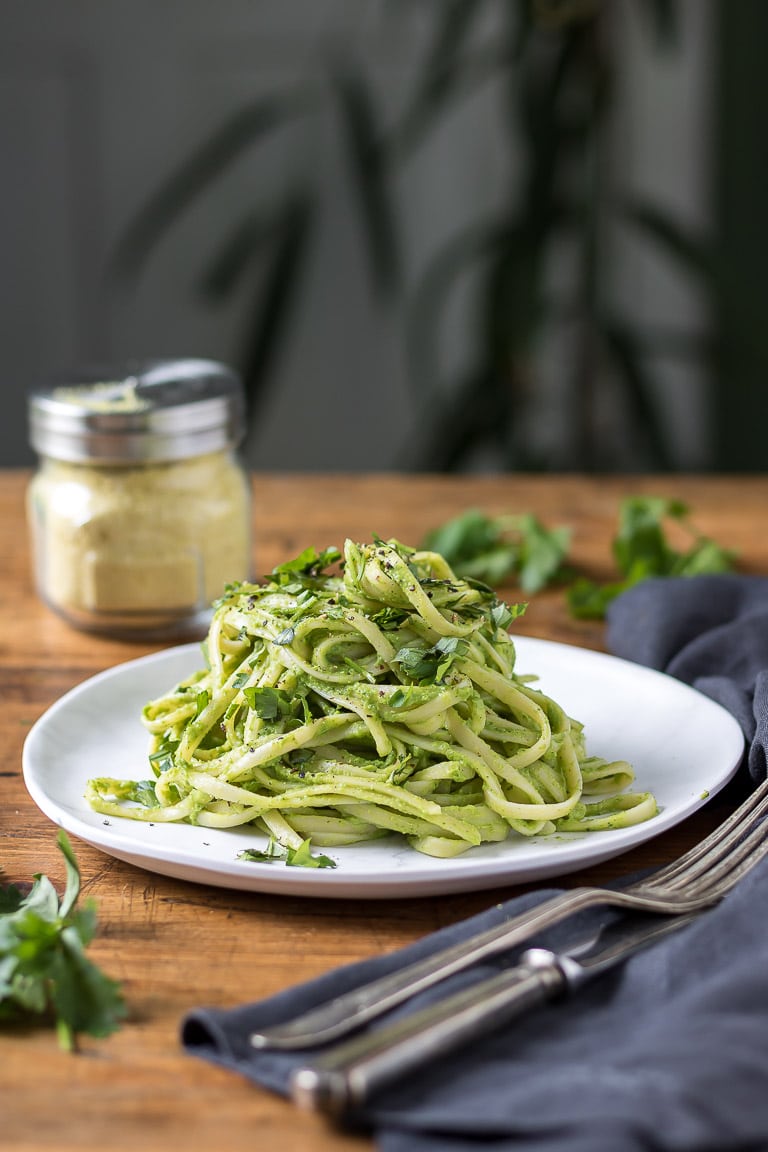 Green Pasta // If you don't have a sore throat, you may want to go for something a little heartier than soup. The vegetable sauce for this Green Pasta is full of antioxidant-rich avocado and green herbs. You could even make it an all-veg meal by swapping the pasta for zoodles made with spiralised zucchini / courgette.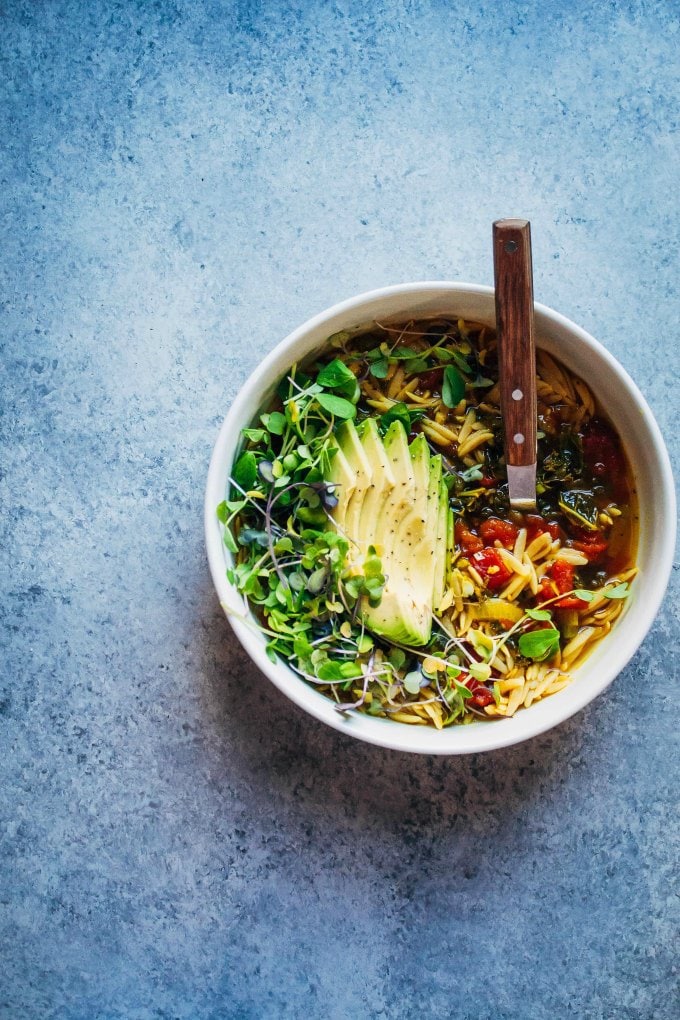 Feel Better Soup // Well and Full shares the recipe for this Feel Better Soup.
It's made with healing spices and delicious aromatics, such as turmeric, thyme and black pepper making it the perfect soup for when you're feeling under the weather!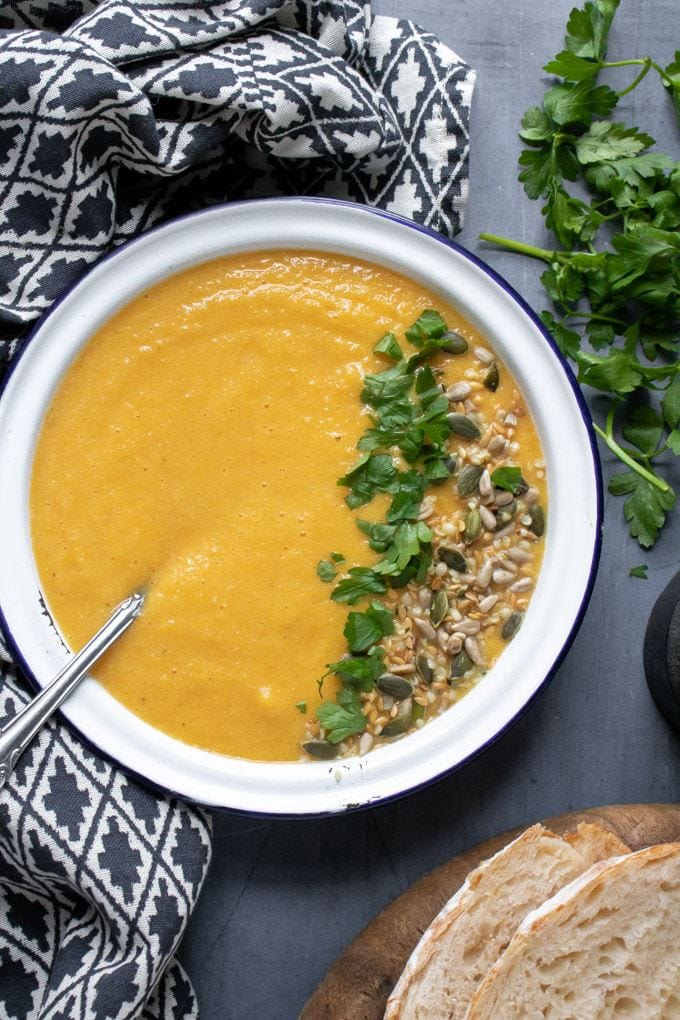 Vegan Lentil Soup // This vegan lentil soup is velvety smooth, creamy, nourishing and only has 7 ingredients!
Ready in less than 25 minutes, it's a one-pot high-protein, filling and delicious soup recipe that's great for warding off colds.
Easy Tomato Soup // This delicious easy tomato soup recipe only takes 20 minutes to make and 6 simple ingredients.
It's full of flavour, creamy and is vegetarian, vegan and gluten free. A perfect nourishing and easy vegan soup for colds.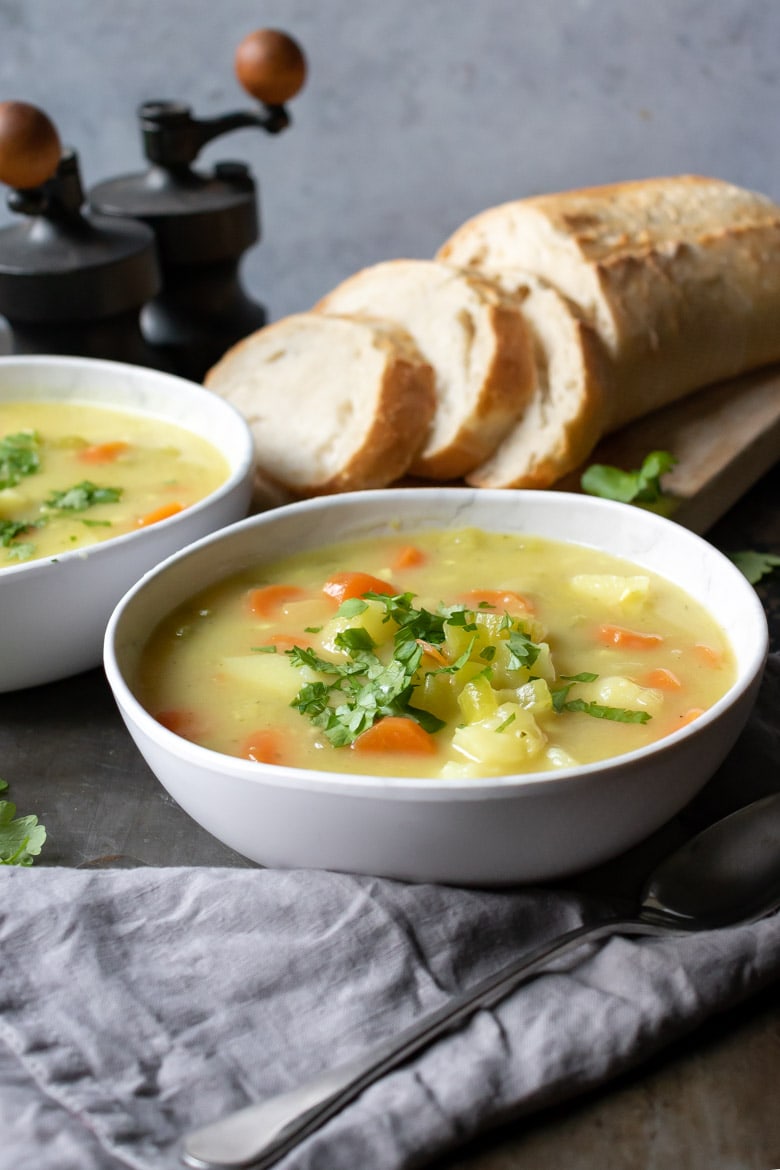 Slow Cooker Lentil Stew - This slow cooker or stovetop Lentil Stew will warm you up on cold evenings.
It's easy, hearty and bursting with vegetables and great taste.
Optional harissa paste gives a lovely depth of warm flavor. Vegan and gluten-free. Perfect to nourish your body when suffering from a cold or flu.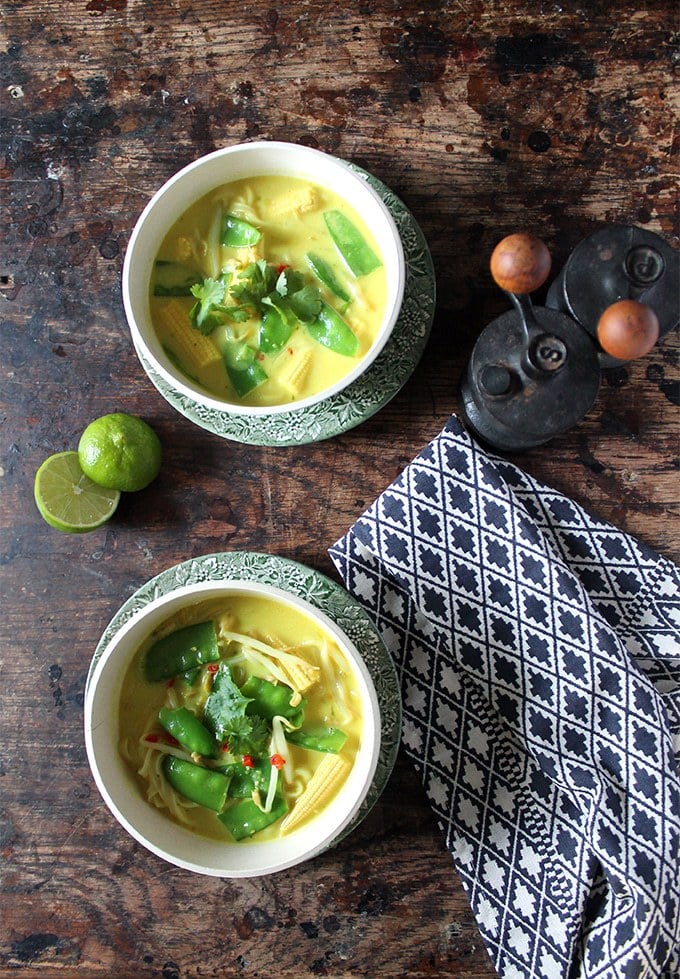 Easy Vegan Laksa // This easy vegan laksa (Malaysian soup) from Veggie Desserts is ready in under 15 minutes, and it's bursting with flavour from the coconut milk, chilli and turmeric.
It's a filling meal, warming starter or easy side dish - full of nourishing cold and flu busting spices. This is a great filling, vegan soup for colds.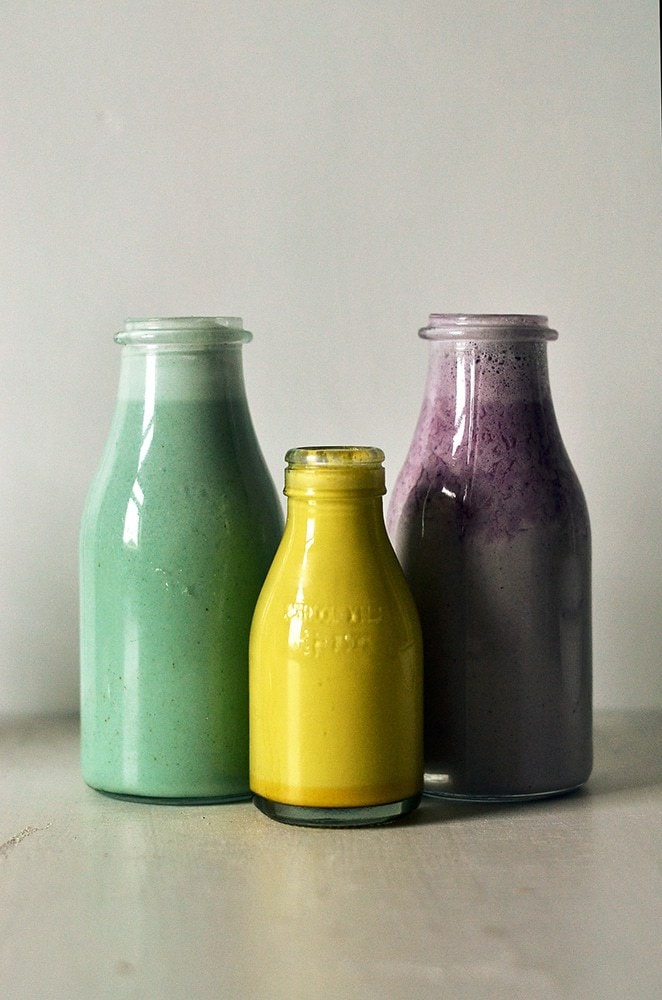 Rainbow Superfood Nut Milks // These vibrant nut milks from The Hungry Herbivores are so pretty!
Beneath those lovely colours is a load of cold and flu-busting goodness from spirulina, baobab, blueberry, maca and turmeric. These are more great vegan immune boosting recipes.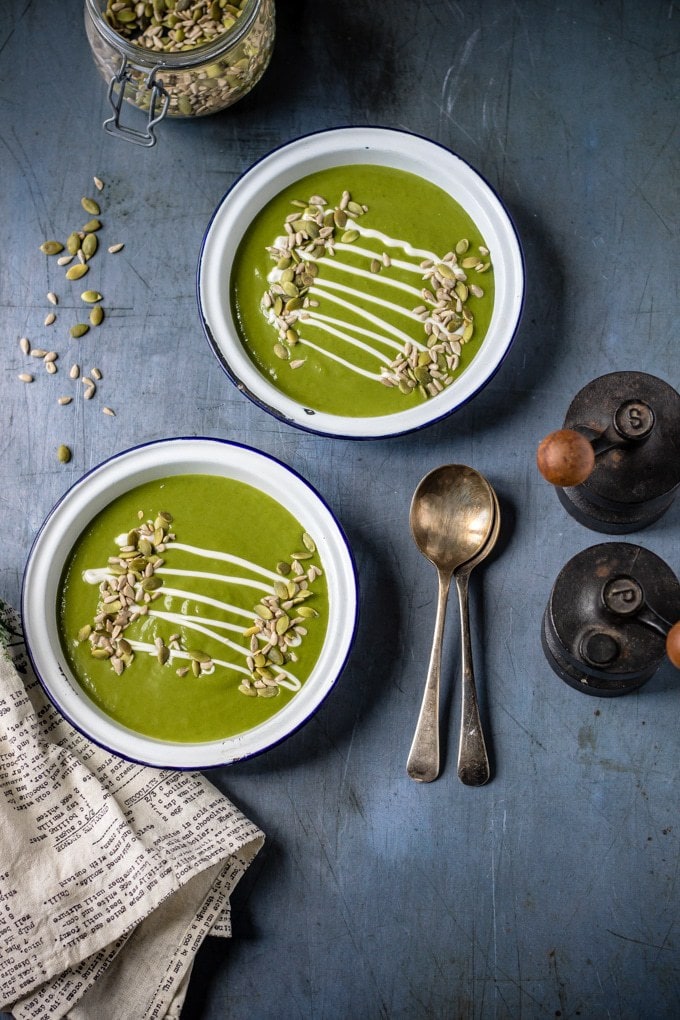 Quick Kale Soup // Veggie Desserts shares the recipe for this beautiful blended kale soup.
It's full of nourishing greens and is a great vegetarian or vegan soup for coughs and colds (easily vegan).
Mexican Bean Soup // This hearty spicy Mexican Bean Soup has a little chilli kick to help blast away your illness.
This vegan soup for colds will fill you up and give you some protein and goodness.
Indonesian Jamu - Turmeric Health Tonic // I hadn't heard of jamu before reading this lovely recipe from Quite Good Food.
It's an Indonesian tonic that's served chilled and it's flavoured with turmeric, ginger and lime. Amber says, "Jamu is traditional Indonesian medicine, predominantly made from natural ingredients including roots, bark, flowers, seeds, leaves and fruits. It dates back thousands of years and has some similarities to Ayurveda. In Indonesia jamu is used to address a wide range of ailments, depending on the ingredients used."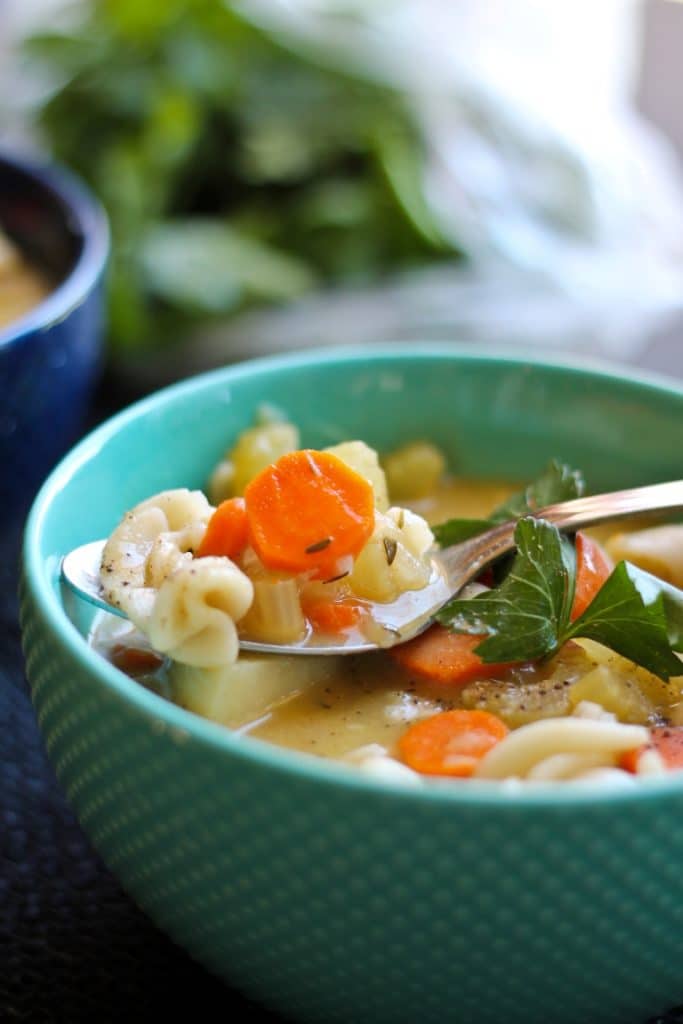 Vegan Noodle Soup // This vegan version of the classic chicken soup from The Vegan 8 shows that you don't need meat to make the classic comforting get well soup.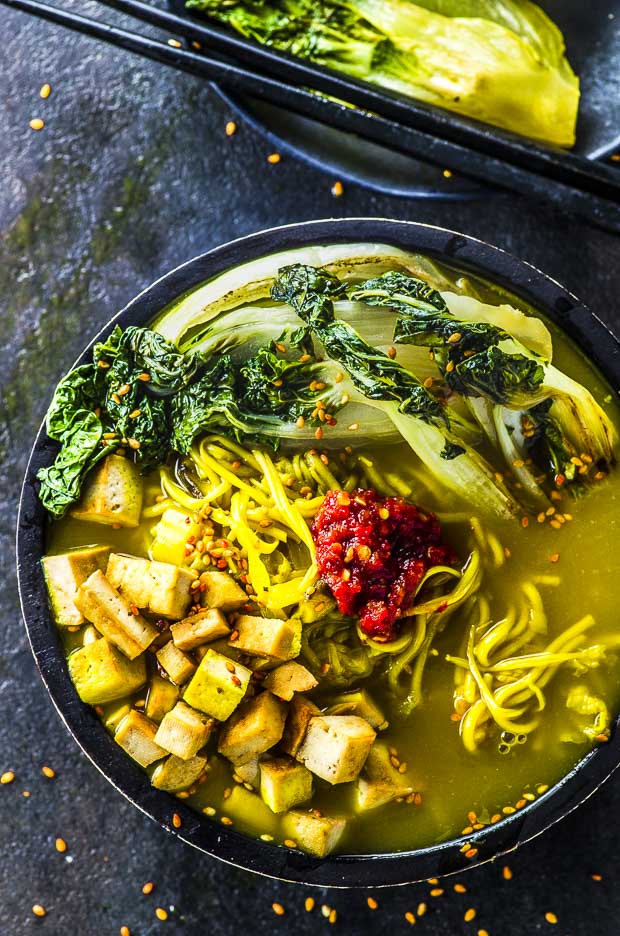 Immune Booster Vegan Ramen Bowl // Whether or not you have a cold or flu, you'll love tucking into a bowl of May I Have That Recipe's vegan ramen bowl.
It's full of nourishing veggies, plus turmeric and ginger.
Anti Inflammatory Lemon Turmeric Tonic // Tasting Page has created this lemon turmeric tonic as a healthy elixir.
It's perfect to drink every day and keep the body optimized, or to help ward off cold and flu.
Carrot Sweet Potato Soup // This creamy veg-packed soup is a warming way to make you feel better. It's a delicious and easy vegan soup for coughs and flu.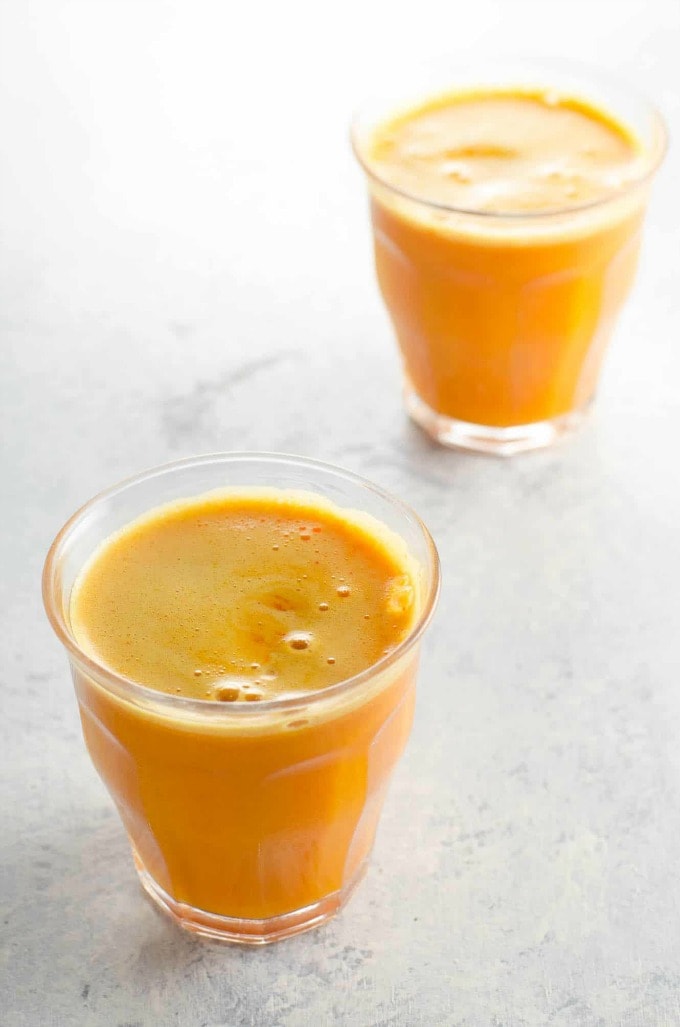 Turmeric Shots // Umami Girl's turmeric shots blend turmeric, ginger, golden beet, carrot, orange, green apple and lime juices. As she says, they're a nice little natural pick-me-up full of micronutrients.
Apple Ginger Flu Shot // Grab your blender and whiz up Aline Made's nourishing Flu Shot smoothie. The fruit, ginger and turmeric will all help to support your immune system.
I hope these recipes will help you on the way to a speedy recovery from a cold or flu. They're all tasty vegetarian or vegan immune boosting recipes.