These 16 veggie and vegan cold and flu-fighting recipes will show that you don't need chicken soup to feel better. From soups and smoothies to hot toddies and tonics, this list of immune-boosting recipes will see you on the mend in no time.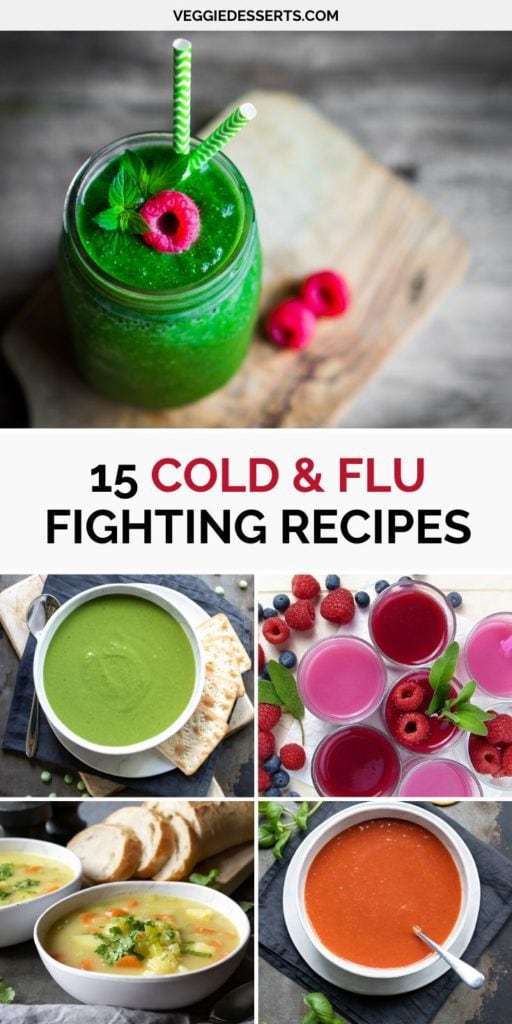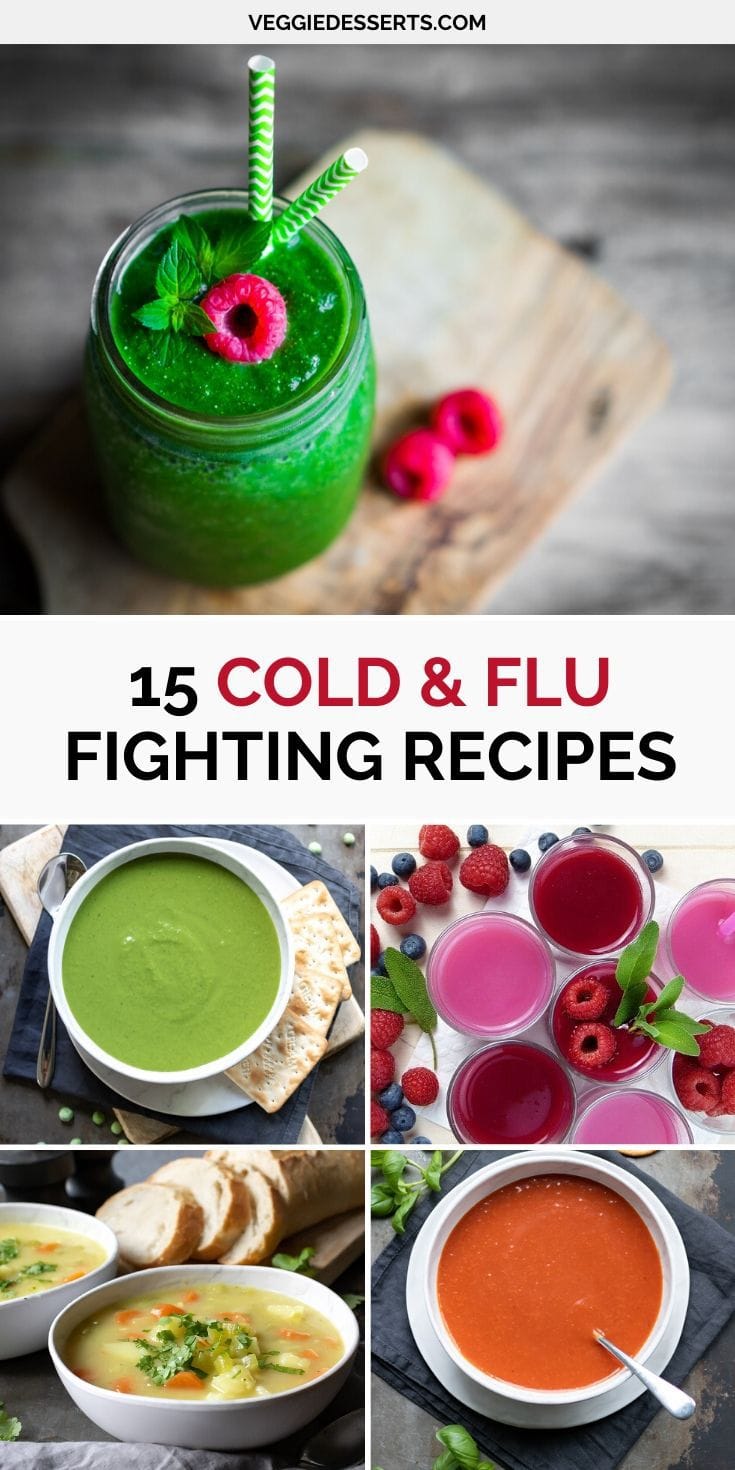 Commissioned.
When you think about cold and flu fighting recipes, you'll likely first think of chicken soup.
But us vegetarians and vegans certainly don't need to miss out on poorly comfort food. There are plenty of options for tasty and healthy vegetarian and vegan sick food.
There are loads of great meat-free recipes that will support your immune system and help prevent colds and flu.
When I was scouring the web for the best remedy recipes, a few ingredients cropped up time and again.
Garlic and ginger came out on top, closely followed by turmeric.
Below you'll find plenty of veggie cold and flu fighting recipes, from tonics and smoothies to soups and hot toddy.
Here are some great options of what to eat when sick.
veggie and vegan cold and flu fighting recipes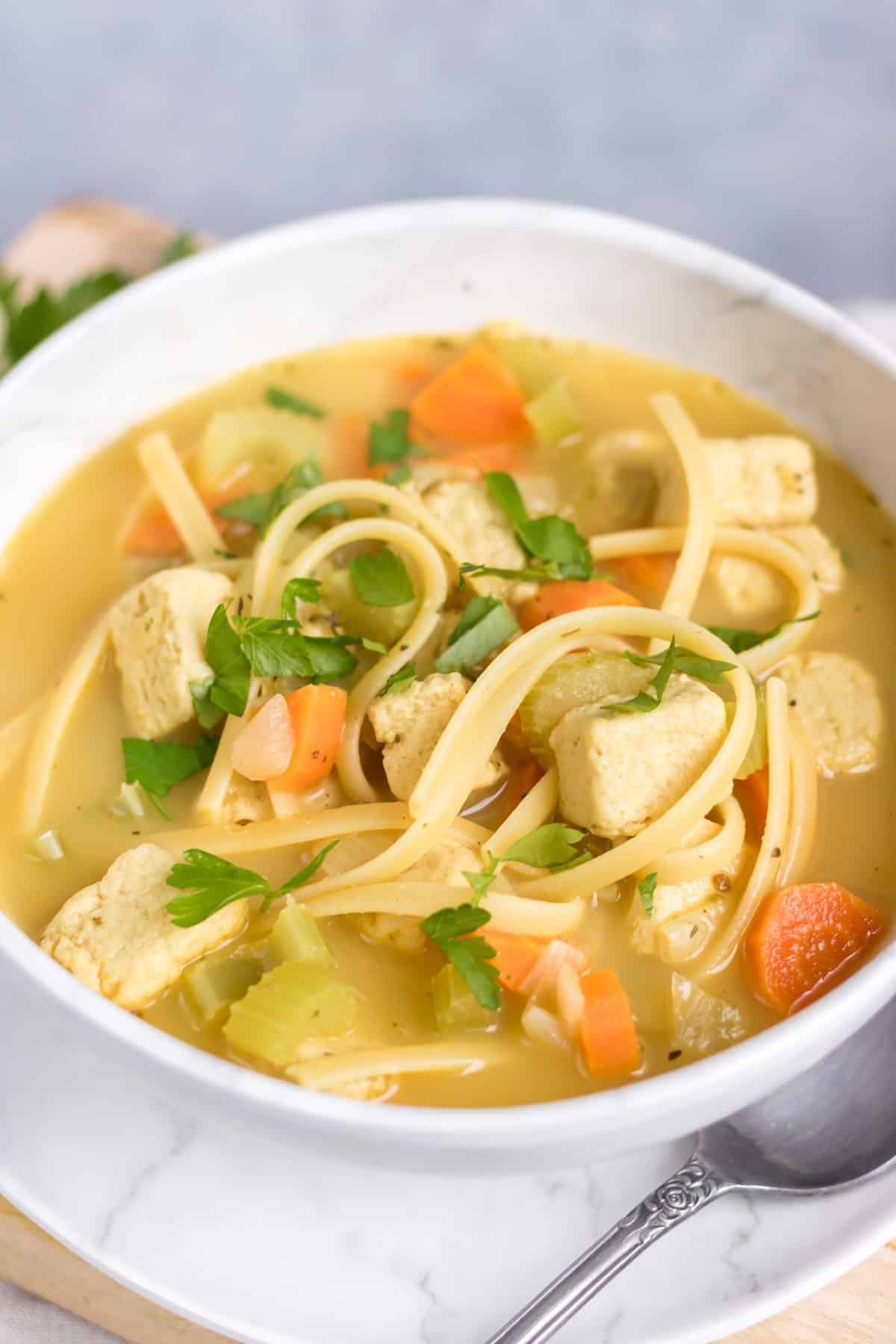 Vegan Chicken Noodle Soup // This vegan version of the classic chicken noodle soup is easy to make, full of flavor and comforting.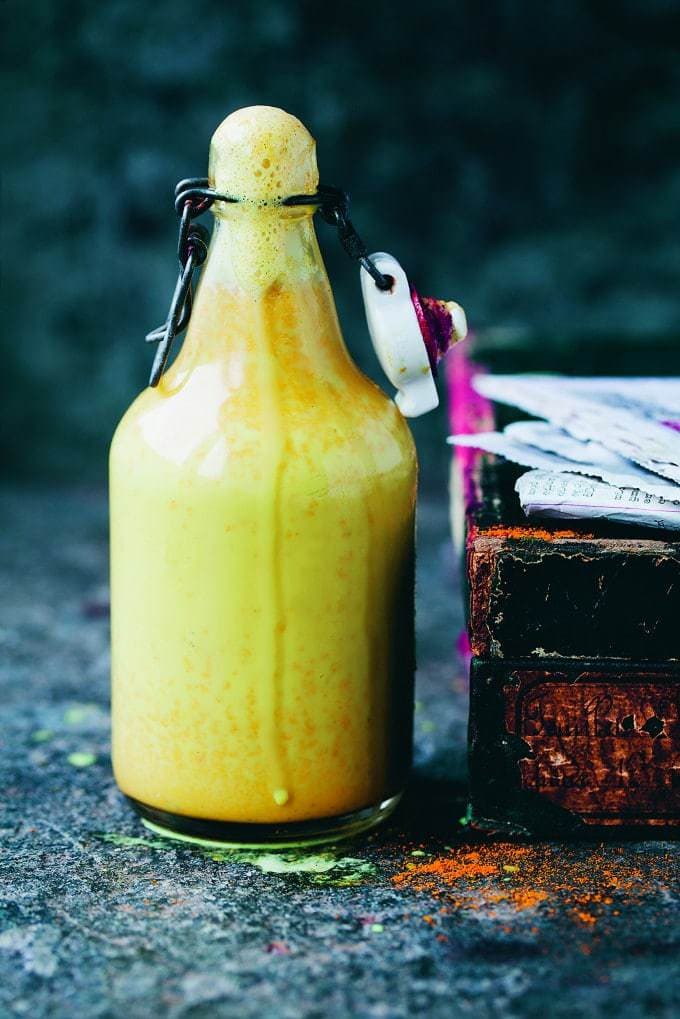 Turmeric Tonic // This turmeric tonic, from Green Kitchen Stories is a soothing and sweet drink based on an Indian Ayurvedic home remedy.
Beetroot Soup // Beetroot soup harnesses all the nourishment of beets in a creamy flavorful soup to help you recover from flu!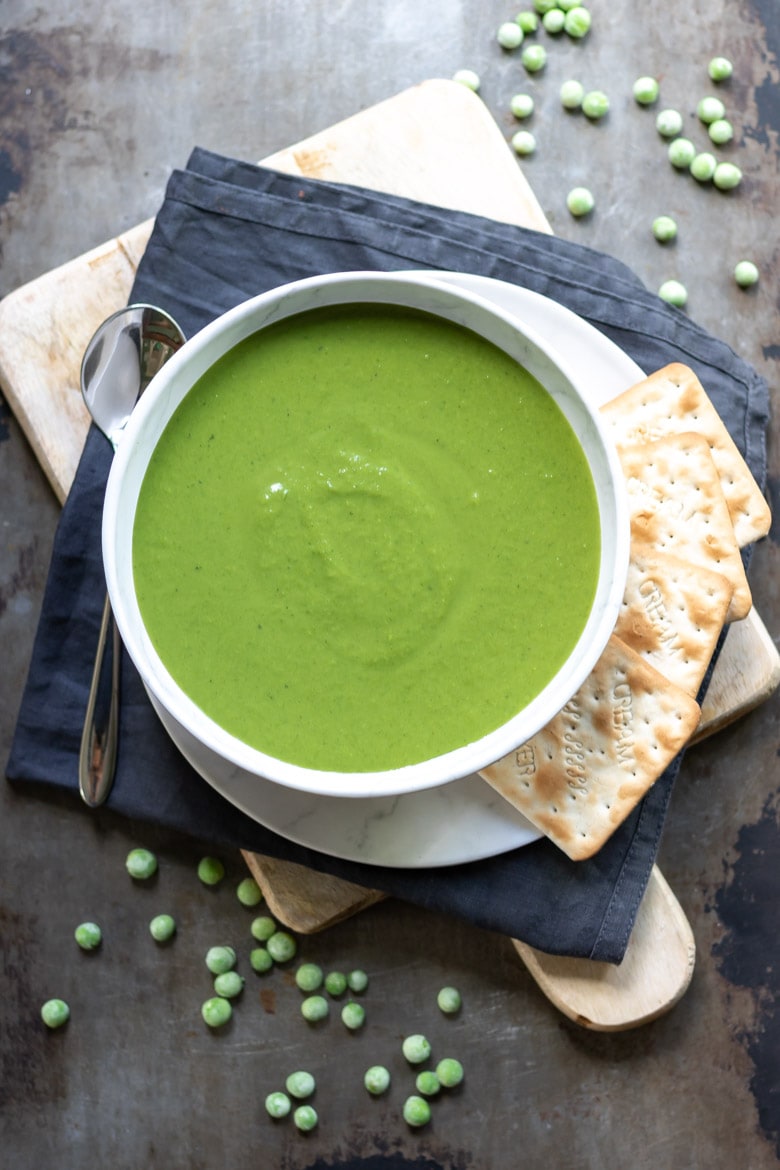 Pea Soup // This quick and easy pantry pea soup is full of nourishing peas. A super simple cold and flu fighting recipe.
Zucchini Soup // This is another quick simple vegetable soup. Zucchini soup is full of nourishing green veg so it makes a great vegan sick food.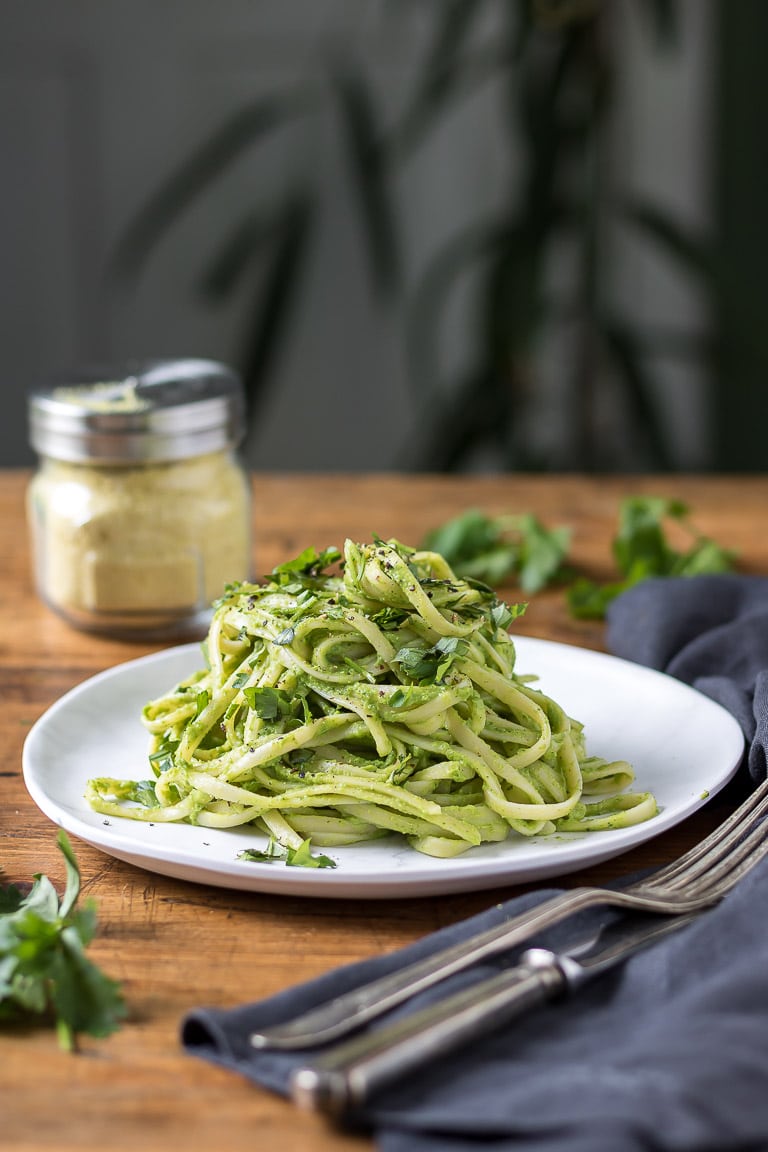 Green Pasta // If you don't have a sore throat, you may want to go for something a little heartier than soup. The vegetable sauce for this Green Pasta is full of antioxidant-rich avocado and green herbs. You could even make it an all-veg meal by swapping the pasta for zoodles made with spiralised zucchini / courgette.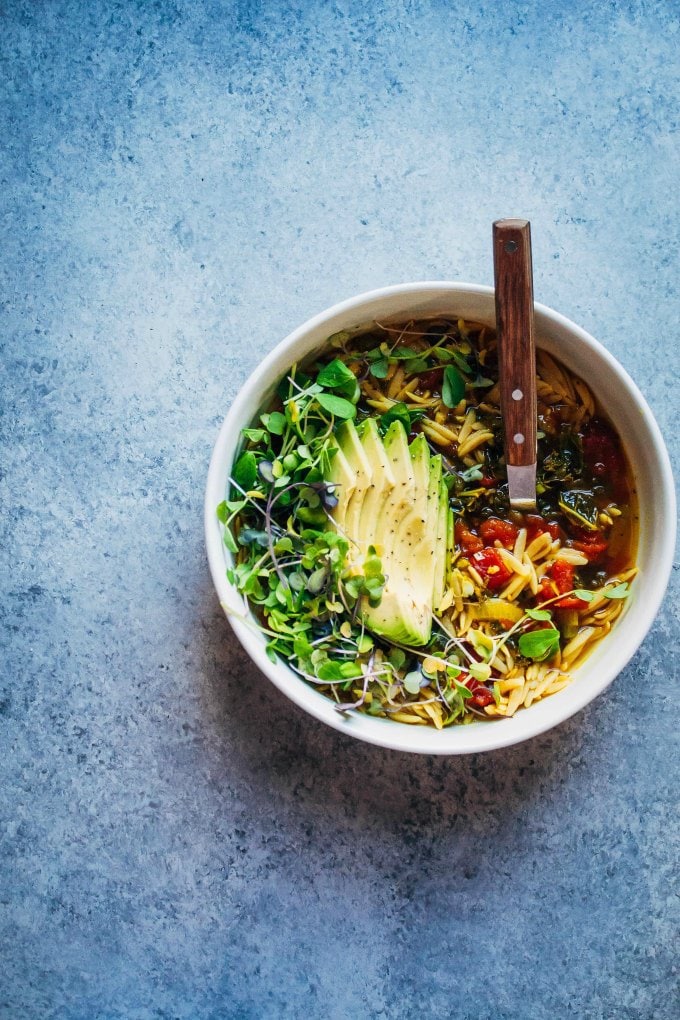 Feel Better Soup // Well and Full shares the recipe for this Feel Better Soup.
It's made with healing spices and delicious aromatics, such as turmeric, thyme and black pepper making it the perfect soup for when you're feeling under the weather!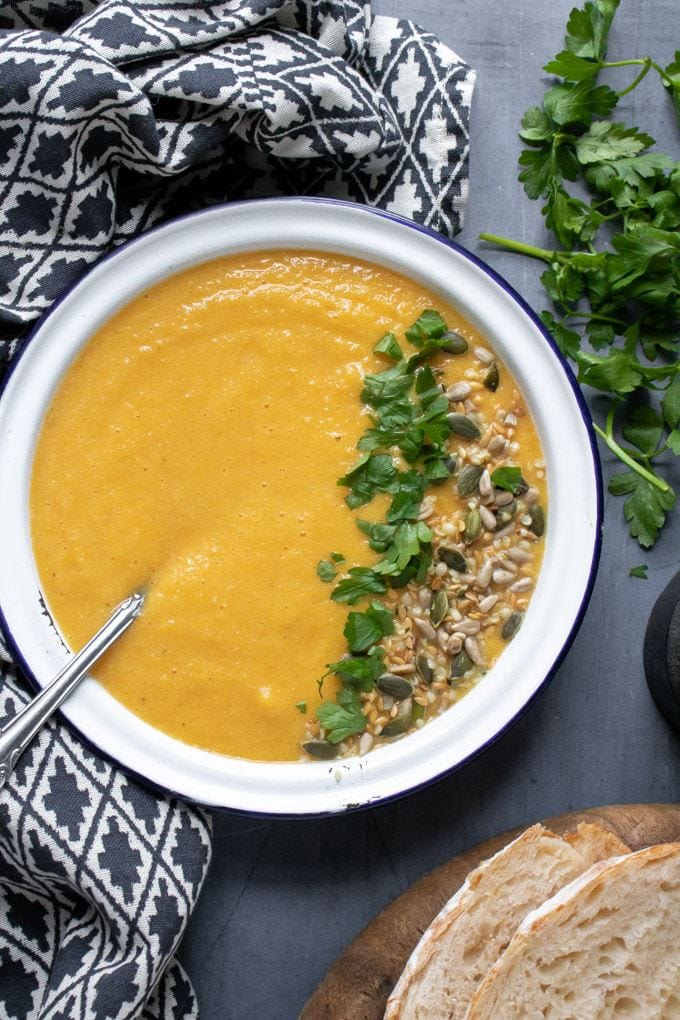 Vegan Lentil Soup // This vegan lentil soup is velvety smooth, creamy, nourishing and only has 7 ingredients!
Ready in less than 25 minutes, it's a one-pot high-protein, filling and delicious soup recipe that's great for warding off colds.
Easy Tomato Soup // This delicious easy tomato soup recipe only takes 20 minutes to make and 6 simple ingredients.
It's full of flavour, creamy and is vegetarian, vegan and gluten free. A perfect nourishing and easy vegan soup for colds.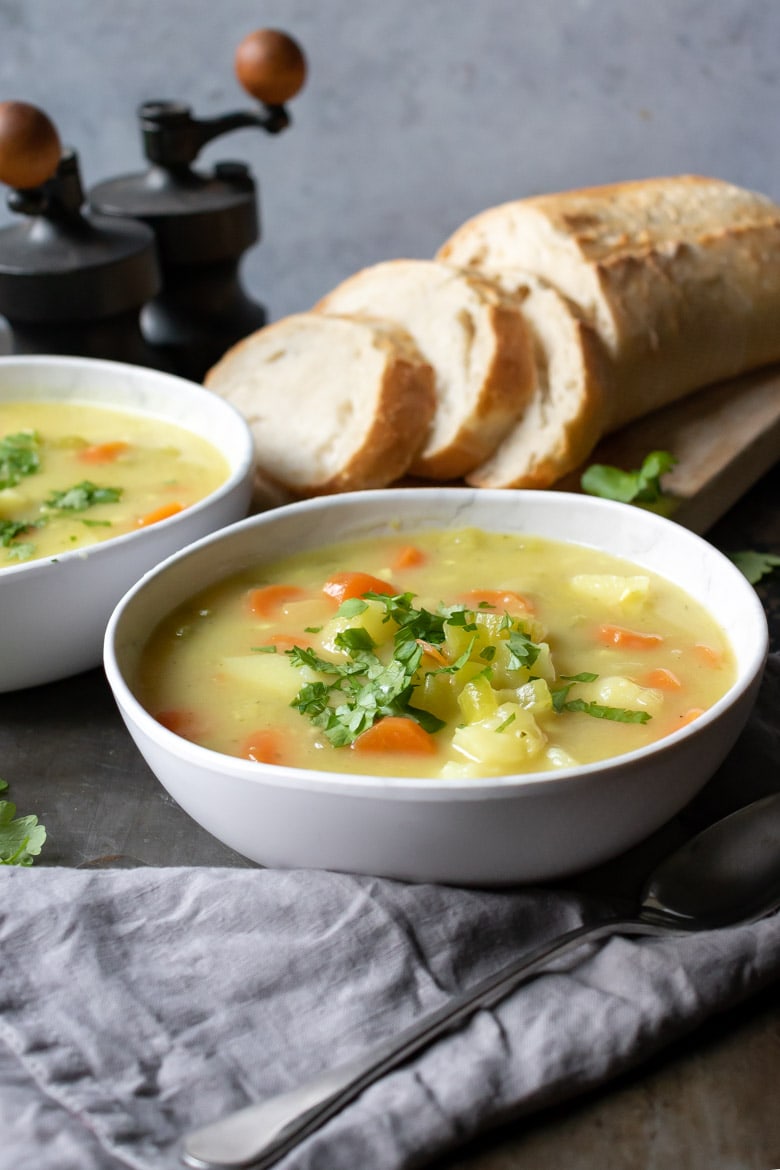 Slow Cooker Lentil Stew - This slow cooker or stovetop Lentil Stew will warm you up on cold evenings.
It's easy, hearty and bursting with vegetables and great taste.
Optional harissa paste gives a lovely depth of warm flavor. Vegan and gluten-free. Perfect to nourish your body when suffering from a cold or flu.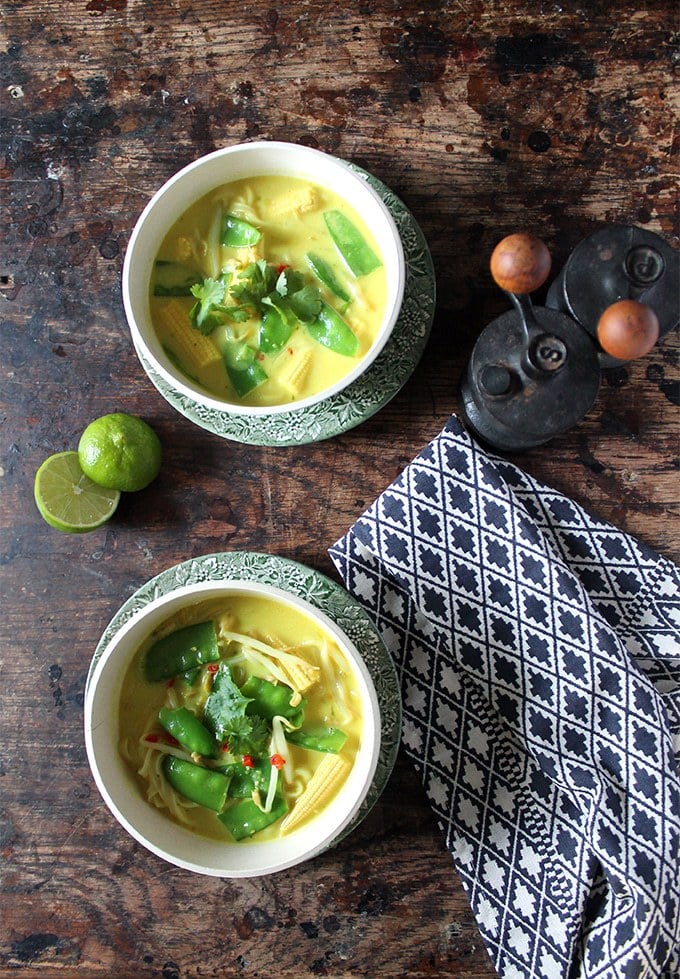 Easy Vegan Laksa // This easy vegan laksa (Malaysian soup) from Veggie Desserts is ready in under 15 minutes, and it's bursting with flavour from the coconut milk, chilli and turmeric.
It's a filling meal, warming starter or easy side dish - full of nourishing cold and flu busting spices. This is a great filling, vegan soup for colds.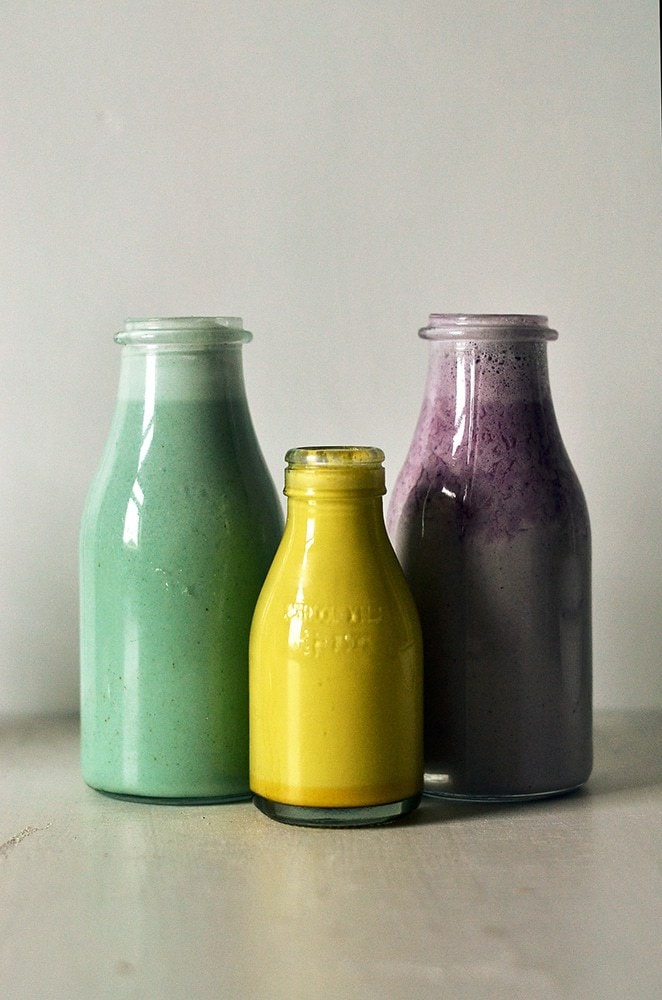 Rainbow Superfood Nut Milks // These vibrant nut milks from The Hungry Herbivores are so pretty!
Beneath those lovely colours is a load of cold and flu-busting goodness from spirulina, baobab, blueberry, maca and turmeric. These are more great vegan immune boosting recipes.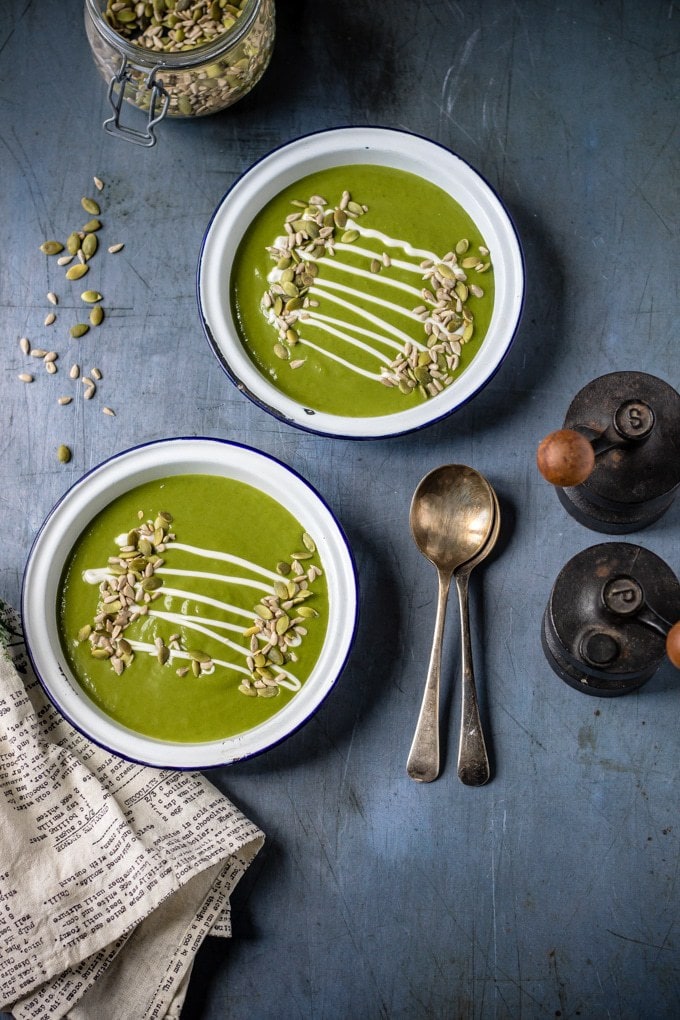 Quick Kale Soup // Veggie Desserts shares the recipe for this beautiful blended kale soup.
It's full of nourishing greens and is a great vegetarian or vegan soup for coughs and colds (easily vegan).
Mexican Bean Soup // This hearty spicy Mexican Bean Soup has a little chilli kick to help blast away your illness.
This vegan soup for colds will fill you up and give you some protein and goodness.
Indonesian Jamu - Turmeric Health Tonic // I hadn't heard of jamu before reading this lovely recipe from Quite Good Food.
It's an Indonesian tonic that's served chilled and it's flavoured with turmeric, ginger and lime. Amber says, "Jamu is traditional Indonesian medicine, predominantly made from natural ingredients including roots, bark, flowers, seeds, leaves and fruits. It dates back thousands of years and has some similarities to Ayurveda. In Indonesia jamu is used to address a wide range of ailments, depending on the ingredients used."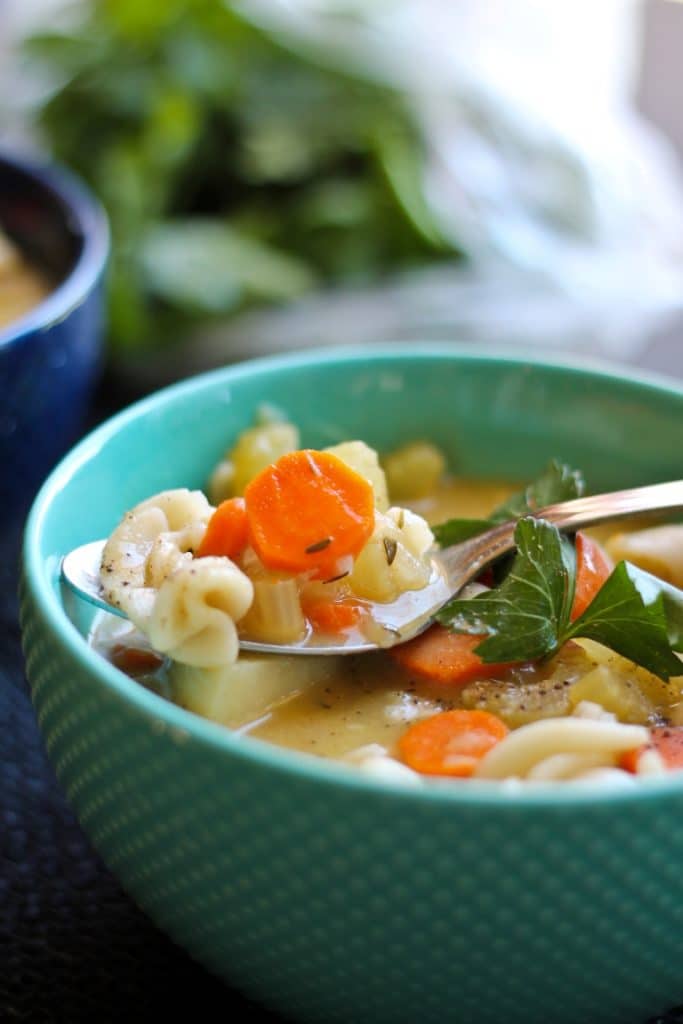 Vegan Noodle Soup // This vegan version of the classic chicken soup from The Vegan 8 shows that you don't need meat to make the classic comforting get well soup.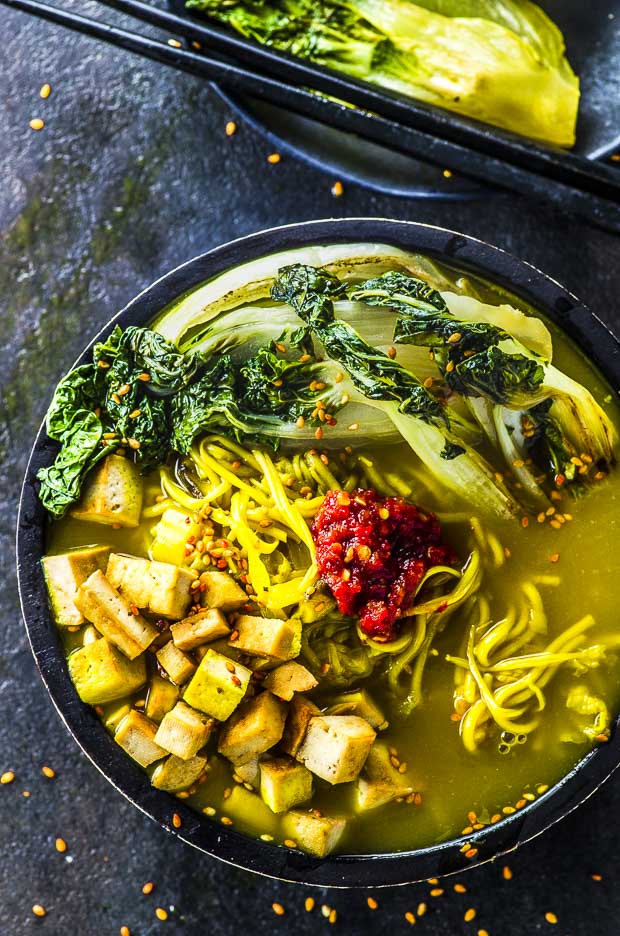 Immune Booster Vegan Ramen Bowl // Whether or not you have a cold or flu, you'll love tucking into a bowl of May I Have That Recipe's vegan ramen bowl.
It's full of nourishing veggies, plus turmeric and ginger.
Anti Inflammatory Lemon Turmeric Tonic // Tasting Page has created this lemon turmeric tonic as a healthy elixir.
It's perfect to drink every day and keep the body optimized, or to help ward off cold and flu.
Carrot Sweet Potato Soup // This creamy veg-packed soup is a warming way to make you feel better. It's a delicious and easy vegan soup for coughs and flu.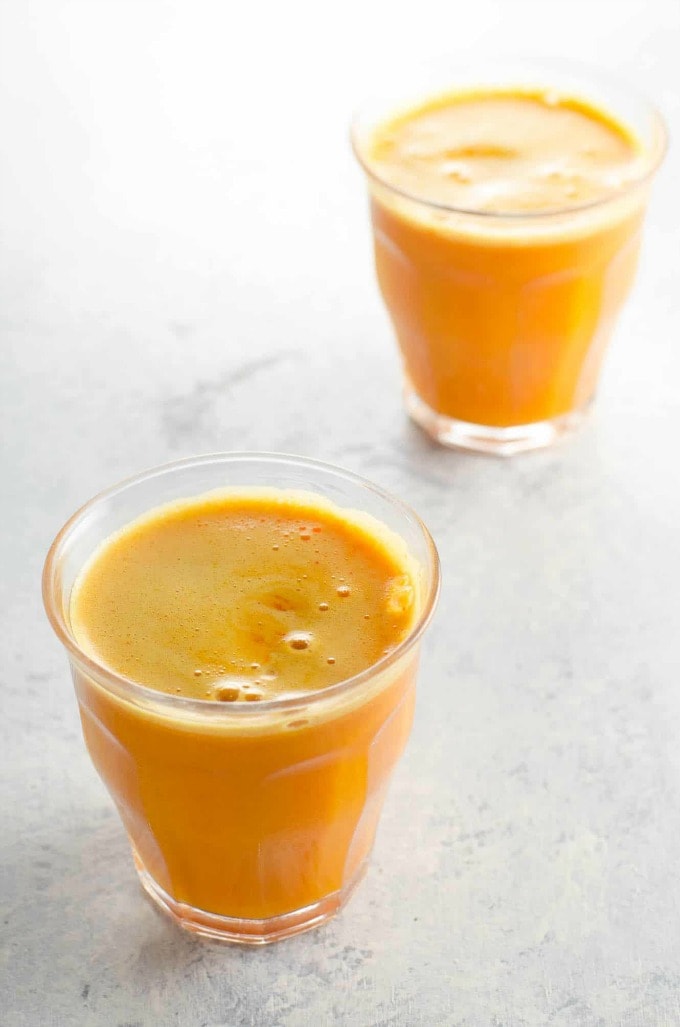 Turmeric Shots // Umami Girl's turmeric shots blend turmeric, ginger, golden beet, carrot, orange, green apple and lime juices. As she says, they're a nice little natural pick-me-up full of micronutrients.
Apple Ginger Flu Shot // Grab your blender and whiz up Aline Made's nourishing Flu Shot smoothie. The fruit, ginger and turmeric will all help to support your immune system.
I hope these recipes will help you on the way to a speedy recovery from a cold or flu. They're all tasty vegetarian or vegan immune boosting recipes.
9 ways to tackle a cough
I'm one of those people who always gets a cough when I get a cold. It keeps me up at night, makes those around me recoil and makes my body ache.
Not many people are lucky enough to escape the winter months without suffering from at least one cough or cold.
Coughs are inconvenient (and annoying!), but the symptoms shouldn't interrupt your plans.
BBC One Show's Dr Sarah Jarvis and Covonia share advice on how to curb your cough this winter:
*Dr Sarah Jarvis does not endorse any brands.

Disclaimer: these tips are for regular colds and flu. All advice in this post is from Dr Sarah Jarvis and is not from Veggie Desserts.
1. Eat the right food
"When you are ill your body needs more calories than normal to function – that's because it has to work harder to fight off the germs. But this isn't an excuse to start binging on junk food! Although it might feel comforting at first, eating junk food, will NOT provide you with the vitamins and minerals you need to speed up the recovery process. Instead, fuel your body with food and drink that will give you the extra energy you need, such as a banana or some green leafy vegetables, and remember to keep yourself hydrated."
2. Practice good hygiene
"Sickness is not an excuse for laziness! It's important to shower daily and make sure you wash your hands frequently throughout the day to reduce the risk of spreading germs - especially before you eat or touch your face. You should also opt for tissues instead of a handkerchief. Throw it away and wash your hands again after you've used it. Sneezing and coughing into a tissue isn't only polite, but it also prevents germs going in to the surrounding the air and landing on surfaces, minimising the risk of infecting others."
3. Take a tailored cough treatment
"Being proactive and treating your cough with a tailored treatment is the best thing you can do. Self-pity won't do you any favours! The right cough mixture can work to relieve your symptoms while your immune system fights off the infection. Cough syrup won't cure a viral infection (nor will anything else, including antibiotics) but it can offer relief."
4. Visit a pharmacist
"Many people undervalue the role their local pharmacy can play in helping them to tackle their cough head on and rush to their doctor at the first sign of symptoms. Pharmacists are highly trained healthcare professionals who are well versed in identifying the type of cough you have and will be able to recommend the right medicine based on your individual lifestyle needs. By visiting a pharmacy in the first instance, it will not only be much quicker than getting a doctor's appointment, but you will also have a much wider choice of products available to help treat your symptoms."
5. Stay hydrated
"Staying hydrated is even more important when you're ill. Your body will be working overtime to recover, so it will need plenty of fluids to replace those lost through sweat to help you feel well again. Keep a bottle of water on your desk at work or with you when you're out and about to ensure you're getting enough fluids."
6. Take a hot shower
"Taking a shower can help to relieve tension and soothe stiff, achy muscles. So let the hot water work like a massage on your shoulders, neck, and back. Having a hot shower before bed will not only help to relax you, but the steam can also help to loosen the mucus and relieve congestion from your nose and chest, which may help you breathe better as a result."
7. Get a good night's sleep
"Getting enough sleep is very important, whether you're ill or not, but getting a good eight hours when fighting a cough can do you a world of good. During this time your body can work hard to repair itself and it will build up enough energy to allow you to power through another day, no matter what is thrown at you."
8. Leave the house
"Unless you are bed ridden, then you really shouldn't stay cooped up indoors all day. Staying indoors with the central heating up on high on all day can actually make your cough symptoms worse! So get up, get dressed and brave the great outdoors."
9. Do some gentle exercise
"Mild to moderate physical activity is no bad thing when you have a cough or cold. Gentle exercise can be very good for recovery, so suddenly avoiding exercise at all costs if your body is used to it will not help. Depending on your symptoms, you might just want to reduce the intensity or length of your workout. Regular exercise is also a great way to keep the illness at bay in the first place as it can help to boost your body's natural defences and immune system."
I hope you'll find some cold and flu fighting recipes in this roundup that will have you feeling better in no time!
This post for 16 Vegetarian and Vegan Cold and Flu Fighting Recipes was sponsored. 9 Ways to Tackle a Cough section was written by Dr Sarah Jarvis and is not the work of veggiedesserts.com. Thanks for supporting the brands that make it possible for me to write Veggie Desserts.