Here are our favorite creative pancake recipes and ideas to inspire you to make epic breakfast pancakes. Grab a bowl and get mixing.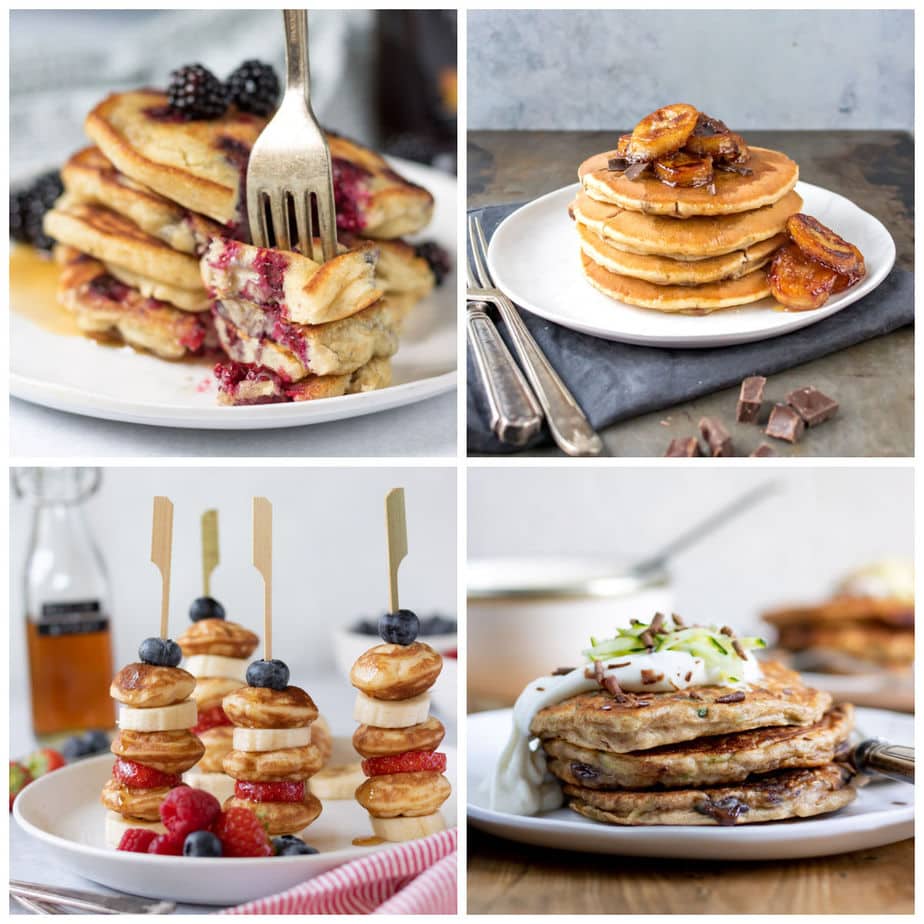 You don't need pancake mix like Aunt Jemima or Bisquick when you can make pancakes from scratch that are much better!
If you're looking for gluten free pancakes, buttermilk pancakes, flavored pancakes, vegan pancakes... it's all here for you!
From thick fluffy American pancakes to thin French crêpes, you'll find plenty of pancake ideas here to inspire you to up your homemade pancake game.
I've got you covered for exciting mix-ins for your pancake batter, plus exciting pancake topping ideas.
Now that you have so many great pancake ideas to choose from, try making a few and displaying them on a Pancake Board (breakfast charcuterie board).
Rows of pancakes, fruit and toppings on a tray. It's sure to be a hit at home, for a work breakfast meeting or when you have guests over.
Jump to:
What is the secret to making good pancakes?
There are pancakes and then there are super-tasty amazing breakfast pancakes! So, what are the tricks to making really good restaurant-style pancakes? Here are my top tips!
Mix the batter thoroughly, but don't beat it. Overmixing will make the pancakes tough. It can be slightly lumpy (slightly!) but you don't need to whip it too vigorously. And never use an electric mixer.
Keep an eye on the heat. If they're starting to cook too quickly (and might result in an uncooked middle), turn the heat down a smidge. Likewise, if they're taking too long, turn it up a little.
If you're adding food coloring (perhaps for Valentine's Day or St Patricks Day) add it to the wet ingredients and beat well before adding to the dry. If you add it at the end, you'll end up overmixing your batter.
Let the batter rest. This isn't strictly necessary but it does help the final result if you let it rest for 20 minutes or so.
Brush the pan lightly with oil instead of drizzling. This will help it so the pancakes don't stick and get more evenly browned. The oil won't pool under the batter resulting in darker spots. If using butter for frying, melt it first and brush over the pan.
Baking powder is what makes the pancakes light and fluffy. So check that yours is fresh and replace it if necessary.
Before adding the next batch of batter to the pan, wipe it (carefully, it's hot!) with some kitchen paper. This will stop the butter from over browning, or the next batch of pancakes being embedded with little burnt bits.
Think up some breakfast pancake ideas for a few toppings or batter add-ins to make them extra special.
Wondering when to flip your pancakes? Check out this video for how to flip pancakes.
How do I make pancakes from scratch?
It's seriously easy. To be honest, I almost never use a recipe, unless I'm making fancy pancakes.
I pretty much just put an egg in a bowl, whisk with a bit of milk and add self-raising flour until it's the right thick wallpaper-paste consistency. Too thin? More flour. Too thick? More milk. They always work.
Here's how to make 3-ingredient pancakes.
Serves 2:
Whisk 1 egg with 1 cup of milk, then whisk in 1 cup of self-raising flour. Brush a pan with oil and heat, then fry ⅓ cup of pancake mix until golden, flip cook the other side.
Tip: If you only have all-purpose or plain flour, add in 2 teaspoons baking powder.
Can I make pancakes without eggs?
Absolutely. Although pancakes are usually made with egg, milk and flour, you can still make lovely fluffy pancakes that are eggless.
There are loads of great recipes for Vegan Pancakes, or check out my list of the 25 Best Vegan Pancake Recipes.
What should I put on my pancakes?
There are so many options and breakfast pancake ideas! Try these tasty pancaking topping ideas and instantly add extra flavor and taste to your stack.
Pancake Ideas
Now that you know how to cook the perfect pancakes and have lots of tasty pancake topping ideas, let's explore some creative pancake recipes!
We've scoured the internet to find you the best creative pancake ideas and recipes.
There are thick and fluffy pancakes, thin crepes, flavored pancakes and recipes from around the globe.
So, dive in and start planning your next breakfast or brunch. Or brinner, because breakfast for dinner is awesome.
Pancake Ideas
With this epic list, you'll never be short of great breakfast pancake ideas! This list brings together the best pancake recipes from across the internet to inspire you to make mornings extra special.