Here are the 40 best Vegan Afternoon Tea recipes. They're perfect for Mother's Day or any special occasion! From scones and cupcakes to sandwiches and macarons, these vegan recipes will be perfect on your cake stand for High Tea.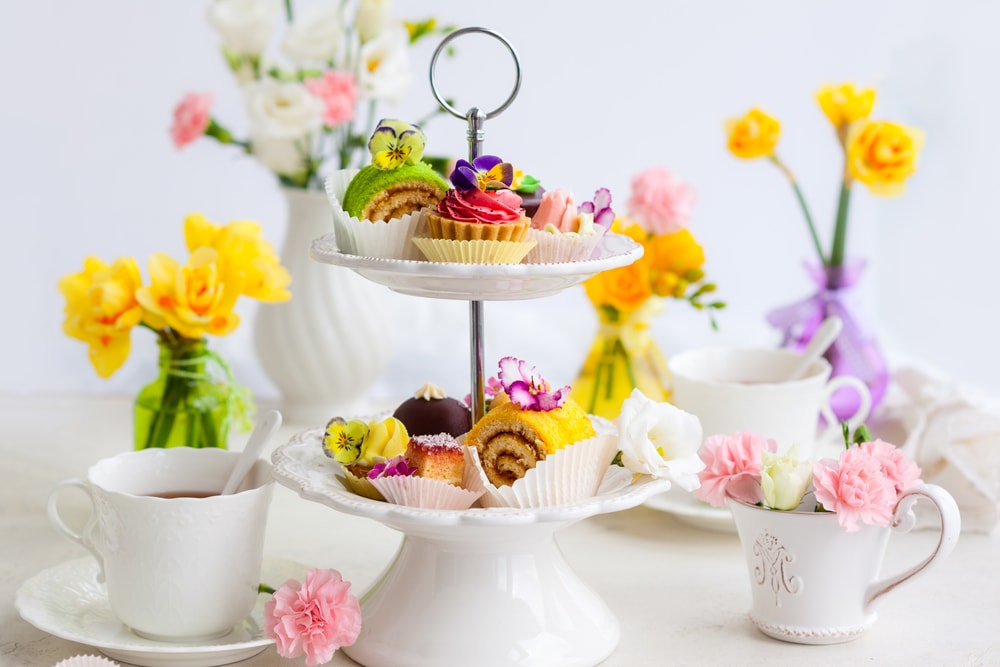 vegan afternoon tea
You don't have to miss out on afternoon tea if you're vegan, egg-free or dairy-free!
There are so many classic high tea recipes that are easily veganised without any compromise on taste.
This list is filled with every classic high tea recipe, from scones and brownies to macarons and lemon drizzle cake.
Be sure to also check out my vegan cake recipes for even more inspiration.
This post was originally published on 7 March 2017. Republished 5 May 2020 with new photos, information and recipe links.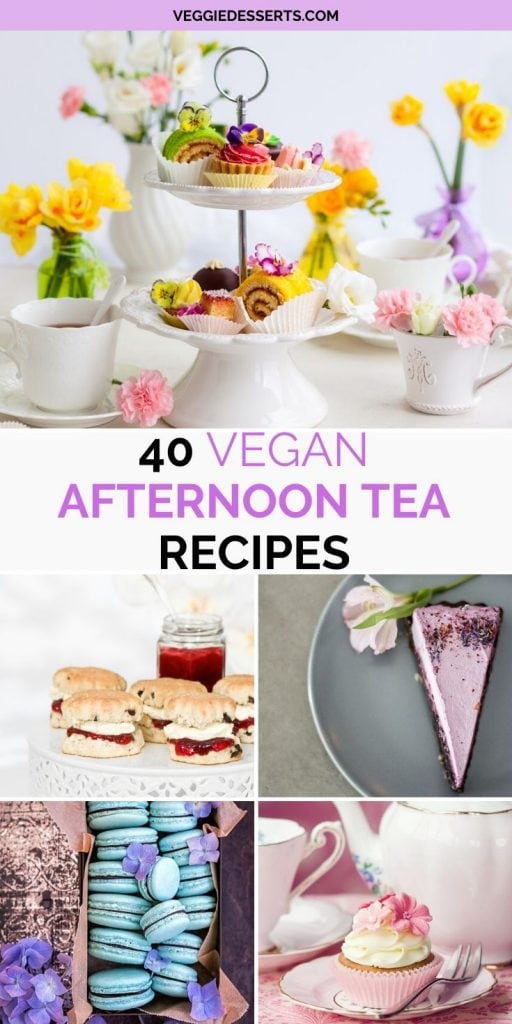 afternoon tea recipes
Afternoon tea is such a wonderful way to slow down and enjoy an afternoon with good company.
A few cakes and some sandwiches are suddenly transformed into something very special once they're served on a cake stand on a beautifully laid table.
mother's day afternoon tea ideas
With Mother's Day coming up, it's a lovely excuse to get baking and treat your mum to a homemade afternoon tea.
Nothing's as special to a mom as spending some quality time together. And it's perfect over a vegan afternoon tea.
Plus, you don't have to book a restaurant, instead you can do it at home!
tips for a vegan afternoon tea
Dress the table. If you have a tablecloth, be sure to iron and use it. Cloth napkins are also a great touch.
If you have a fancy tea set, now's the time to use it! If not, you can often find mismatched vintage teacups and saucers in vintage, consignment and thrift stores. Also be sure to check out flea markets and antique fairs.
A cake stand is great for displaying your delicious sandwiches and cakes. If you don't have a cake stand, then use plates around the table to display all the food.
Lay out everything for the tea, including milk (decant into a small jug), sugar in a bowl or teacup and plenty of teaspoons.
Be sure to make a mix of sweet and savory recipes. One non-negotiable is to make sure there are some cucumber sandwiches for an authentic afternoon tea.
You can make it all from scratch, or buy a few elements and make the rest yourself. You can also make many of the below recipes ahead of time.
Be sure to also include a bottle of prosecco or Champagne to make it extra special!
tips for setting the atmosphere
Flowers really set the mood. The cake stand will take centre stage, so you won't need a centerpiece. Instead, you could add a few edible flowers to the food, or else cut flowers and put into bud vases or jam jars.
Dress up! If you're going to all the effort of baking and decorating, then be sure to get yourself dressed up too.
For more atmosphere, put on some mellow music. Try some piano bar music or google afternoon tea music for loads of choice.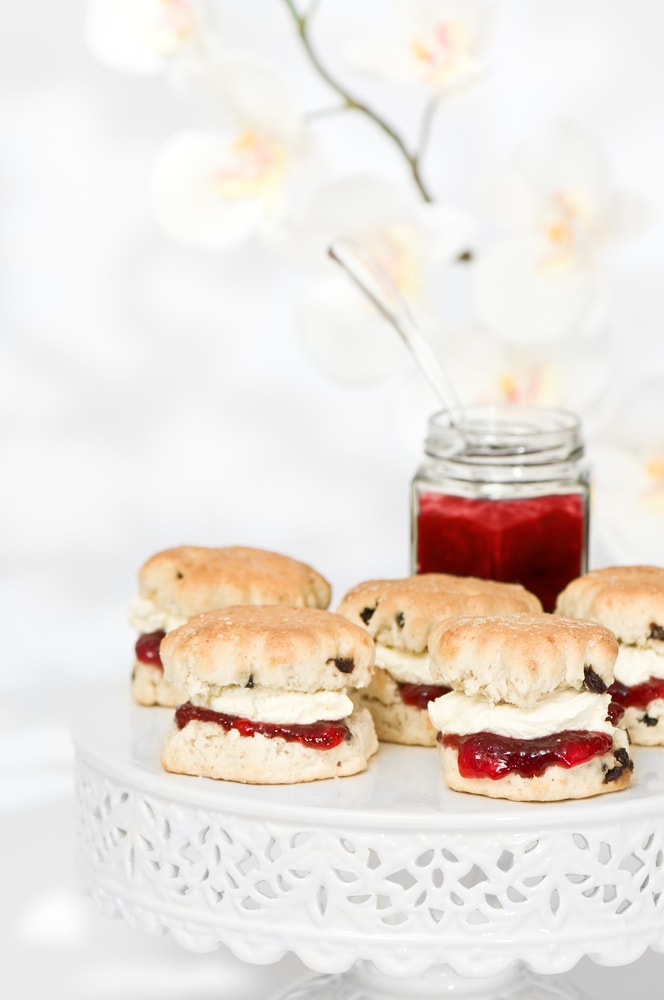 what is typically served for afternoon tea?
At afternoon tea, you will typically find the following foods:
Sandwiches, cut into small dainty slices.
Usually cucumber sandwiches, with a few other flavors too.
Scones, with clotted cream (a thick slightly sweet cream) and jam.
A variety of jam flavors.
Small, dainty cakes.
Little pastries and tartlets.
Tea in teapots. Usually black tea or others such as Earl Grey or green tea.
Champagne, prosecco or sparkling wine are often offered.
what time is afternoon tea
4pm is the traditional time to serve afternoon tea. Of course if you're making your own high tea at home you can serve it any time you like!
how to make cucumber sandwiches
Here's how to make classic cucumber sandwiches for your vegan afternoon tea!
You'll need:
- White sliced bread. Sure you could try healthier bread, but the classic is on thin white!
- Vegan butter. If you really don't like vegan butter, try vegan mayo.
- Cucumber. Remove the peel, and slice it thinly. If you want to be fancy, you could deseed the cucumber by cutting it in half lengthways and scooping out the seeds with a teaspoon. Then cut the half moons into thin slices.
- Salt. You'll need a little sprinkling of good sea salt to bring out the flavor of the cucumber.
To make it: thinly spread vegan butter onto slices of bread. Add a single layer of cucumber, sprinkle with salt, and top with a slice of buttered bread. Cut off the crusts, then cut into 'fingers'.
Voila - classic cucumber sandwiches!

vegan high tea recipes
So, without further adieu, here are my top 40 recipes for a vegan afternoon tea.
Vegan Afternoon Tea Recipes