Be inspired by these 25 Vegan Sandwiches! These are the best recipes and they're innovative, tasty, and easy to make. Make lunch the best meal of the day with these sandwich ideas.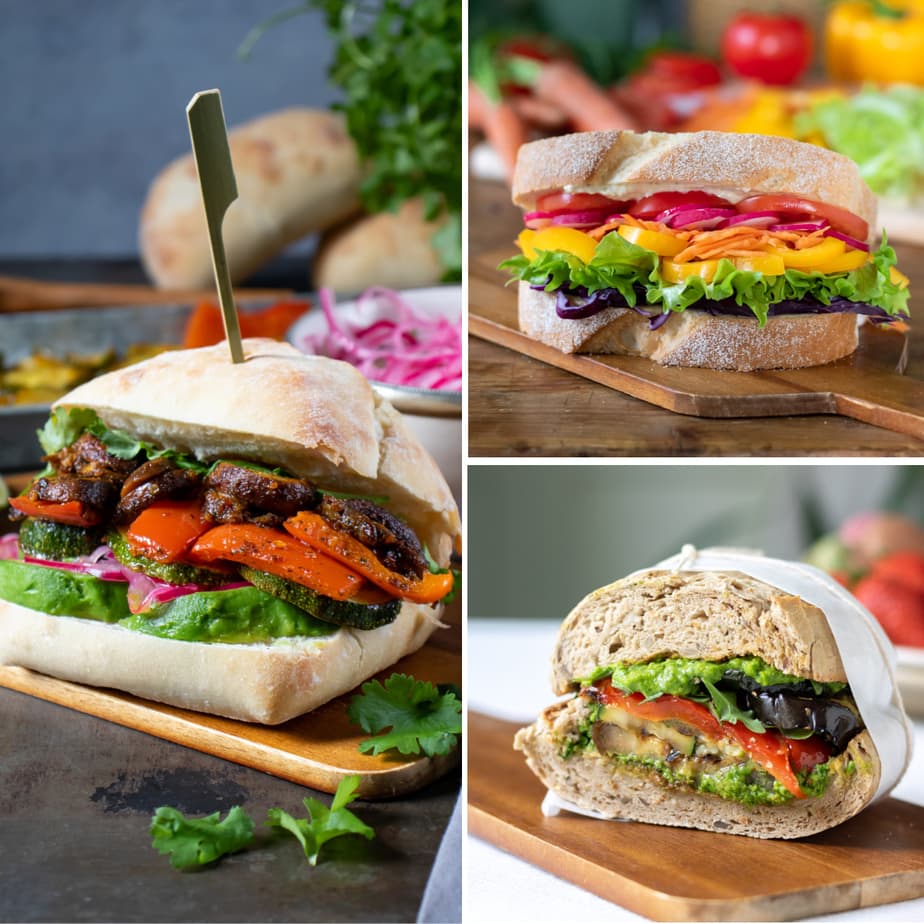 Meat-free sandwiches certainly don't have to be boring! Move over PB&J, I've got an incredible list of exciting Vegan Sandwiches.
Now that more and more people are working from home, we all need to up our sandwich game. So, grab some jackfruit, press some tofu, and slice some veggies - sandwiches are about to get a lot more interesting.
Scroll down to find recipes for roasted vegetable sandwiches, Philly cheesesteak, reubens, French dips and more!
These recipes are full of creative twists on the classics, nutritious veggies and awesome ingredients. Everything from jackfruit and hearts of palm to chickpeas and white beans.
The only question is: which sandwich are you going to make first?
Vegan sandwich fillings
If you want to freestyle your own sandwich fillings, then there are plenty of great choices. Try these!
Vegetables - this is an obvious one. Go for lovely fresh tomatoes, cucumber, radishes ...
Lettuce - depending on your other flavors, try peppery arugula (rocket), crunchy iceberg, delicate butterhead, tasty cos or romaine.
Texture add-ins - such as alfalfa sprouts, sprouted seeds/grains, or some toasted seeds or nuts. Just throw them into a hot dry frying pan and toast for a few minutes to bring out the flavor.
Spreads - make sure your sandwiches aren't dry by spreading with soft cheese, mayo, hummus (try carrot hummus or pea hummus for a veggie twist).
Sauces - it sounds odd, but you can use fry sauce or other sauces to flavor your sandwiches. Swap the mayo in these to vegan mayo and slather your vegan sandwiches with these flavor-packed sauces: Zax Sauce, Cane's Sauce, Alabama White Sauce, Tartar Sauce, Sriracha Aioli.
Mock Meats - there are more and more fake meat-free 'meats' on the market every day. Check out Gardein, Amy's, or Field Roast. You can add them for a protein boost and extra flavor to your sandwich. Or make your own with tempeh, soy curls, or seitan.
Tips
Be sure to check that your bread is vegan. Most are, but you can't be too careful.
If you're going to make your vegan sandwiches ahead of time, spread the bread with dairy-free margarine/butter. It acts as a moisture barrier so your bread doesn't go soggy.
If you're using a moister filling and taking your sandwich for lunch, you can bring the bread and the filling in separate containers and just put it together at lunchtime.
Many recipes call for dairy free mayo. You can find it in most grocery stores or make your own vegan mayo.
As an alternative to mayo, try my easy cashew vegan cream cheese.
Sandwich serving suggestions
If you're looking to turn your vegan sandwiches into a full meal, then try these accompaniments. From soup to salad, you'll be hitting your five-a-day in no time.
Soups:
Beetroot Soup
Zucchini Soup
Tomato Soup
Pea Soup

Salads:
Green Salad with Pumpkin Seed Dressing
Mango Salad
Broccoli Salad
Cabbage Salad
Rocca Salad with Middle Eastern Dressing
Breads
There are myriad options for breads for your vegan sandwiches. Just be sure to check the label to make sure they're safe for vegans.
Ingredients to avoid include:
Eggs, milk and honey. These are obvious ingredients for vegans to avoid.
Lecithin. This acts as an emulsifier in some breads to improve the texure and keep the bread from drying out. It can be vegan (from soybeans) but sometimes it's made from egg yolk.
Mono and diglycerides. These are types of fat that are also used as emulsifiers. They're often made from soybeans, but can also be sourced from animal fats, so be sure to check the label and avoid if it's not clear that it's vegan-friendly.
Whey & casein. These are milk-based ingredients, so aren't vegan.
These types of bread are often vegan: sourdough, wraps, flatbread, pita, baguette, Ezekiel, ciabatta. Make your own vegan naan bread (works like an easy yeast-free flatbread) in minutes by swapping the yogurt for dairy-free vegan yogurt.
Many store-bought sliced breads are vegan too. Be sure to check though, since ingredients vary brand-to-brand.
Brioche and challah usually contain eggs and milk.
Vegan Sandwiches
Be inspired by this list of the 25 BEST Vegan Sandwiches.
Lunches don't have to be boring. Up your sandwich game with these exciting flavors.
From global tastes to American classics, you'll be wowed by these sandwich ideas. They're seriously inspiring and will make lunchtime the best meal of the day.
Scroll down for Vegan Tuna Salad, Tofu Bah Mi, Vegan Philly Cheesesteak and so many more!