You'll love this collection of the best simple pancake syrup recipes! Homemade syrup is quick and easy to make, and you can create incredible flavors. From strawberry syrup and lavender syrup to chai syrup and blueberry. Move over maple, pancakes have never had it so good!
Jazz up your mornings with these exciting Pancake Syrup Recipes!
These simple syrups have all sorts of incredible flavors, from mango or peach to lavender and raspberry. You won't miss maple!
You can use your diy homemade simple syrups on pancakes, waffles, and French toast. But they're also incredible on yogurt, oatmeal, cakes, and other desserts.
Many of the versatile pancake syrups are also perfect to use in iced tea, cocktails, and coffee.
Or drizzle them into club soda for a homemade drink.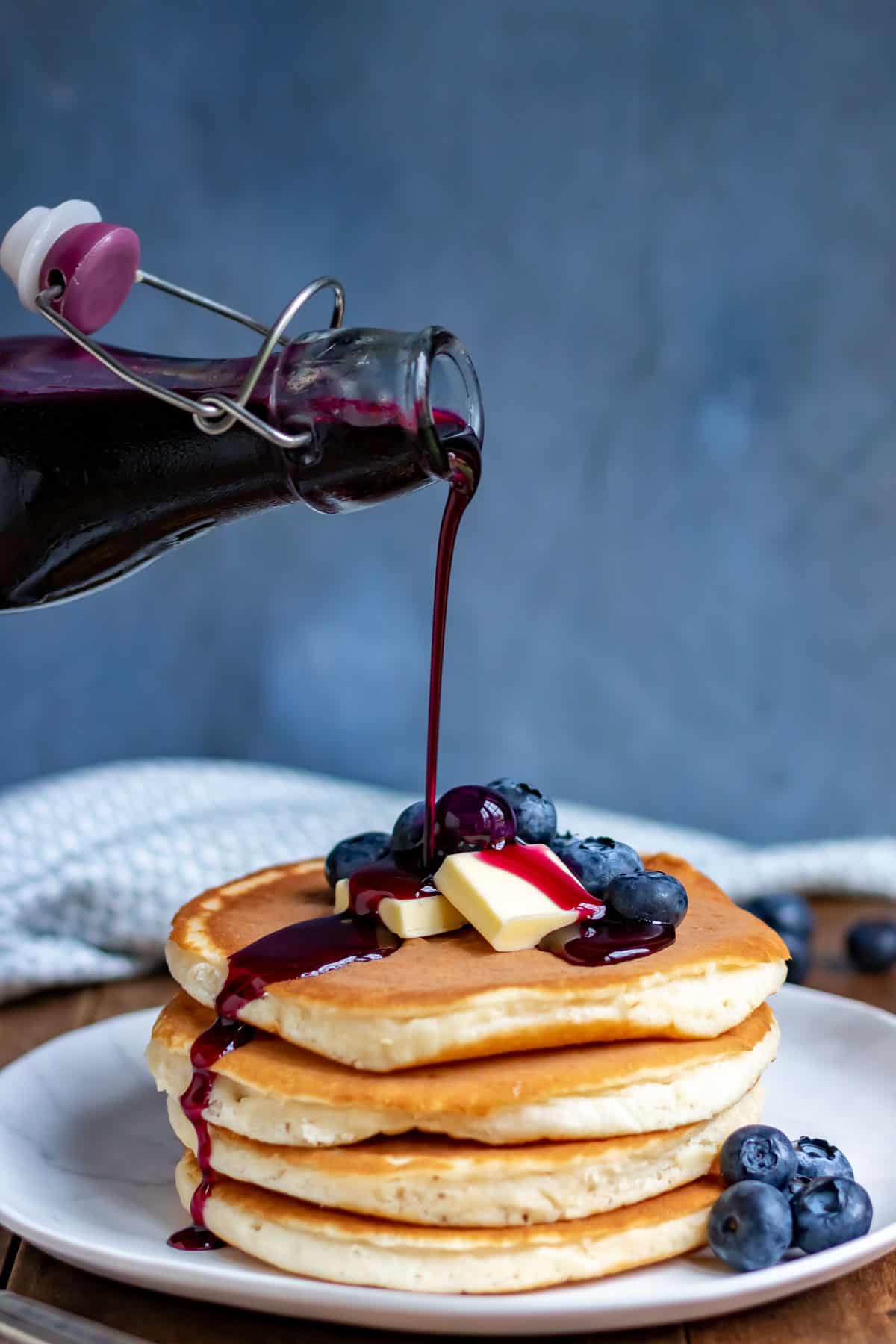 I first started making homemade simple syrup years ago, and I've been hooked ever since!
You can make them in minutes, and they keep in the fridge for ages.
They're perfect as an edible gift if you put them into a pretty bottle, too. I often make a lot at Christmas to give to friends.
Or, just have them on a stack of pancakes or waffles!
I used to love going to IHOP (International House of Pancakes) when I was a kid.
Sure, the jar of crayons and coloring papers were a big draw, but the main thing I loved was that they had a tray with a variety of pancake syrups on every table.
I swear, the only time I've ever heard of a boysenberry is their boysenberry syrup! That one was my favorite - closely followed by butter pecan.
But my sister and I always tried each and every syrup. A little raspberry syrup, a drizzle of blueberry syrup... They were certainly Rooty Tooty Fresh and Fruity!
You can buy syrup in the grocery store, but homemade pancake syrup is something pretty special.
Most have just 3-4 ingredients and they take just minutes to make. No preservatives, nothing artificial.
And ooooooooh my, they taste wonderful.
Ways to use homemade syrup
There are lots of ways to use up homemade syrup recipes, depending on the flavor! Get inspired with these ideas.
Drizzle over pancakes, waffles or French toast.
Make a few flavors and serve with a charcuterie-style Pancake Board.
Enjoy on some fun Pancake Skewers.
Use vegan sugar (organic usually is) and enjoy with some of these Vegan Pancake Recipes.
Get creative and use your simple syrups on these Breakfast Pancake Ideas.
Use your syrup on desserts, such as cakes, drizzle cake, cheesecakes...
Swirl into yogurt or oatmeal.
Mix your syrup with some club soda to turn it into a homemade flavored soda. We love using Dragon Fruit Syrup for this!
Many syrup recipes will add great Starbucks-like flavor to your coffees and cappuccinos. You'll love Gingerbread Latte.
Syrup Recipes
So, now that I've got you desperate for a selection of homemade pancake sauce, here are the recipes!
These flavored simple syrups are going to blow your mind. Not just the creative flavors and great tastes, but just how darned easy they are to make!
Homemade Pancake Syrup Recipes
You'll love this huge collection of the best simple pancake syrup recipes! Homemade syrup is quick and easy to make, with fun tasty flavors.