Here are the vegetables that start with T, from Tamarillo to Tuscan Kale. Here are not only the 22 veggies beginning with the letter T in this list, but we'll also give you info, classifications, recipes, pictures, and more.
You're here because you're wondering which vegetables start with the letter R! Well, here they all are listed for you.
But that's not all! We've also given you plenty of information, plus links to recipes so you can try these vegetables yourself at home.
Our selection of veggies beginning with the letter T has all the ones we know. If you know of any more, let us know in the comments!
Jump to:
Vegetable Classifications
A few notes before we launch into the list of vegetables that start with the letter T.
There are some vegetables that we think of as fruits and some fruits that we think of as vegetables.
There are 3 classifications of "Vegetable": culinary, botanical, and legal.
Culinary Vegetables: These are edible plants and plant parts that are considered veggies for cooking purposes. They are usually savory or are put into savory dishes. This includes pumpkins, eggplant, tomatoes and bell peppers, which are, botanically speaking, fruits. This list of vegetable names will focus on culinary veggies.
Botanical Vegetables: Botany is the study of plants. Botanically, a fruit is seed-bearing and develops from the ovary of a flowering plant, while vegetables are all other parts of the plant, such as roots, stems and leaves.
Legal Vegetables: Some edible plants are legally classified as vegetables for tariff, tax, and regulatory purposes.
NOTE: This vegetables that start with the letter T list was made with culinary vegetables listed.
List of vegetables beginning with T
Here is the list of 26 veggies starting with the letter T!
Tabasco Pepper
Tamarillo
Taro
Tarwi Bean
Tatsoi
Thai Basil
Tepary Beans
Thai Chili Pepper
Thai Eggplant
Three-Cornered Leek
Tigernut
Tindora
Tomaccio
Tomatillo
Tomato
Topinambur
Trinidad Moruga Scorpion Pepper
Turban Squash
Turmeric
Turnip
Tuscan Kale
More information on the vegetables
Tabasco Pepper
Fruits. Tabasco peppers are a type of chili pepper that is native to Mexico. They are typically used to add heat and flavor to dishes, fresh, dried, pickled or in sauce.
When used fresh, they are typically chopped and added to dishes such as salsa or guacamole.
Dried Tabasco peppers can be ground into a powder and used as a spice.
Pickled Tabasco peppers are often used as a condiment, added to sandwiches or burgers.
Tamarillo
Fruits. Tamarillo is a small, egg-shaped fruiting vegetable that is native to South America. Also known as the Tree Tomato, it has a thin, edible skin that is red, orange, or yellow in color.
The flesh of the fruit is tart and juicy, and it contains small seeds. Tamarillo can be eaten fresh, or it can be used in jams, jellies, and sauces.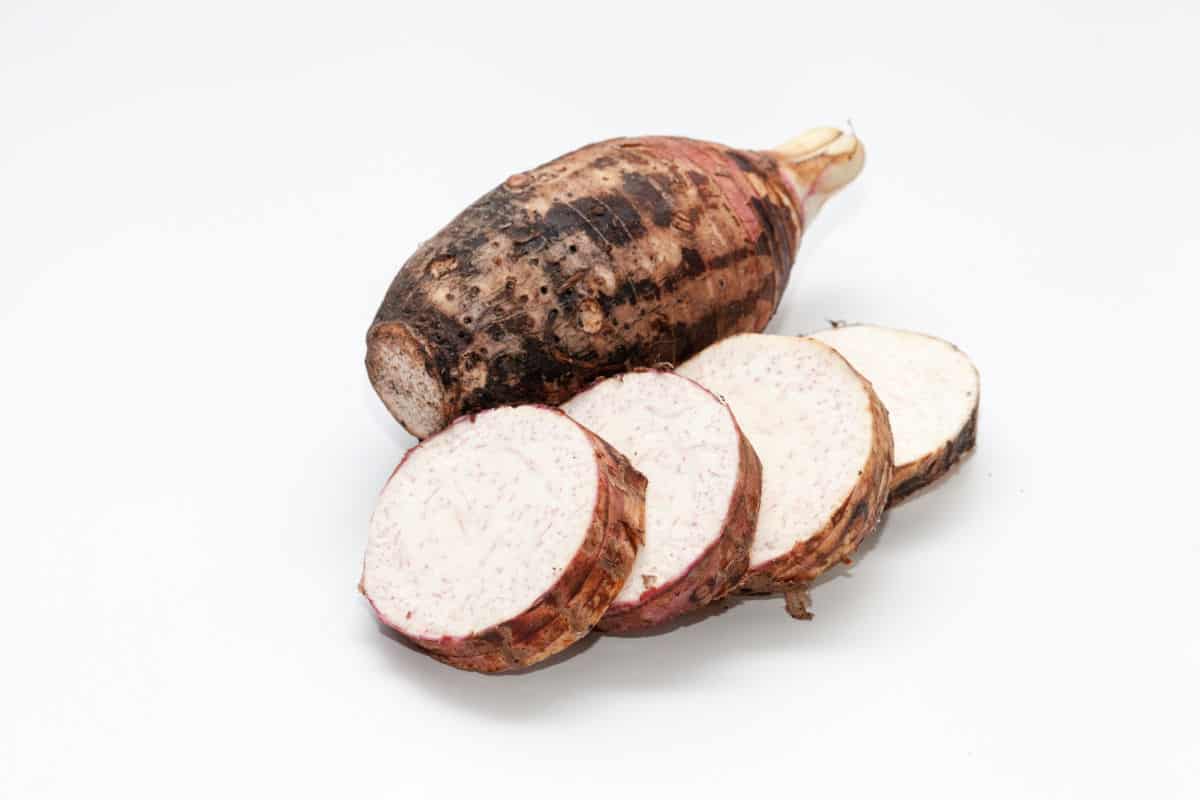 Taro
Roots & Tubers. Taro is a starchy root vegetable (colocasia esculenta) that grows in tropical and humid environments, such as the Pacific Islands and Hawaii. Taro root has a fuzzy brown skin with distinctive rings, and pale white flesh speckled with purple.
Its starchy texture is similar to potato, but it's sweeter. It's used in a wide variety of ways, including boiled, roasted, deep fried or steamed, as well as used in everything from ice cream to cakes!
Taro root can't be eaten raw, and gloves should be worn before preparing it, as it can cause skin irritation when uncooked. Other names for taro are dasheen, yautia, eddo and kalo. Try these Taro Recipes.
Tarwi Bean
Seeds. Tarwi is a type of bean that is native to the Andes region of South America. It is also known as tarhui, tarhuino, or Peruvian lupin.
Tarwi is a high-protein food that has been a staple of the Andean diet for centuries. The beans can be cooked and eaten whole, or they can be ground into a flour and used to make breads and other dishes.
Tarwi is also a good source of vitamins and minerals, and it is thought to have some health benefits.
Tatsoi
Leaves. Tatsoi (also called Tat Choy or Chinese flat cabbage) is an Asian variety of Brassica rapa that is grown for its edible greens leaves. The leafy green vegetable can be eaten raw or cooked and used similarly to spinach. Try it in Spicy Stir Fried Tatsoi.
Tepary Beans
Seeds & Pods. Tepary Beans (Phaseolus acutifolius) are a legume that is grown in Mexico and the Southwest USA. The small round beans range in color from white to brown, with the white ones being the sweetest and the brown having an earthy flavor. They can be eaten fresh from the shell, but are usually used dried and then cooked. Tepary Beans are also called Pavi, Tepari, Papago Bean, Pawi, or Escomite. Try them in Tepary Bean Dip.
Thai Eggplant
Fruits. Thai Eggplants (Solanum melongena) are a variety of eggplants that are small, round and green, white, or purple. They're popular in Sri Lankan cuisine, amongst other Southeast Asian countries.
There is no need to peel, salt, or soak Thai Eggplant. They can be eaten raw, used in chilli pastes, or, most commonly, used whole or chopped in curries.
Try this creamy Thai Eggplant Curry.
Three-Cornered Leek
Flowers, leaves and stems. Allium triquetrum, also known as three-cornered leek, is a perennial plant in the onion genus Allium. It is native to the Mediterranean Basin.
The three-cornered leek has a strong garlic-like odor and flavor, and is used as a seasoning in many dishes. It is also a common ingredient in many commercial garlic-flavored products.
Tigernut
Roots. Tigernut is a small root vegetable that is native to Africa and parts of Asia. It is also known as earth almond, groundnut, and wild ginger. Tigernut has a sweet, nutty flavor and can be used in a variety of dishes.
Tindora
Fruits. Tindora (Coccinia grandis) is also known as scarlet gourd, kowai fruit or ivy gourd. The tropical vine grows in tropical climates, and is popular in Indian, Thai and Malaysian cuisines. Tindora have a crunchy texture and can be eaten cooked or raw. Although it is botanically a fruit, it is cooked like a vegetable. Try it in this Tindora Stir Fry.
Tomaccio
Fruits. Tomaccio tomatoes are small and round, with a deep red color. They are a type of cherry tomato and have been bred to be good for drying. They have a sweet flavor, and are often used in salads or as a garnish.
Tomatillo
Fruits. Tomatillos (Physalis philadelphica), are a nightshade plant that originated in Mexico. The small, spherical green/purple or green fruits have a dry leafy husk (similar to physalis). Although the name tomatillo translates to 'little tomato', they aren't young tomatoes. Tomatillos aren't as sweet as tomatoes and have a more acidic flavor. a staple of Mexican cuisine. Discard the husks, then they can be eaten raw or cooked and are commonly used in salsa verde.
Try tomatillos in this homemade salsa verde.
Tomato
Fruits. Tomatoes are a savory fruit that is often mistaken to be vegetables. Botanically they're a fruit, but in culinary terms they're a vegetable (see above for clarification between classifications). There are many varieties, shapes, sizes, and colors, from cherry and grape tomatoes to Roma and beefsteak. They can be enjoyed raw or cooked, in many dishes from salads and drinks to curries and condiments. Try them in Tomato Soup or Homemade Ketchup.
Topinambur
Roots and tubers. Topinambur, also known as Jerusalem artichoke, is a root vegetable that is native to North America.
It is a member of the sunflower family and its scientific name is Helianthus tuberosus.
The plant grows to a height of 3-5 feet and has large, dark green leaves. The root is white with a reddish hue and has a nutty flavor. Topinambur can be eaten raw, cooked, or roasted. It is a good source of fiber and vitamins A, C, and K. Try it in Jerusalem Artichoke Soup.
Trinidad Moruga Scorpion Pepper
Fruits. The Trinidad Moruga Scorpion Pepper is a chili pepper that is native to the Moruga village in Trinidad and Tobago.
The pepper is extremely hot, with a Scoville rating of 2,000,000 to 2,200,000. The peppers are used in Trinidad to make hot sauces and curries.
Turban Squash
Fruits. Turban squash is a type of winter squash that is characterized by its turban-like shape. It has a thick, hard shell that is difficult to cut through, but the flesh inside is soft and flavorful.
This squash is typically harvested in the fall, but it can be stored for months if properly cured.
Turmeric
Roots. Turmeric is a small orange-yellow root that is used dried and ground, or freshly grated, particularly in the Indian subcontinent and Southeast Asia. Be careful if using fresh, as it is a natural dye and will stain clothes, hands, and surfaces.
Turmeric has a strong, earthy flavor. It is used as a spice in curries, and also for its reputed health benefits. Turmeric also gives a strong yellow color to dishes. Try it in Golden Milk, Turmeric Rice, or Turmeric Bread.
Turnip
Roots. Turnips are root vegetables in the cabbage family. They have a skin that ranges from white to purple or red, and a white flesh inside. Smaller turnips are sweeter, and more mature turnips in winter have a stronger, pepperier taste.Turnip leaves are edible and can be boiled, steamed or added to stews.
Try Roasted Turnips.
Tuscan Kale
Leaves. Tuscan Kale (aka lacinto kale, cavolo nero, dinosaur kale or black kale) is Italian kale with long, thin dark leaves. It can be boiled- steamed or eaten raw. Native to Tuscany, it's famously used in ribollita, as well as zuppa toscano. You could even use it to make bright green cavolo nero cupcakes or a cavolo nero Christmas pudding.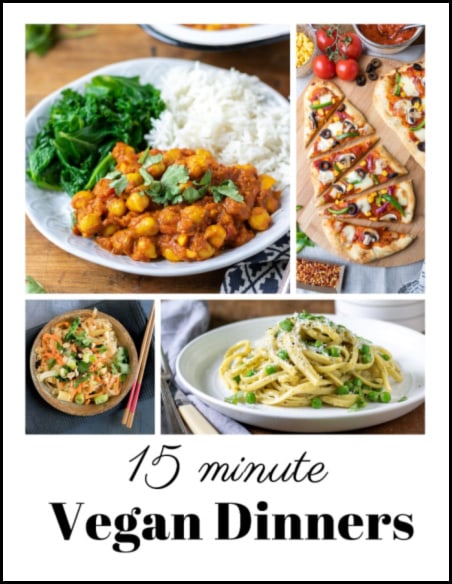 Sign up for our free newsletter and never miss a recipe!
Plus, you'll get a free eBook: 15 Minute Vegan Dinners!
That's it! I hope you've found this list of 22 'Vegetables starting with T' useful. If any are missing, let us know in the comments and we'll add them.
Be sure to check out:
What Are Leeks
What are Parsnips
All About Broad Beans
Cruciferous Vegetables
All about Legumes
15 Best Lentil Recipes
18 Best Bean Recipes
List of Vegetables

A - Vegetables That Start With A
B - Vegetables That Start With B
C - Vegetables That Start With C
D - Vegetables That Start With D
E - Vegetables That Start With E
F - Vegetables That Start With F
G - Vegetables That Start With G
H - Vegetables That Start With H
I - Vegetables That Start With I
J - Vegetables That Start With J
K - Vegetables That Start With K
L - Vegetables That Start With L
M - Vegetables That Start With M
N - Vegetables That Start With N

How Many Ounces in a Gallon
How Many Ounces in a Quart
Find out How Many Cups in a Pint, Quart, or Gallon