If you're wondering which are the vegetables that start with R, we've got them all here, from Radicchio to Rutabaga. Here are not only the 21 veggies beginning with the letter R in this list, but we'll also give you info, classifications, recipes, pictures, and more.
You're here because you're wondering which vegetables start with the letter R! Well, here they all are listed for you.
But that's not all! We've also given you plenty of information, plus links to recipes so you can try these vegetables yourself at home.
Our selection of veggies beginning with the letter R has all the ones we know. If you know of any more, let us know in the comments!
Jump to:
Vegetable Classifications
A few notes before we launch into the list of vegetables that start with the letter R.
There are some vegetables that we think of as fruits and some fruits that we think of as vegetables.
There are 3 classifications of "Vegetable": culinary, botanical, and legal.
Culinary Vegetables: These are edible plants and plant parts that are considered veggies for cooking purposes. They are usually savory or are put into savory dishes. This includes pumpkins, eggplant, tomatoes and bell peppers, which are, botanically speaking, fruits. This list of vegetable names will focus on culinary veggies.
Botanical Vegetables: Botany is the study of plants. Botanically, a fruit is seed-bearing and develops from the ovary of a flowering plant, while vegetables are all other parts of the plant, such as roots, stems and leaves.
Legal Vegetables: Some edible plants are legally classified as vegetables for tariff, tax, and regulatory purposes.
NOTE: This vegetables that start with the letter R list was made with culinary vegetables listed.
List of vegetables beginning with R
Here is the list of 21 veggies starting with the letter R!
Radicchio
Radish
Ramps
Ramsons
Rapini
Red Cabbage
Red Kuri Squash
Red Potatoes
Red Sorrel
Renkon
Rhuabarb
Rocket
Rock Samphire
Roma Tomatoes
Romaine Lettuce
Romanesco
Rosa Bianca Eggplant
Runner Beans
Russet Potatoes
Russian Blue Potatoes
Rutabaga
More information on the vegetables
Radicchio
Leaves. Radicchio is an Italian leaf vegetable, closely related to chicory. It has distinctive red leaves with a white stem that grows in a shape similar to cabbage. Radicchio has a bitter taste that adds depth of flavour to salads. The flavor is mellowed if it is sauteed, grilled or roasted.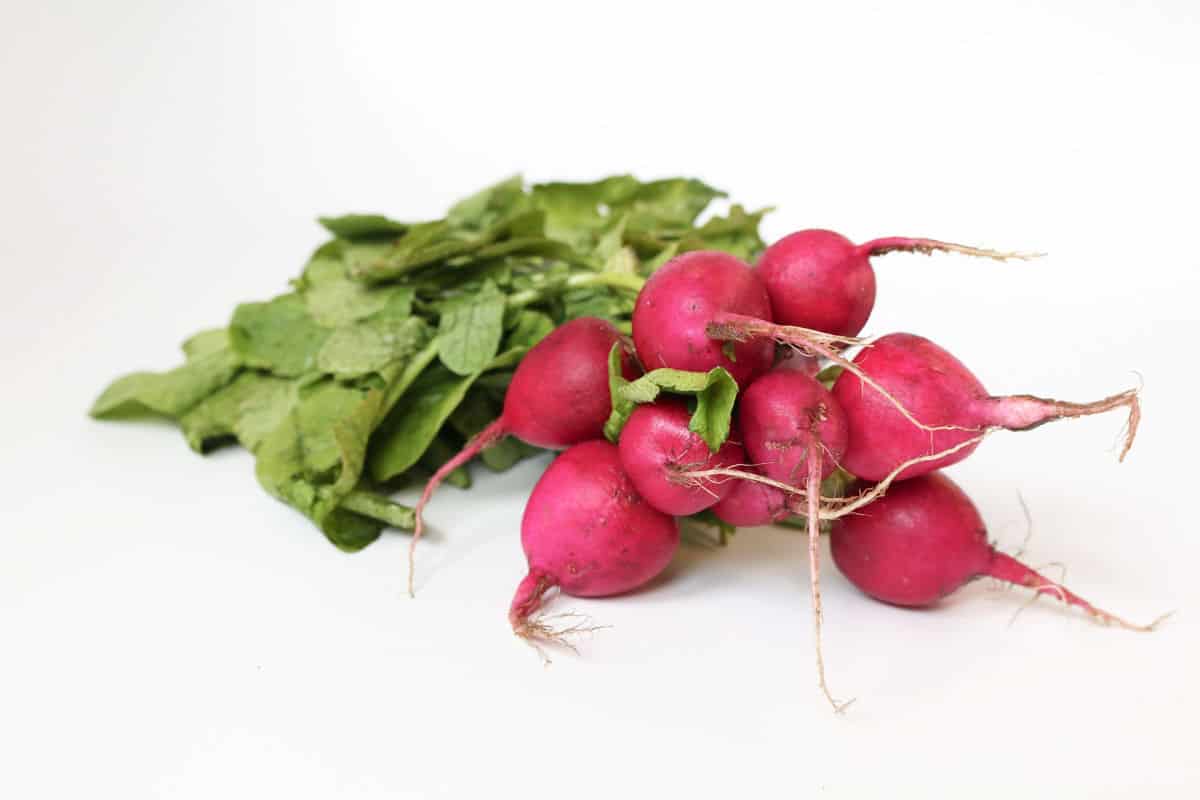 Radish
Roots. Radishes, (Raphanus sativus), is an herbaceous annual or biennial plant in the Brassicaceae family. The round root is usually bright pink, with a bright white interior. All parts of radishes are edible: the bulbs, seeds, and leaves. Enjoy them raw in a salad, or raw with butter and salt as they do in France. They can also be roasted, which mellows the flavor. Try Roasted Radish Tart or Roasted Radishes and Asparagus side dish.
Ramps
Ramps, Allium tricoccum, are a wild spring onion. They are also known as wild leeks. They taste a bit like a cross between a leek and a shallot. Ramps can be found in Farmer's Markets in the spring or foraged at higher altitudes. Try them raw, sautéed, roasted, grilled, or pickled. They're also wonderful whizzed into ramps pesto.
Ramsons
Leaves & Stems. Ramsons are a kind of wild garlic. They have a strong garlic flavor and are often used in cooked dishes.
Other names for ramsons include: allium ursinum, bear garlic, and wild garlic.
Ramsons have long, narrow leaves that are green on the top and white on the bottom. The leaves grow in a rosette around a central stem. Ramsons also have small, white flowers that bloom in the spring. Try it in Ramson Pesto.
Rapini
Leaves, Stems and Flowers. Rapini (or broccoli rabe) is a green cruciferous vegetable. It looks similar to broccoli, but with long thin stems and it doesn't form a large head. The leaves, buds, and stems are all edible and have a slightly bitter taste. Try Sauteed Rapini.
Red Cabbage
Leaves. Red Cabbages are leafy brassicas that are round with red/purple leaves. They're a winter cabbage and can be eaten raw or cooked. Try it thinly sliced into coleslaw or salad. They can be boiled, steamed, sauteed. Try it in braised red cabbage or cabbage salad.
Red Kuri Squash
Fruits. Red kuri squash, also known as onion squash or hokkaido squash), is a winter squash (in season from October to December) that is often used in dishes like soup or ravioli.
It has reddish-orange skin and creamy, orange flesh. This squash has a sweet flavor, almost like pumpkin but is a bit milder. It can be found at most grocery stores and is often located near the other winter squashes like butternut and acorn. Try it in Red Kuri Squash Salad.
Red Potatoes
Roots & Tubers. This incredibly popular root vegetable is a member of the nightshade family, Solanaceae. Originally native to The Americas, they are now a staple crop around the world. There are over 4,000 varieties of potatoes. Red potatoes have a thin red skin and pale flesh. Find out more about Types of Potatoes.
Red Sorrel
Leaves. Gongura (also known as gongura, Ambada, Pitwaa, or Pulicha Keerai) are medium-sized broad, flat, green leaves with a sour, tart taste. Popular in India, they are often served pickled, steamed, or ground into a paste to make chutney. It is one of the main ingredients in authentic Andhra cuisine.
Renkon
Roots. Lotus root (also called Renkon) is a vegetable that comes from the root of the aquatic lotus flower. It's popular in many Asian cuisines and has a mild celery-like taste and dense texture. When sliced it has a distinctive design with patterns of small holes. Enjoy lotus root stir-fried, steamed or added to soups.
Try it in Kung Pao Lotus Root.
Tip: Lotus root browns quickly, so after peeling and slicing, keep it in a bowl of water with a squeeze of lemon juice until ready to use.
Rhubarb
Stems. Although it's normally treated as a fruit, botanically, rhubarb is a vegetable. The long thick colourful stems can be eaten raw, but they are very bitter so are best cooked with sugar. This makes them perfect for rhubarb compote, crumbles or crisp, or stewed and used to top ice cream or yougurt. The leaves are not edible.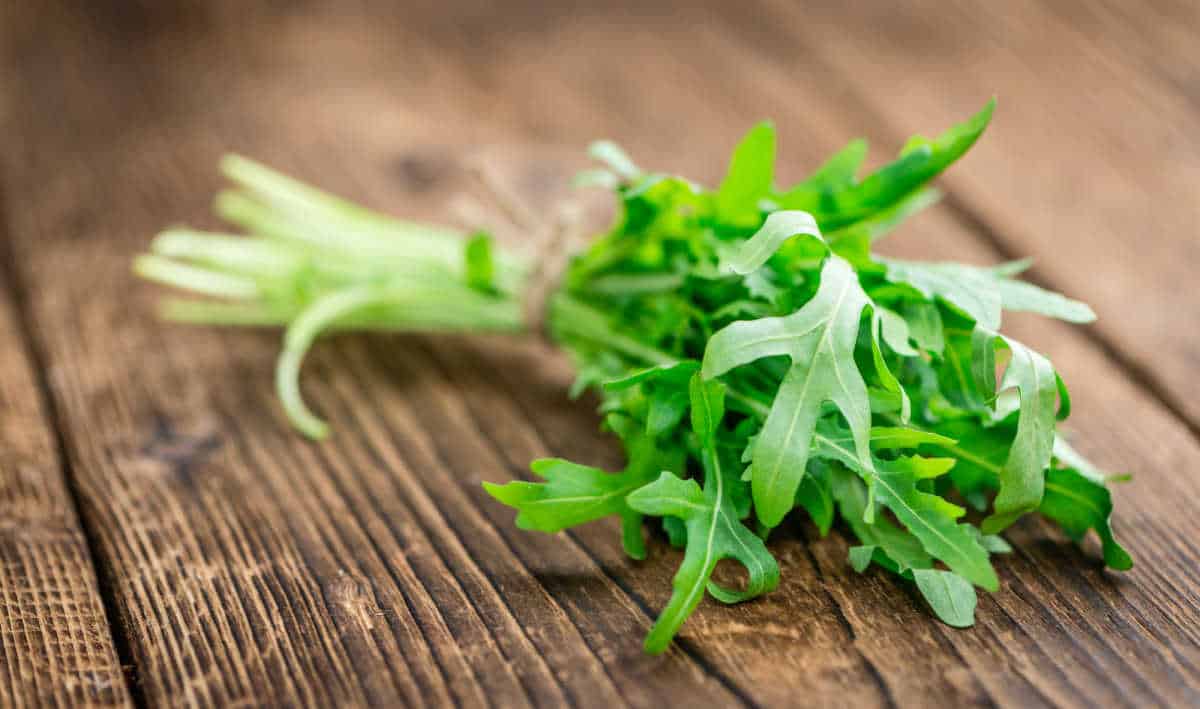 Rocket
Leaves. Also known as Arugula or Rocca, rocket is a peppery tasting leafy vegetable that is part of the Brassicaceae or mustard family. It is popular in salads and on pizza as it has a fresh peppery flavor. Try it in this rocca salad.
Romaine Lettuce
Leaves. Also known as cos lettuce, Romaine is a leafy vegetable commonly used in salads, particularly Caesar Salad. The large leaves can also be cooked, so try cutting the romaine heads into quarters, brushing with oil, and grilling them. Vegan Grilled Caesar Salad.
Romanesco
Flowers. Romanesco has a distinctive look with a yellow/green colour and florets that grow in geometric fractals. It has a delicate, slightly nutty flavor. Romanesco is also known as broccoli, Romanesque cauliflower, fractal broccoli, green cauliflower, or Roman cauliflower.
Romanesco is a Brassica (cruciferous vegetables) and can be eaten raw or cooked and can be steamed, roasted, boiled, or stir-fried, like cauliflower. If yours comes with the leaves attached, you can wash them and cook them like kale.
Try it in this Roasted Romanesco Salad or even in Romanesco Cookies.
Rosa Bianca Eggplant
Fruits. Rossa Bianca Eggplant is also known as aubergine. It has a rounder shape than regular eggplant and has a purple and white streaked color, with a spongy pale interior. Botanically a fruit or berry, eggplant is part of the nightshade family. Enjoy it in moussaka, roasted eggplant wedges, or cheesy baked eggplant.
Runner Beans
Seeds and Pods. Runner Beans (Phaseolus coccineus) are a legume that grow as a large flat, long green pod.
The pods are edible, though as they mature they get tougher and stringier, though it is mainly just the British who eat the pods, and most other countries just eat the seeds. The seeds are eaten fresh or dried.
Russet Potatoes
Roots & Tubers. A russet potato is a type of potato that has brown, rough skin. The flesh of a russet potato is white or light brown. Russet potatoes are large and oblong in shape.
Some of the most popular varieties of russet potatoes include the Russet Burbank, the Russet Norkotah, and the Russet Centennial. Russet potatoes are often used for baking and frying.
Russian Blue Potatoes
Roots & Tubers. Russian Blue Potatoes have a blue skin and dark purple skin, with a round to oblong shape. They are a waxy potato and are great for salads, boiling, steaming, and baking.
Rutabaga
Roots. Rutabaga is a root vegetable that's also called swede, neep (Scotland), Swedish turnip, and turnip (though not the same as a regular turnip). It has a round shape and green/purple skin, while the flesh is yellowy-orange.
Rutabaga has a sweet, nutty, earthy flavour. It can be roasted, boiled, steamed, sauteed or added to soups and stews. Try rutabaga in rutabaga mash, roasted rutabaga or in the classic Finnish Christmas casserole Lanttulaatikko. Its sweetness means you could even try it in vegetable desserts! Try this Rutabaga Nutmeg Cake.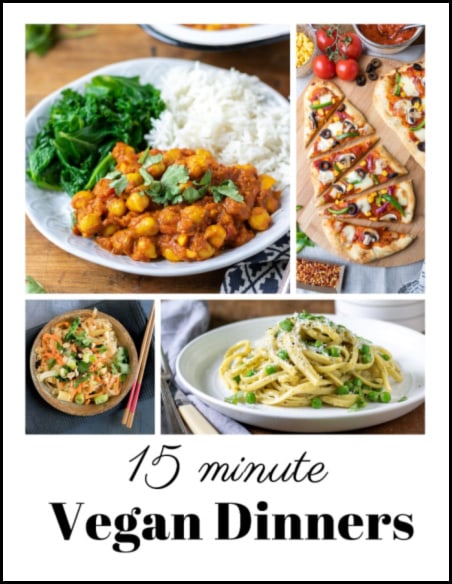 Sign up for our free newsletter and never miss a recipe!
Plus, you'll get a free eBook: 15 Minute Vegan Dinners!
That's it! I hope you've found this list of 21 'Vegetables starting with R' useful. If any are missing, let us know in the comments and we'll add them.
Be sure to check out:
What Are Leeks
What are Parsnips
All About Broad Beans
Cruciferous Vegetables
All about Legumes
15 Best Lentil Recipes
18 Best Bean Recipes
List of Vegetables

A - Vegetables That Start With A
B - Vegetables That Start With B
C - Vegetables That Start With C
D - Vegetables That Start With D
E - Vegetables That Start With E
F - Vegetables That Start With F
G - Vegetables That Start With G
H - Vegetables That Start With H
I - Vegetables That Start With I
J - Vegetables That Start With J
K - Vegetables That Start With K
L - Vegetables That Start With L
M - Vegetables That Start With M
N - Vegetables That Start With N

How Many Ounces in a Gallon
How Many Ounces in a Quart
Find out How Many Cups in a Pint, Quart, or Gallon