Wondering which are the vegetables that start with O, we've got them all right here for you in a handy list, from Oca to Oregano. Here are not only the 9 veggies beginning with the letter O, but we'll also give you info, classifications, recipes, pictures, and more.
You're here because you're wondering which vegetables start with the letter O! Well, here they all are listed for you.
But that's not all! We've also given you plenty of information, plus links to recipes so you can try these vegetables yourself at home.
Our selection of veggies beginning with the letter O has all the ones we know. If you know of any more, let us know in the comments!
Jump to:
Vegetable Classifications
A few notes before we launch into the list of vegetables that start with the letter O.
There are some vegetables that we think of as fruits and some fruits that we think of as vegetables.
There are 3 classifications of "Vegetable": culinary, botanical, and legal.
Culinary Vegetables: These are edible plants and plant parts that are considered veggies for cooking purposes. They are usually savory or are put into savory dishes. This includes pumpkins, eggplant, tomatoes and bell peppers, which are, botanically speaking, fruits. This list of vegetable names will focus on culinary veggies.
Botanical Vegetables: Botany is the study of plants. Botanically, a fruit is seed-bearing and develops from the ovary of a flowering plant, while vegetables are all other parts of the plant, such as roots, stems and leaves.
Legal Vegetables: Some edible plants are legally classified as vegetables for tariff, tax, and regulatory purposes.
NOTE: This vegetables that start with the letter O list was made with culinary vegetables listed.
List of vegetables beginning with O
Here is the list of 9 veggies starting with the letter O!
Oca
Ogo
Oil Palm
Okra
Okinawan Sweet Potatoes
Olive
Onion
Orach
Oregano
More information on the vegetables
Oca
Tubers. An oca tuber is a root vegetable that is native to the Andes Mountains in South America. It is also known as a Peruvian yam or a New Zealand yam. The oca tuber has a slightly sweet flavor and a starchy texture. It can be eaten raw, cooked, or roasted. Chili Roasted Oca.
Ogo
Leaves. Ogo (also called Ogonori or Gracilaria) is a type of seaweed with a fluffy texture and red/brown color. Ogo has an ocean taste, like other seaweeds, and has a crispy texture. It can be enjoyed raw in salads, or cooked. Ogo is also used as vegetarian gelatine in agar. Ogo is popular in Hawaiian poke.
Oil Palm
Seeds. Oil palm (Elaeis guineensis) is a palm tree native to Africa. The oil palm produces a type of edible vegetable oil known as palm oil from the oil seed.
Okinawan Sweet Potatoes
Roots. Okinawan sweet potatoes are a type of sweet potato that is native to the Okinawa Islands of Japan. These sweet potatoes are characterized by their small, stubby shape and their light purple skin.
The flesh of the Okinawan sweet potato is white or pale yellow in color and is very sweet and moist.
Okra
Seeds & Pods. Okra is a vegetable that is popular in African, Caribbean, Indian, Creole, and Cajun cuisines. It's an edible long, ridged, tapering seed pod, and the shape gives okra its other name: Lady's Fingers. Okra has a mild and subtle flavor. Inside, it has a sticky liquid, so it's often used to thicken stews and other dishes. It can also be cooked whole as a side dish. Check out these okra recipes.
Olive
Fruits. Botanically, Olives are a fruit, but they're used in savory dishes, so in culinary terms, olives are a vegetable. Because they're brined, they're too salty to count towards your 5-a-day though! Try them in Caponata Siciliana.
Onion
Bulbs. Onions are widely cultivated vegetables, of the genus Allium, known for adding flavor to many dishes. Varieties include red, yellow, brown, and smaller shallots. The bulbs are made up of layers of pungent flesh, with papery skins. Make the most of onions in French Onion Soup, or French Onion Dip. Find out Is Onion a Vegetable?
Orach
Leaves. Pronounced Oh-rack, Orach is a leafy vegetable with a spicy taste from the amaranth family. Young leaves can be eaten raw in salads, while older leaves can be cooked like spinach. It can be foraged wild, or found at farmer's markets. Try sauteeing orach with a little butter, garlic, and chili as a quick side dish.
Oregano
Leaves. Oregano is a leafy vegetable that's used like a herb to add flavor to dishes. Oregano is in the mint, Lamiaceae family. It has been used for thousands of years both for flavor in dishes, and to treat health conditions. Oregano can be found dried or fresh. Try it in these Oregano Recipes.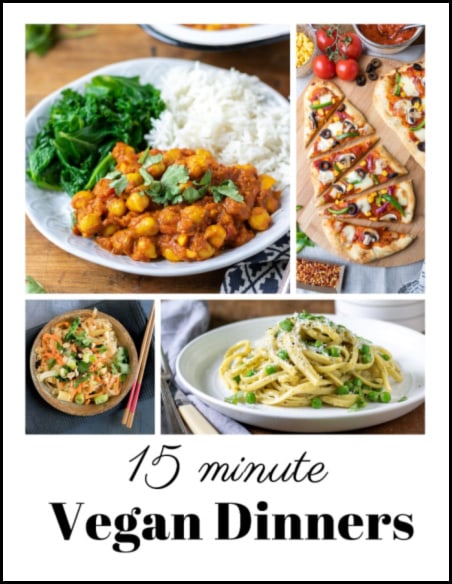 Sign up for our free newsletter and never miss a recipe!
Plus, you'll get a free eBook: 15 Minute Vegan Dinners!
That's it! I hope you've found this list of 10 'Vegetables starting with N' useful. If any are missing, let us know in the comments and we'll add them.
Be sure to check out:
What Are Leeks
What are Parsnips
All About Broad Beans
Cruciferous Vegetables
All about Legumes
15 Best Lentil Recipes
18 Best Bean Recipes
List of Vegetables

A - Vegetables That Start With A
B - Vegetables That Start With B
C - Vegetables That Start With C
D - Vegetables That Start With D
E - Vegetables That Start With E
F - Vegetables That Start With F
G - Vegetables That Start With G
H - Vegetables That Start With H
I - Vegetables That Start With I
J - Vegetables That Start With J
K - Vegetables That Start With K
L - Vegetables That Start With L
M - Vegetables That Start With M

How Many Ounces in a Gallon
How Many Ounces in a Quart
Find out How Many Cups in a Pint, Quart, or Gallon