Here are the vegetables that start with U, from Ube to Urad Bean. Here are not only the 5 veggies beginning with the letter U in this list, but we'll also give you info, classifications, recipes, pictures, and more.
You're here because you're wondering which vegetables start with the letter U! Well, here they all are listed for you.
But that's not all! We've also given you plenty of information, plus links to recipes so you can try these vegetables yourself at home.
Our selection of veggies beginning with the letter U has all the ones we know. If you know of any more, let us know in the comments!
Jump to:
Vegetable Classifications
A few notes before we launch into the list of vegetables that start with the letter U.
There are some vegetables that we think of as fruits and some fruits that we think of as vegetables.
There are 3 classifications of "Vegetable": culinary, botanical, and legal.
Culinary Vegetables: These are edible plants and plant parts that are considered veggies for cooking purposes. They are usually savory or are put into savory dishes. This includes pumpkins, eggplant, tomatoes and bell peppers, which are, botanically speaking, fruits. This list of vegetable names will focus on culinary veggies.
Botanical Vegetables: Botany is the study of plants. Botanically, a fruit is seed-bearing and develops from the ovary of a flowering plant, while vegetables are all other parts of the plant, such as roots, stems and leaves.
Legal Vegetables: Some edible plants are legally classified as vegetables for tariff, tax, and regulatory purposes.
NOTE: This vegetables that start with the letter U list was made with culinary vegetables listed.
List of vegetables beginning with U
Here is the list of 5 veggies starting with the letter U!
Ube
Udupi Mattu Gulla Eggplant
Ulluco
Upland Cress
Urad Bean
More information on the vegetables
Ube
Roots & Tubers. Ube (also called purple yam) are a root vegetable with a distinctive dark purple skin and bright purple flesh. YOu can find them whole, as an extract or in powder.
Their sweet taste and purple color lends them to be used in many dishes, so try them mashed, baked, boiled, or steamed. They're also often used in sweet dishes, such as ice cream and cakes. Try Ube Halaya (purple yam jam) or Ube Cake.
Udupi Mattu Gulla Eggplant
Fruits. Udupi Mattu Gulla Eggplant (also called Green Brinjal) is a large, round eggplant/aubergine with light green and dark green marbled pattern on its thin skin. This variety has few seeds. Try it in Udupi Sambar.
Ulluco
Tubers. Ulloco are tubers, similar to potatoes. They vary wildly in size and shape, from round to elongated with colours from yellow to pink, often with pink splotches.
They're a staple food in the Andean region of South America. Ulloco have a nutty corn-like taste. They have a high water content, so aren't suitable for mashing. Try it in Olluquitos Con Carne.
Upland Cress
Leaves and seeds. Upland Cress (also known as American Cress or Land Cress), can be eaten as sprouts, microgreens, salad leaves, or as mature greens (which can be cooked). Beware that when it gets tall and flowers, the greens will become extremely spicy and likely unedible. Enjoy it young, as cress. Enjoy it like watercress. Try it mixed into an egg salad sandwich.
Urad Bean
Seeds & Pods. Urad Beans are a dried legume popular in Indian cuisine. They are boiled and eaten whole or split, urad beans are made into dal curry.
Urad Beans are also called black lentils, vigna mungo, the black gram, urad bean, ulundu paruppu. Try them in Urad Dal.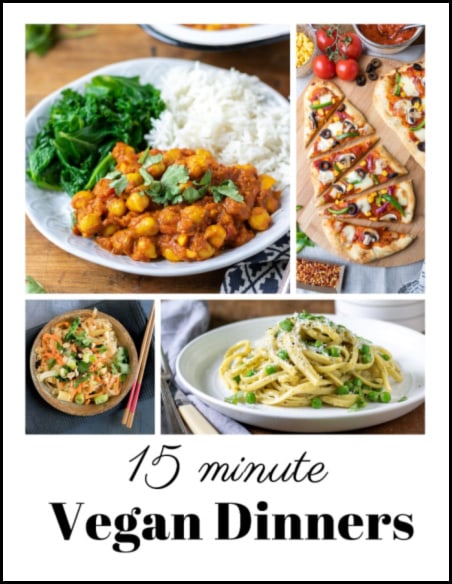 Sign up for our free newsletter and never miss a recipe!
Plus, you'll get a free eBook: 15 Minute Vegan Dinners!
That's it! I hope you've found this list of 5 'Vegetables starting with U' useful. If any are missing, let us know in the comments and we'll add them.
Be sure to check out:
What Are Leeks
What are Parsnips
All About Broad Beans
Cruciferous Vegetables
All about Legumes
15 Best Lentil Recipes
18 Best Bean Recipes
List of Vegetables

A - Vegetables That Start With A
B - Vegetables That Start With B
C - Vegetables That Start With C
D - Vegetables That Start With D
E - Vegetables That Start With E
F - Vegetables That Start With F
G - Vegetables That Start With G
H - Vegetables That Start With H
I - Vegetables That Start With I
J - Vegetables That Start With J
K - Vegetables That Start With K
L - Vegetables That Start With L
M - Vegetables That Start With M
N - Vegetables That Start With N
O - Vegetables That Start With O
P - Vegetables That Start With P
R - Vegetables That Start With R
S - Vegetables That Start With S
T - Vegetables That Start With T

How Many Ounces in a Gallon
How Many Ounces in a Quart
Find out How Many Cups in a Pint, Quart, or Gallon
How Many Ounces In A Pound (oz to lbs)